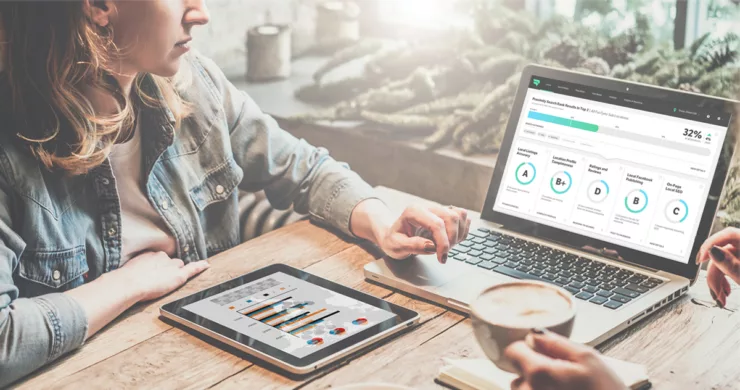 Blog
How to Improve Local Search Rankings - New MomentFeed Dashboard
Do you ever feel overwhelmed by the volume of data and insights you need to consume and understand in order to figure out how to improve local search rankings? If you do, you're not alone. As a multi-location digital marketer, it can be daunting to try and stay one step ahead of your competitors. This challenge is further compounded as unbranded proximity search continues to skyrocket with consumers increasingly using category searches like "coffee near me," or "bank near me," rather than branded searches.

How impacted is your industry by unbranded search? Find out!
As the unbranded search battle heats up, it's imperative that multi-location digital marketers quickly get answers to questions like "How frequently is my brand showing up for the proximity discovery keywords that matter?" and "What fixes and marketing actions will have the highest impact on my local SEO rankings right now?"
At MomentFeed, we knew there had to be a better way to arm local digital marketers with the actionable insights they needed to positively influence proximity discovery and demonstrate the powerful impact of local marketing on revenue. The result was our new Proximity Search Optimization Dashboard that allows multi-location brands to easily monitor and manage local marketing performance across hundreds or even thousands of locations.

How to Rank on Google Local Search?
A business's location and its proximity to someone searching on Google is currently the most important local SEO ranking factor.
This being the case, the savviest multi-location brands are focused on growing their share of voice for the proximity discovery keywords that matter most in their category. And more specifically, they are focused on Google, which accounts for 93% of the mobile search market in the U.S.
These searches are often referred to as the "3-Pack" or "Map Pack" and are the first three results that pop up above the fold when a consumer performs a Google search on a mobile device. Locations that appear in the Google 3-Pack receive the majority of engagement and subsequent business. If a business location isn't among the 3-Pack listing, their chances of attracting customers can be 50% lower.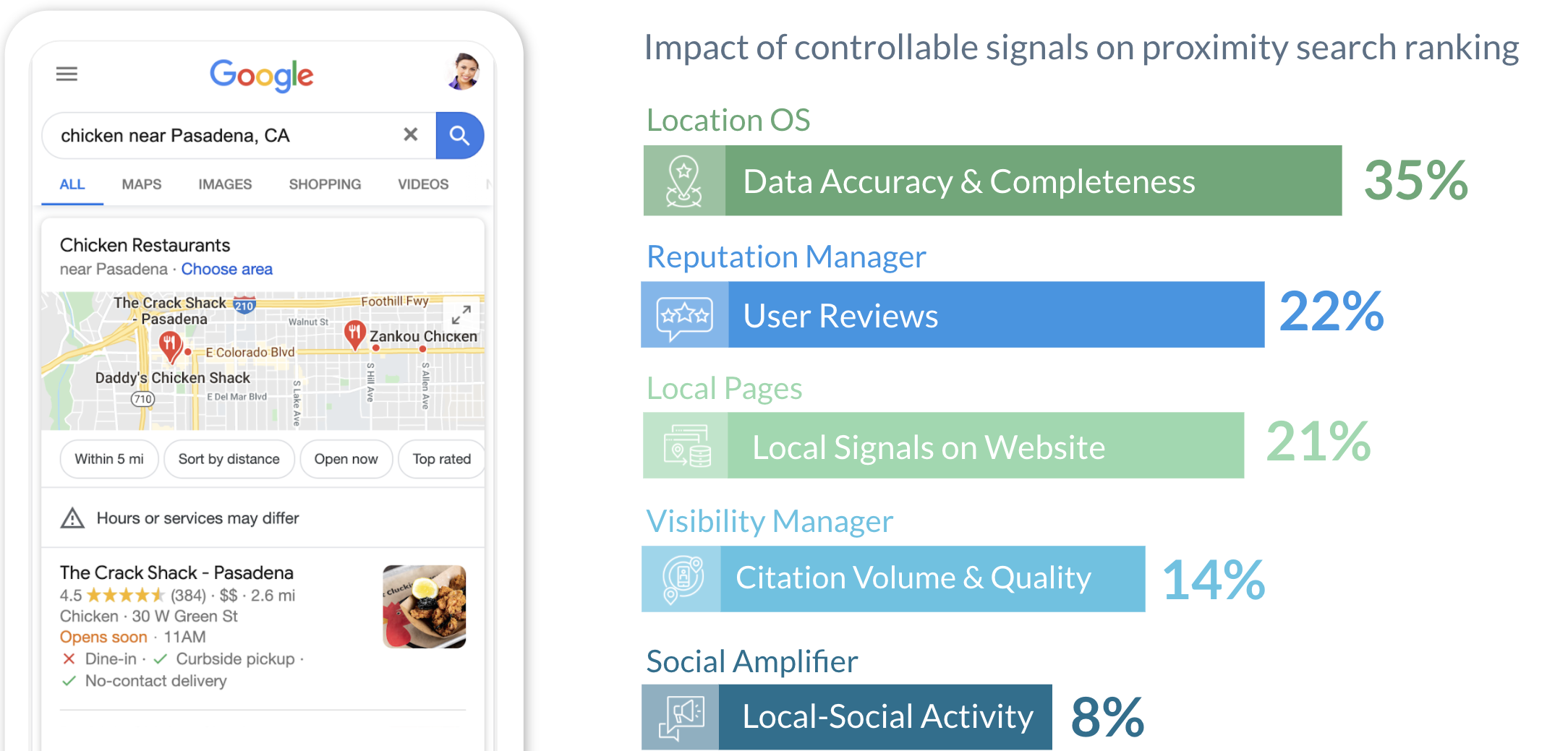 Five Controllable Factors
Local Listing Accuracy — information accuracy and consistency across all networks, such as an accurate address and phone number, not only improves proximity search rank, it also helps customers find businesses in the real world.
Local Profile Completeness — ensuring all applicable fields are filled out on all local business directories, giving customers a more complete picture of your business, while improving proximity search rank.
Ratings and Reviews — maintaining high customer rating scores and being responsive to reviews not only impacts proximity search rank, it also influences buyers' decisions on which business to choose.
Local Facebook Publishing Activity — frequency of posts on local social over the last 30 days and ideal keyword density can improve your proximity search rank and help brands drive local community connections.
On-Page Local SEO — alignment with Google's assessment of quality on your website helps determine where those pages and the associated listings rank in local search.
How Does the Dashboard Work to Improve Google Local SEO Ranking?
With so many multi-location businesses competing for the same real estate, it is more important than ever to stay one step ahead of your competitors in the shifting local search landscape. The goal of our new dashboard was to create a one-stop shop with all the most important data aggregated from critical discovery networks in one actionable dashboard. The dashboard analyzes data across thousands or even millions of web pages for a single brand — including local review pages, local social pages, local web pages, and local listings.
But we didn't stop there – rather than add to the data overload problem, we wanted to make sure our dashboard offered real value for our customers. To do this we organized the data based on the five controllable signals that are known to improve local search rankings: (1) Local Listing Accuracy, (2) Local Profile Completeness, (3) Ratings and Reviews, (4) Local Facebook Publishing Activity, and (5) On-Page Local SEO.
Within each of these five areas, the dashboard offers actionable insights that reveal opportunities for local search improvements that the organization can make for quick wins such as – "15 locations have potential inaccuracies" or "23 locations have new customer reviews that have not been responded to." These insights help multi-location marketers take immediate action to positively influence their local SEO ranking.

How to Use The Dashboard
The best part about MomentFeed's Proximity Search Optimization Dashboard is that you don't have to configure anything. You can access the dashboard right from the "Home" tab, where you will automatically see the percentage of your locations appearing in the Google 3-Pack for the proximity discovery keywords that are most important in your category. You'll also see a letter grade ranking your performance – A to F – against industry benchmarks across the five controllable signals that improve local search rankings.
Your "Home" tab is your new command center – a place to start your week off on the right foot. You'll be able to quickly see how you are performing across the five local SEO ranking factors and easily act on recommendations right from the dashboard. You can also filter the data by the keywords you care about and by location, to drill into specific opportunities for greater optimization.

The Value of a Unified View Into Local Search Data
Our digital marketing friends at Texas Roadhouse said it best: it's all about finding ways to become more efficient across hundreds of locations. "Having a one-stop-shop is key," said Alec McAfee, Assistant Digital Marketing Manager at Texas Roadhouse. "With MomentFeed we can log in, gather insights, make adjustments, respond to reviews, all from one platform."
Alec also noted how important this becomes as Texas Roadhouse continues to bring local store marketers into the MomentFeed platform - giving these individuals more control over their locations digital marketing efforts.
"While things move fast at corporate, they move even faster at the store level. Having one set of login credentials and one place to see at a glance what actions a local store marketer can take to improve the store's digital presence is a huge selling point," Alec noted.
MomentFeed's new Proximity Search Optimization Dashboard provides immediate insights into local marketing performance and provides actionable recommendations that will have the biggest impact on local search rank. In essence, it's a personal local search assistant that never calls in sick and works for you 24/7.
Learn more about how MomentFeed and the new Proximity Search Optimization Dashboard can help your business dominate Google local SEO ranking.
Learn how your business can dominate in the Google local search rankings.