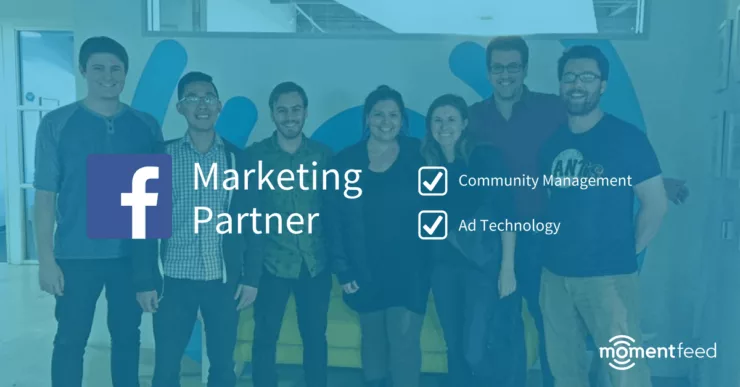 Blog
MomentFeed is Recognized for Ad Technology Excellence by Facebook
MomentFeed is excited to announce another innovation milestone - this time, with Facebook. We've been a Facebook Marketing Partner (FMP) for over three years, and now we've earned certified partner status for Ad Technology.
Being a Facebook Ad Technology partner means we're now able to provide full-service scalable Facebook ad campaigns for both brand and local pages. Our multi-location clients benefit from even more Facebook functionality, and can rely on our client success team to ensure Facebook and Instagram social ad campaigns deliver amazing results. This new partnership gives our clients the ability to leverage their location data to uniquely target consumers and to drive measurable in-store foot traffic.
MomentFeed has helped brands like Starbucks, Mercedes-Benz, and Pizza Hut take an innovative location-centric approach on Facebook.
Facebook Is Mobile
989 million people use Facebook every single day. In fact, 1 out of every 5 mobile minutes is spent in the Facebook app. This creates a huge opportunity for brands to get in front of consumers throughout their mobile purchasing journey - at the moments they're making decisions on where to go, where to eat, and where to buy products and services. 92% of social marketers are using Facebook for advertising and 62% of total advertising revenue is from Facebook mobile advertising.
While Facebook ads are powerful, MomentFeed helps multi-location brands make them even more effective. By launching national ad campaigns from the store level, rather than the brand level, brands come across as more authentic, and consumers are much more likely to respond. MomentFeed can make a broad campaign feel targeted and local. Results speak for themselves: consumers are 75% more likely to take action after seeing a location-specific message.
Reach the Right Audience at the Right Time
MomentFeed was the first location data management company to partner with Facebook, and we continue to develop functions that align with Facebook's mobile strategy and help brands influence consumers to call, order, click for directions and ultimately make more online and in-store purchases.
Being a Certified Partner means we demonstrated effective use of Facebook's Ad API, alignment to Facebook's vision and policies, consistent examples of client success, and strong client relationships.

Learn more about how MomentFeed helps our multi-location clients drive measurable offline results with the latest capabilities from Facebook.