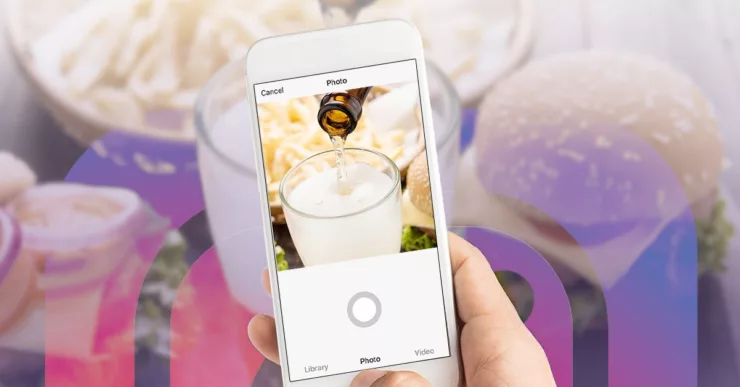 Blog
Leveraging Instagram for restaurants with hundreds of locations
Having passed the 700 million registered user mark and over 400 million users who use the app every day, Instagram is an undeniably influential force in our day to day lives. Instagram also boasts 1 million active advertisers and in March 2017 alone, over 120 million Instagrammers visited a website, got directions, called, emailed, or direct messaged to learn about a business based on an Instagram ad.
Additionally, posting food photos has become an obsession for Instagrammers. We all know someone who has that pre-dining photo ritual - it's as if restaurants have become new art galleries. And Instagram is the curator.
If your a restaurant marketer and have yet to leverage this powerful network, here are a few tips:
Engage with your local customers
When creating your Instagram marketing strategy, we suggest giving each restaurant or franchise access to their own local content. This is not just for Instagram, but for every popular social media service.
Customers are far more likely to interact with their local restaurant manager than an employee at a corporate office.
Brands should strive to provide local and regional managers direct access to the brand's Instagram page in order to like and comment on posts originating from customers at their location. With a software solution, this unique ability will provide customers with authentic offline to online engagements, lessen the workload on corporate and provide more autonomy to local managers.
A large pizza chain followed this exact strategy and saw an immediate increase in followers as well as user generated content. Their customer satisfaction improved at each of their locations and drove repeat business.
Share the Inside Scoop with Stories
The Stories function on Instagram is no longer a repurposed copy of Snapchat. In fact, Stories have made it a lot easier for businesses to integrate long-term content with temporary things like promotions, updates, and events.
Use stories to promote one-off local offerings such as a special-of-the-week. Think of something that's always changing that loyal fans will jump on when it becomes public.
Introducing a new dish? Go behind the scenes and show its creation. Tell a story in the kitchen of a chef preparing the dish. Document customer reactions after their first taste.
Another popular option is to do an "Instagram Takeover". Takeovers are a glimpse into the day-to-day goings on of an employee in your business. Takeovers are a great way to show a more personal side of your business and connect with customers on a human level. For one day in your weekly content strategy, devote it to following an employee.
Great examples of this are Del Posto, Pizzeria Bianco

Entice Customers with Mouth-Watering Images
Nothing will make mouths salivate faster than great looking pictures of food. Make sure you portray all your food in the best light but no need to break the bank doing so. You can take advantage of User Generated Content (UGC) available from each of your locations. You can find out more about leveraging your customer's UGC here.
With MomentFeed's Social Media Manager you're able to not only find UGC by hashtag and mentions, but also by place tag. You'll be able to immediately ask the user for permission to use their image and repost it across all your restaurants, all from within the platform and in a matter of minutes.
We strongly suggest creating a brand guideline around color-scheme or Instagram filter to keep consistency across your profiles. This provides a more professional and polished profile for your brand.
A great example of this is: Alfred Coffee & Kitchen

Go Live and instantly connect with customers
Going live is a great way to instantly connect with your followers. Every time you go live, all your followers will receive a pop-up notification from Instagram. Your account will also appear first within their Stories bar until you end the stream. Go live for big special events like store openings, local festivals, or highly-anticipated new menu items.
Live posts now last 24 hours like Stories. Use this opportunity to go back, save, and re-share the most interesting moments of the event.
Get Up Close and Personal with Ads
As we stated in our previous article, a research study conducted by Google showed that 80% of consumers prefer ads that are customized to their locality. Knowing this, you should customize Instagram's ads to each for each of your restaurants. You can achieve this with MomentFeed's Paid Media Manager, which allows you to set one campaign for all your locations while providing unique messaging for each one.
Instagram ads are practically indistinguishable from regular Instagram posts, which allows for higher engagement. Creating ads directed to consumers within a radius of your nearest restaurant means higher click-through rates, therein more foot traffic.
Earned Media is Priceless
You can spend time creating your own media (Instagram posts); you can pay for your media to be spread around (ads); or you can get the best of both worlds for free.
Earned media is when users tell their followers how much they love your food. In the case of Instagram it comes in the form of UGC as previously mentioned. Whenever someone has a great customer experience, Instagram is the place they share it. That's free advertising!
Remind your diners to place tag, @ mention and hashtag their food photos. Users love when you pay homage back with a #regram. And they'll tell their followers, increasing the viral potential of your brand.
These are just a few tips to help you make the most of this extremely popular visual platform. For more restaurant marketing tips read our recent blog post.

Learn how MomentFeed can help your restaurant brand leverage every aspect of Instagram.