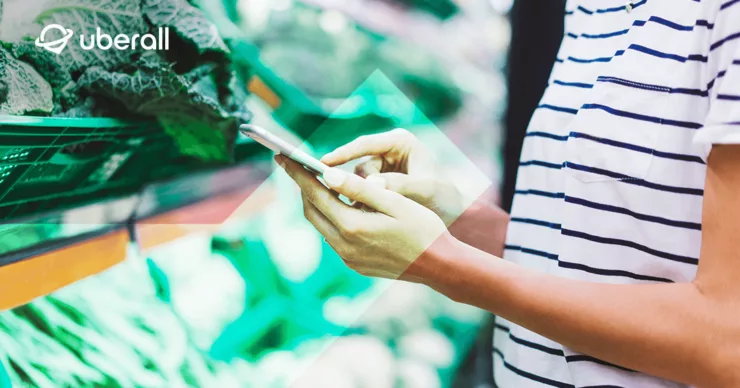 Blogs
How Coronavirus Is Impacting Local Search
By Greg Sterling, Uberall's VP of Market Insights

Given social distancing, store closures and the increasing number of "stay at home" government mandates, one might expect local and near-me search volumes to fall off a cliff. But that's not happening, local search is evolving along with the situation.

Google Trends reflects that over the past 90 days, near-me search is relatively flat on a global basis. It's trending downward slightly - undoubtedly affected by the virus - but mostly from its high during the final holiday shopping weeks of 2019.



Near Me Search Still Happening (Global)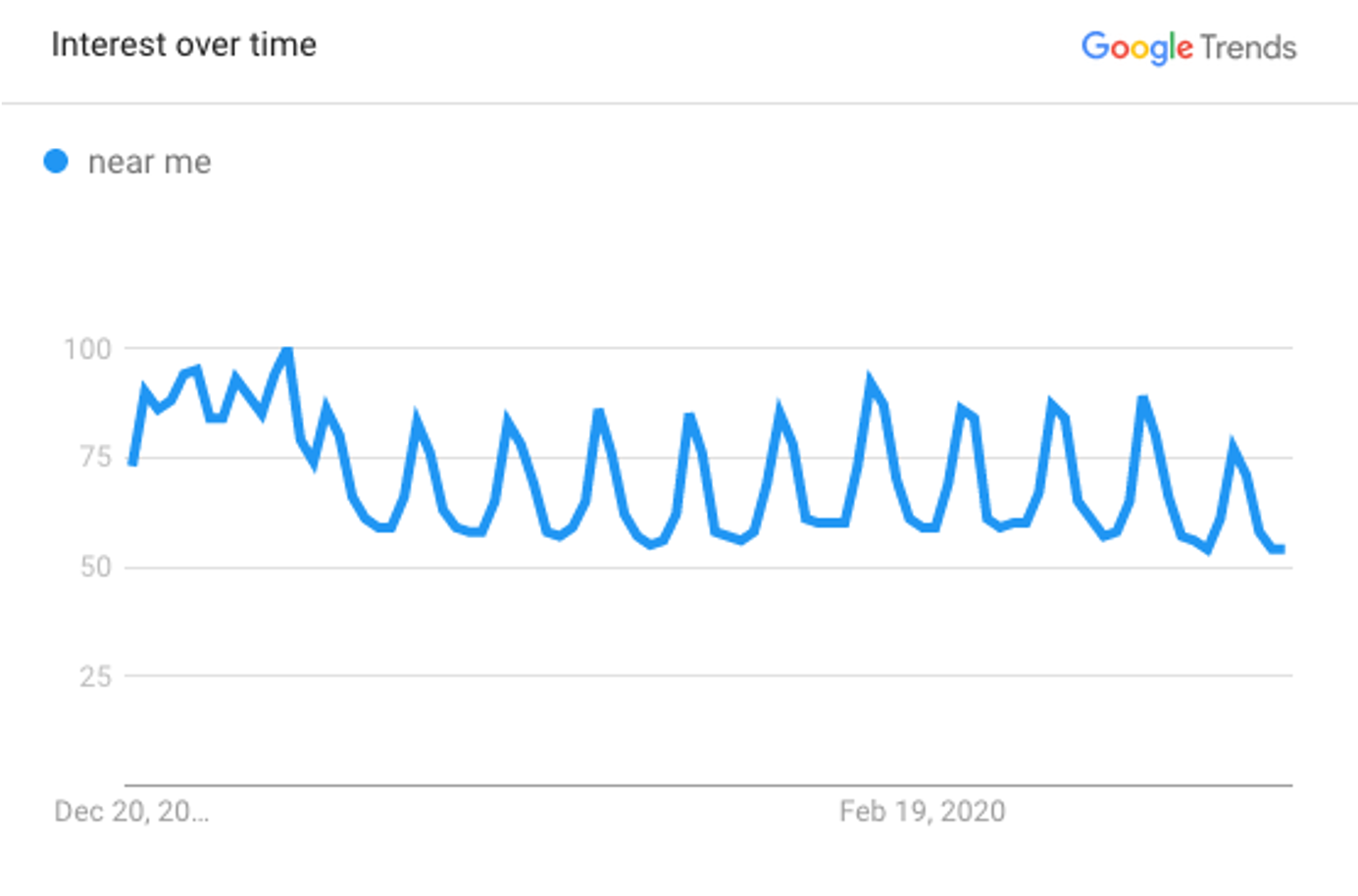 Local Search Is Shifting with the Crisis
What we're seeing, at Uberall and from third-party data, is that local search is very much still occurring, though shifting. Looking at Google Trends for the US market this time, "restaurants near me" (as a proxy for restaurant search generally) is trending down, as are queries such as "café near me."
But when we look at "grocery delivery" or "stores open near me," or "opening hours," we see a spike in volume, starting about a week ago. This reflects people trying to determine which grocery stores offer food delivery and which stores in their area remain open.


Some Categories Have Declined, Others Are Spiking (US)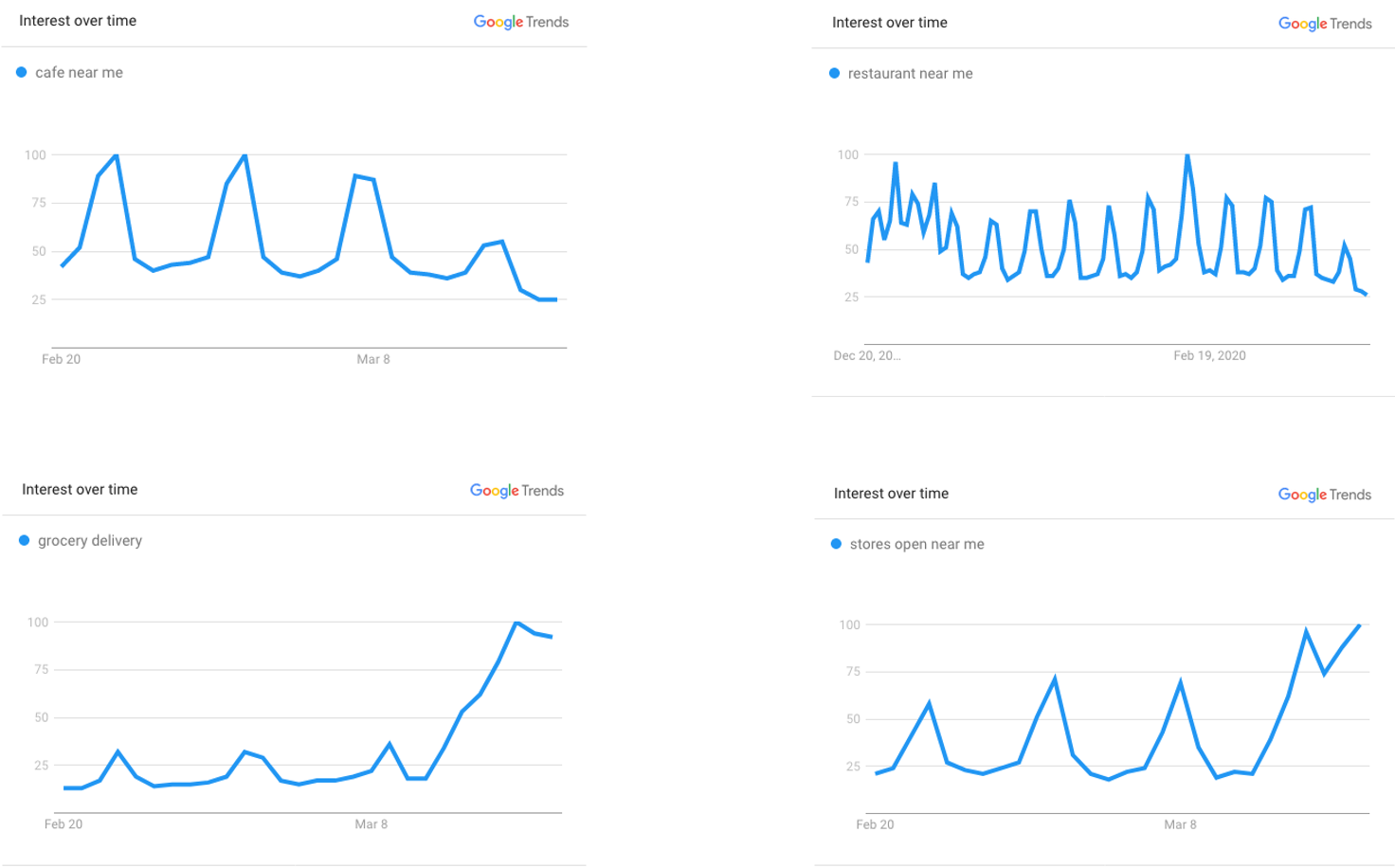 In the funny / not funny category is the growth of near-me searches for toilet paper. The very recent drop off probably results from the discovery (and resignation) that toilet paper is out of stock in many places.


Toilet Paper Near Me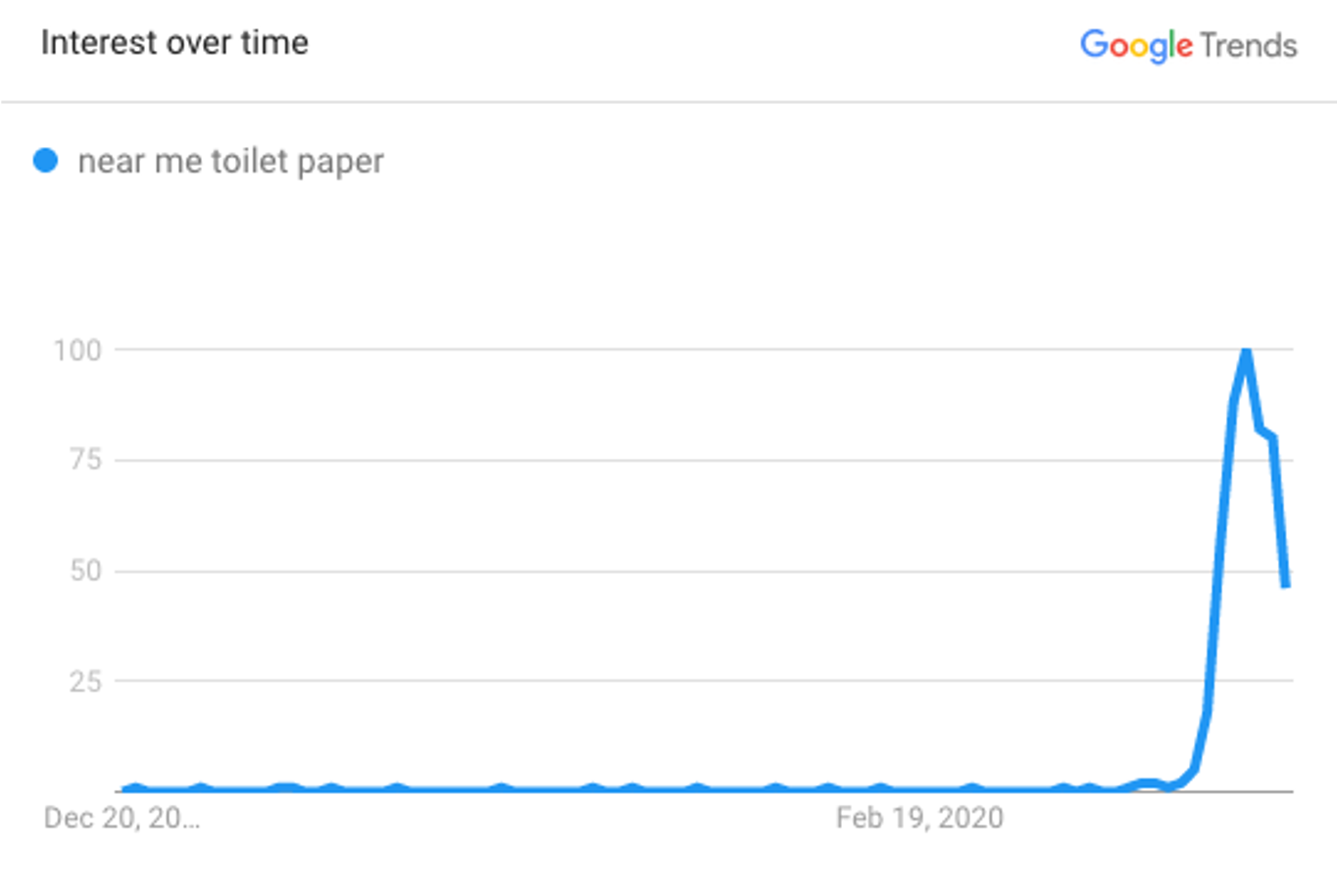 French Restaurants Down, Fitness Equipment Up
Yelp has released data showing how "consumer interest" in local business categories is changing on its platform in the wake of the virus and "shelter in place" rules. Consumer interest was "measured in terms of daily US counts of a selected set of the many actions people take to connect with businesses on Yelp, such as viewing their business page or posting reviews."
As the chart below indicates, categories such as breweries, galleries, French restaurants, yoga and food trucks are all down. Conversely, food delivery services, fitness equipment, grocery, pharmacies and, sadly, guns & ammo stores are up.


Changes in Consumer Interest on Yelp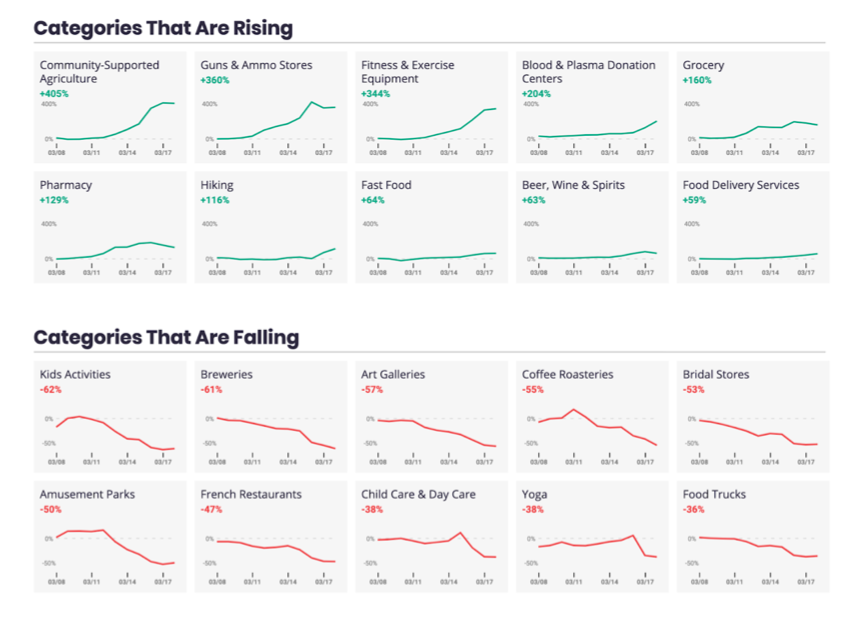 Map Views Off 50%, Calls Steady
Turning now to Uberall's own data, what we have seen across the platform since early February are the following changes in consumer behavior:


Local search impressions are fairly stable (-10%)

Map views have declined significantly (-50%)

Requests for directions are also down (-20%)

Call volumes have largely not been impacted
Looking more closely at the data for three specific business categories (gyms, grocery stores, hotels), globally, there has been considerable change since February:


Gyms:

site visits are up, calls are up, driving directions are way down

Grocery stores:

visits, calls and directions are up

Hotels:

calls, directions and site visits are way down
Consumer Actions Shifting by Category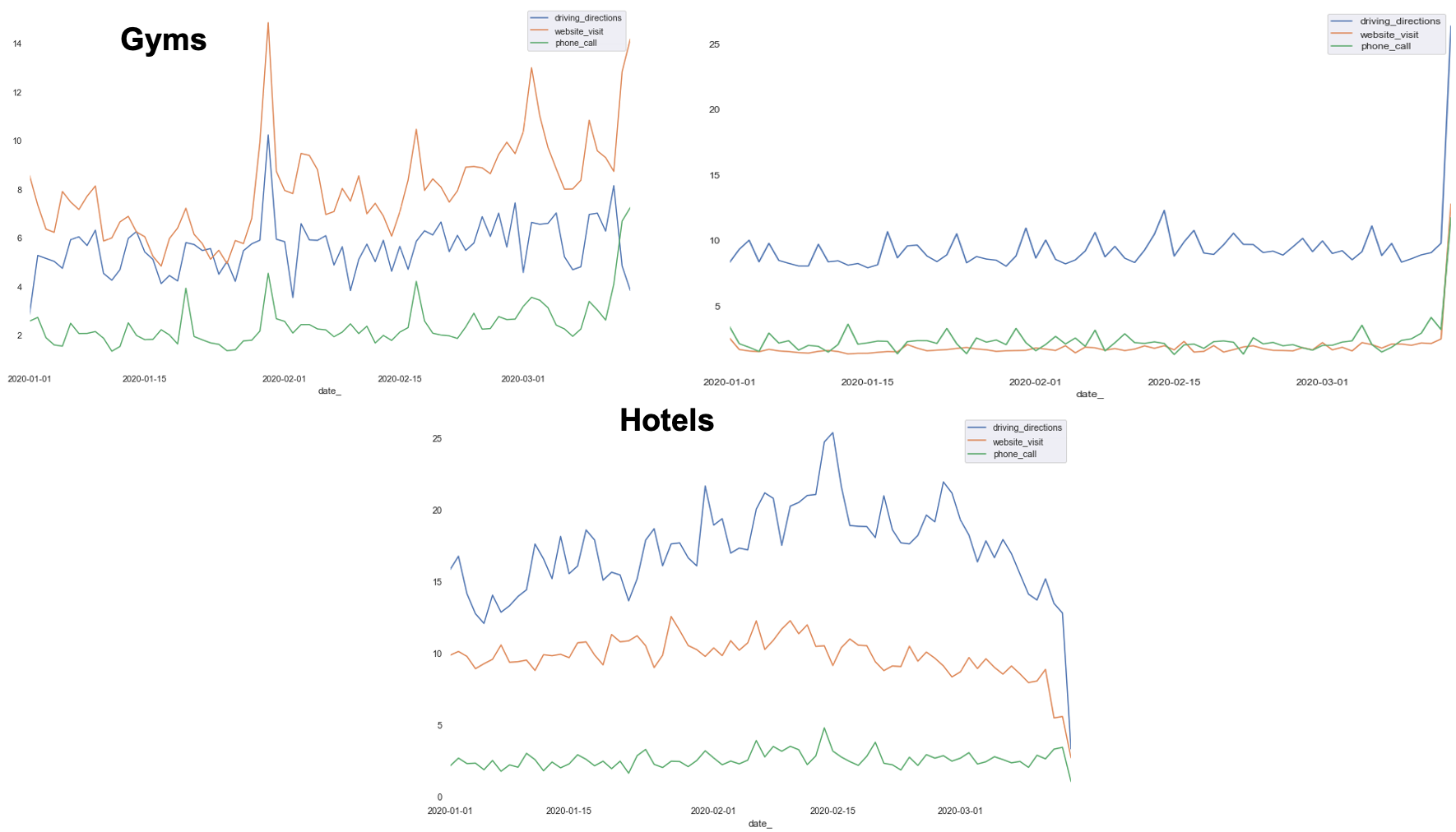 Near Me As E-Commerce Backup?
Based on some anecdotal evidence, it also occurred to me that people may be using near-me search as a kind of backup when they can't find something in-stock online. Normally, near-me searches often precede e-commerce lookups for products.
When people can't find something locally, they usually go online (to Amazon) to get the desired item.
A friend was telling me how he was using Clorox Wipes to disinfect doorknobs. I first went online to see whether I could buy them on Amazon, but they were "currently unavailable." In the process I discovered the following: "Clorox Wipes near me" near the top of the search suggestions list, which means a lot of people are doing this query.


Clorox Wipes Near Me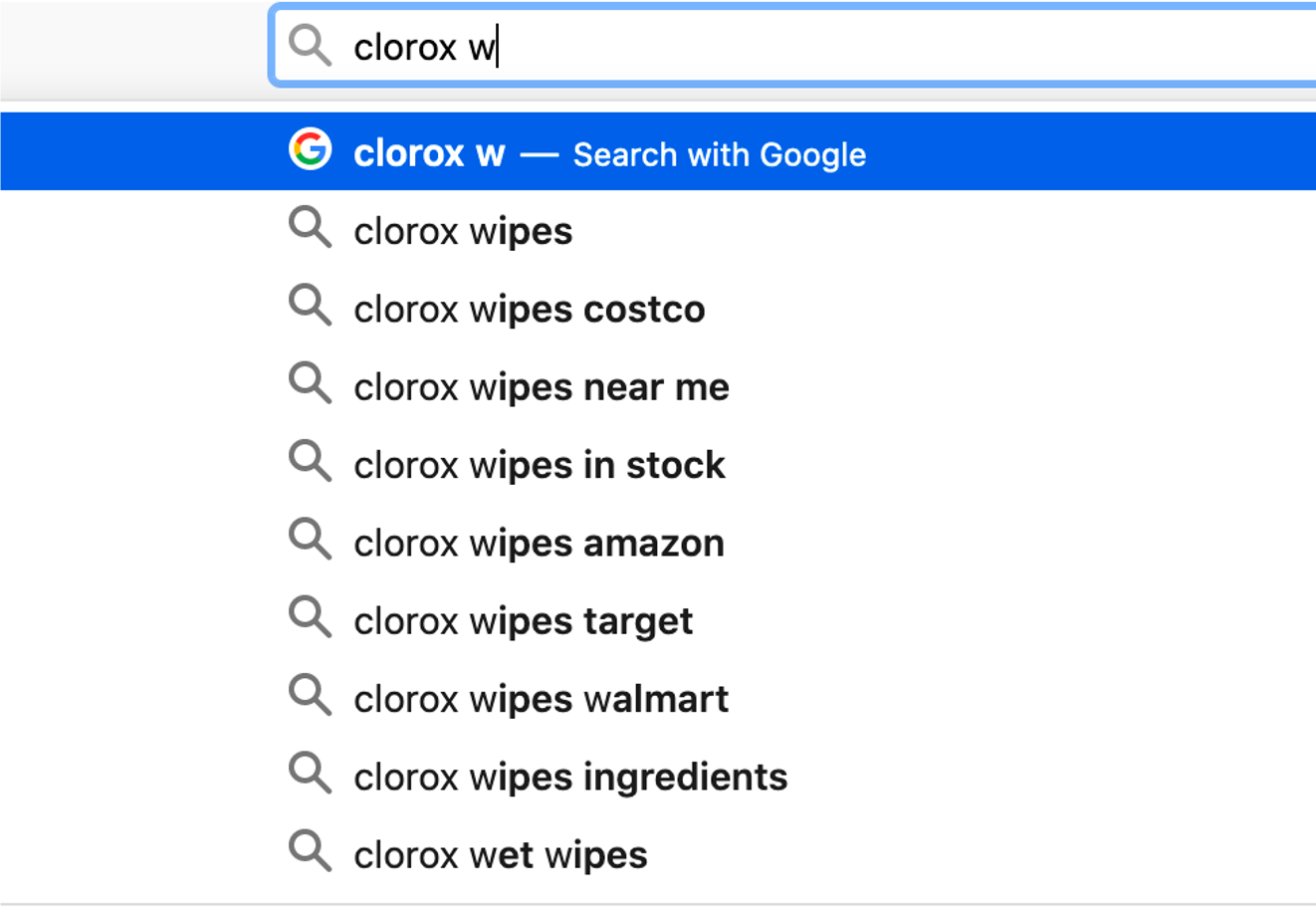 If you actually do that search the first result is Tom's Guide , which offers a number of recommended places (online and off) to buy the wipes. (As an aside, there's an coronavirus-SEO tactic here: building product inventory pages for hard-to-find items.) And again, while this is speculation, I suspect there's an inversion of the usual process going on: first looking online for products and then "near me." But this is just a single example.
As all of these examples illustrate, people are definitely using local and near-me search during this crisis and perhaps just as much as ever. It's just that behaviors are changing, based upon how the virus is impacting and disrupting our daily lives. Right now, it's more about survival and less about discretionary spending - for the foreseeable future.