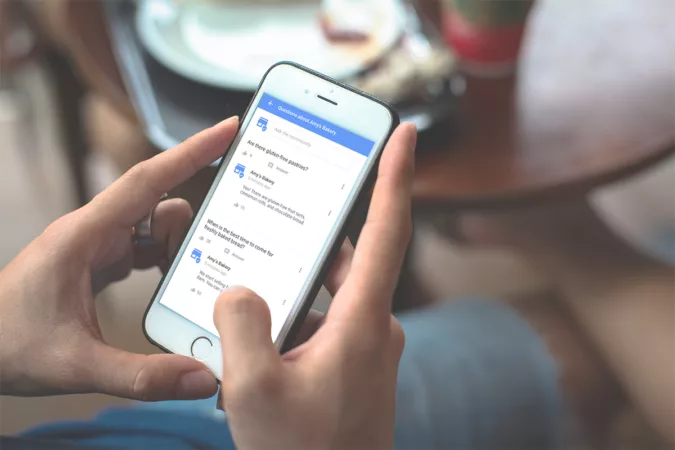 Blog
Google Questions and Answers Emerges From Quarantine and MomentFeed Is Here for It!
Google is arguably the most influential review platform for local engagement. So it was a surprise when it suspended Google My Business Listing Questions and Answers (Q&A) publishing in March as part of its reduced support during COVID-19. For those that aren't familiar, Google Q&A allows consumers and businesses to post and answer questions on specific businesses. The good news is that the company has recently re-started publication of Google Q&A. Since MomentFeed makes monitoring and responding to Google Q&A across multiple locations a breeze, we thought it would be the perfect opportunity to take a look at how to leverage this important local marketing tool.

What is Google Questions and Answers?
Google Q&A appears in the Overview section of a Google My Business (GMB) listing.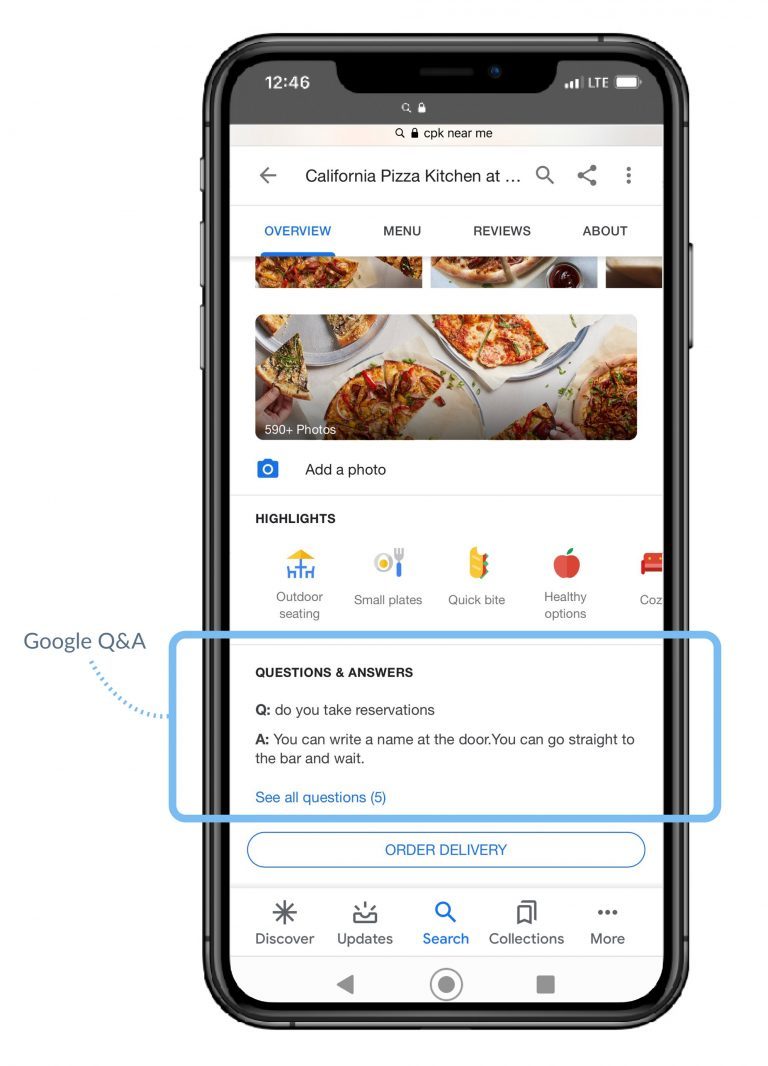 The cool thing about Google Q&A is that it allows anyone using Google to ask and answer questions about a business. It's a crowdsourced way for consumers to get their questions answered either by the business or another consumer. Since Google Q&A appears prominently on the GMB listing anytime that business is searched, and anyone can answer, it's crucial that multi-location brands have an easy way to monitor and answer questions to ensure the information is accurate and up-to-date. Keep in mind, the response that potential customers receive can influence their decision to call or visit a business.

More on How it Works:
Both consumers and the business can ask and answer questions. However, an individual Google user is only able to answer a specific question once.
Anyone can "like" a question or answer by clicking the thumbs-up icon.
The question and answer with the most likes will show up on the front page of the GMB listing, directly in the knowledge panel (see example below).
All other questions and answers will be shown behind the "see all questions" link, in the order of how many likes they have received.
Questions and answers can't be down voted, but they can be reported for any of the following reasons: it's off-topic, no longer applies, is advertising or spam, contains hate, violent, or inappropriate content, or incorrect information.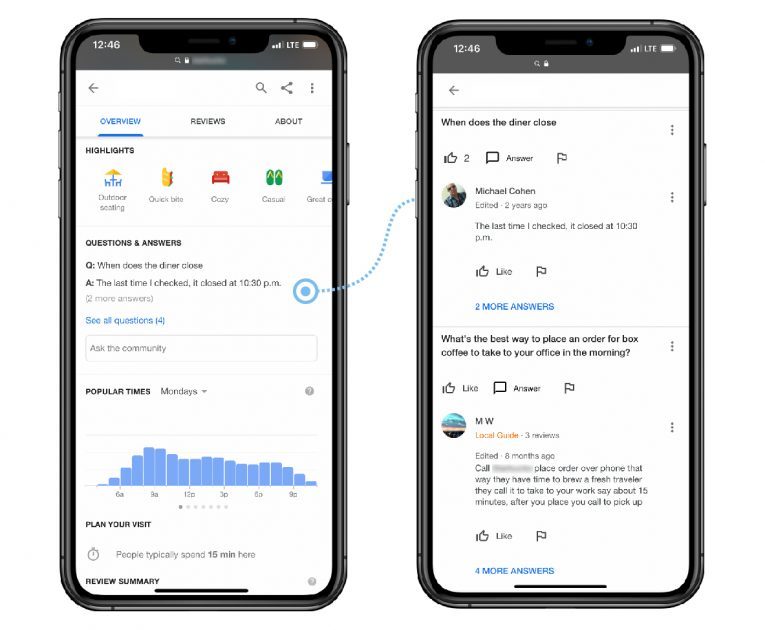 For all the reasons above, multi-location businesses need to pay attention to Google Q&A. However, according to Search Engine Land, a number of SEO experts also believe that it may influence voice search questions and answers on Google Assistant — the same experts don't believe it currently impacts your Google search ranking. Regardless, the goal is to answer your brand's highest volume questions as they relate to the topics and keywords that will have the highest impact on your location conversion.

Google Q&A Best Practices
MomentFeed internal data shows that 85% of consumer interactions with a brand happen on local listings (such as Google, Facebook and Yelp), so it's imperative to create positive customer experiences wherever you can. Inaccuracy of Q&A information on the GMB listing can negatively impact a consumer's perception of your brand and that location's business. To ensure uninformed or disruptive consumers don't spread misinformation, we advise that you proactively manage and monitor Google Q&A for all your local business pages, here are four best practices to follow:

Develop your Own Google Questions and Answers — Google Q&A is an important channel for consumers and the business to communicate. It's also a great opportunity for the business to post its most important FAQs, saving time for both businesses and customers.
Identify the three or four most common questions that consumers ask before visiting your business.
Questions should be related to your core business and should be related to topics that will have the highest impact on store conversion.
Questions should be free of marketing speak and reflect the voice of the consumer. Don't use Google questions and answers as an opportunity for keyword stuffing.
You will also need to craft your answers to the questions you post. Write in the voice of the business and be detailed but brief in your responses to questions.
Include some questions about specific products and services and, if it makes sense, include a call to action to visit/order from the location. Keep in mind, the intent is to share information. Gratuitous advertising might be flagged for removal from questions and answers.
Remember to add any questions that highlight your business's unique brand (e.g., black-owned) or local focus (e.g., neighborhood discounts).
MomentFeed has drafted a
library of templates
with questions tailored to fit more than 20 of the most common brick-and-mortar industries. Each template is a great starting point for any business.
Curious about what questions are best to ask?
Proactively Monitor and Answer Questions — To ensure consumers receive accurate information, it's best practice for questions to have at least one answer from the business. It may sound daunting to keep up with, especially if you have multiple locations, but if you're not answering questions directly, you're leaving it up to the internet to answer them for you. It's well worth the effort, and something that MomentFeed can help multi-location businesses master. Our platform makes it easy for the corporate marketing team or the franchisees to monitor and respond at scale. By proactively answering questions, it's more likely that incorrect information won't be added to your listing, allowing your brand to better control the conversation about the business.
Additionally, when answering questions, be succinct but thorough. You don't ever want to answer questions with a simple yes or no. Keep in mind, Google Q&A is an opportunity to promote your business. For example, if a consumer asks if you have a catering menu, and you do, you'll want to use answering the question as an opportunity to highlight some of your most popular items. Unfortunately, you cannot include images or hyperlinks within answers, so you wouldn't be able to link directly to a catering menu for example. However, since the consumer is already on the Google My Business Listing, you can still direct them to the relevant information. Answers have a limit of 1,000 characters, so you'll have plenty of room to cover what you need to.

Upvote Important Q&As —Every Google user has the option to like a question or answer by clicking the thumbs up icon (see in the example below). The Q&A with the most upvotes will appear higher up in the business's listing. You can visit your Google Q&A page and upvote your commonly asked and most important answers. While you're there, we also suggest upvoting consumer responses that are helpful and accurate.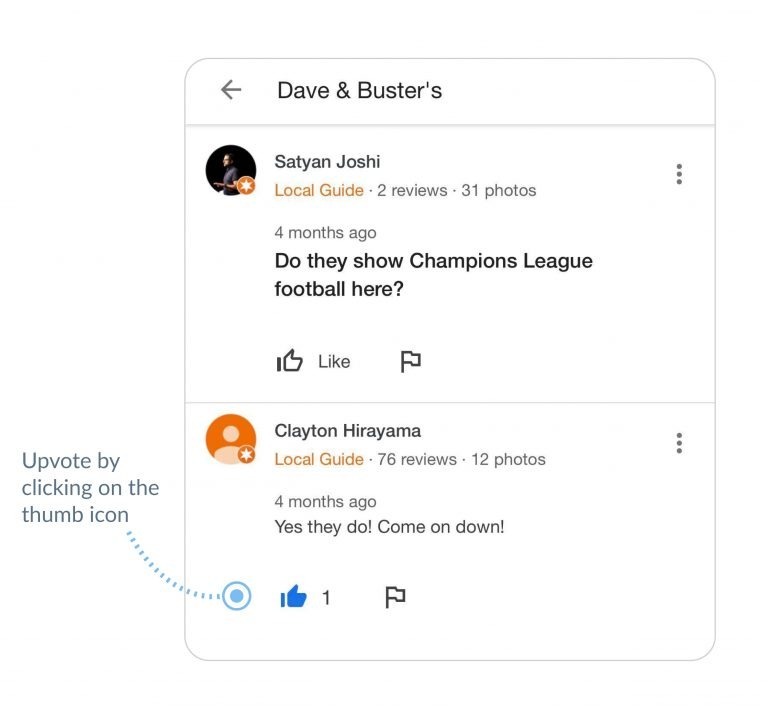 Flag Inappropriate Answers — Open forum content always carries risks, and Google Q&A is no exception. Having a system that helps you monitor questions and answers at scale ensures you can remain on top of any inappropriate posts. If you find something that's in violation of Google's policy (i.e., off-topic, no longer applies, advertising or spam, hate, violent, or inappropriate content, or incorrect information) there is recourse. You'll need to flag any questions or answers that violate Google's Question and Answer policies from your GMB listing and ask Google to remove them. You can find more Google My Business policies here.
Google Questions and Answers an Important Tool in Your Local Social Toolbox
Google Q&A is an important tool in your local social marketing toolbox. It enables multi-location brands to show up with answers right where potential customers make their decisions. It's also a great way to flex your local personality with helpful information that maintains brand consistency and location accuracy.
The MomentFeed platform makes it easy for multi-location businesses and/or their local operators to monitor, answer, and post questions to their Google My Business listings at scale.
If you're an existing MomentFeed customer, please visit our Knowledge Base for more information on how to put Google Questions and Answers to work for you. For more local marketing strategies to help accelerate your recovery and return to growth mode, download our newest "Local Marketing Checklist to Drive a Quick Recovery."