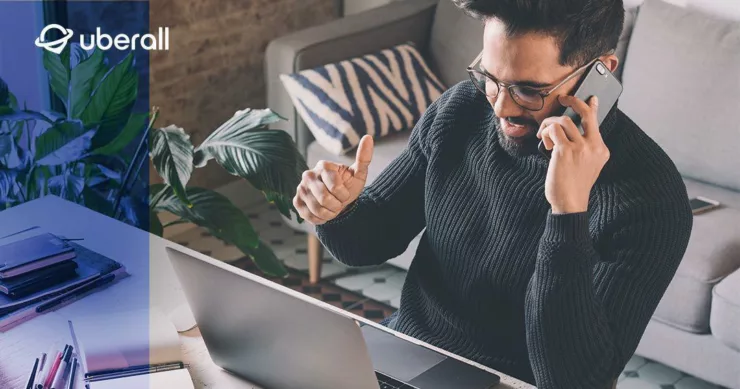 Blog
Agency Edition: New Ways To Engage with Clients and Employees
Home office, online shopping and virtual events - it did not take long for these activities to become a normal part of our daily routine, and after some time we became used to life without in-person experiences. Time by time, we learned to adapt to the alternatives and "plan Bs" evoked by the pandemic. However now, as restrictions start to lift and people get vaccinated, we are once more facing an unfamiliar situation - the post Covid19 lifestyle. As this is evolving faster and faster, consumers and businesses alike are currently learning how to modify and adjust to these changed structures and concepts.
Agencies need to find solutions for their clients and establish how they will position themselves in a post pandemic normal. Topics that need to be considered include:
How to interact with consumers.
What to offer employees.
How to position brands in a modern world.
Current statistics, like '82% of consumers will shop locally after the pandemic' and '37% of shoppers do research online before shopping offline' show the importance of combined on and offline solutions for the future. We are looking at a hybrid world with a significant demand for both virtual and physical extensions.
>>Download The New Face of Local report to access the latest stats, findings and insights regarding a hybrid world.
Agency Employees: Is Remote Working Here to Stay?
Fashion magazines recommending the best outfits and make-up looks for a video call, Youtube clips showing working parents being annoyed by their children in front of a live stream of millions of viewers... Home office has been the topic over the past year!
Today, employees and employers around the world ask themselves:
What will the working environment look like in the future?
How will Covid19 impact our old processes?
Will remote remain a company standard?
What are the trends, disadvantages and opportunities?
Yes, Remote Working Is the New Way of Working
In the past, home office was generally seen as a special benefit and privilege. Today, it has become the status quo. Millions of employees are currently sitting at home at their kitchen tables or on their sunny balconies, working away from the office. Covid19 has taught us how to use the potential of technologies and concepts that in some cases were there the whole time. As a result, geography is no longer a disadvantage and agencies particularly are more open to working with freelancers across the globe. There is no doubt that after Covid there will be more acceptance to offer home office structures and more flexibility for self-determination.
No, Remote Working Isn't for Everyone
At the same time, not everyone has embraced the working from home culture. Greg Sterling, Uberall's VP Market Insights, says, "Remote working was quite a mixed experience for people. Senior people generally appreciated it and saw that productivity improved, while younger employees struggled a bit more." This was especially the case for working students and younger co-workers living in shared flats or single-room apartments who had a tough and frustrating time during home office obligations.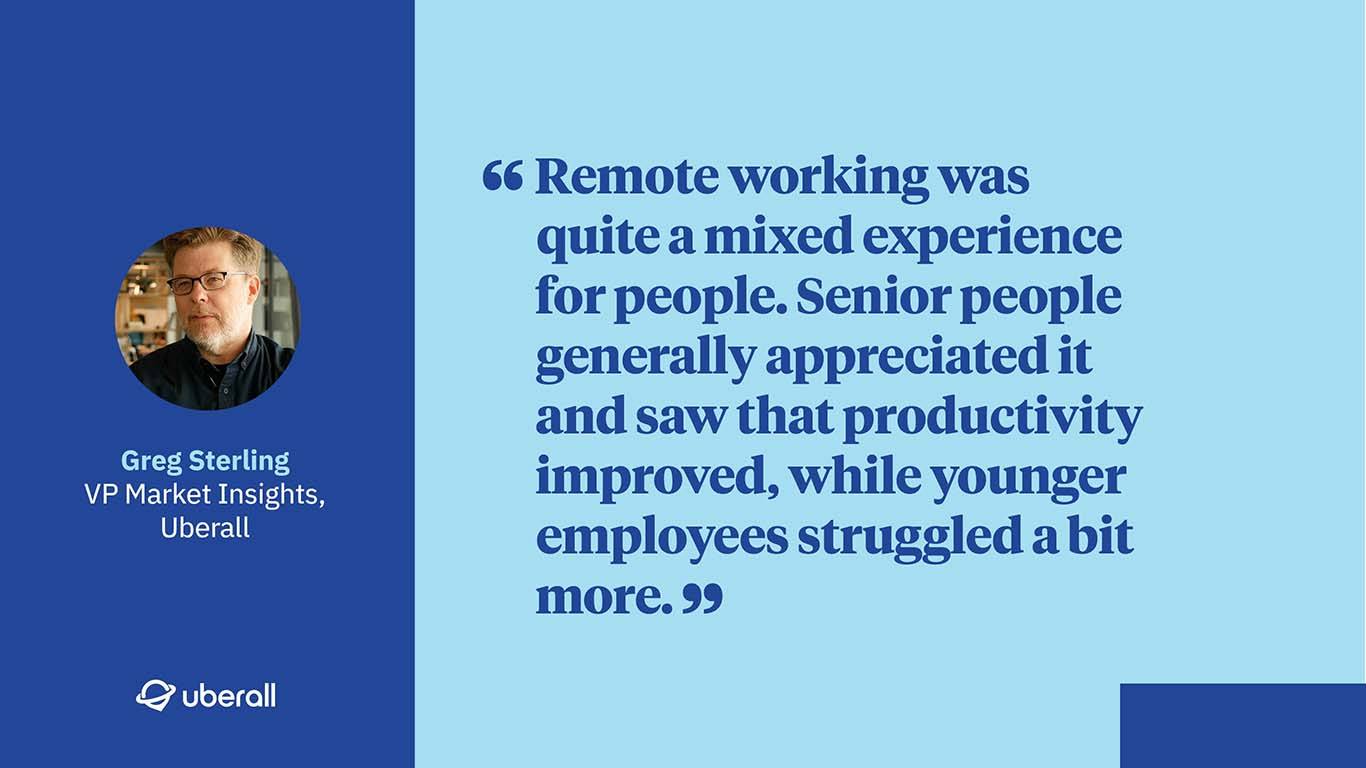 Enjoying exclusively remote working truly depends on one's personality and circumstances. What turns out as flexibility, independence or privilege for some, can be a struggle and a burden for others.
Also, humans naturally enjoy being accompanied by peers and need these physical interactions in order to exchange and learn. Stephen Knight, Founder, Managing Partner and CEO of Pimento additionally points out, "Clients are nervous about working with agencies that are 100% remote. There is also a good argument that actually, if you really want outstanding creativity, you need to have that interplay, that physical opportunity to get people together."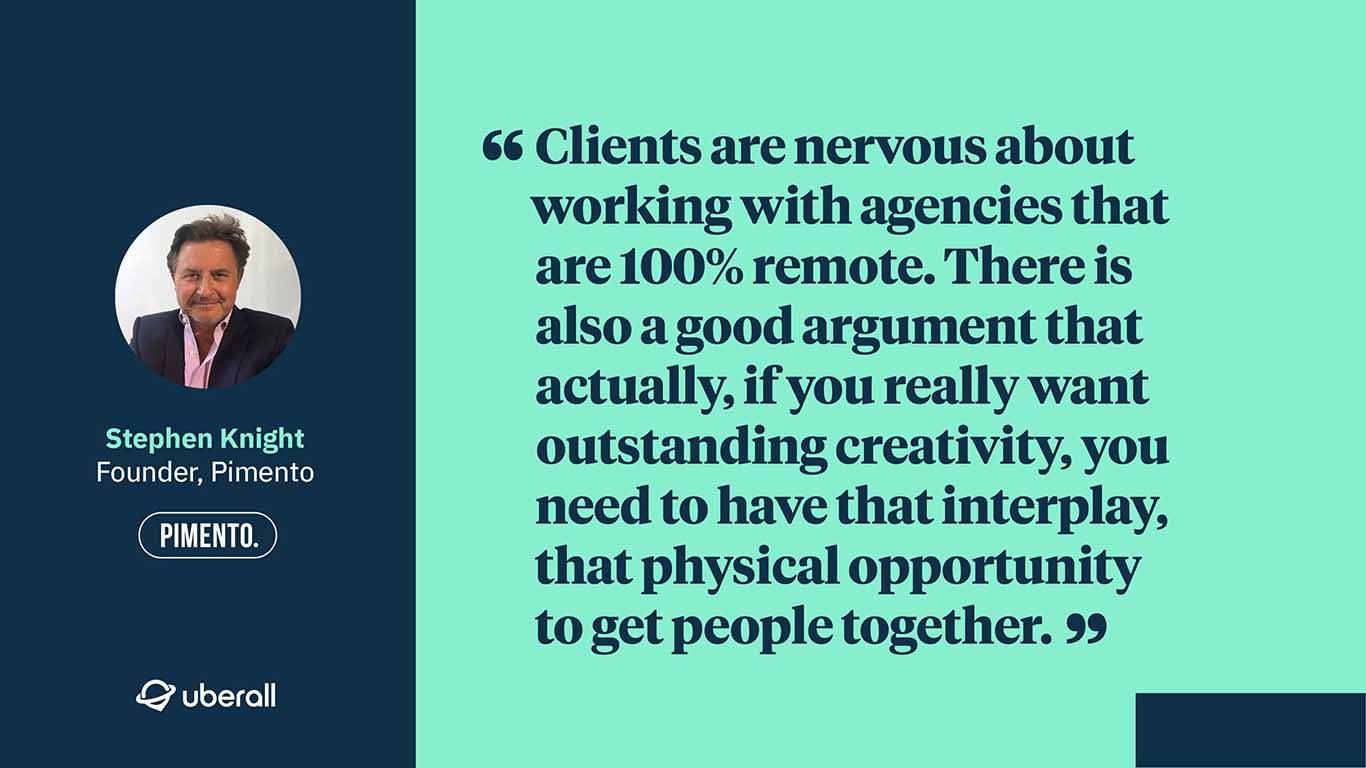 Is a Hybrid Solution the Answer?
It seems as if companies need to offer the individual choice between remote and office working. Since a fully remote concept is not the ideal solution for all, is a hybrid system the way to go?
One idea is a 3-2 concept, giving the employee a choice about where they work. The theory includes going into the office three times a week and working from home twice a week.
In general, brands should be looking for expertise, no matter where these people are located or feel comfortable working. Jo Juliana Turnbull, Marketing Consultant and Organiser of Search London feels; "People should focus more on the talent, instead of where they're dialing in from, because that can lead to discrimination".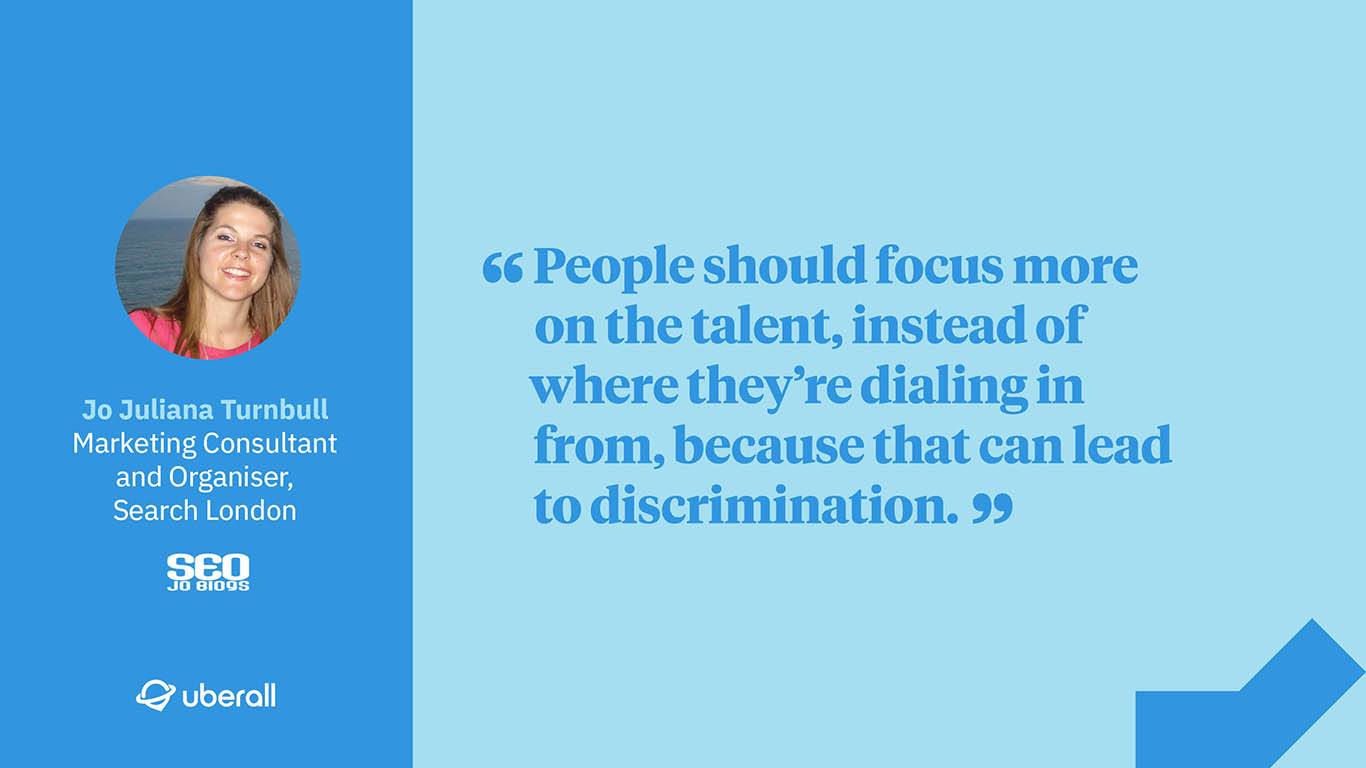 Since today's technology means employees aren't required to be located in one overhead at the same time, there's no reason not to grant independence to employees. In fact, why not give employees the comfort to decide on their working place and their own personal routine on a day to day basis? If this means granting employees a better work-life balance and openness to hiring even more creative, diverse people, it will surely drive greater results.
A hybrid system, having some employees in the office while others across the globe, is indeed effective. It gives the company indispensable flexibility and contingency towards change. Covid19 has taught us how important it is to be adaptive and open-ended towards different concepts.
Besides, in order to be creative and have fresh ideas, there is a need for self determination. Having the opportunity and being granted the flexibility to choose workspace and physical exchange depending on situational context, is a must have for creativity.
Agency Clients: Understanding Consumer Behaviour
Not only will companies need to consider and rethink working practices, one of the most current topics is how to reach out to and engage with customers. Agencies have to intensely focus on what their client's customers want.
Understanding the consumer journey in real time is now more relevant than ever. The pandemic demonstrated how rapidly things can transform. This influence extended to a point at which even large brands, such as the car rental firm Hertz and fashion brand J.Crew, filed for bankruptcy. These cases are not individual fates, instead serve to alert enterprises that they need to acknowledge consumers' desires faster and more efficiently. Stephen Knight, Pimento Founder, Managing Partner and CEO, puts it in a nutshell, "If we can't get a handle on those consumer changes, or even be in a position where we can forecast what's going to happen, then we're disadvantaged because we're not able to give our clients the best advice."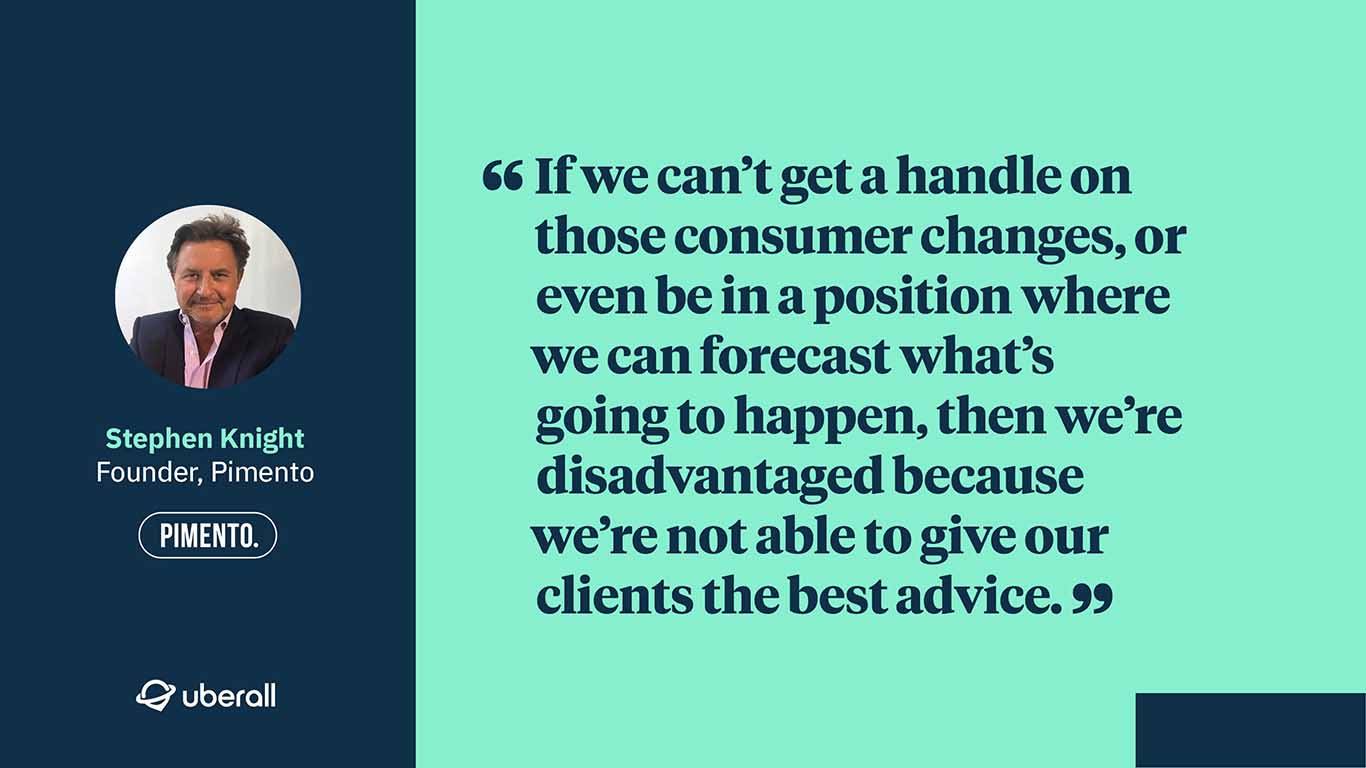 Finding answers to the question around the "new normal" is a crucial topic. For instance, what will consumers do with all the money saved by not travelling and going to concerts? Agencies need to get hold of these answers and focus on modern ways of communicating with clients' customers, in order to best forecast and understand demands, desires and needs.
What the consumer prefers in the end depends on the situational context. Brands need to be prepared for online and offline touchpoints in a so-called 'retail hybrid'. This is crucial to meet consumers where they expect to meet the brand.
Introducing the Retail Hybrid
The retail hybrid is a current trend with significant potential. Covid19 dramatically demonstrated how indispensable an omnichannel strategy is. Ideally, brands have a physical presence in order to grow and thrive in cities and metropolises, while simultaneously experts suggest a healthy balance with the brands' e-commerce concept. During lockdown periods, brands like Primark, with poor online presence, suffered great losses as their stores were closed without offering any alternative touchpoints for customers.
Especially now when figuring out a post Covid strategy and working on positioning, agencies must consider consumer behaviour carefully. On the one hand consumers want to feel the in-store experience and have an exchange with other individuals. However, on the other hand, one can surely not ignore the importance of online presence today and the 'on demand' need.
The omnichannel strategy offers an ideal solution, as consumers can be met at the exact moment they are ready to buy. As the decision between buying online vs. offline happens situationally and simultaneously, having an online presence and offline touchpoints go hand in hand.
A New Focus for Client and Employee Engagement
Agencies are facing different circumstances and new ways of doing things. Firstly, we will be confronted with previously unfamiliar, flexible working concepts. Employers will be more open to self-coordination and offer independence for a healthy, individual work-life balance. Whether this means a fully remote system or a hybrid format depends on personal preferences.
Not only will working be affected by our learnings over the past year, agencies will have to rethink the way they interact with clients' customers. Understanding consumer interests in real time is a priority, as well as creating a good mixture of online and offline touchpoints to ensure meeting consumers at the right time, in the right place.
>> Discover more on-demand where our panel of experts discuss The Way Agency Leaders Work Now: Key Strategies for Growth :