In their search for a local marketing strategy that works, the Motorpoint team had to overcome a few hurdles. They needed to find an efficient way to:

Consistently drive customers to their nearest location.

Communicate evolving opening dates and hours to customers.

Maintain a high rating on independent review websites.
That's when Motorpoint found Uberall. Using Uberall, Motorpoint now automatically updates over 1,000 listings across all directories they appear in, for their 20 stores across the UK.
Since partnering with Uberall two years ago, Motorpoint's goals have been twofold:
1. Improve their brand visibility online and spread awareness to potential customers.
2. Sustainably request and respond to customer reviews to gain credibility.
Rainu Bhele, SEO Content Manager at Motorpoint, was part of the team that implemented Uberall. She says being able to communicate changes with customers in real-time was a game changer.
Before Uberall, applying mass changes to opening hours for bank holidays or other events meant hours of manual work. Now, the team is able to deploy updates to all stores or a small subset when needed, at scale, in minutes.
Paul explains that, like many retailers, Motorpoint has different opening days and hours across locations in order to be available when it's most convenient for customers. Customer experience is always top of mind.
"As we look to be more agile and consider availability, Uberall has been a major tool for us. Using Uberall to quickly update store hours across listings ensures locked doors don't greet our customers."
Paul Johnson, Head of SEO, Motorpoint

Motorpoint's commitment to providing accurate location profile information means that the company is also ranking higher in local searches for their industry compared to competitors who lack multi-location information and relevant updates. Case in point: Their location profile completeness is at 95%—no small accomplishment, and one that will help them more easily get found in search.
Other ranking strategies the Motorpoint team is on top of? On-page FAQs. The frequently-asked-questions page of their website is comprehensive, covering each step of the buying process.
Incorporating common questions from a Google Business Profile to a website (or vice versa) has a positive impact on site visibility, something Motorpoint is seeing firsthand. Their team is boosting impressions and gaining a higher Google local ranking by investing in thoughtful, detailed FAQs for customers, who now get to see the full picture before ever stepping foot in store.
Want to manage your listings like Motorpoint? Learn More

It's no surprise that 86% of consumers prefer businesses that respond to reviews. It builds credibility in a world of options where customers don't know who to trust. But, customers trust their peers.
Learn more about Customer Review Websites you can leverage. Read On
In 2021, Motorpoint was replying to only 3.32% of reviews because of the intensive time and effort it took to 1) ask customers to leave reviews and 2) craft individual responses that aligned with their brand voice.
Enter Uberall review management: The reply rate skyrocketed to 94.12% (Hint: The review response rate is positively correlated to average rating). As a true testament to Motorpoint's positive customer sentiment, their average review rate also increased by 3 points, moving from 4.3 in 2021 to 4.6 by the end of Q2 2023.
A key factor behind this nearly 5-star rating is the investment in review management.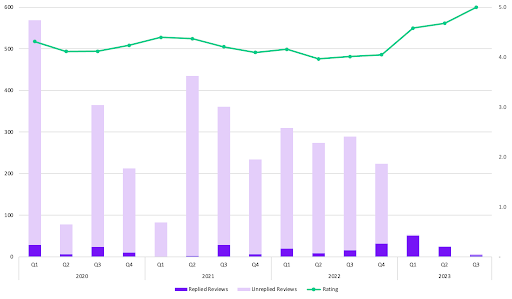 Motorpoint's digital strategy aims to meet customers where they are. From their Uberall platform analytics, they knew that 75% of all their views are coming from customers on mobile.
Given the increase in mobile searches, clicks to directions, contact requests, and more, they then started leveraging the power of mobile to request reviews in real time. Local operators were encouraged to solicit reviews from customers post-purchase, which customers could leave at the click of a smartphone button.

Over 75% of customers use online reviews to make their purchasing decisions, and Motorpoint has cracked the code to using eWOM (electronic word of mouth) to build trust with returning customers— attract new customers.
If you're looking to drive success via listings and review management like Motorpoint, Uberall can help you:
Get found across 125+ online platforms—and via voice search.

Get and respond to more local reviews.

Create better experiences with AI-driven insights.

Reduce the workload on your team.
Want to manage your reviews like Motorpoint? Learn More