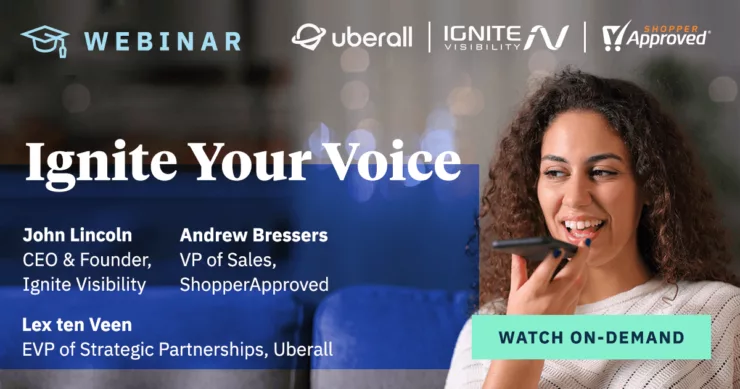 Webinar
Is Your Digital Marketing Ready for Voice?
"Conversational commerce is coming," says Uberall's Lex ten Veen. "It may not be here next week or month, but voice and chat technologies are about to revolutionize how we connect with consumers, and companies who are not preparing their digital presence and strategy for this change are putting themselves at a competitive disadvantage in the marketplace."
"Voice search has exploded over the past few years," adds Ignite Visibility CEO and Co-Founder, John Lincoln. "It represents a fundamental shift in the way consumers are searching for products and information. Because of that, it's incredibly important that brands familiarize themselves with the various devices out there and how people are using them to conduct searches."
Lex ten Veen, EVP of Strategic Partnerships for Uberall joins Andrew Bressers, Vice President of Sales for Shopper Approved and industry expert John Lincoln from Ignite Visibility, to tackle these questions and dig into how voice will (or won't) change your current and future digital strategy.
Topics include how to prepare your online data and strategy for:
Voice devices
AI
Chatbots
Voice search
Text marketing