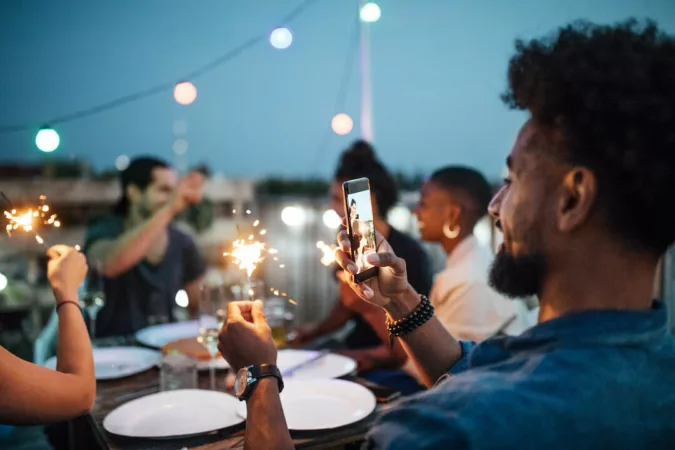 Blogs
Why Nextdoor Is the Next Big Local Marketing Opportunity
Nextdoor is a neighborhood app that connects neighbors to each other and to virtually everything else nearby. That includes businesses, services, news, recommendations, and items for sale or being given away for free. Nextdoor's core value is trust. Members must verify their addresses, which allows people to be confident that they're talking to their actual neighbors.
The company operates in 11 countries and more than 268,000 neighborhoods. There are 50 million local business recommendations on the site, and Nextdoor estimates it's used by one in four US households.
What makes Nextdoor different from its rivals, such as Google, Facebook or Yelp, is that business owners are part of the neighborhood – literally. Yelp envisions this same dynamic but is less successful in practice. Because of member verification, there are no fake listings or anonymous customer recommendations. And this is a major differentiator.

Local Marketing on Nextdoor
After years of building its membership base, Nextdoor introduced ads and sponsored content. National-local advertisers can reach Nextdoor members through sponsored posts. Small business (SMB) marketers have a range of free and paid marketing tools available on the platform.
Similar to Google My Business, the foundation of local marketing on Nextdoor is a free profile, called a Business Page. Business owners can claim an existing business or create a new one and then add images, and contact details, select a category, encourage neighbor recommendations, and post content that helps tell the story of the business.
Business owner dashboard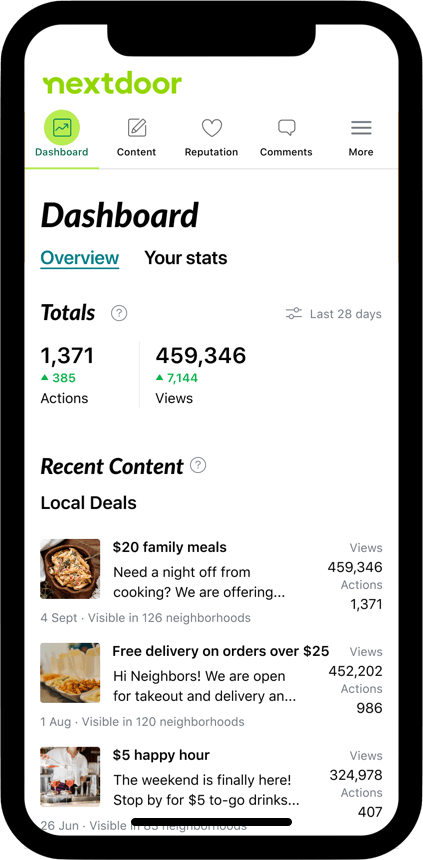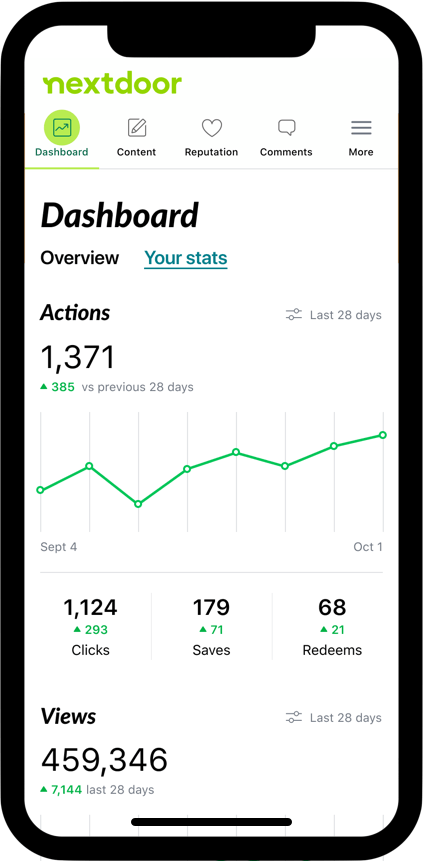 On the back end, there's a simple dashboard that enables the business owner to create content or deals, see neighbor comments, and recommendations and view Page metrics. A strong reputation (recommendations from neighbors) is ultimately critical to visibility and success on the site.

Local Deals and Sponsorships
Business owners who've claimed their Pages are given two free Business Posts every month, which appear in the neighborhood news feed. Business Posts were introduced by Nextdoor in June.
Beyond Business Posts and organic visibility, owners can pay for additional exposure on Nextdoor in two ways:
Local Deals enable businesses to share discounts or promotions with their neighbors. Deals range in cost but can be as little as $3.00. Businesses choose the neighborhoods where their Local Deals will be visible. And they appear in up to six places on the site, including the Daily Digest email.
Neighborhood Sponsorships are available to home service businesses including realtors. Business owners are able to create automated ad placements, post Local Deals, and post to the Newsfeed in targeted ZIP codes. These can be used to build brand awareness, to post specific messages, videos, and events (e.g., open houses). Nextdoor members are also able to ask sponsors questions, which helps demonstrate expertise and build local customer relationships.
Daily Recommendation Conversations
Another major differentiator for Nextdoor is the fact that, on a daily basis, members ask their neighbors for local business recommendations ("Can anybody recommend a good electrician?"). This is one of the site's main use cases. Nextdoor uses these recommendations to help populate its recommended businesses directory and also as an input into its organic search rankings.
Users can visit Business Pages and recommend a business with a single click. In other words, business owners can direct people to their Nextdoor Business Pages to be recommended.
One of the reasons that members are constantly asking for recommendations is because of the high-trust factor already discussed — they know they are talking to their real neighbors. And this has the potential to make Nextdoor highly disruptive over time.
Currently, 70% of consumers look at multiple review sites before choosing a business, but online review fraud is a massive but little-understood problem. As consumers come to recognize this, they may increasingly turn to Nextdoor as a first choice for recommendations, rather than go through the time-consuming process of looking at multiple sites to assess review validity.

Nearly 80% are Influenced by a Neighbor's Recommendation
Members asking for local business recommendations are typically "ready to buy," making these very valuable leads. Indeed, Nextdoor's engagement and conversion statistics tell a compelling story:
70% of Nextdoor members trust word-of-mouth recommendations from other neighbors above anything else
67% of Nextdoor members share business recommendations on the site
76% of members were influenced by a neighbor's local business recommendation
Finally, there are also SEO benefits to creating a Business Page on Nextdoor. Profile claiming and optimization are recommended for sites like Yelp, TripAdvisor, and a small number of other key directories that rank well in Google results. It's still somewhat early but that's starting to happen for Nextdoor, too.
Most agencies and technology companies that serve SMBs know Nextdoor but haven't invested in the site as a local marketing channel. Now is a good time to start and build experience, visibility, and recommendations — before the neighborhood gets any more crowded.
Find out how you can improve your local marketing with Uberall CoreX