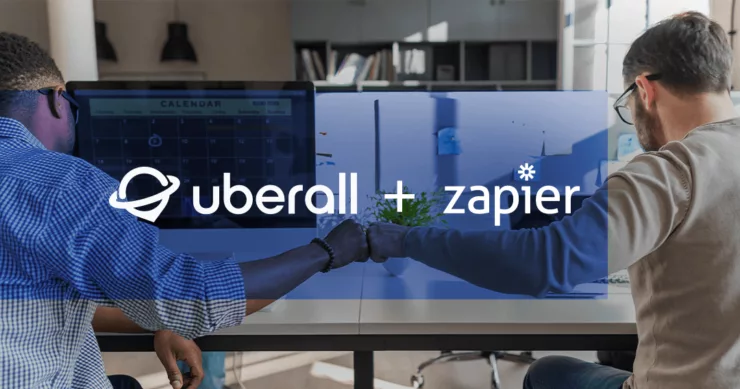 Blogs
Uberall Boosts Efficiency for Partners with Zapier Integration
One reason we love our solution is that it's scalable, easy to manage, and provides a seamless 'Near Me' Brand Experience. With our latest partnership with Zapier, Uberall partners and users will be able to save even more time and boost productivity with tools such as Gmail, Salesforce, and of course, Uberall.
What is Zapier and how does it work with Uberall?
Zapier creates automatic workflows between thousands of applications and automates useful processes between them. This instant and seamless connection allows you to take full advantage of all the tools and applications already in your tech stack.
Zapier allows your applications to work better with the Uberall solution; reducing manual work between applications through automated workflows called "Zaps". "Zaps" are automated workflows consisting of a "trigger" event in one application causing one or more actions in another application, freeing up time for you to focus on more important work. We're also happy to unveil custom Zapier workflows for Uberall, which can be activated with just a few clicks!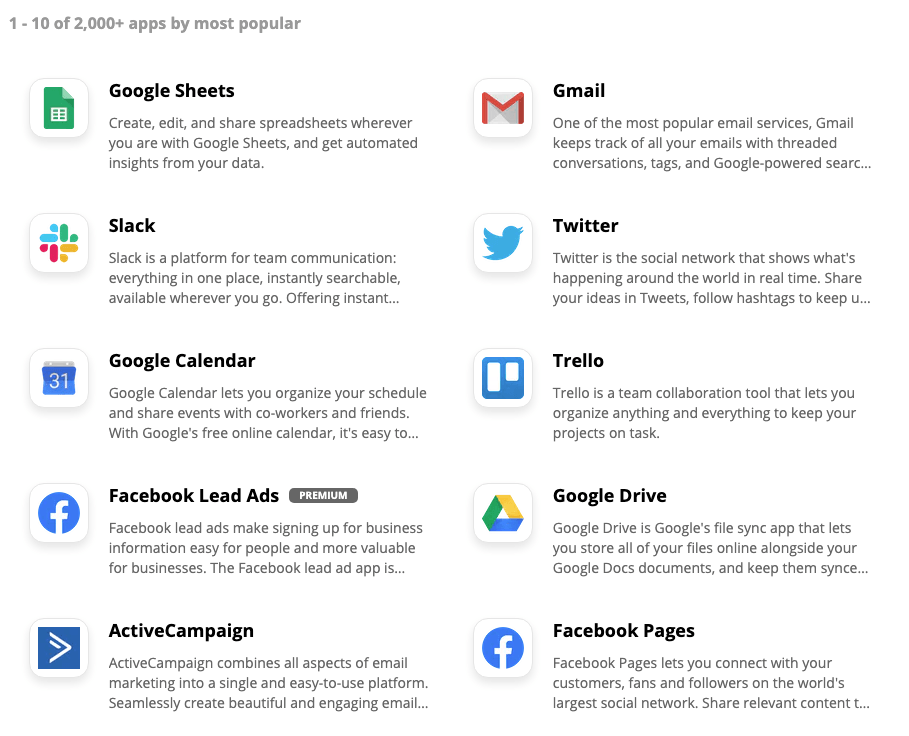 A few of the popular applications you can connect to with Zapier
How do Uberall partners benefit from Zapier-automated workflows?
Seamless connection between CRM and payment applications.
With Zapier you can connect to apps like Stripe, PayPal, Salesforce, and ZOHO, which can automate workflows between client product plans and location statuses.
For example, when activating a new or updated Uberall product plan for clients, the client location automatically marks itself as active in the Uberall platform. In reverse, when your clients' product plans are cancelled or paused, client locations are automatically marked as inactive on Uberall.
This is a great workflow for our partners who offer coupons or promotions in order to easily create Uberall accounts. Usually, this would consist of more than 3 manual steps (setting up a new Uberall account, creating a location and business, and then creating the user accounts). With this new connection, it's all automatic!
Improved communication and support.
As an Uberall Engage user, you can now publish replies to new reviews directly through email and even through chat, an even easier way to stay on top of reputation management. Some communication apps that you can now connect Uberall to include: Gmail, Outlook, Mailchimp, Slack, and Zendesk.
You can now take advantage of customizable, automatic notifications from the Uberall platform like listings sync statuses and support case updates. Users can easily create an automated flow based on any of these Uberall updates to send notifications directly to their inboxes - whether it be Gmail, Outlook, or even Slack!
How do Uberall users benefit from automated workflows?
Improved workflows between social media platforms and Uberall Engage.
As an Uberall Engage user, you can now post to multiple social media platforms with a single post in the Uberall software. This means that when a post is created on a social media platform like LinkedIn, our Engage users will also be able to push the same content to all connected Uberall directories. This works the opposite way too - when a post is created on our Uberall Engage platform, this automated flow pushes the post content to all social media platforms connected in the Zapier marketplace.
A great example is if you post one storefront photo to Facebook - that same photo will show up on all your connected directories, increasing your rich media, and ultimately, engagement from potential customers. Uberall Engage can push content to apps like LinkedIn, Twitter, Facebook, Youtube, Pinterest, and Instagram, all through Zapier's automated workflows.
Connect e-commerce and your Uberall platform.
That's right - through Zapier, you can connect Uberall to popular e-commerce platforms like Shopify and WooCommerce, connecting our powerful location marketing to your digital stores. One example: our Uberall Engage users can automatically create new offers and social posts to be pushed out through the Uberall network when they publish new products to online stores.


Sounds great! How do I get started?
To get started: Connect your Uberall platform with Zapier
If you are an Uberall user and you have an active Zapier account, you're almost ready to start! You need only to connect Uberall with Zapier. To do this, enter your API key.
You can find your API key within the Uberall application: Click on "Welcome" (top right corner) and then on "API keys". Enter this code to the Zapier form (seen below) and you're ready to automate your first workflow!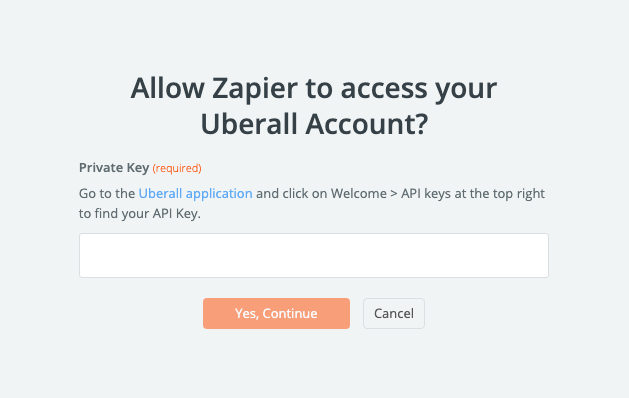 Create workflows between Uberall and Zapier
You create automated workflows on the Zapier platform. Log into your Zapier account and click 'Make a Zap'.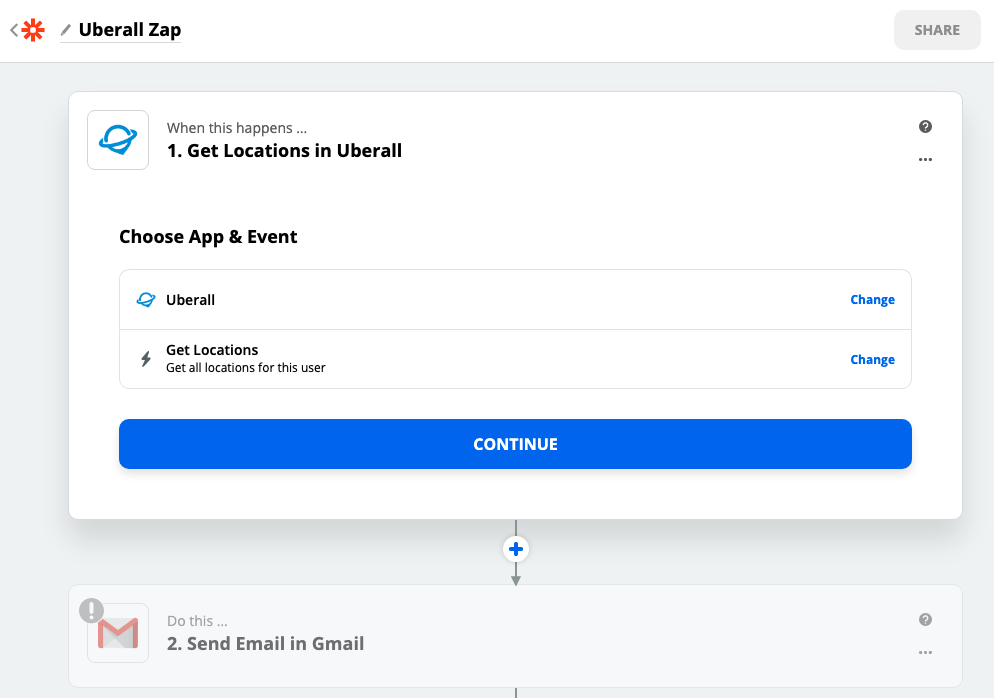 You can use Uberall both as a trigger and/or as a resulting action and connect it with an incredible amount of different apps through the Zapier platform. Check out the various options you have: Go on Zapier to create your first Zap!
Who can I contact if I need help?
If you're already an Uberall user, contact your account manager directly if you'd like to get started. Otherwise, feel free to contact us by filling out this form, and we'll help you get started shortly.