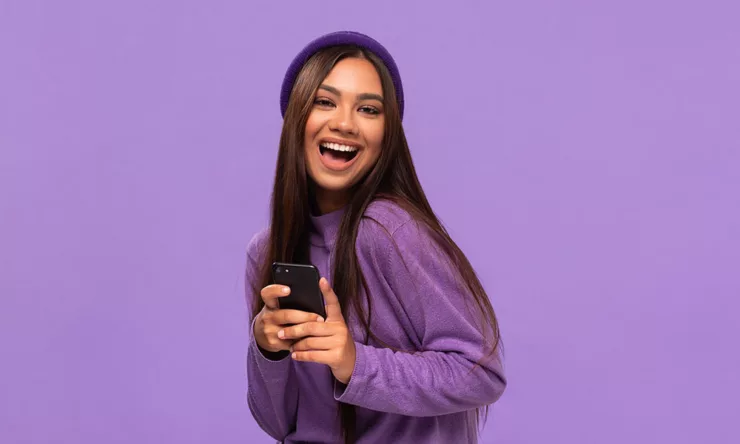 Blog
The Secret SEO Benefits of Location Landing Pages
How do today's customers find places to eat, shop, and play today?
The answer is not that obvious. Mobile phones are now personal recommendation engines, and the things they recommend first are more often offline than online - in brick-and-mortar locations close to the consumer.
To get recommended, your nearest location needs to be "visible" on digital devices. You probably have a store finding on your website, but 85% of the interactions you should be having with customers are on third-party websites like Google, Facebook, and Yelp. But, the Location Landing Pages that are part of your store finder can boost the visibility of those pages! The more visible your non-website pages are (social media profiles, Yelp profiles, etc.) the more consumers will see your brand, and the more in-store visits you'll drive.
Attract more local customers to your brand's retail locations by making the most out of your Location Landing Pages
Location Landing Pages are a unique destination on your website - one page represents one real-world location. These pages help consumers find their nearest location when they're visiting your website, and they inform search engines about the unique characteristics of that location. They are the best, most authoritative place to find information about each store, restaurant or showroom.
To take advantage of Location Landing Pages to boost mobile visibility, your main website must be mobile-optimized (have a mobile-responsive design) and include a landing page for each location with the proper Google-friendly syntax, microformats, and links. Geographic keywords, unique location-specific descriptions and content, interactive maps, and strong customer reviews all help with improved visibility.
Location Landing Pages are Digital Signposts for Each Location Your Company Operates
Every major social network probably also has a page representing each business location that you don't fully control - social pages that are earned and not owned. But these pages, especially Google My Business pages, Yelp listings, and Facebook Local Pages, are the sources that consumers turn to most often to find out about your business. Linking from your brand's Location Landing Pages to these social sites builds authority, making your stores more likely to appear at the top of search results. Each store's Location Landing page must uniquely link to that store's verified Yelp page, Facebook page, and Google My Business page, at a minimum.
For multi-location brands, these earned pages are accessed ten times more than your corporate website and brand social pages.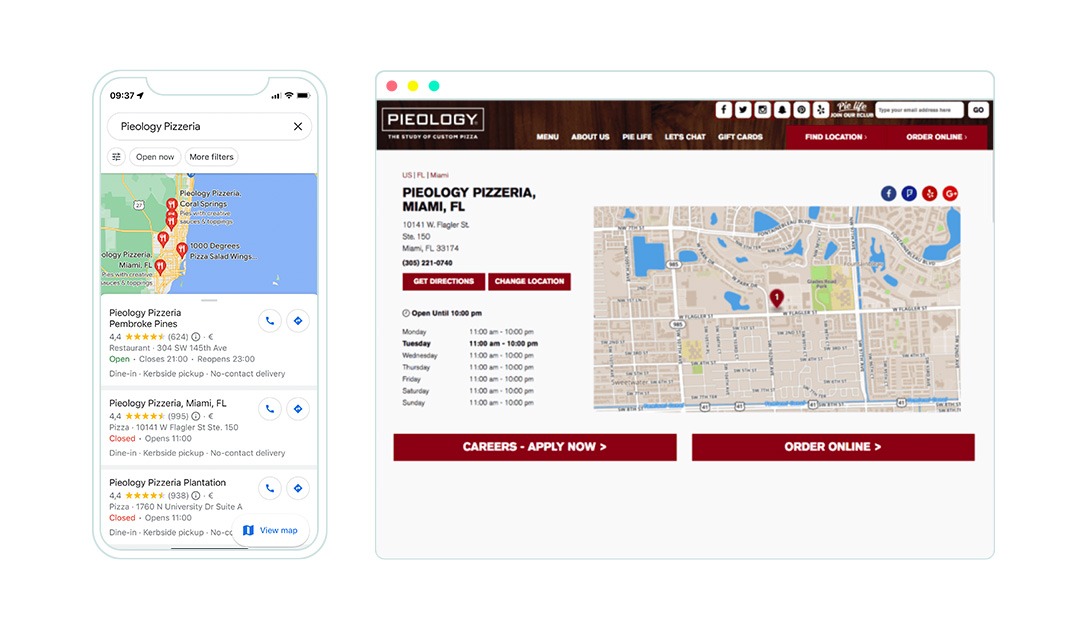 Why Create Location Landing Pages?
If you operate more than one location, is it worth creating Location Landing Pages for each store?
No matter the size of your business, Location Landing Pages are a must for one reason: to help customers find their nearest location on your brand website.
When your location landing page is structured using best practices to define what makes that location unique, it acts as an authoritative guide for earned pages, like your Google and Facebook social media profiles. In this way, Location Landing Pages improve mobile visibility in two ways.
Gain Google Authority
Having a unique landing page on your website that represents every store is also a way to increase the authority of your location pages on Google and Bing, increasing brand visibility. When you set up a location landing page for each store, you're signaling to Google that that store is important. The on-page signals present on a Location Landing Page are among the top three most important ranking factors for your local SEO.
Location Landing Pages play into search algorithms by showing that your websites contain pertinent information that searchers are looking for. Without them, Google might not know about your location in Seattle if your only official address online is the headquarters in Minnesota. Improve Search Engine Results Search engines use hyperlinks as a signal of the importance of every page. When your links align from your website to each social page, this is just as powerful for increasing visibility as making sure your location data is aligned and consistent.
Your Location Landing Pages are a rich source of authoritative links for Google to index. The more links from the more places the better.

The Essentials of a Location Landing Page
To see impressive SEO results across all your locations, your Location Landing Pages need to be universally strong. Make this happen by ensuring each page has the right substance.
Keywords
Include engaging page headlines that spell out your company's value-add. For example, if you're creating a Location Landing Page for the Atlanta branch of your bagel bakery, try to include not just location details (like "Atlanta") and business details (like "bagels"), but also specifics that set the business apart (like "best New York-style bagels in Atlanta"). The best practice is to incorporate these keyword-rich phrases into your landing page title and headline (H1/H2) tags.
Ensure your name, address and phone number appear in the header and footer of every location page. Include call(s) to action, so that customers know what to do next. Above all, make sure the keywords you choose for each Location Landing Page are relevant, especially to the rest of the domain.
Maps Are a Must
Creating a store finder helps customers but also helps improve search engine results. And the more people that find your stores, the more people will visit your stores to make a purchase.
Store locator widgets allow your customers to search for a place – by zip code, city, or on an interactive map – to find the local resource your business offers them. It is important to have a map that users can use to pinpoint where the store is.
For your store locator to work well, make sure your latitude and longitude entered in Google My Business for each location are accurate. The store locator widget is what also serves to connect your Location Landing Pages back to the main site.
Staff Biographies
This is your "Hi, we're humans!" section. Let your visitors get to know the people behind every location you operate. Beyond biographies, the human touch can also be incorporated with social widgets, like a glimpse into your latest Instagram posts or the store's Twitter feed.
What Makes You the Best
If your company makes the best smoothies or is known to have the best service in town, tell people about it! On your Location Landing Page, include industry-specific items like menus, opening hours, or the ability to make a reservation online. Here is where you can list all the attributes that separate your store from the competition. Incorporating your product or service keyword in the page headings of your Location Landing Page will also help to increase SEO.
Social Proof
Rather than simply telling prospective customers about your business, social proof does the showing. Together with your unique features, reviews are your primary social proof and are necessary to back up these claims. Include snippets of positive reviews, behind-the-scenes photos of the location, and interesting and engaging user-generated content. Reviews can be easily sourced by working with local/regional managers or franchisees and benefits your SEO efforts with more backlinks to your Location Landing Pages, as well as authority and credibility in your niche. Don't forget to also include widgets for your Facebook, Instagram, Twitter, Yelp, and Foursquare to further boost SEO.
Robust Analytics
Routinely make sure to check your Google Analytics platform to ensure your pages are still relevant. Important metrics are click-through and bounce rate. Look for click-through to be high and bounce rate to be low for a high-performing landing page.
Improve crawlability by making sure your site has plenty of keyword-filled text for search engines to read. Ensure your indexability is strong as well, by searching Google with the following string: site:yourdomain.com. Look for title tags and meta descriptions, the blue links, and the text snippets you see in your search. Each page you pull up should have a unique combination of title and meta description and that combination should be keyword-optimized for local searches.
Mobile Optimization
Mobile devices are now the most-used technology to access websites. So, don't skip mobile optimization. If you do, many users will instantly leave your site for the next option, and Google will penalize you. In 2016, Google began testing its mobile-first index, which looks first at the mobile version of your webpage for ranking factors, then falls back to the desktop version if no mobile version is found. With every algorithm update, mobile optimization becomes more important.

How to Create Awesome Content for your Location Landing Pages
Your SEO benefits when you have a variety of content on your Location Landing Pages. After all, only the highest quality content can sustain growth and generate leads. Here are the best practices for creating awesome content for your Location Landing Pages.
Know Your Audience
Create content based on what your audience is looking for, using metrics and other tools so you're sure your content will be relevant. Your analytics software can find which key phrases your searchers have used to find your page. Enter these keywords and phrases in Google and Bing to find related searches to work with.
All of these search terms will now form the base of your website content. With this well of content topic ideas, incorporate these terms in different places all over your website. You can't go wrong with keyword-rich titles, headlines, and location descriptions. Google's algorithms appreciate the variety and will reward you appropriately.
Research and Refine Keywords
Use Google Trends, BuzzSumo, and other tools to follow keyword trends. Take these trends and refine them to be specific to each location's geographic area. With Google Trends you can also zoom in on your target geographic area to see which phrases are popular in that locality. Google will also suggest popular keyword phrases. For example, a restaurant might find it helpful to track the phrases like "Mexican restaurant near me" or "Mexican restaurants open until 10 pm."
Answer Popular Questions
Showcase your expertise with your answers. If you identify several very high-ranking questions, consider creating individual pages for each one; you can connect them to Location Landing Pages and provide a short paragraph of content about the general issue on the Location Landing Page that provides the link for more detailed answers. Or, answer multiple questions at once on a FAQ section of your local landing page.
Highlight Your Locations
If you've got a food-related business, for example, talk about the local food scene or features of the local culture that make your business a popular local spot. This content belongs in the paragraph description for each location. Work with regional/store managers or franchisees to get an understanding of each location's unique characteristics and incorporate this on each page.
Display Customer Testimonials
A great way to ensure that visitors to the site connect with your brand is to show them, happy customers, on Yelp, FB, and Google. Your Location Landing Page can include a widget for reviews on Yelp or Google. Also, use images (Instagram especially), corporate videos (no production cost, as they already exist), links to social, and product highlights to boost your SEO.
Set Goals
Have a clear goal for each page. Solve a specific problem or target a particular question on each Location Landing Page. For example, at one location your goal might be to get customers to order ahead online. In this case, you make sure there is a clearly visible, brightly colored "Order Now" button at key junctions on the page: top right, center, and bottom. Another location might be looking to boost social followers, so would follow the same strategy with big, bold "Follow Us" buttons on the landing page.
Location Landing Pages Can Significantly Increase Search Rankings
There are a lot of moving parts when it comes to getting the local search experience right.
Location Landing Pages are one of the most powerful ways to be found online.
For multi-location businesses, Location Landing Pages are an essential element of your SEO strategy. Incorporating the must-have components for a Location Landing Page will ensure your sites are found by Google and delivered to the searchers who are looking for you.
When your website is the destination, Location Landing Pages are the map and compass to guide the way. With Uberall, your store locator and location landing pages can be managed from one place, taking all the guesswork out of this process. Use our demo link to get in touch with us and know more about our products and offerings.
Level up your hybrid CX game with Uberall