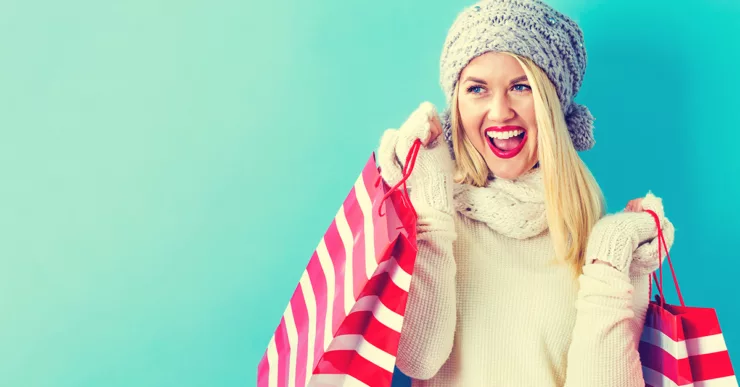 Blog
The 3 Things You Must Do NOW for Holiday Sales Success
With more than 50% of shoppers waiting until the last minute to buy, it is more important than ever to optimize for those last minute, emergency situations.
Whether a consumer is looking to book a pedicure before a company holiday party, buy a last minute gift, or pick up extra food for a holiday party, being visible in a consumers moment of need is key to winning your fair share of holiday spend.

More than 50%

of shoppers wait until the last minute to buy.
90% of shoppers

buy at least one thing with hours to spare.
Brick-and-Mortar Accounts for
88% of Holiday Purchases

Smart marketers understand that if consumers can't easily find their locations, they will lose a significant share of holiday spend. If your business has multiple locations, you already know the importance of planning months ahead for holiday inventory, staffing, brand advertising, and marketing.
Do you have a plan for driving consumers to the nearest location when they're ready to buy?

IMAGINE THIS...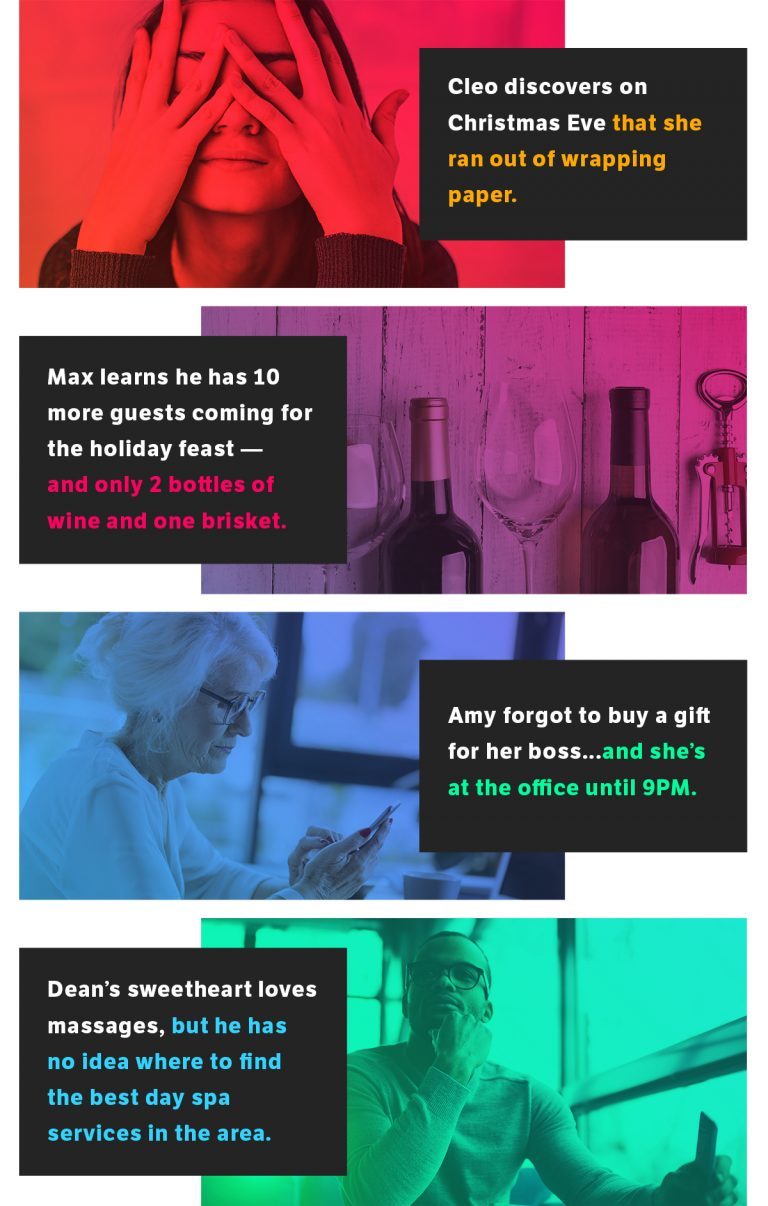 Local Search Optimization to the Rescue
When consumers find themselves in these situations, chances are they'll conduct a local search to satisfy their "need-it-now" situations. They will likely turn to their smart phone to search for a nearby business that is open, has exactly what they want, and is highly rated by other users.
Whether or not holiday shoppers and diners find and chose YOUR location is totally dependent on the steps that you take NOW to perfect your local online presence and reputation.

Increase your find-ability with need-it-now holiday shoppers.
Here Are 3 Things You Need to Do IMMEDIATELY
Put yourself in a consumer's head and go through any one of the search exercises we outlined above. What do you find?
Think carefully about what will be sold in each location over the holidays – and what customers will be looking for.
Make sure you have a Proximity Search Optimization strategy in place. It's NOT the same as SEO and SEM. You need to make sure every location page is accurate, comprehensive, and easily found. MomentFeed can help you do that!
If you start TODAY you'll be able to improve your Proximity Search Optimization – so shoppers can find YOUR locations when they're ready to buy or eat. Even if you have a great SEO and SEM strategy, it won't necessarily get you into that coveted Google 3-Pack or first page – where customers will see your locations first and fast.

ACT NOW – schedule a personalized consultation with one of our holiday planning consultants. They can even show you the incremental financial opportunity that comes from improving your find-ability. MomentFeed has close to 10 years' experience in retail, restaurant, and service industries and will work closely with you – like Santa's Elves – to help ensure those last-minute shoppers (as well as those who plan ahead) can find that carefully-planned inventory and holiday specials.
Make sure you're ready to make the most of the holiday season.