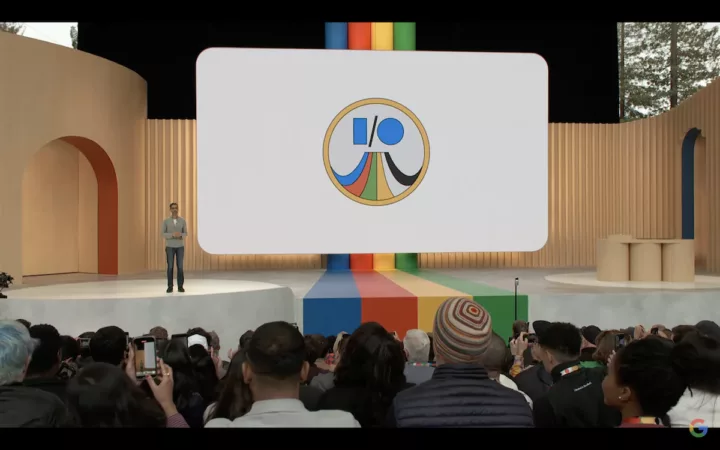 Blogs
Google I/O 2023 and What the Future Holds for Local SEO
During Google's recent Google I/O event, the company unveiled its vision for search, known as Search Generative Experiences (SGE). Unlike Microsoft's approach, which offers a separate chat experience, Google aims to integrate the best aspects of search and generative AI into a unified experience.

After getting a glimpse of a search query that triggers a fairly sizable block of AI generated content at the top of the search results page, the question on everyone's minds is what does SGE actually mean for location-based businesses and SEO professionals? Should SEO professionals be panicking and looking for a new job? And what about mobile vs. desktop or Google Maps and 'near me' search experiences?
Google gave us quite a few clues during the search session at the Google I/O event summarized in this 90 sec. hype reel:


At Uberall we have some observations and thoughts on where things might be headed, but before proceeding, it's crucial to acknowledge that any discussion on the future of search and its implications for SEO is speculative at this point. Only time will reveal how these developments unfold, and even Google is in the process of refining their approach through user testing. Keeping that in mind, let's explore eight key observations regarding AI and search.

Takeaway #1 — "Get Even More Out of a Single Search"
The idea of getting more out of a single search query is central to the way Google sees search evolving. Long queries that would normally be broken down into multiple searches, will now generate richer AI-driven results that will distill information from all around the web to answer more complex questions.
In the keynote the example given was: "What's better for a family with kids under 3 and a dog, Bryce Canyon or Arches National Park?" This search query triggered an AI-powered Snapshot, which offers an improved experience compared to current long-tail queries.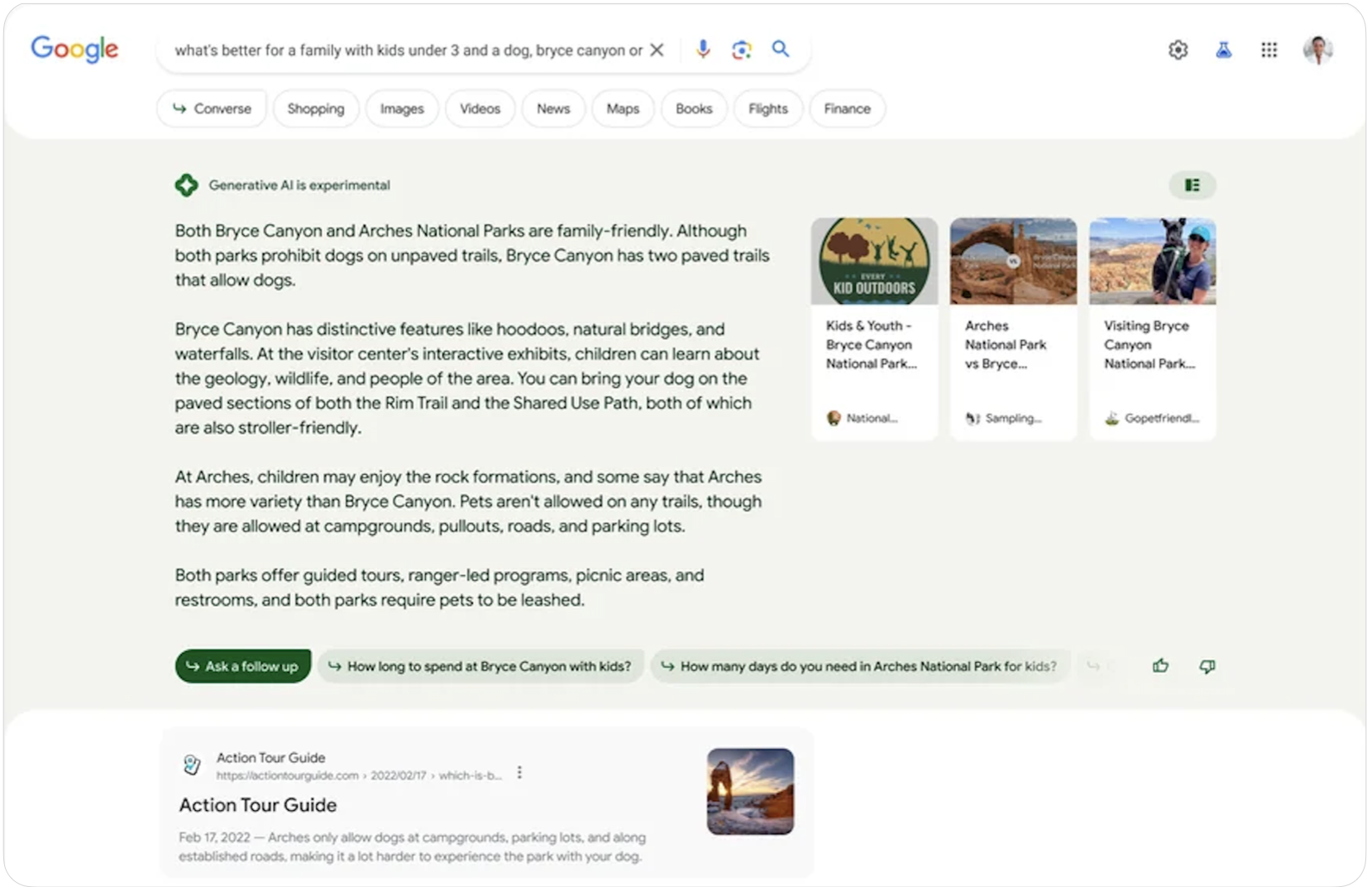 Krystal Taing, global director pre-sales solutions at Uberall points out that these types of longer tail queries are not dissimilar to the way a user would complete a voice search. If you think back to the days of 'Ask Jeeves' — this is how searchers would trigger results, with longer and more natural questions.

Jennifer Stevenson, VP product strategy at Uberall added that "Google sort of forced us into this unnatural way to search. AI technology holds the potential for a more conversational experience, but Google must carefully consider how to bring the best of search and generative AI together. It's a fine line between frictionless experiences and frustration."
While it remains uncertain how users will adapt to this new search experience, Google will likely train users to think differently about search through query recommendations or suggestions. Users can also scroll past the AI snapshot to view search results from around the web.
Potential Impact on SEO: Before you hit the panic button, let's keep in mind that Google's primary objective with Search remains unchanged: to assist people in finding answers to their questions. In order to achieve this goal they need current and relevant content that the AI models can work with. It is in Google's best interest to maintain a thriving web ecosystem that rewards content publishers, creators, businesses and others with link backs to their sites.

It's also worth noting that not every query will trigger an AI Snapshot. But for those queries that do, it will likely mean fewer searches and fewer opportunities to show up in the SERP results. However, if your Google Business Profile or Webpage does get pulled into the AI Snapshot, the traffic you do get is likely to be much higher quality and higher intent. Ultimately, partnering with a company like Uberall can be valuable in navigating this evolving search landscape.
Companies that are deploying best practices for local search ranking are already well-positioned to compete. Google is building these models based on information they already have about business and consumer behavior.
Looking for a partner to help you navigate the changing search landscape?
Takeaway #2 — Continuous Search
Google's vision for search goes beyond the current start-and-stop search approach. They aim to create continuous search experiences where users don't have to begin from scratch, and Google can comprehend the complete intent of their ongoing searches.

This is where Google's new "Conversational Mode" comes into play. The Conversational Mode can be launched from the bottom of the AI snapshot where users can click on suggested next steps or pose their own follow-up questions.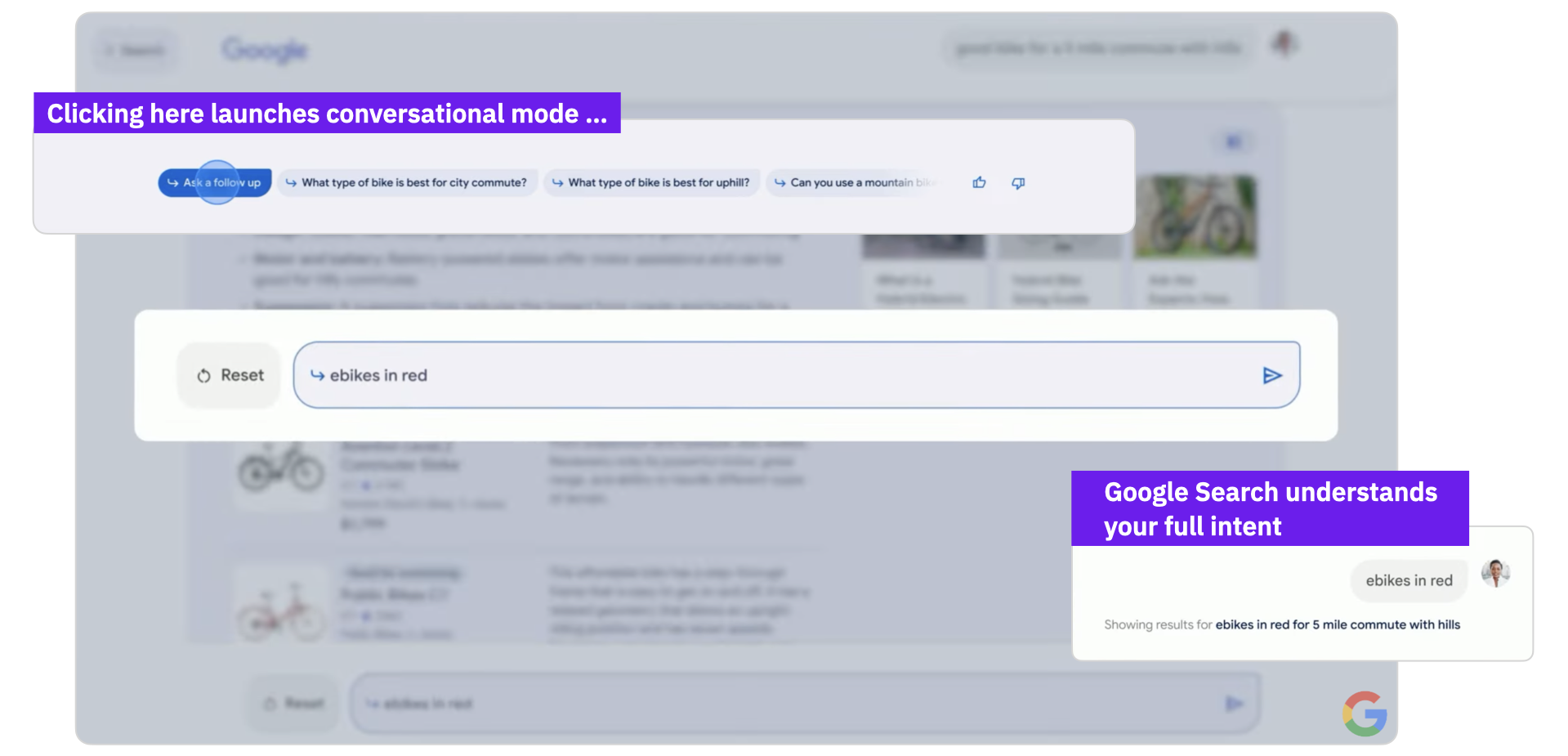 Potential Impact on SEO: Google's approach is raising concerns among SEO professionals regarding the rise of zero-click searches. A zero-click search is where a user gets their answer directly in the search engine results page (SERP) and does not click through to a website. One glimmer of hope is the prominence of source data within the AI Snapshot. In the National Parks example, three prominent cards are displayed in the AI Snapshot, enabling users to click directly on these sources for more information. Furthermore, an expanded view allows users to delve deeper into additional source details.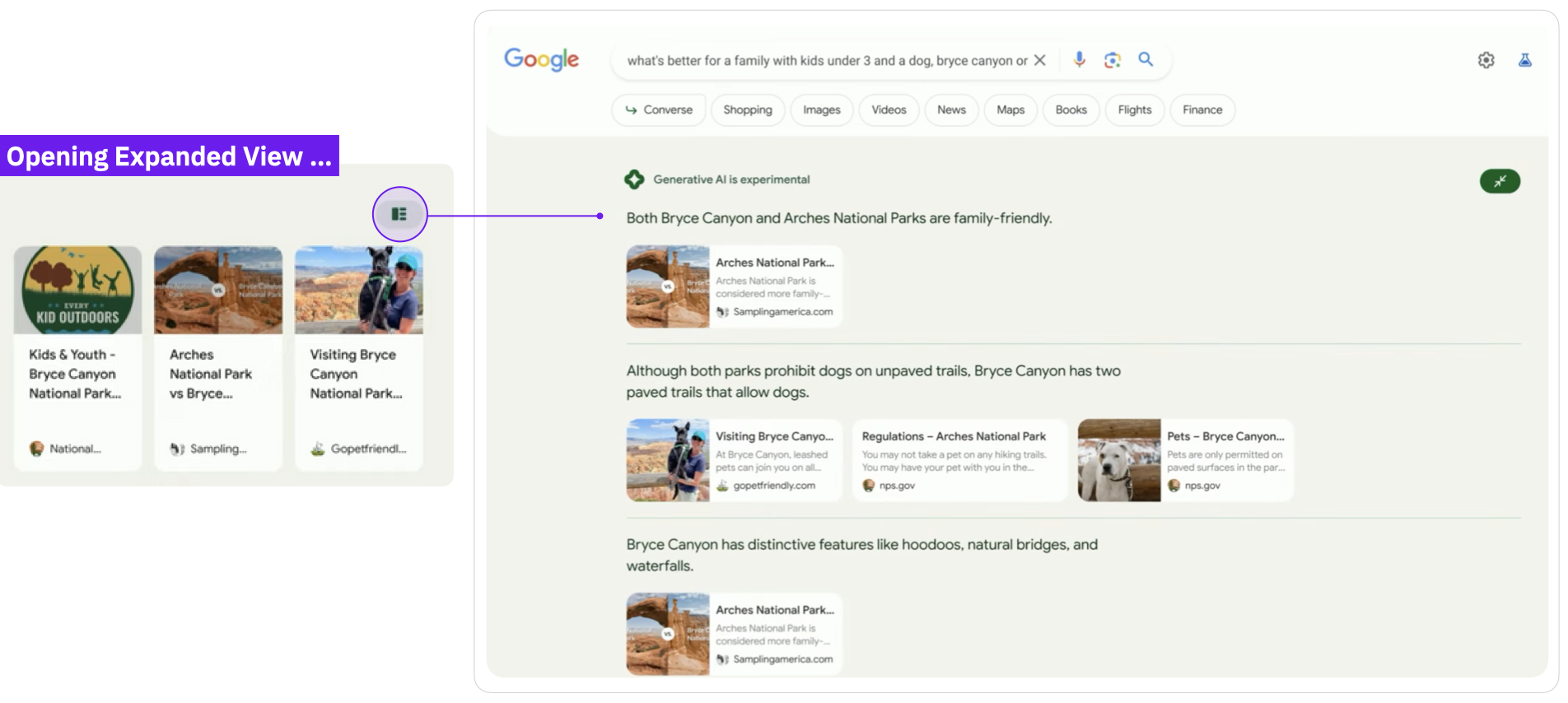 it's crucial for businesses to provide highly optimized, compelling content that piques a searcher's curiosity and encourages them to click through to their site for a deeper understanding of a topic. In this new SEO era, producing user-centric, engaging content isn't just a strategy, it's a necessity for success.
Takeaway #3 — A Sneak Peek Into Local Search
For a very brief moment in the hype reel, a comparison search scenario was shown: "Compare two lunch spots near me that are good for big groups." This comparison behavior in search will become instinctive over time, making it crucial for brands to stand out among the competition with great photos, strong ratings and reviews.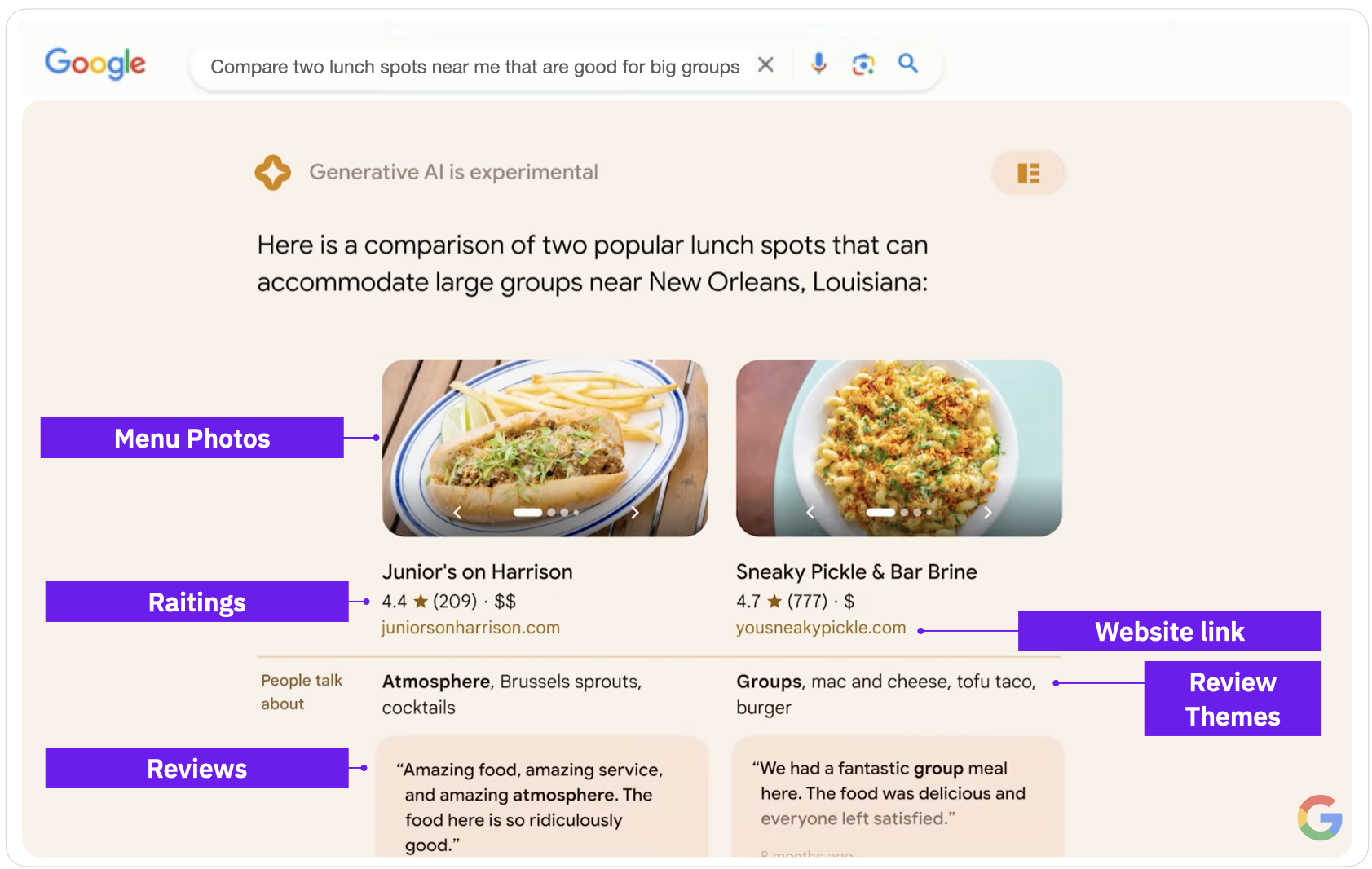 In another use case highlighted during the Google I/O keynote, a user searches for an ebike. As the search progresses, the user reaches a list of options that match their criteria. By simply clicking on any bike, a side panel opens up, presenting various choices for purchasing from local retailers.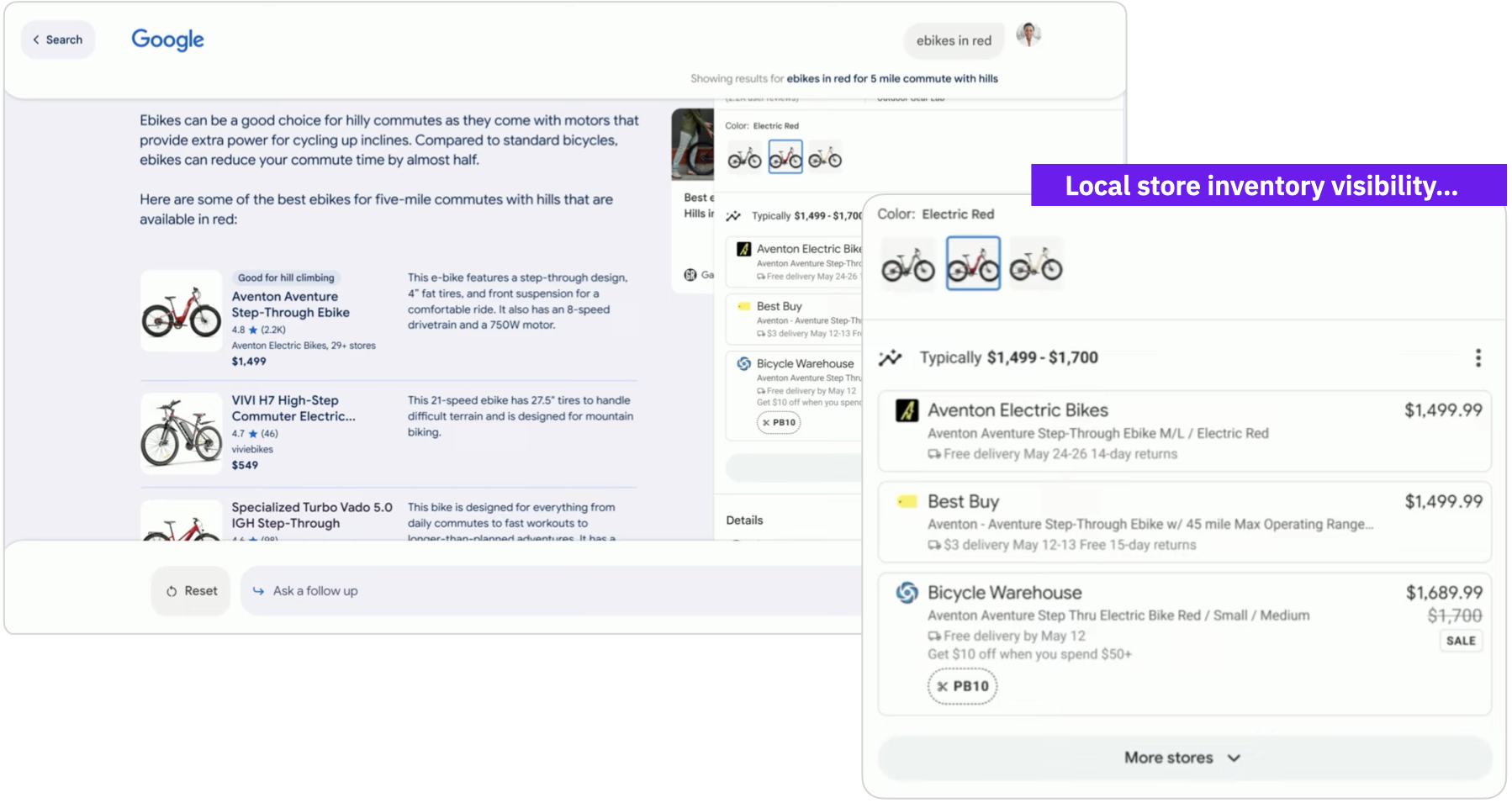 Potential Impact on SEO: The good news is that many of the elements we currently observe in the local pack still apply, such as photos of menu items, ratings, and reviews. In the restaurant example, it's interesting to note the emphasis on what "people talk about." This suggests that maintaining a complete profile, along with favorable ratings and reviews, will continue to be significant factors in SEO. In the retail example, there was a lot of emphasis placed on Google's Shopping Graph which is powered through information retailers share directly via Google Merchant Center or from what retailers and brands post across the web.

Takeaway #4 — Carousels and 3-Packs Dominating Search
A keen observation reveals that almost every AI snapshot, whether viewed on mobile, desktop, or in expanded view, includes cards or carousels in some form. It's safe to say that this real estate will be the new battleground for search, similar to the 3-Pack results in local intent searches today.
The first two screenshots illustrate different mobile views of the AI snapshot, while the final mobile screenshot represents the "results from around the web," which aligns with our current understanding of organic search. In all examples you can see Google prominently displays organic results via carousels and 3-pack results. There also seems to be a color coding here. The AI Snapshot is always brightly colored while the organic results usually have some white color coding to indicate they are traditional search results.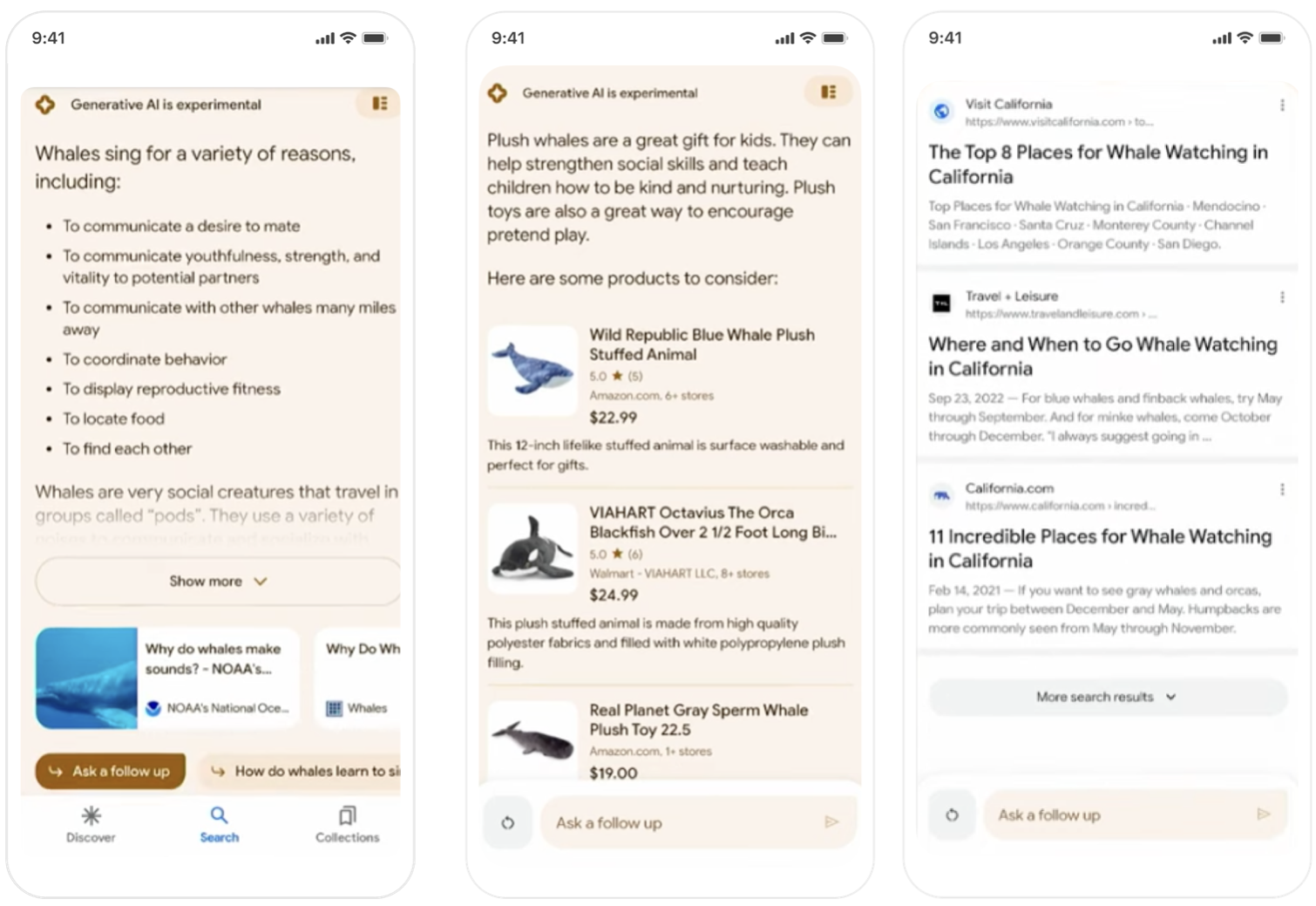 Potential Impact on SEO: The upcoming changes may not feel entirely unfamiliar to location-based businesses already acquainted with the Google 3-Pack or Map-Pack, which displays the top three results alongside a map when a search carries local intent. However, the dynamics could vary for organic results originating from websites versus Google Business profiles. SEO professionals must quickly grasp these nuances to secure a competitive edge in this evolving landscape.
Takeaway #5 - Google Ads, Separate for Now
Google of course took some time to talk about sponsored ads during the search session. While Google acknowledged the importance of ads for commercial queries, they did not disclose any specific details on how ads will be integrated into the new Search Generative Experience. At this time they still appear either at the top of the SERP or in some cases after an AI Snapshot has already been generated right below.
Cathy Edwards, VP of Engineering at Google, mentioned, "We are exploring different ways to integrate them as we roll out new experiences in search."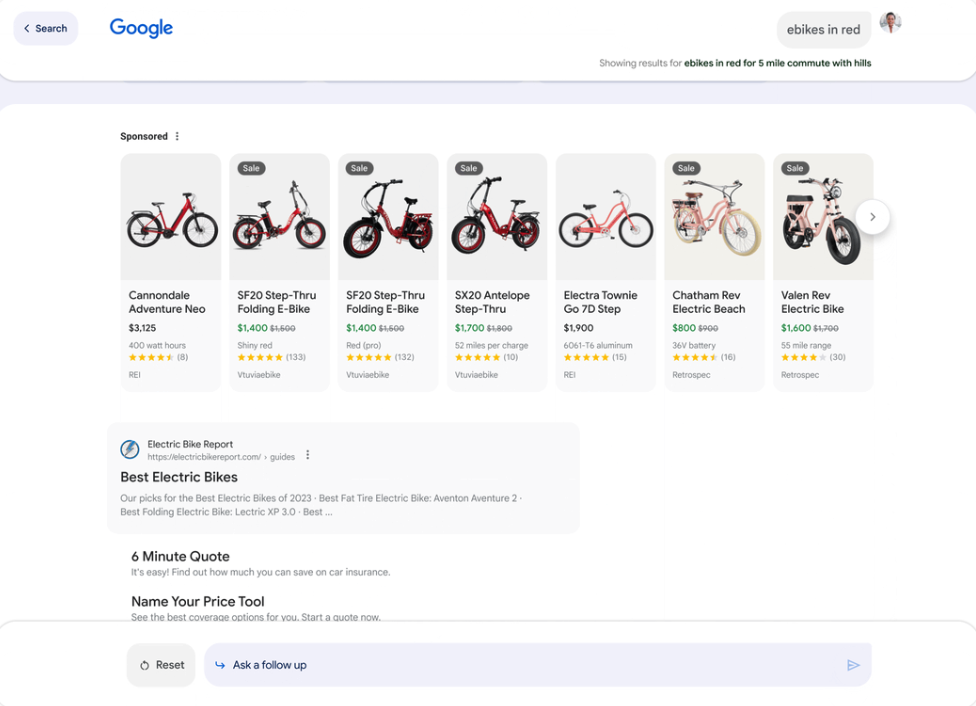 Possible Impact on SEO: With the possible shrinking visibility in organic search results, SEO experts will want to know how they can make sure they are visible when buyers search either through organic or paid positioning. Google knows this so is trying to figure out how to get this experience just right.

As Generative Search and Google Ads increasingly dominate the searcher's screen, organic results might be pushed further down, possibly reducing organic traffic to websites. This change could mean location marketers will need to rethink the role of Google Ads in their search marketing strategies. Adapting to these shifts is key to maintaining online visibility and achieving continued success.
Takeaway #6 - Hedging With Video
Prominent industry experts speculate that video, particularly on platforms like YouTube, will play a crucial role in capturing attention and standing out in Google's SGE. Google's own words from the hype reel support this notion: "And search will keep evolving to answer any question, in any format."
In the hype reel, we witnessed an example of video content being incorporated into the AI Snapshot. A query seeking a personal training regimen triggered an AI Snapshot that included relevant videos.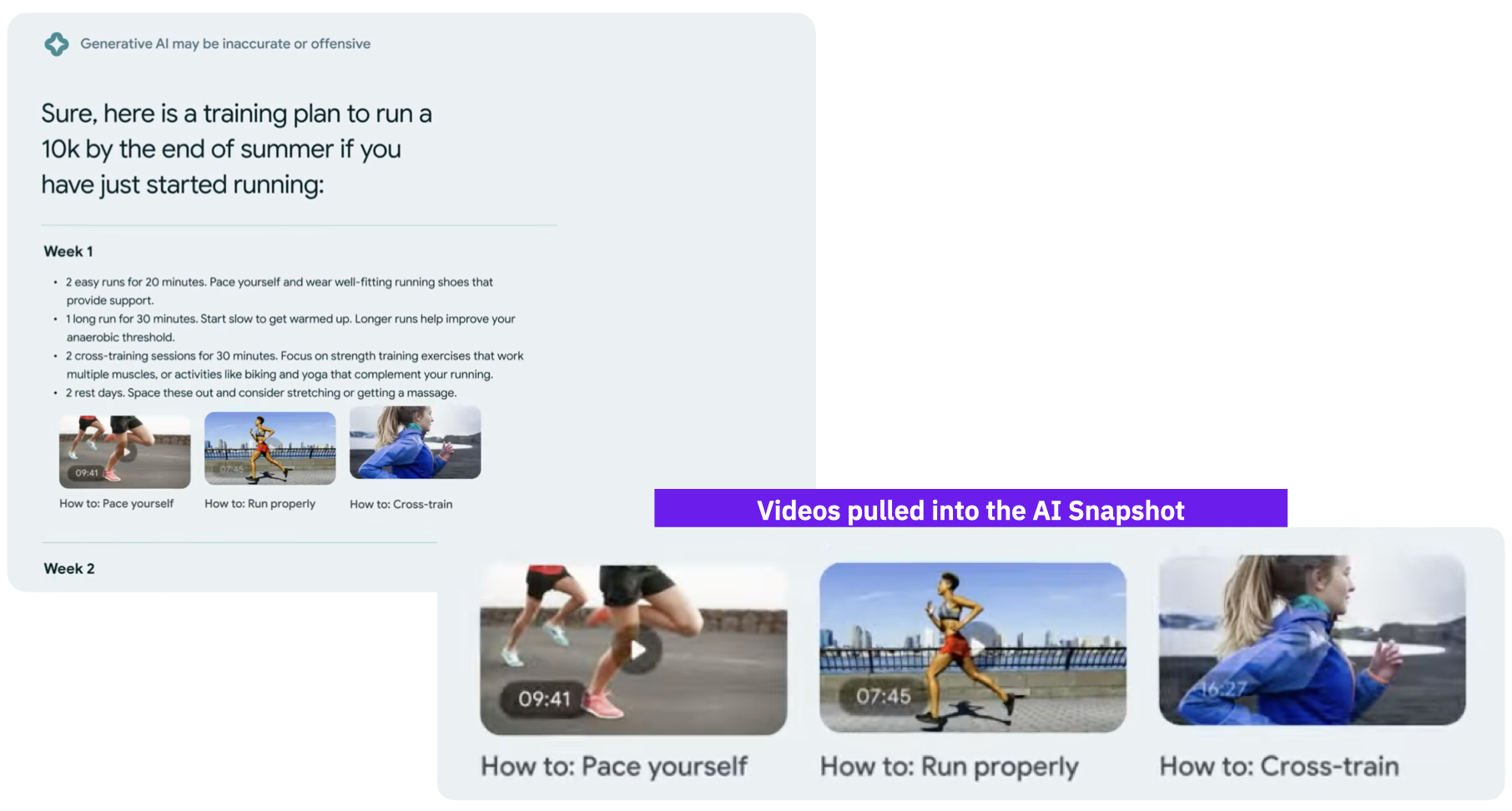 Potential impact on SEO: High-quality video content is certainly more challenging to create. As marketers we naturally have a lot more written content than video. Companies willing to invest here could gain an edge over the competition as Google starts to serve up more videos in the AI snapshot.

Google has a big opportunity around AI-generated video content. It is challenging from a copyright perspective, can you let AI create videos on the fly? It will be interesting to see how Google might solve this. Can they pull non-copyrighted video content from around the web together and make it available for people to create a video through Google Bard?
Takeaway #7 - Caution Regarding YMYL Topics
When it comes to YMYL (your money / your life) topics such as finance, legal, and healthcare, Google will adopt a more cautious approach. In the Overview of SGE Google explicitly states: "We hold SGE to an even higher standard when it comes to generating responses about certain queries where information quality is critically important. On Search, we refer to these as 'Your Money or Your Life' (YMYL) topics."
For YMYL topics, Google aims to ensure an even greater level of confidence in the search results and will incorporate appropriate disclaimers where necessary. For instance, in the medical field, any content resembling a recommendation or advice would require a disclaimer advising users to seek professional medical guidance.

Potential Impact on SEO: It is unlikely for an AI Snapshot to be triggered for searches related to YMYL topics. In these highly regulated industries, content that appears to offer advice or recommendations can pose challenges for Google. Expect Google to exercise caution and tread carefully in these areas for now.

Takeaway #8 - Striking a Balance: Boldness & Responsibility
Although Google arrived a bit later to the market compared to Microsoft, it's evident that Google is committed to taking the necessary time to ensure success.

The challenge that Google will have is around balancing creating cutting edge innovation, while still maintaining the reliable search experience that consumers have come to expect. While AI has come a long way, it is still not perfect. It is known to make assumptions and fabricate information in a way that sounds authoritative.

Potential Impact on SEO: Google will be looking for community input on search via its newly created Search Labs program. Currently limited to the US, this program encourages users to join a waitlist and test the experience for themselves.
What's Next?
There is a lot to unpack here and a lot of questions unanswered that will be revealed in time. It's important not to panic and know that Google aims to maintain a thriving web ecosystem by incorporating diverse ideas and information from publishers, creators, government entities, and businesses. After all, this content is what fuels the Google's search and generative AI experiences.

If you are in the US, request to join the Search Labs waitlist.
Looking for a partner to help you navigate the changing search landscape?