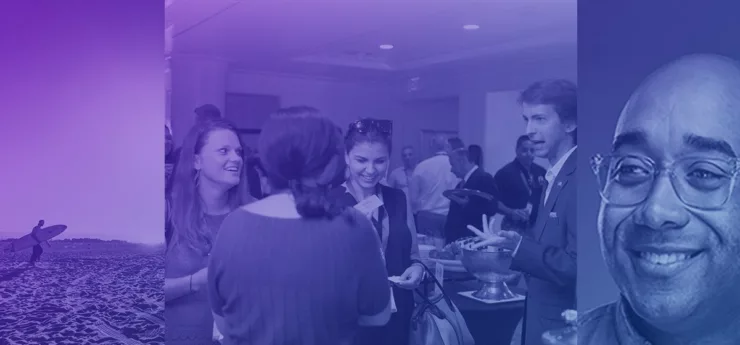 Blogs
ENGAGE Client Summit 2018
We're getting IN the moment with our clients this October!
At MomentFeed, we have the privilege of partnering with the most innovative multi-location brands across the country, ranging from Fortune 500 companies to rapidly-growing franchises, across multiple industries including retail, restaurants, automotive, financial services, and hospitality.
And, because we work exclusively with multi-location brands, we're uniquely equipped to host Engage 2018, our annual client summit is geared towards providing networking opportunities and a forum for discussion among like-minded marketers, top platforms and leading industry experts. This year, it will be held October 2 - 4 at the oceanfront Fairmont Miramar Hotel in Santa Monica, CA.
With a laser sharp focus on being the best partner our clients have ever worked with, we're inviting them to "Get IN the moment" this year, through INteraction, INsight, and INspiration.

INteraction
Engage is designed to help attendees tap into something they can't always get in the office: a totally fresh perspective. This is the perfect opportunity to build meaningful industry connections and learn from peers who are passionate about helping their businesses grow.
Here's a sneak peek at just a few of the interactive experiences attendees can expect:
Early morning surfing with MomentFeed's own, Robert Blatt
Ocean-view yoga
Q&As with major partners like Google, Trip Advisor and Yelp
Networking with industry experts
Opening night cocktails at The Bungalow
Sessions focused on the challenges of multi-location brands
One of last year's attendees, Jason White of Hertz, who is returning again this year as a speaker, had this to say of last year's summit:

There are lots of smart people in the building, and a lot of the problems they're facing are the same that we face within our industry. Knowing that we're all in this together is an important reminder, and I'm always curious what other marketers are doing, what's working for them, what's not, their experiences in the past' I found a lot of value talking to other smart marketers.
INsights

We've tapped our technology and network partners to host sessions at Engage, turning best practices into action items with exclusive insights into their operations and technologies.
"It's so valuable to hear directly from the source what we need to be focused on," said Kristin Pechacek, Anytime Fitness, who attended Engage 2017.
Keynote speaker Marcus Collins was selected to help attendees get ahead - and stay ahead - of the mobile curve. Marcus has worked with such brands as Beyoncé, Apple, Nike, State Farm, Sprint, and McDonald's, so he's lived the daily challenges of a multi-location brand. He is a TEDx speaker, a recipient of Advertising Age's 2016 40 Under 40 and the Chief Connections Officer at Doner, and his take on "The Mobile Cultural Contagion" will connect the impact of culture on mobile consumer behavior and commerce.
Attendees will also get a view into the future of mobile from MomentFeed's CEO, learn how to rock ROI calculations and choose from breakout sessions like "Driving Foot Traffic Through New Product Launches" or "Enabling Your Marketing Army."

INspiration
Attendees can center themselves and prepare to soak in the knowledge with ocean-view yoga each morning or enjoy sunrise surfing with MomentFeed's Robert Blatt. (No experience? No problem. Each session will be staffed by instructors in the water.) The historic Santa Monica Pier is also in walking distance for a ride on the Ferris wheel or a few arcade games.
There will be time for lots of learning and a little relaxation as well at this year's Engage conference. Most importantly, we want attendees to walk away with lots of inspiration - just like last year.

The content in all the sessions was really, really good. I'm going to be able to go back to my team with a lot of applicable, actionable strategies to implement immediately.