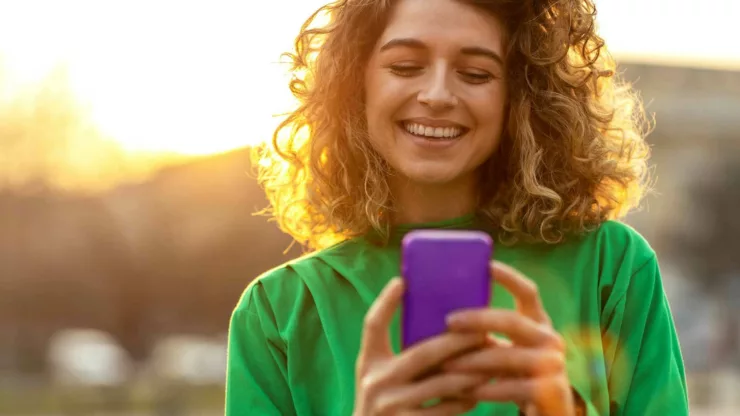 Blogs
These CoreX Product Updates Will Help You Drive Transactions and Customer Connections
We were wondering … Shouldn't consumers be able to purchase from any major channel, whenever they're ready? As buying journeys have become harder to predict, businesses will no doubt benefit from facilitating conversions on as many channels as possible. Does your business have a plan to capture these high-intent customers?
This quarter, Uberall released new features that help you convert customers from more channels and connect with them in more convenient ways.
Specifically, we added performance capabilities to Locator & Local Pages, so you can attract and convert more local web visitors (keep reading to find out more on this). But there are also more exciting platform innovations that you should know about. We'll dive into everything below.
Happy reading!

The future of local marketing and ChatGPT is near! Check out our latest news on the new Digital Revenue Assistant.
Feature Highlight: Driving Local SEO and Transactions on Local Pages
Over the years, we've been making sure that your pages live up to high-quality local SEO standards—mobile responsiveness, well-searchable and fast-loading pages, user-friendly designs … Now, we brought more speed to your Local Pages so you can rank even higher in local searches, and added cool ways to convert your customers right away!
Chat With Customers on Your Web Pages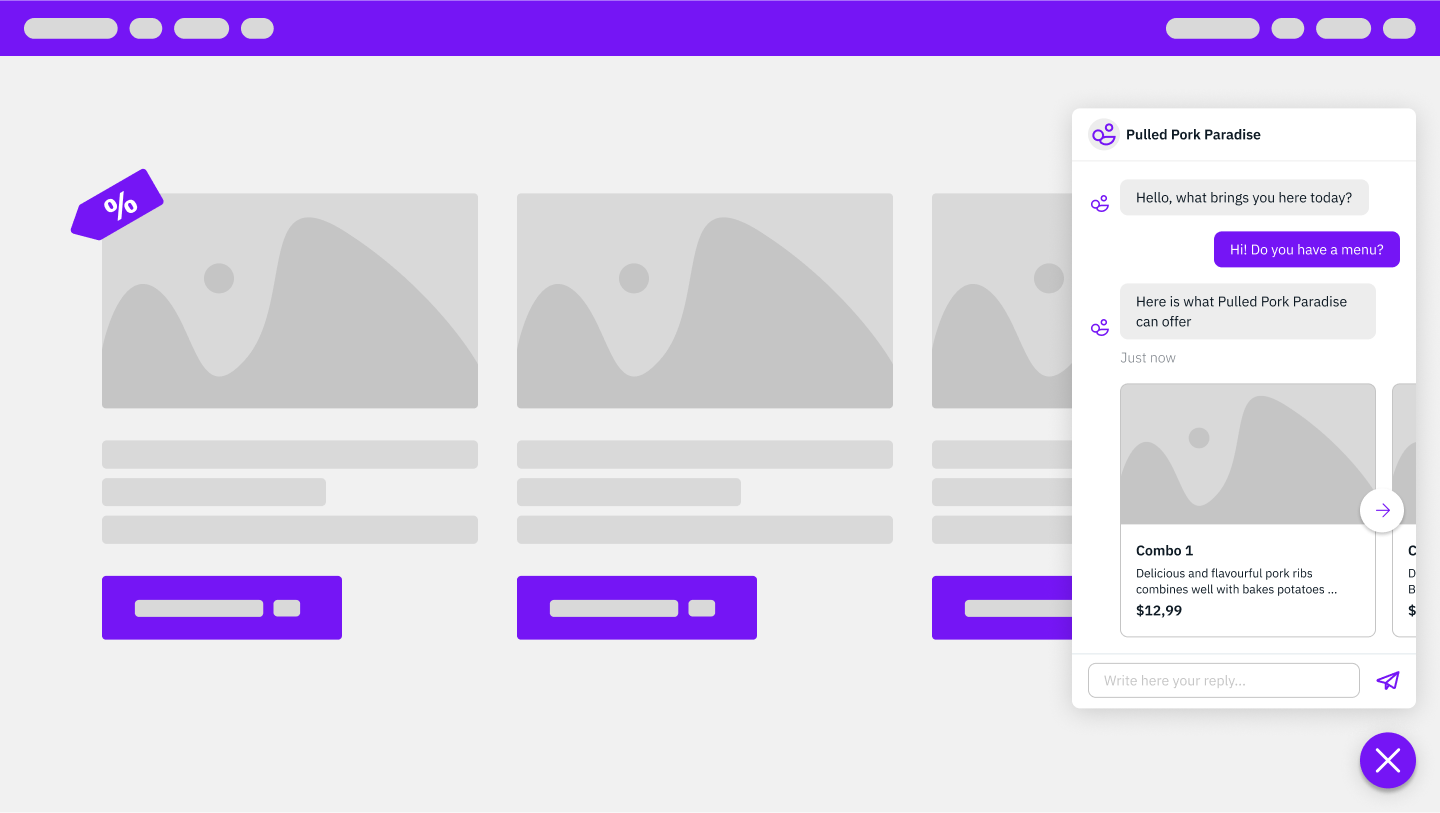 You can now embed Uberall Messages to your Local Pages and any website you like! That means your live agents can respond to customer questions from owned channels—or you can have the AI-powered chatbot do it for you. 🤖💬
We're sure you're going to love the chatbot, not only because of its superb natural language processing but because it knows how to convert your customers!
As part of Uberall CoreX, the Messages inbox and the chatbot can pull information from your location details, content collections, local inventory, and more—and answer around 90% of customer requests in a conversion-oriented way.
Also, with select customers, our product team is currently running a pilot to automate vouchers and promotional codes to incentivize consumers and grow conversions even more. But that's another story to be told soon, so stay tuned!
Next-Level Local SEO: Attract More Customers With Ultra-Fast and Compelling Local Pages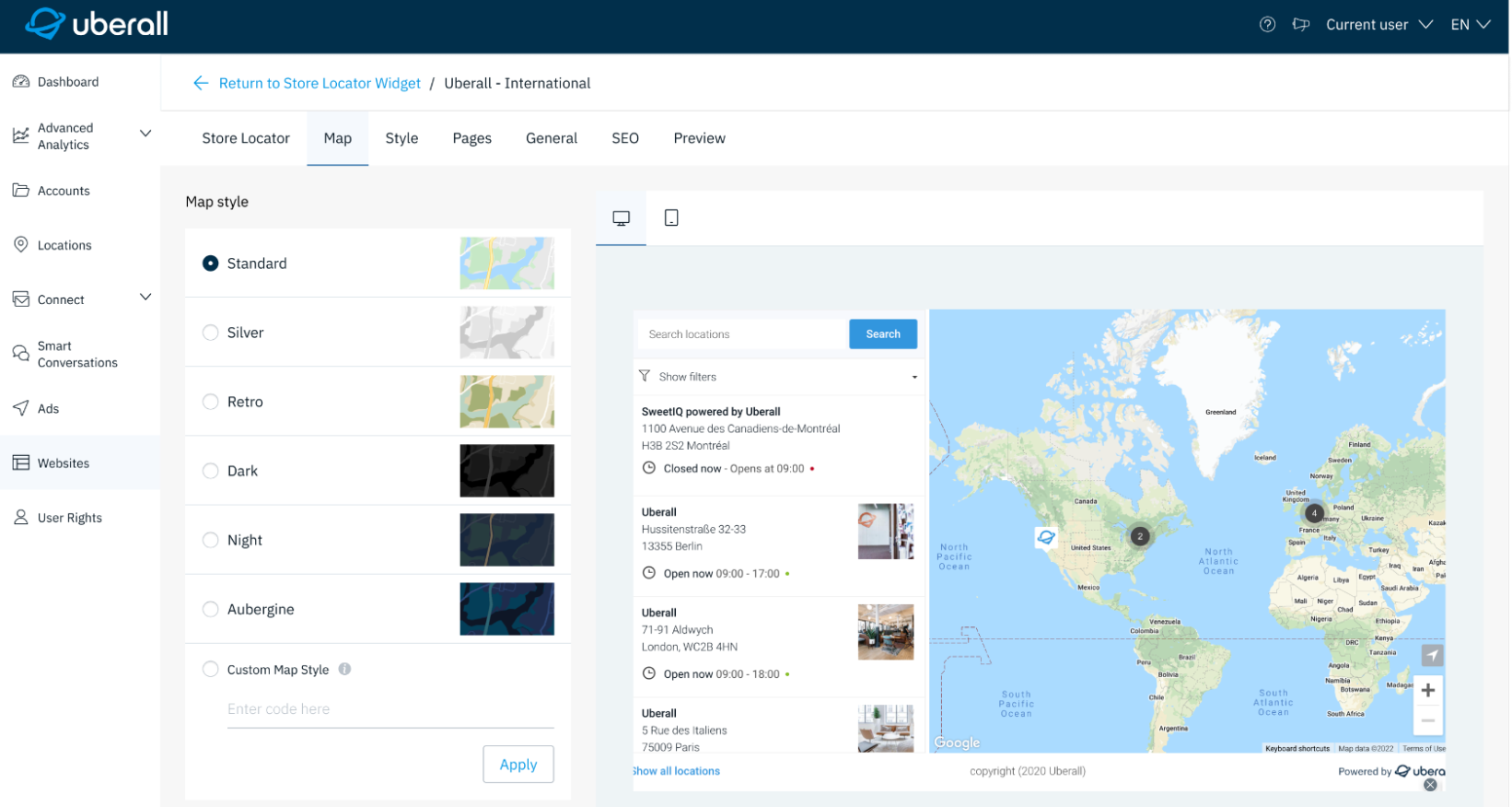 Have you already seen the new editor for your Locator & Local Pages within CoreX? It helps you get your store locator fully on-brand and attractive to visitors with different map designs, customizable styles, and SEO settings. To make your business even more compelling, you can now also integrate more customer reviews as social proof and help consumers make confident purchasing decisions.
However, when customers go to open your shiny Local Pages, they shouldn't have to wait too long—every split second matters to avoid them bouncing. Plus, search engines prioritize quickly loading pages, too! That's why we've looked at the factors that make your Local Pages fast as ⚡️and tweaked the underlying server infrastructure to add even more speed.
Fast loading times, search-friendliness, and attractive design—it's all about giving your web page a competitive edge in terms of local SEO.
Understand Which Directories Drive the Most Clicks and Calls
Curious about which sources have been driving the most visitors to your website or have generated the most calls? Let's unveil this secret! Uberall Mission Control provides new fields for UTM parameters and call tracking numbers (CTN). Simply add your UTMs and CTNs to your listings and see in analytic tools (like Google Analytics) which directories drive the most calls and website visitors.
More CoreX Releases You Should Know About
Content Collections Now Integrate With Messages
Let customers directly browse your menu, services, and product catalogs within their chat experience. The Messages chatbot now shares your content from Content Collections and Olo (US only), so customers quickly get what they need—regardless of whether they chat with you on Google, Facebook, or your Local Pages.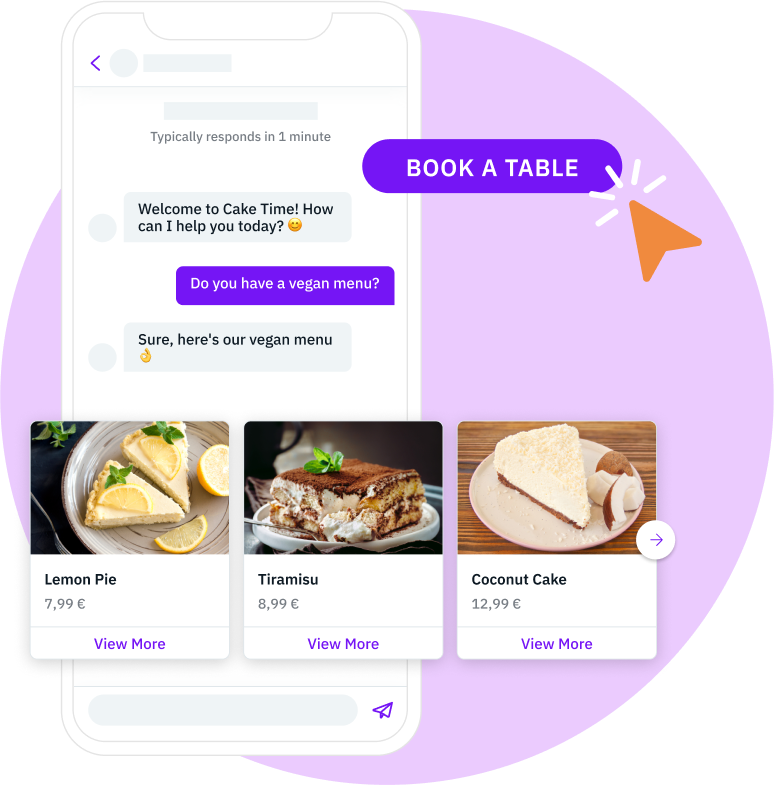 Update Location Info 75% Faster*
We've changed the user interface so you can make location updates in bulk with just a few clicks. Simply select your locations and change particular fields at once—such as open hours, website links, photos, videos, and more.
*With the bulk update UI, it's 75% faster to update information for 100 locations than doing so via the bulk spreadsheet import.

Stay on Top of All Reviews, Right From Your Phone
Get notified directly on your phone when customers leave reviews, and respond right away.
Good response rates are a strong signal to prospective customers (and search engines, too!), so we've improved the control settings for the CoreX Mobile App to make instant notifications possible.
With the improved Mobile App, you can edit further account settings such as name and email, app language, and password.
Get the Mobile App for CoreX for your Android phone or your iPhone here.
Increase Security With 2-Factor Authentication
80% of security breaches are due to stolen login credentials, but 2-factor authentication can prevent this. Uberall CoreX lets you use this safe login method to ensure high-security standards—users simply confirm their login with a security code sent to their email address.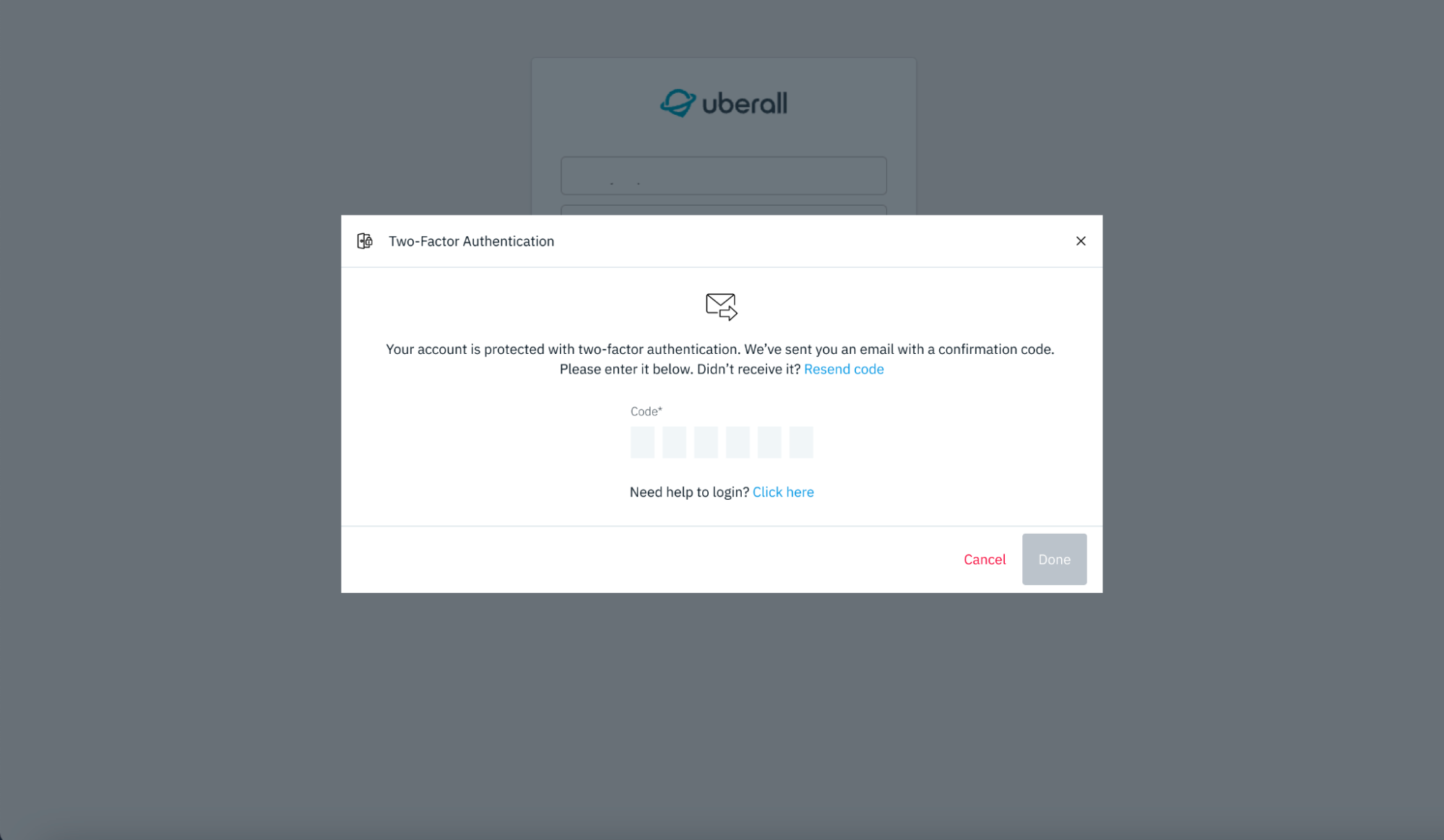 Unlock the Full Power of Apple Maps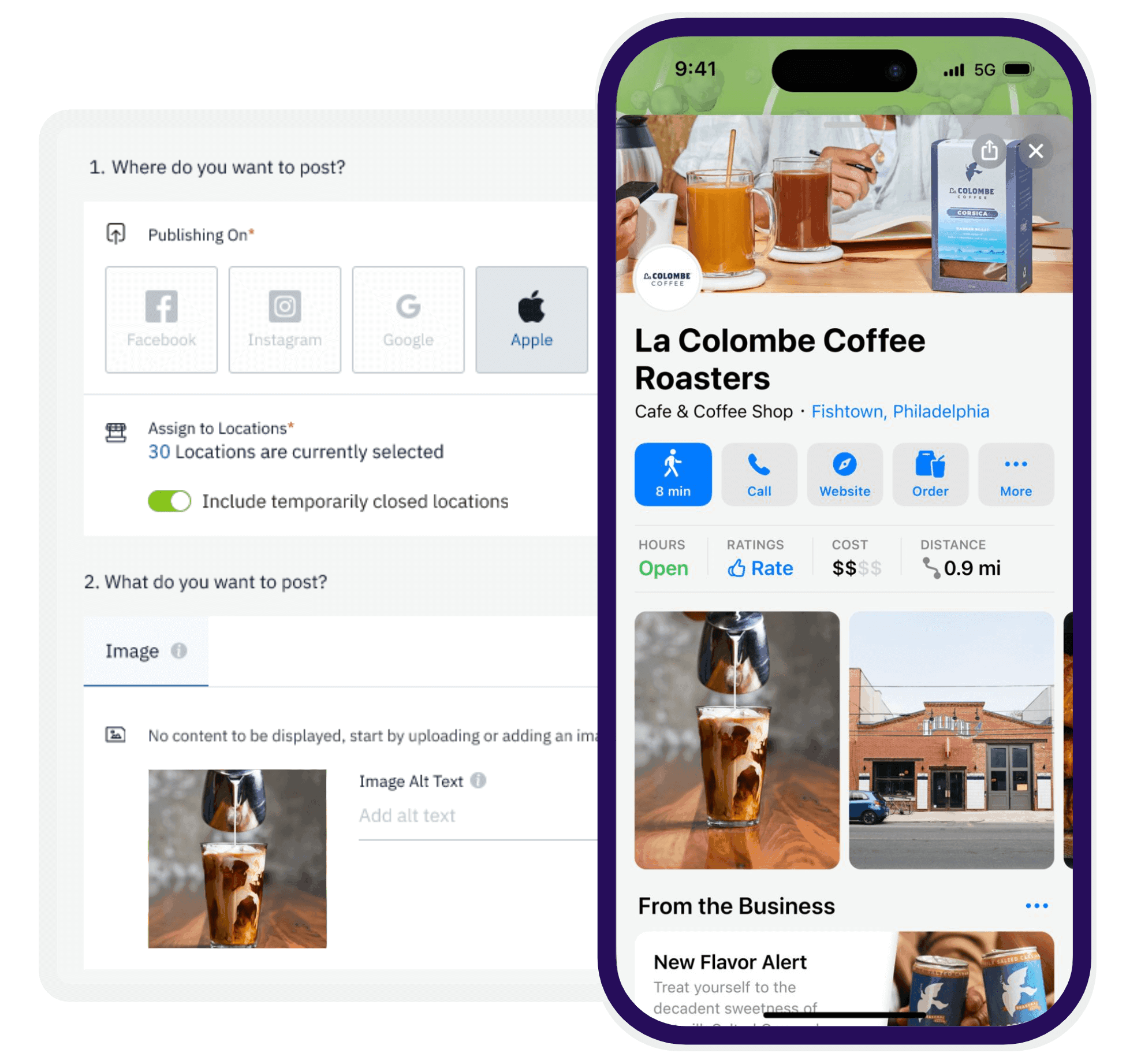 We're directly integrated with Apple Maps via a brand new API, so your locations are more likely to attract Apple users. Thanks to the improved connection, you can:
Get highly accurate and better-looking listings as you enjoy control over your location data, as well as your logo, cover photo, and local photos on your Apple Maps listing.

Update listings in real time from one central platform

Gain a competitive edge as you get early access to upcoming Apple Maps innovations.
Care for More Details Around Our Latest Updates?
As an Uberall customer, you might have seen some of the innovations and updates in CoreX already. Do you have any questions about a certain release? Feel free to ping your success manager to chat and get more info.
If you're not an Uberall customer but curious to see how the latest product innovations help you revolutionize your digital marketing efforts, we're happy to show you around! Simply click here to get a demo.