Blog
10 Questions To Ask When Evaluating Location Marketing Solutions
Of the billions of Google searches conducted every day, almost half are after a local solution. In fact, search engines are now catering to this consumer, serving up search results for every-day needs from affordable gas to a top rated restaurants. ‌And consumers do take action, after searching for businesses online, 72% visit within five miles, and 80% make a purchase.
That's where location marketing solutions come in. These solutions help optimize your brand's online presence to align it with local search behaviors. Done right, it works to increase your visibility among buyers when they're actively looking for your products and services.

‌But with so many point solutions and various platforms, how do you choose the right solution? Our local digital marketing experts at MomentFeed developed this list of criteria to consider as you evaluate vendors to help drive your business's growth.

Vendor Question #1
How will your solution help me drive new customer acquisition locally?‌
In order to drive local growth you need to be found by new customers online. And with 93% of online experiences beginning on a search engine – not your corporate website – you'll want to look for a vendor whose primary focus is to influence discoverability on search engines, namely Google. And to ensure your brand is found by new customers, you'll want to have absolute confidence that your selected vendor can help you optimize for unbranded, "near me" searches (coffee near me, ATM near me, etc.)
By digging into a vendor's strategy to help you acquire new local customers, you'll gain a true understanding of the vendor's north star. Again, make sure there is a focus on optimizing your brand's online presence with the most relevant local searches that will help drive visibility and growth.

Vendor Question #2
You say you have a platform, but what does that really mean?
Many vendors use the word "platform" to describe their solution offerings. Make sure you dig into the specifics of what the platform or point solution offers, and ensure the features and functionalities of the vendor's platform are robust enough to meet your needs. A platform solution that is robust can offer cross-functional scale and automation that might be worth giving up a few features for. Additionally, a platform is often more affordable and less complex of a technology undertaking versus a collection of point solutions.
To select the right local digital marketing partner, consider which features and benefits are critical to your success – and on which you're willing to compromise. Be direct about your needs; if there's important functionality not included in a pre-packaged platform, a vendor may be willing to build it into their roadmap to support an ongoing relationship.

Vendor Question #3
What core networks do you leverage to extend my brand's visibility?
Citation volume and link building from an extensive list of local directories does not have the influence on local search rank it once did. Google's algorithm has evolved to separate the stale bits of crust from the artisan loaf, favoring the authority of popular local sites and apps, social networks, and local business pages over longtail local directories like: CitySearch, eLocal, YellowPageCity.com, and many, many more.
In addition, many of these longtail directories, and even many of the core directories like Facebook, Bing, Yelp, and AppleMaps, are managed through data aggregators - in the U.S. the three data aggregators are: Foursquare (foursquare.com); Infogroup (www.expressupdate.com); and Localeze (www.neustarlocaleze.biz). When your location marketing solution vendor leverages a local data aggregator there are often delays in data updates. While this might be OK for longtail directories, it is imperative that your vendor has direct relationships with the core networks like Facebook, Bing, Yelp, and many others.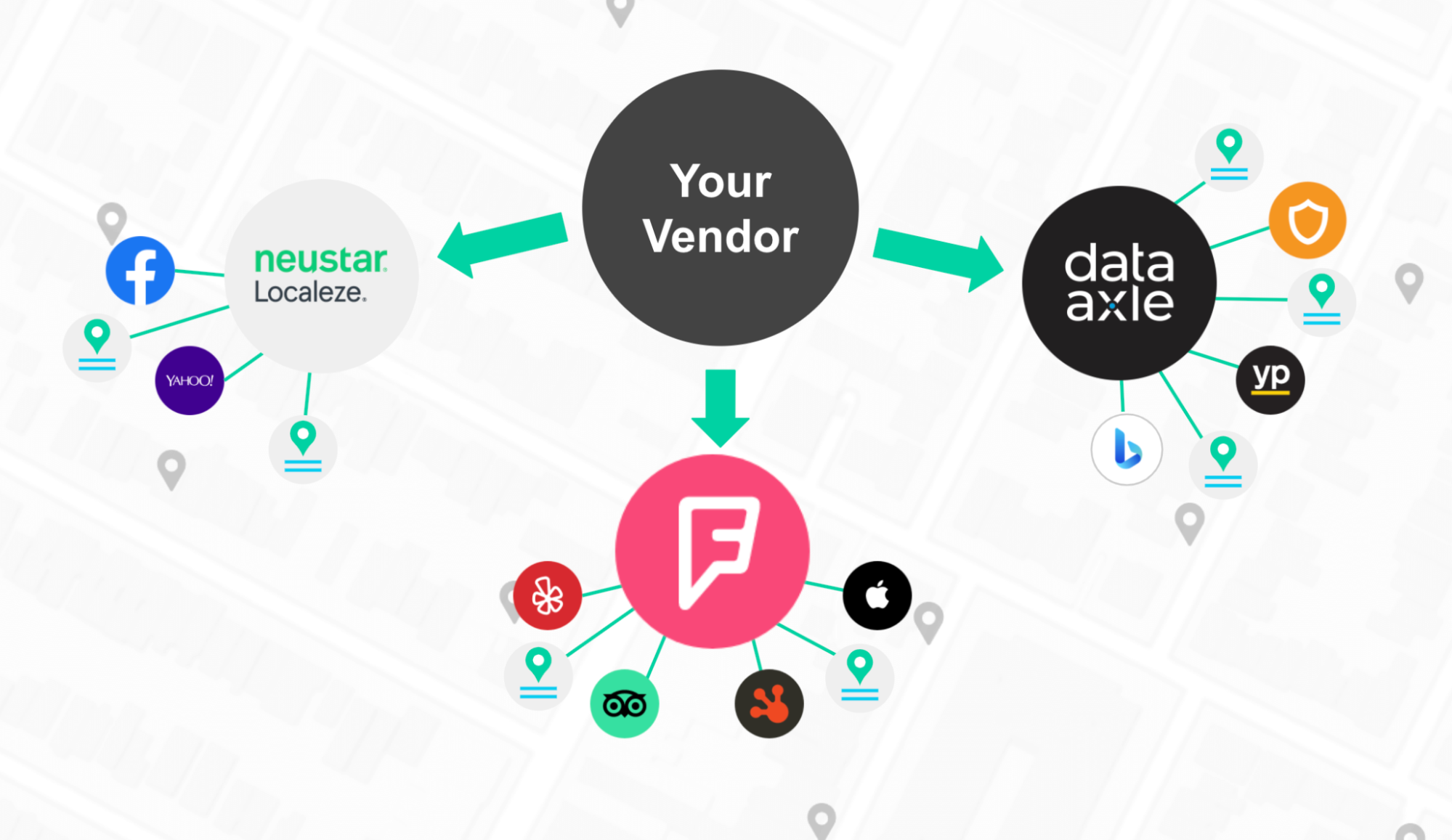 Make sure that your location marketing vendor understands this difference so you're not wasting resources on directories both Google and your customers ignore. Instead, ask about the vendor's:
Approach to listings management

Direct relationships with curated networks that have the biggest SEO influence

Listing lifespan promise, ensuring you own your listings even if you switch vendors
Vendor Question #4
How does your solution manage local social media optimization?
Your customers aren't only looking for your solutions through search engines. Recent research indicates that social media influences 71% of consumer buying decisions.
Businesses that optimize their social media for local consumers net better outcomes because:

It shortens the customer journey – studies show 29% of social media users are more likely to make a purchase the same day they see the product online

It builds social proof, motivating consumers that turn to social media reviews before making a purchase

Social mentions of your brand can build backlinks – a Google local ranking factor
Depending on your vendor, this could present a challenge or an opportunity. In your search for solutions, get a clear picture of a vendor's ability to help you manage local social campaigns within a larger digital strategy.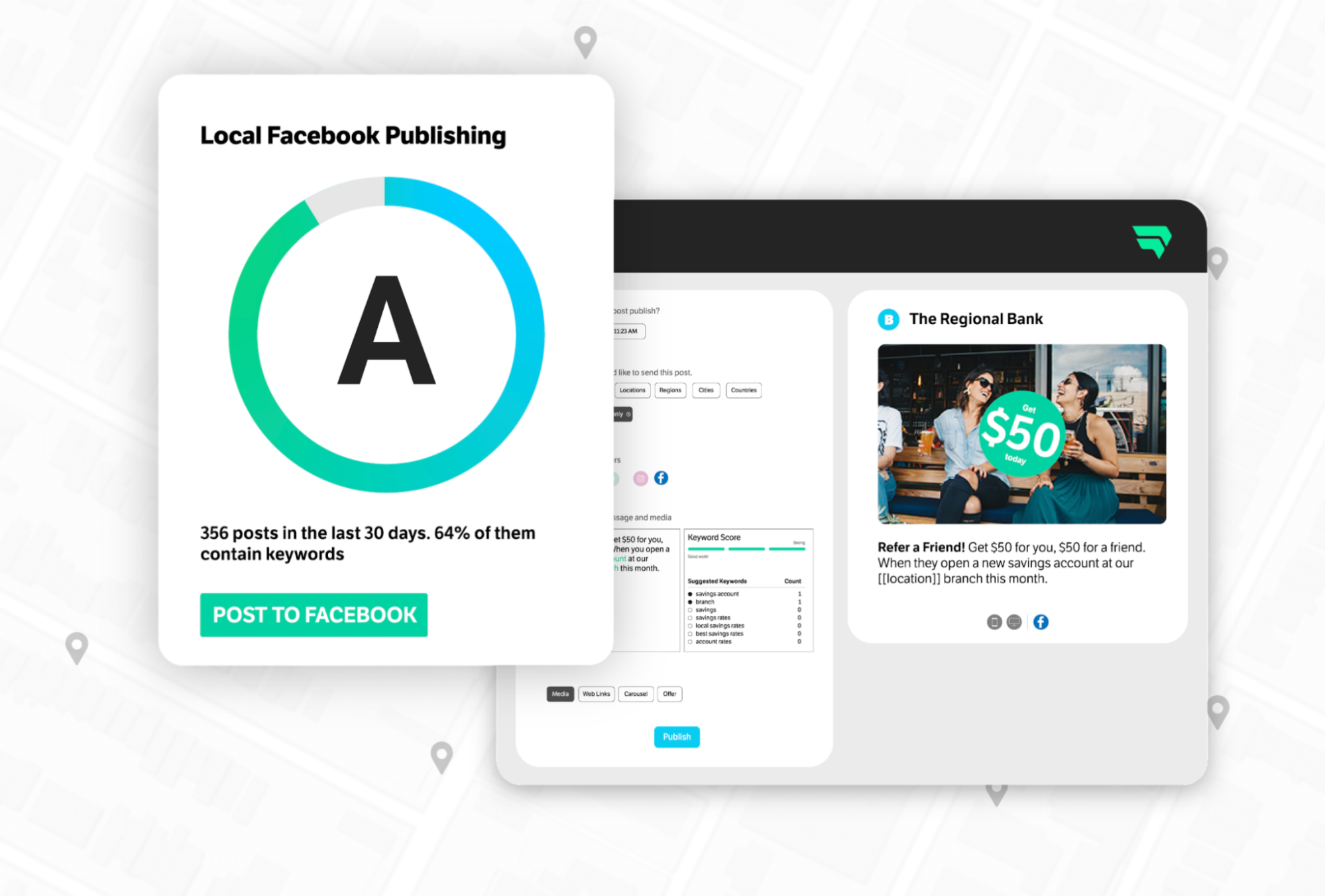 Vendor Question #5
How does your solution help manage online reputation?
What's the first thing you do after searching for a local business? If you're like 70% of consumers, you scroll right to the reviews. This instinctive behavior is why Google prioritizes businesses with higher star ratings and a greater volume of reviews. While you can't control what customers write, you can leverage their reviews to grow.
‌A vendor that offers a comprehensive review management system makes this competitive advantage even easier to attain. Look for streamlined solutions that offer:
Compatibility – and official partnerships – with the most popular, trusted review sites

Central review management with in-app, omnichannel, and multi-user response functionality

Monitoring and reporting on your brand reputation by location, channel, and in aggregate

Distributed controls to customize and streamline team workflows

Automated alerts and escalation paths for red flag issues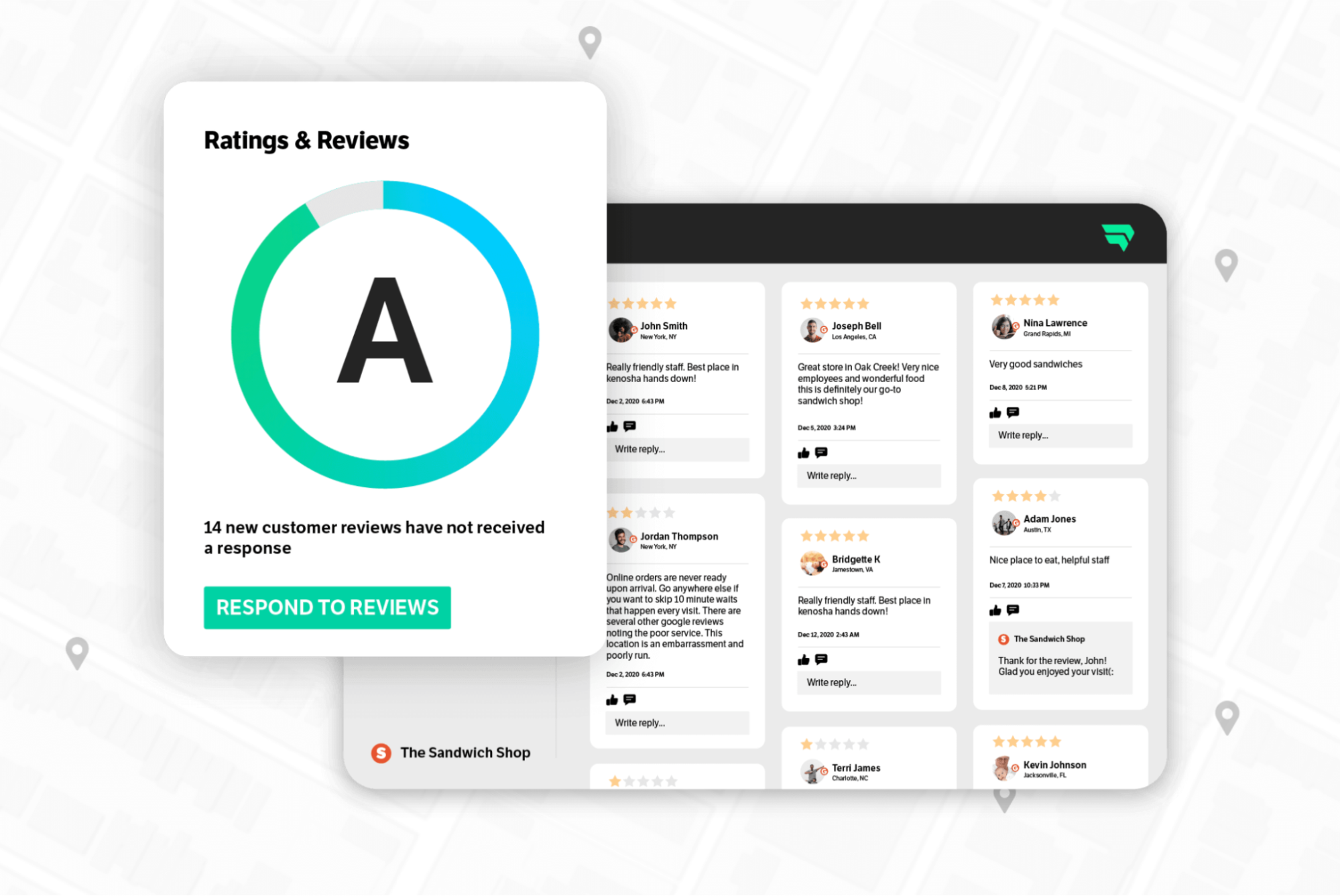 Vendor Question #6
Can I easily track my locations' performance in the Google 3-Pack?
The Google 3-Pack is a curated snapshot of the top three local businesses matching a user's search intent. This prioritized group reaps the lion's share of engagement — businesses that appear below the 3-Pack are 50% less likely to attract attention.
‌Brands have five controllable factors that work to gain 3-Pack visibility, including:
Local listing accuracy‌

Local profile completeness

Ratings and reviews

Local Facebook publishing activity

On-page local SEO
But with so much competition for this digital real estate – and Google's near-constant algorithm updates – making even small improvements with this set of criteria can have big revenue impacts for your brand.
A proximity search optimization dashboard automatically monitors these ranking signals for you. With this vendor-supported access, you can easily spot gaps that jeopardize your ranking, act on insightful recommendations, and identify opportunities to maintain a competitive advantage in each local market.

Vendor Question #7
How do you prove the ROI of localized digital marketing efforts?
Digital marketing solutions assure massive returns on investment (ROI) — and you should hold your prospective partners accountable for the promises they make.‌
‌Ask vendors to clarify exactly how they will track your local digital marketing efforts' impact on revenue, including tracking online-to-offline sales by location. To justify the ROI of your digital marketing, you need a partner who can illustrate metrics like:
Foot traffic trends based on online campaigns organized by different time frames and demographics

The value of Google 3-Pack visibility for each area/region where you have store locations

How everything from promotions to paid local social translates to conversions, either online or offline.

The revenue impact of well-designed location pages

The relationship between campaign spend and sales, segmented by location
Vendor Question #8
Do you support listing maintenance and accuracy?
When people search for businesses on Google, they expect correct information. If they repeatedly receive the wrong service hours, location, or phone number, they lose trust in the business. Google takes its users' trust very seriously. That's why listing accuracy is the top factor in the local search algorithm.
But listing maintenance goes beyond keeping your Google My Business profile up-to-date. Google crawls the web for any mention of your businesses' name, address, and phone and other attributes (hours, business type, etc.) to build confidence in the details you provide. Any contradictions can lead to a demotion of your listing in search rank. What's more, changes to important business details like a location's phone number, address, and hours often come from people who aren't you. Warding off these unauthorized changes can be a tall order for businesses managing multiple locations across a range of online networks.
Check with a vendor to see how they help you maintain Google's confidence. With services like:

Ability to centrally manage hundreds/thousands of location records and continually monitor and flag for inconsistencies across all online networks and directories

Automatic notifications of inconsistencies or suggested edits to your listing with an easy way to verify the information

Dashboard to track and fix listing inaccuracies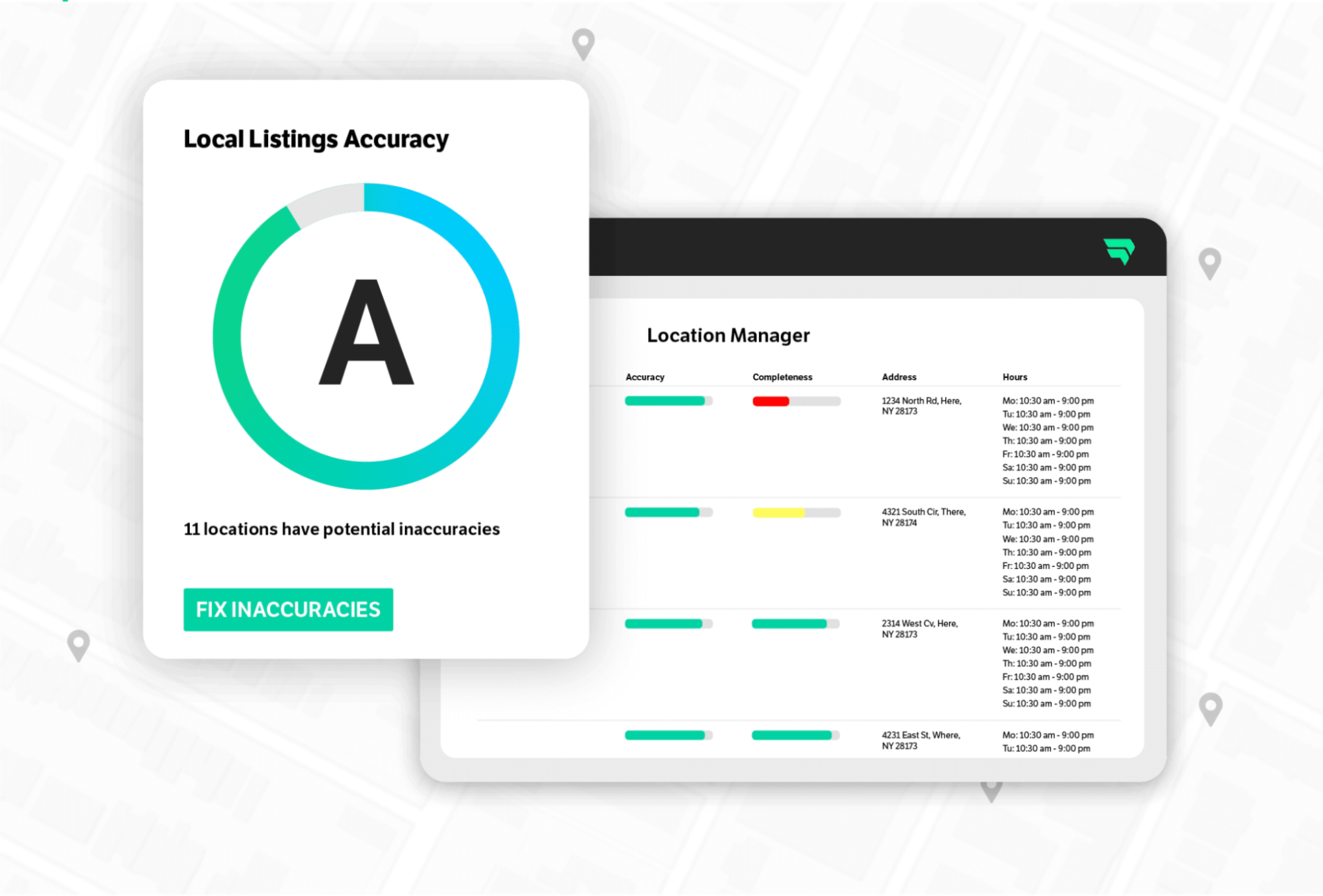 Vendor Question #9
Can my local store and franchise operators manage local marketing?
Multi-location brands need to maximize local marketing efforts while streamlining a consistent, authentic customer experience in every neighborhood they serve. This requires an infrastructure that connects central marketing teams to local ones. With this flexibility, it's easier to implement marketing campaigns customized by location.

Look for vendors with built-in tools that empower this scalability – without risking resources or brand positioning – like:
Workflow approvals

Pre-approved campaign content and creative templates

Automated Review response and approved templates

Automated keyword suggestions to boost local marketing effectiveness

Localized reporting on campaign outcomes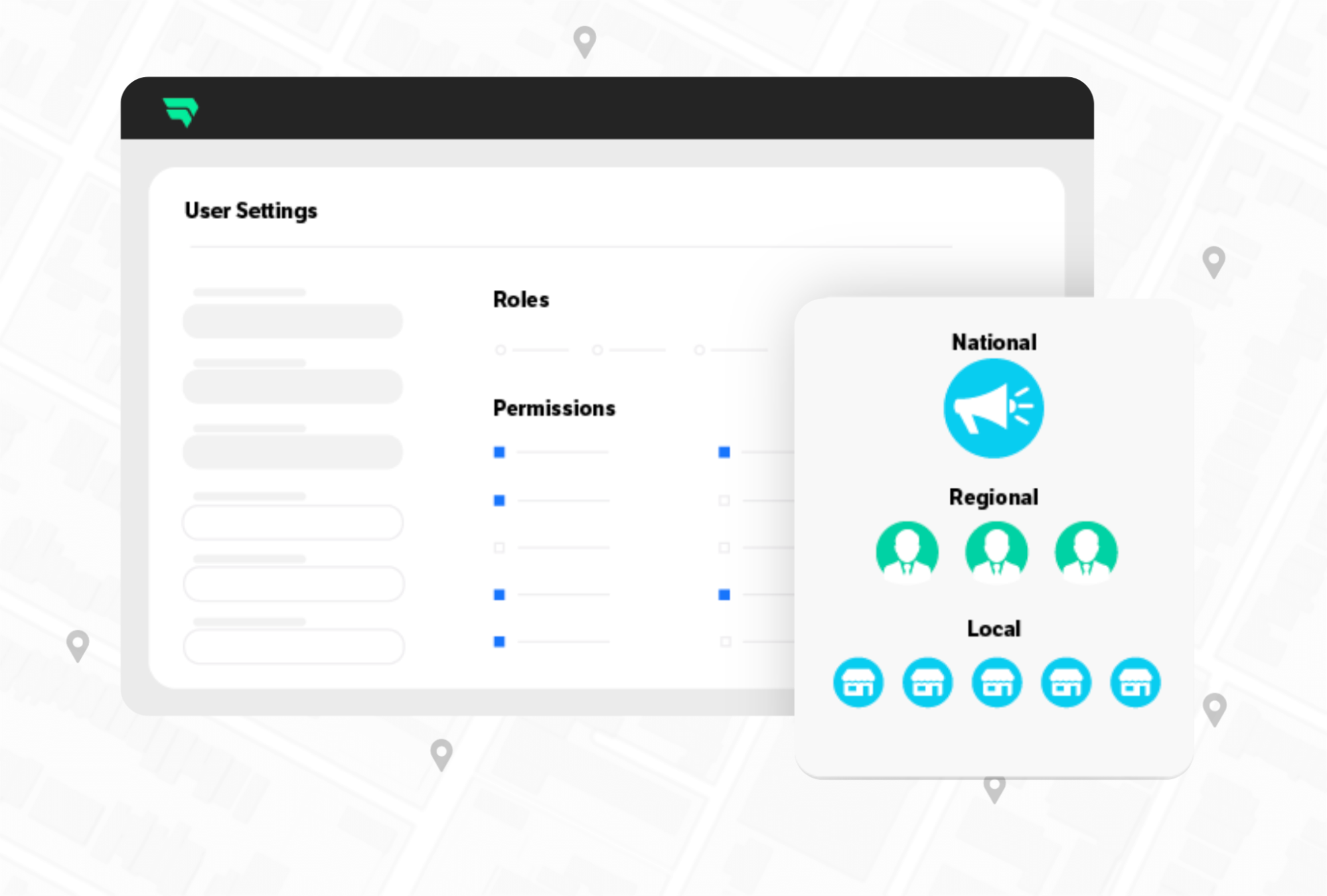 Vendor Question #10
How will we work and grow together?
Deploying a digital marketing solution can involve a lot of moving pieces. Getting a realistic blueprint of the nuts-and-bolts behind the process helps you anticipate what resources, time, and effort will be required of you and your team.

Have the vendor walk you through the steps of each implementation phase, including details on:
Their best practices for companies like yours learned from previous projects

The timeline for each stage's deployment – and expectations for your involvement

What ongoing education and support is provided

Your team's role post-implementation

Additional services that can support any management burdens, like review response or listing maintenance
‌But you also want to ensure that this relationship will sustainably align with your business's growth goals. Ask directly about a vendor's innovation priorities for helping their clients maximize local visibility. From changing consumer behaviors to Google's notorious algorithm updates, you need a partner with their finger firmly on the pulse of digital marketing specifically for multi-location businesses.

Boost your local revenue potential with MomentFeed