Coronavirus FAQ for Businesses with Physical Locations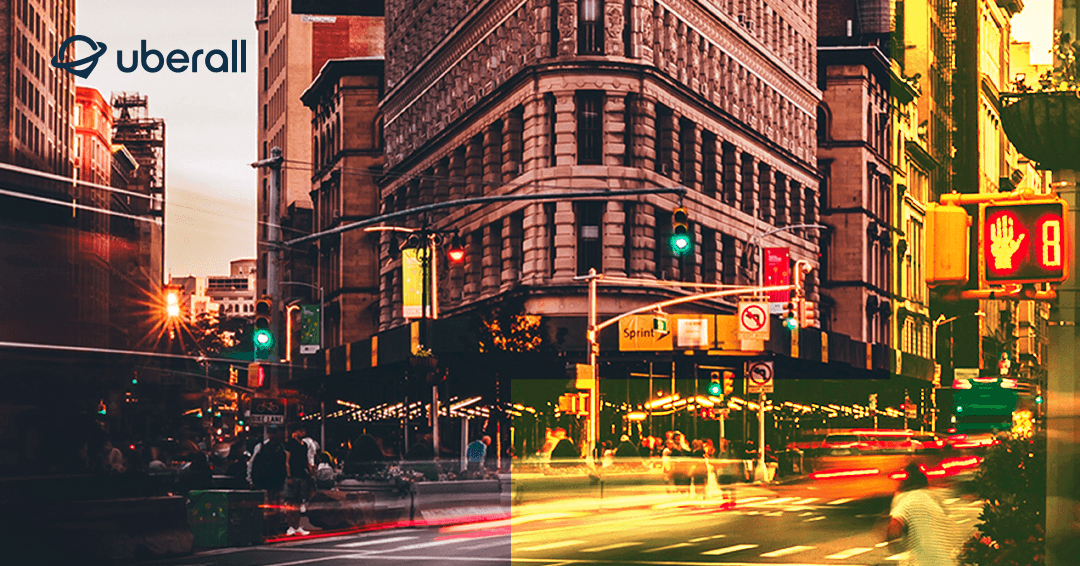 The whole world is affected by coronavirus, so is the way we move and consume. What can brick-and-mortar businesses do now? In these FAQs we will continuously collect and answer questions that we are receiving from our customers as they come in.
If you have a question you think should be answered here, please get in touch with your usual contact at Uberall. We'll also add a contact form soon so you can send your questions.
Please also check out our Coronavirus Info Hub for current information and inspiration on what you can do. For example, we have collected 5 things you should do now in response to coronavirus.
Why is it so important to update my business information online now?
Although people are mostly staying at home (social distancing), their everyday life will somehow still go on. This also means that they will still look for your business online to see whether your stores are open or closed – or whether you offer delivery or online services. Your online listings and listings management is more important than ever.
With updated information, you'll help your customers access your services more easily: Inform them about your opening hours, specific contact information, the availability of your products and services as well as specific changes according to the corona crisis. Google provides a list of information that should be updated now. Also see below.
Consider updating your business information not only on GMB but also on every other online directory your business locations are on.
The more business information you update according to current changes, the more you help your customers make right decisions: They know whether they need to leave the house or just reach out to you via phone or some other way.
What should I do to keep my customers informed and up to date?
Make sure that you update all relevant business information for your locations. Google provides a list of information that should be updated now. These are:
Changed business hours (use special opening hours for that)
Changed business information/description, such as special precautions, extra services to customers or the community, expected delays etc.
Updated phone number to make sure customers can reach out to you
Google also suggests creating posts to share updates on what is currently happening with your business
You might also want to consider sharing the following information:
New link to a dedicated website with your updates
An additional dedicated phone number as hotline
What can I do to continue to provide the best possible service for my customers and stand out from the crowd?
We recommend: Do a "little bit extra." For example, offer special opening hours for seniors, delivery services, offer help to businesses and customers in your neighbourhood. Do what you can to help your community. These are important messages to share with your customers in your online marketing and communication.
Our locations have strict regulations we must follow. How can I communicate them to my customers?
Many online directories have limits to the number of words and content you can share. Create a dedicated landing page on your website that provides more in-depth information. You can then add this website to your online profiles.
Things change from day to day right now. How can I keep my business information up to date without losing control?
If you are not using the Uberall platform, you need to update each listing manually. We recommend that you prioritise those online directories your customers mostly use. In many cases, you'd want to start with updating your business information on your own website and Google My Business.
If you are using the Uberall platform, you can easily change your business information centrally from there. This way you can make updates for all of your online listings at the touch of a button.
If you are using Uberall Engage, share your updates via social posts and by that inform your customers.
The latter currently functioning for businesses that are not considered as chains.
Which directories and social networks are most important for communicating with my customers?
This depends on your main business area. However, in addition to your own website, you should also have a look at Google and Facebook, as these are the two providers with the greatest reach.
Should I set special opening hours for my locations?
Yes! We strongly recommend to use special opening hours for your locations to indicate your business hours in times of the coronavirus.
In addition to regular opening hours, special opening hours apply for a certain period for your locations. Use this field to inform that your location will be open or closed on specific days. Also, with this field you can indicate extended or restricted hours.
You should not remove your normal opening hours and set only special opening hours as this will otherwise trigger an error. Also, do not empty the field for normal opening hours, because it would make your business shown as closed daily.
How do I set special opening hours for my location?
You should set your special opening hours as soon as possible, since some directories take up to 7 days to update your listing. Make sure to keep your location data as up to date as possible to allow those directories the time to process and display the accurate information.
This is how to set up special opening hours: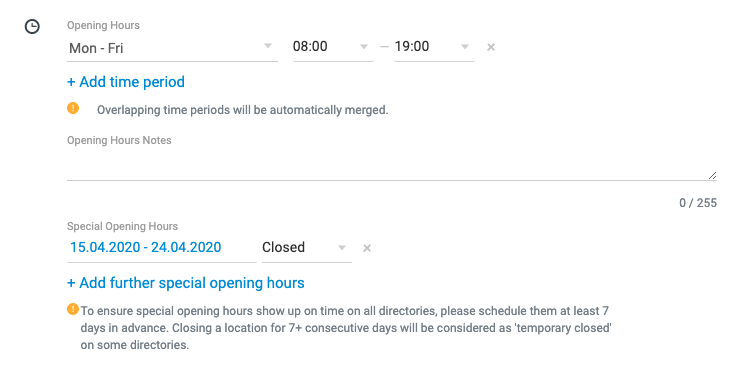 Additionally, you can inform customers about your changed opening hours using posts:
Should I re-name my location as "XYZ closed until further notice" or "XYZ still open during the coronavirus pandemic"?
Absolutely no! Renaming a location could trigger re-verification of your location, most likely resulting in worse online visibility.
Also, don't set your location in Uberall to permanently closed.
Only update your special opening hours (see above) for the time being. If your store is closed during that time, you can indicate it in your special opening hours, too.
I would like to add more information to my Google profiles, but I am limited by the description. What can I do?
Google My Business does not offer more information fields besides the description, which is limited to 750 characters. A workaround is to upload photos with the information.
My new Google Q&A will not be published. Also, I will not receive any new online ratings on Google. Are there any restrictions on Google My Business?
In the context of COVID-19, Google claims to focus more on the reliability of information on Google Search and Google Maps. As a result, there are restrictions on the functions of Google My Business:
Google currently prioritizes the processing of GMB changes and verifications based on relevance criteria. Therefore, there may be delays in individual cases.
Likewise, new ratings, responses to ratings and new Google Q&A are not currently available.
Visit the Google My Business COVID-19Help page for more information.
A user has changed information on my Google location. What can I do?
Use our profile suggestions feature to reject suggested changes.
Google has marked my location as temporarily closed, but it is still open. What should I do?
You can undo this change directly in your Google My Business account.