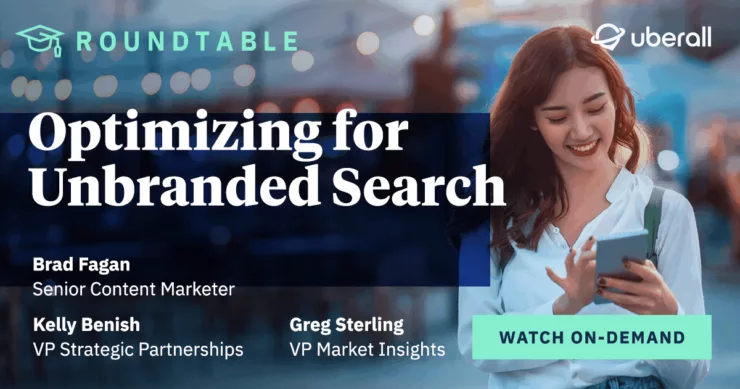 Webinar
What You See is What You Get: Optimizing for Unbranded Search
Ninety percent of consumers are not sure which brand they want to buy from, when they begin an online search - yet 76% of those consumers buy within 24 hours of typing in those generic words. How can you make sure they find your brands?
Generic - or unbranded - search plays a critical and growing role in search queries. Online search is the new battleground where offline sales are won and lost - so it's imperative for companies and their partner agencies to understand exactly how to control their ranking for both branded and unbranded search.
Watch the on-demand webinar for a lively, agency and enterprise-focused round table discussion that will unpack the findings from our latest industry report, Branded vs. Unbranded Search: Is it Better to be Known or Found? Uberall VP of Market Insights Greg Sterling, VP of Strategic Partnerships Kelly Benish and report co-author and Senior Content Manager Brad Fagan discuss:
How to leverage new consumer patterns in branded and unbranded search
How to optimize branded search across industries and regions
How to supercharge your unbranded digital visibility through third-parties
Watch here.