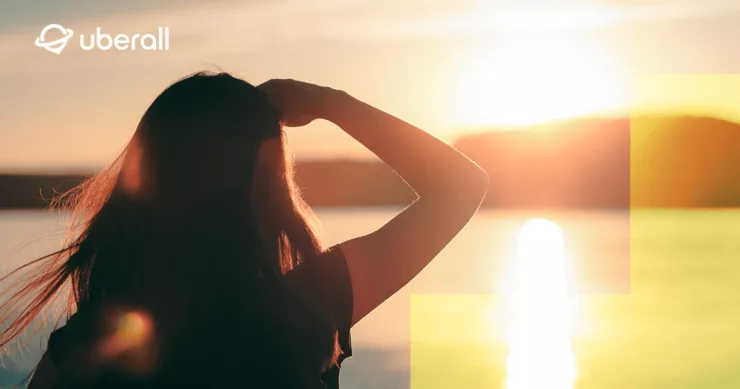 Blog
Webinar Recap: Ensuring Your Brand's Success in 2020
It seems as if everyone published a predictions list for 2020; so we thought we'd do something a bit different with the recent Uberall webinar, "How to Ensure Your Brand's Success in 2020." So we avoided the broad, conclusory statements of most "predictions" reports and unpacked the major trends affecting digital marketers and local marketing specifically.
The webinar was broken down into three broad themes:
Privacy and the disruption of data collection
UI and UX changes
Conversational commerce
Each of these in turn contain a number of subsidiary discussions: the cookiepocalypse, location tracking, zero-click search, the evolution of Google My Business, virtual assistants, visual search, review management and the rise of social commerce, among others.
Privacy and the Disruption of Data
At the confluence of global privacy developments are having a major impact on digital marketers. They include the growth of privacy regulations, cookie blocking and mobile OS changes (iOS 13 and Android 10). Indeed, privacy and its impact on data collection is probably the single most disruptive issue confronting digital marketers in 2020.
Consequently, enterprises need to cultivate first-party data and so-called "zero-party" (consumer contributed) data to compensate for the anticipated decline of third party cookie data. What sources can publishers, retailers and brands turn to? Among others, call recordings, mobile-location data, messaging or chat data and that supplied directly by customers (eg, in loyalty programs).
Consumers themselves have expressed growing concern about data privacy and location tracking in particular. A study from Location Sciences in the UK found that since iOS 13, which alerts people to apps using location, there has been a 68% decrease in consumers permitting "always on" location data collection. Prompted with alerts, consumers are changing their location-privacy settings. Android 10 offers similar, though less forceful controls to prevent background location tracking.
Despite their growing concern, consumers still express a willingness to trade personal data (including location) under circumstances of trust, control or rewards. Brands and enterprises that can create this sense of trust will have an easier time obtaining customer data. There's already some evidence that privacy (GDPR) complaint companies are outperforming their peers across a range of metrics, including consumer satisfaction, trust and even revenue. That's according to a 2019 study by Capgemini.
UI and UX Changes
The rise of zero-click search is another major issue for marketers. Zero-click search is when a user's query is answered or fulfilled without the need to click through to a website. As Google has provided more answer boxes, featured snippets and rich content in search results more SERPs have become zero-click.
As you're probably aware, zero-click SERPs now represent more than 50% of all search results and roughly 55% of mobile results. A large number of zero-click searches happen with local queries as well.
An Ignite Visibility survey earlier this year found 55% of US searchers approve of answers in the SERP. In the absence of regulatory intervention, zero-click isn't going away and marketers need to adapt to it. Tactics for doing so are part of another conversation.
Google My Business (GMB) results are a version of zero-click search. As GMB has evolved, Google has increasingly referred to it as a "engagement" platform for local businesses and multi-location brands. It's becoming more social and transactional, with appointment booking, food ordering, messaging and other features. This is all happening within Google Maps and not on the (local) business website. In fact, Google Maps has become a primary entry point for mobile search, driving as much as 3x the local impression volume of traditional search for local businesses.
In Q4 of last year, Google introduced "search by photos," which allows users to browse local businesses by image, with star ratings overlaid on the photo. Images in search and GMB were already extremely important; this makes them more so.
Visual search is another trend that has accelerated. In addition to "search by photos" Google introduced "popular products," which emphasizes browsable apparel images in search results in an effort to drive e-commerce. Beyond Google, Pinterest, Snapchat, Amazon and others have been increasingly building out visual search capabilities which include augmented reality in some cases: "see how this looks in your living room." This overlaps with social commerce, another major trend in online retailing.
Conversational Commerce
The concluding section of the webinar focused on "conversational commerce," a broad category we defined to include virtual assistants, social media, messaging and reviews. Voice and messaging are "conversational interfaces;" social media and reviews are at the center of "customer conversations." Even though these are different channels and different user experiences, they're united by the theme of "conversations."
Voice search and virtual assistant usage have grown significantly in the past five years. There are well over 200 million smart speakers in homes around the globe according to analyst estimates. There are also a billion Android smartphones featuring the Google Assistant, and Siri has at least 500 million active users.
According to Microsoft research roughly 40% of voice queries carry local intent. Yet voice has not become the marketing or commerce channel many had hoped and predicted several years ago. It may be that more time is required but it's equally possible that smart speakers never live up to their previously hyped marketing potential.
Chatbots also haven't lived up to market expectations so far, although chat is a powerful tool that can improve customer service and accelerate consumer buying decisions. As a generalization, live chat has been much more effective and successful than automated chatbots.
Another important trend that accelerates buying is social commerce. Shoppable ads and buy buttons are starting to show up on most social sites. It's a major trend in social and e-commerce, reducing or compressing the funnel, from awareness to purchase.
Last but not least, reviews are a foundational and critical piece of both the B2C and B2B buyers' journeys. For consumers, reviews are the single greatest influence on purchase-decision making according to multiple studies from SOCi and Yotpo. Given the importance of reviews to ranking and consumer decision-making, it's no wonder that fake reviews are a growing problem across platforms.
Fakespot reports that more than 50% of Amazon reviews in selected categories (e.g., Electronics, Beauty) are fraudulent. And while consumer awareness of review fraud is limited, it's growing according to a 2019 report from CPC Strategy. There's also data showing consumers are using multiple review sites. This means businesses of all sizes must devote significant attention to managing reviews and conversations across relevant directories and social platforms.
TL; DR: Summary
Privacy is extremely disruptive in digital marketing today; we still don't know how it will play out entirely. We do know that the future will be different than the past in terms of targeting and attribution. Most other change is incremental, but over time will be quite significant (i.e., the shift from the PC to mobile). Local marketers and brands that sell offline need to take a holistic approach to presence management, social and reviews content -- as well as preparing for new user experiences that will define the near-me customer journey of the future.
Originally recorded on February 11, you can access the webinar replay here .