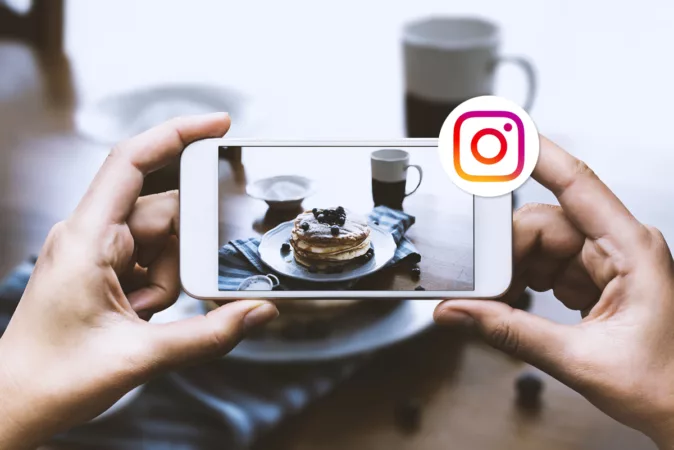 Blog
Connect with Customers Using User Generated Content from Instagram
Authentic, customer-created photos and videos are a powerful way to stand out from the crowd. Here's everything you need to know to make Instagram and user generated content (UGC) an earned media goldmine.
When it comes to branding, Instagram is HUGE
With more than 500 million Instagrammers – 300 million of whom use the app every single day – Instagram easily beats Twitter, Snapchat, and Pinterest in brand visibility and engagement, and can directly drive more sales.
What's more, Instagram is growing fast. Even in the face of stiff competition, Instagram usage has doubled in the last 2 years, and it's predicted that over 70% of U.S. companies will factor Instagram into their marketing efforts by 2017.
More Users, More Content
Instagrammers generate an average of 52 million photos a day - a tremendous earned media opportunity for brands. Research conducted by Crowdtap and Ipsos found User Generated Content (UGC) to be 35% more memorable than other media, 50% more trusted, and 20% more influential. When a customer takes a picture or video in your store or in your restaurant, it's real, authentic and first-hand. When it's a good picture, it enhances your brand with a personal, attributed endorsement. When shared with that person's followers, it's an amazing advertisement and testimonial for your brand. UGC can make an impact on a wide range of purchase decisions, from dining, to retail products and services, travel and hospitality.
Ready to put user generated content to work? This guide will outline the whole process—from monitoring your brand's online presence, to engaging with fans, to sharing and re-posting the content they create to your broader audience. We'll equip you with all the tools you need to grow revenue with newfound social media expertise.
Understanding Earned Media
Consider these three types of media: earned, owned, and paid.
Owned media you distribute and control. Your website, for example, or your social media accounts. Owned media is the image of your brand that you want to project. And because it comes straight from the source, owned media can often lack authenticity.
Paid media, in the same vein as owned media, is controlled by your brand. Paid media promotes your content while staying true to your brand's specific vision, though it comes with obvious (and often hefty) price tags.
Earned media is free. And earned media is influential. Like digital word-of-mouth, earned media is someone who has no vested interest in the success of your brand speaking highly of you and telling others that you're doing something right.
Earned media can be tricky to cultivate. Why? Because unlike owned and paid media, earned media isn't created by your brand and can't be bought. But success in the earned media game results in your brand's image spreading among your target demographic – reaching friends of friends who likely give higher credibility to a real person's photo than a paid brand advertisement.
Nothing beats that genuine connection.
Which is why earned media and user generated content should be a centerpiece of your content marketing strategy.
Leveraging User-Generated Content
User generated content is personal. More important than that, it's authentic. It's not something your brand paid for or made up—it's a photo of a customer's meal or experience they sent out to the world to say, "This is cool. Check it out."
It's a real endorsement from a real person.
User generated content cuts through the noise to increase reach and lend third-party credibility from someone who has visited your business and enjoyed your products or services. It's as relevant as content comes, reaching out to local consumers with content created' and thus endorsed by fellow local consumers.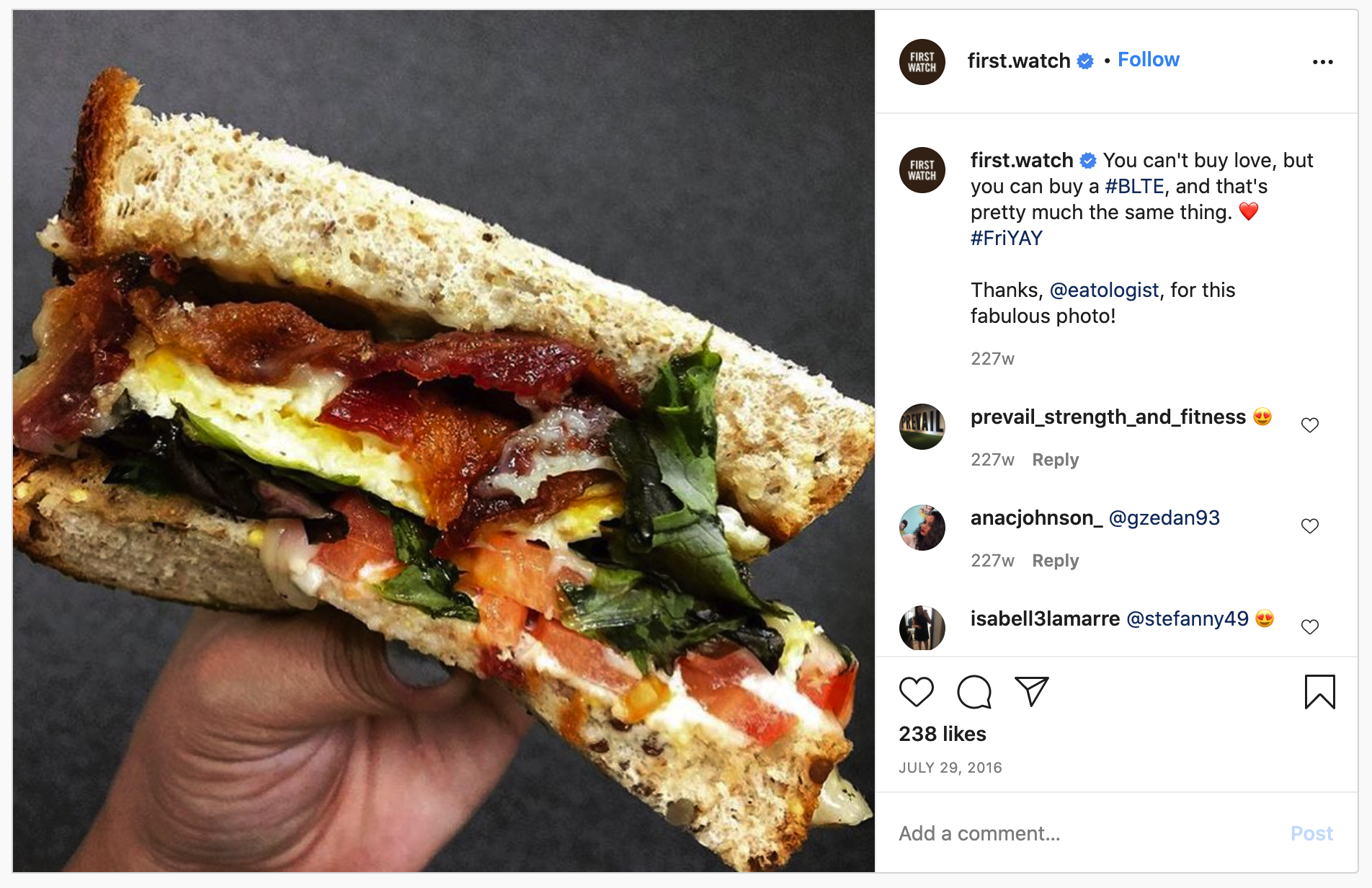 Re-posting a photo on your account (commonly called "Regramming") taken by one of your real, satisfied customers humanizes your brand and allows you to interact across the social network from an authentic level. REGRAMMING: EFFECTIVE AND FREE You see the potential. Now, how does your brand capitalize on user generated Instagram content? There's a lot that goes into doing this efficiently. Expert regrammers make the process look simple. It can be if you have all the tools needed to succeed. We've broken it down into three main components.
How To: Regram: the tools and process to follow to capture an image from one Instagram account and repost on Instagram and even on other networks.
User Generated Content Integrity: obtaining proper permission before reposting someone else's work, attributing proper credit for the image to the appropriate content creators, and maintaining the integrity/authenticity of the original image.
Finding Content: maintaining your brand's quality and high standards while seeking out user generated content by monitoring your brand's presence via hashtags and location tags.
People are probably already talking about your brand on social media, and if they aren't, you can get them started.
How to Regram

First things first – reposting the image that you want to share with your followers through your brand's Instagram account. There are a few different Methods you can use.
For small businesses
Here are 3 helpful apps created for consumers that can be used to streamline the regramming process:
Repost for Instagram: Free to download, you view your Instagram feed in this app, then after a few taps can share the image you want to regram via your traditional Instagram account.
Iconosquare: A web client that allows you to view your Instagram feed through a browser and tag images that you want to repost. Those images will then be emailed to you as properly tagged, regrammable versions. Save those images and post them as you would normally post to your traditional Instagram account.
Websta: Similar to the process mentioned above for Iconosquare, involving an emailed photo that is tagged, saved, and regrammed.
If you use one of these apps to regram a photo, the picture will automatically be tagged with the name of the Instagram user who originally posted it; i.e. proper photo credit will be given to the Instagram user whose photo you are using (this is a very, very important part of maximizing user generated content) Some of these apps will indicate, via tags or graphic overlays, that their app was used in the regramming process.
If you'd rather avoid these markings on your regrammed pics, you can regram photos manually and repost them to Instagram yourself.
For larger businesses
To manually regram a photo:
Bring up the image you want to repost.
Take a screenshot of the image.
Edit the screenshot of the image to include only the original photo you wish to regram by cropping the image. This can be done by using your phone's photo editing options or through Instagram's photo editing tools.
Post the cropped photo to your Instagram account and assign proper source credit.
For multi-location businesses
Turbo Charge the Regramming Process with MomentFeed
Even a brand with only a few locations can quickly become overwhelmed by this process.
It's incredibly important that your brand is posting user generated content from each of your specific locations, but who wants to deal with the daunting task of sifting through a seemingly endless stream of photos and videos, looking for relevant content and assigning it to the proper channels? Or combing through the location tags for pictures taken around every store.
With MomentFeed, it only takes seconds to organize tagged content and give each and every one of your locations the personalized attention they deserve.
The MomentFeed platform streamlines the sharing of UGC allowing you to:
View your place-tagged photos by location
Request permission to share images
View all sharing requests in location-specific queues
Easily regram to Instagram and share across other social networks
Each one of your individual locations should have a unique Instagram account posting relevant, localized content. MomentFeed allows you to easily access all your Instagram accounts' from one platform.
Best Practices and Regramming Etiquette
Instagrammers are sharing their lives with their social networks for a reason. They want to be seen.
They don't, however, want to be taken advantage of, which is why there are three important rules that must be followed if you want to repurpose user generated content for your brand:
Always ask for permission.
Maintain the authenticity of the original post.
Give credit.
User generated content is free, but it's not necessarily free to use. Before reposting content that someone else created and uploaded, you need to ensure that you have their permission.
It's not hard to do, and chances are they're going to grant permission to share their image because it means more of the exposure they wanted in the first place. You can direct message them and ask for permission to repost their image, or you can just leave a comment saying the same. The MomentFeed platform also allows you to send out photo requests with ease and view all pending requests in convenient queues so you know right away when location-specific photos are ready to be shared across the appropriate networks.
When you're ready to share a photo, do everything you can to maintain the authenticity of the original post. Don't edit unless you absolutely must, and if you must, mention that you're going to when you request permission to share.
Finally, when you repost the photo to your brand's pages, give proper credit to the original poster by tagging or mentioning their username in the comments. Everyone loves kudos, and shining light on a user's awesome photo encourages other users to create and share high-quality content you can draw upon in the future.
Not only is this the right thing to do ethically and legally, when you tag someone they feel appreciated and they will tell their friends, immediately boosting the viewership of your post. It's a great way to get the consumer and their own followers engaged, and will jump start your posts' organic visibility.
Here's one example of what assigning proper credit looks like when sharing an Instagram photo to another network: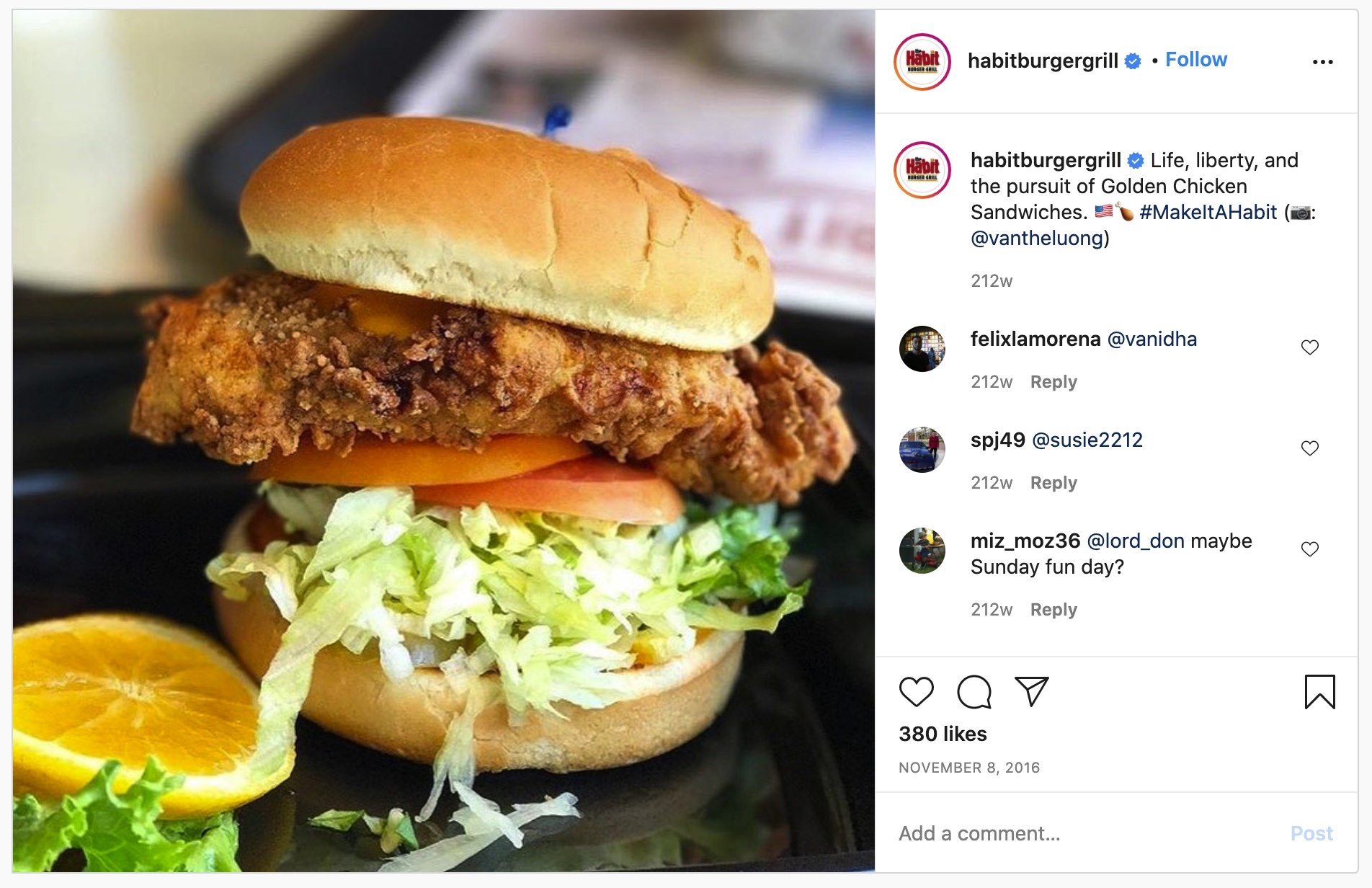 It's worth mentioning that if you use the MomentFeed platform to handle your regramming, photo credit is automatically assigned and always included when you repost, so there's never any worry of accidentally forgetting to give content kudos to your customer advocates.
Monitor Your Photos and Mentions
In order to find the best user generated content to share, you'll want to keep an eye on your brand's Instagram presence. Best practices for brand management include:
Monitoring all posts where your brand is tagged.
Creating branded hashtags to encourage tagging.
Brands with retail locations should set up location tags on Instagram for all their individual shops, restaurants or showrooms so that localized content can be distributed to the proper channels and reach the right audiences.
MomentFeed automatically "place-tags" photos when you repost them, even if the original photo didn't specify a location. This can ensure that consumers who follow your brand will receive even more specific information about the goings-on of locations nearest them.
Branded hashtags encourage users to talk about your brand and draw attention to your product when they tag their photos, while also making it even easier for you to amass a collection of quality user generated content to regram.
When you consider hashtag management, automatic place-tagging, sharing request queues, and automatic photo credit tags, you can see how MomentFeed has simplified multi-location account management across Instagram and other social networks in game-changing ways.
MomentFeed makes it simple to search Instagram for any hashtags you want, which is a great way to find relevant content to regram that may not be linked to your brand.
Start Regramming Today
Get creative. Think originally. Have fun with your hashtags and people will gladly play along. #BunsByBurgerBarn #CaffeineAddictsUnite
Instagram is a gold mine of relevant user generated content, and it's never been easier to take advantage of it.
By following the steps presented in this guide, your brand has the ability to start leveraging quality, localized content today. Don't wait! Get out there and make Instagram users as excited about your brand as you are.
#RegramGameStrong