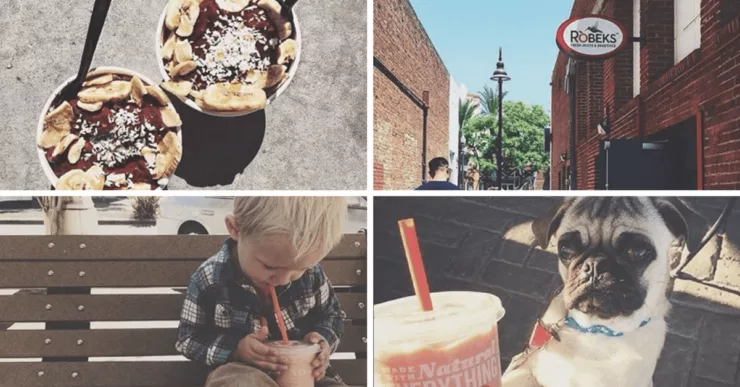 Blog
Robeks Increased Organic Impressions 250% Through Local Facebook Publishing
Robeks, a national fresh juice and smoothie franchise with over 90 locations across the U.S., partnered with MomentFeed to shift its Facebook strategy to a focus on local page publishing. Robeks saw their organic brand reach decline as Facebook switched to a "pay-to-play" model and needed a means to continue reaching their fans.
In MomentFeed, they saw a way to leverage their local Facebook following. They also saw an opportunity to deliver targeted, personalized content to different markets. Using MomentFeed, Robeks deployed a local Facebook strategy that increased their organic Facebook impressions by 250% in 2015.

250%

YOY increase in organic Facebook impressions.
An issue we were faced with was keeping up with Facebook and the importance that they were placing on local store pages. While the Robeks brand page experienced steady growth, the momentum has shifted and we are now spending more time on our local store pages.
Claiming Existing Local Facebook Pages
To launch a local marketing initiative, Robeks first had to claim its local Facebook pages. Facebook users had generated hundreds of unofficial and duplicate Facebook pages for Robeks locations, which the brand had no control over. MomentFeed's Search & Discovery product allowed Robeks to claim all its existing local Facebook pages and merge any duplicates. In total, Robeks was able to claim over 350 pages, 3,000 local fans, and 600 local reviews.

Creating Locally Engaging Content
The next step was deploying the right content to these local Facebook fans. With over 90 stores nationally, Robeks serves diverse markets and their product offering can vary from store to store. MomentFeed's local publishing tool allows Robeks to target its brand messaging for different markets, for example, promoting oatmeal to East Coast locations in the winter, while publishing about refreshing smoothies to Southern California fans.
In addition to localized brand messaging, Robeks uses MomentFeed to share user-generated content to its local Facebook pages. MomentFeed aggregates brand Instagram photos and organizes them by location. The MomentFeed platform is designed to make it easy for clients to share this content to the corresponding local store social pages. With the help of MomentFeed, Robeks has been able to share over 250 Instagram photos to local Facebook pages in 2015.

The Results: 250% YOY increase in Organic Impressions
This investment in local marketing has paid off. In 2015, Robeks saw 250% more organic impressions generated from their local Facebook pages than the brand page. Additionally, local Facebook fans have grown by 29% since starting the MomentFeed program.
This has all been achieved with little additional time required to manage. Chao states, "MomentFeed is very user-friendly and well organized, which makes it easy to go in and respond, update, and grab metrics."
Robeks now runs all their social media publishing and engagement through MomentFeed - at both the brand and local level. With so many business results realized after just a year of partnership, it's easy to see why MomentFeed's singular focus on client success is working for Robeks.
Robeks increases search rank by 164% for unbranded keyword, "Acai Bowl"