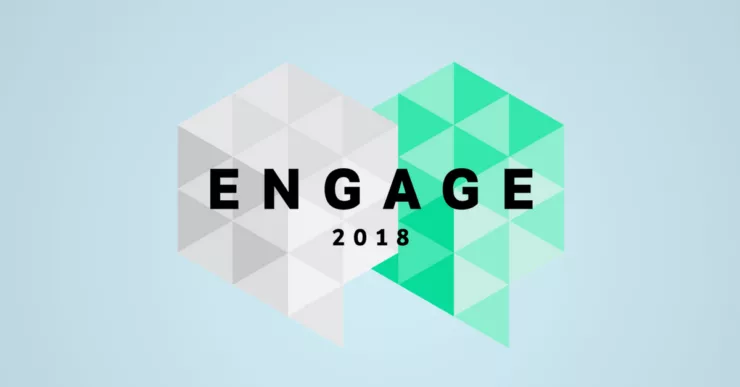 Blog
MomentFeed Engage 2018 Client Summit Recap
Memorable Moments of INteraction, INsights, and INspiration
MomentFeed's 2nd Annual Engage Client Summit was yet another one for the books! Clients from near and far came together last week in sunny Santa Monica to learn from and network with some of the best and brightest marketers, platforms and industry experts.
Attendees got "IN the moment" throughout the entire event - from 6am surfing and ocean-view yoga to intimate Q&A's with the biggest networks like Google, TripAdvisor, and Yelp. Through meaningful interactions with like-minded peers, attendees took home useful insights and left inspired to grow their brand.


INteraction
Designed to provide more than just great content, Engage 2018 created a community where clients and partners could build lasting connections with one another. The event kicked off with a welcome party at the Fairmont Bungalow, where attendees enjoyed fresh cut sushi, hand-crafted drinks, and mingled under the stars. Earlier in the day, select clients attended the Product Advisory Council (PAC) or Client Advisory Board (CAB) meetings, where they discussed marketing and business challenges and ideas on how MomentFeed can empower even greater success. *Clients: talk to your CSM if you're interested in finding out more about PAC or CAB.
The following morning, some (brave) souls woke up before sunrise for "Surfing with the CEO," our very own, Robert Blatt. Experienced surfers and newbies alike got in the moment catching cool Santa Monica waves. Others opted to start their day off with a more zen experience with ocean-view yoga.
Regardless of how they started their day, all attendees enjoyed plenty of opportunities to interact with peers and industry experts.

INsights
From start to finish, Engage sessions were jam-packed with content specifically targeted towards multi-location brands. Industry leaders like Sephora, Jamba Juice, A&W, Torrid and many more spoke on topics and challenges they've overcome while partnering with MomentFeed. Sessions held by major networks like Google and TripAdvisor offered exclusive information into what's coming. Attendees were the first to hear about new MomentFeed product announcements, including:
Connect Integrations with Olo, Opal, Salesforce Service Cloud and Zendesk.
Boosted Visibility, to help drive more consumers in-store with paid search ads.
Menu Manager, to help manage menu data across hundreds or thousands of networks and a variety of networks to improve local search rankings and influence hungry consumers at the moment of consideration.
Events Manager, to effectively and efficiently publish and manage events across a multitude of locations, in different states, countries and area codes, at scale!
Location Finder Templates & Widgets, to easily deploy mobile-first, optimized local landing pages on your brand's website.
INspiration
This year's Engage 2018 keynote speaker, Marcus Collins discussed the allure of creating culturally contagious content and its immediate impact that is often accelerated by mobile. He shared compelling ideas about how marketers can implement content that is both culturally contagious and meaningful.
MomentFeed's CEO, Robert Blatt discussed emerging technological trends while recapping what has happened in the last year. He also explored the future implications of augmented reality, voice search and how government and technological advances in privacy may change the way we interact with consumers in the near future.
After a full day of indoor inspiration in the form of content, attendees had the opportunity to let loose and trade in their shoes for flip-flops at the Barefoot BeachIN' Bash, sponsored by TripAdvisor. The party was held on the beach at sunset to the sound of steel drums, great conversations, and laughter - a perfect way to end the day.

All in all, we couldn't be more thankful to have such amazing clients and partners to celebrate and learn from. A special thanks to our attendees, speakers, and sponsors, who helped make this event possible and inspire us in everything we do! For multi-location brands who are looking to find new ways of creating meaningful consumer experiences on mobile, Engage 2019 is a must-attend event!
Couldn't make it this year? Don't miss out on next year's event! Secure your discounted ticket now.