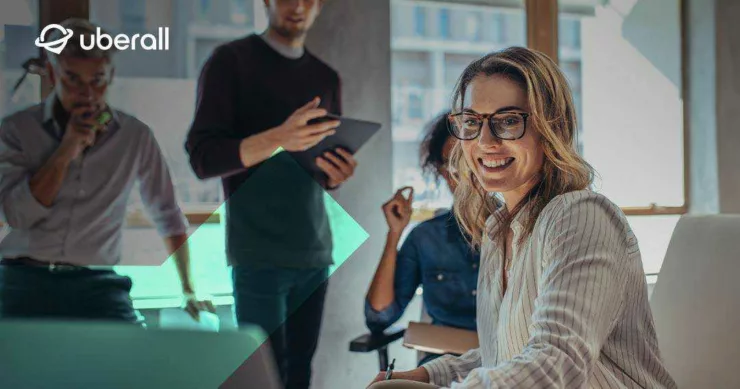 Blog
How Agencies Can Leverage Local Search Citations in 2021
At this point, you're well aware of what local search is. In fact, I know that you've probably been following the well-known industry ranking factors as many of us SEO practitioners do. But there is an opportunity for you to leverage those ranking factors while mixing them with a big-picture-strategy that can help you and your agency boost your clients' local search visibility to a new level.
Most agency experts like you are very strategic in the way that tactics and products are segmented and how they are offered to prospects. Whether your team works with TV ads, programmatic, or social media campaigns, they all guide customers through a journey. It's important for local businesses to know that according to Google, 76% of people who search for something on their smartphone visit a related business within a day. This is where local visibility can make a great impact for your clients.
Combining Local Search Optimization with Consumer Behavior Insights
Local search visibility goes beyond simple tricks to rank at the top of search results. That's only the beginning of optimizing local visibility. Let me explain why. Although it's still crucial for customers to find you easily online, these same customers are also researching your reputation, offers & promotions, reviews, photos, and many other factors before making a local purchase. Customers have more than one option when looking to buy a product or a service near them. Their most common behavior is to pick a choice from the top 3 search results. These top 3 results are well optimized in Google My Business, with plenty of reviews, photos, and accurate information about the business. This is why a holistic local search strategy is going to help agencies like yours help clients stand out and guide consumers from online searches to offline conversions.
How to Optimize Google My Business Listings Based on Current Consumer Search Behavior
We can't talk about the customer journey without leveraging Google My Business. Over the past 10 years working as an SEO, I've seen it time and again where Google My Business becomes the top lead generation tool for most local businesses. But how do you get your clients to that stage? What else can you do to maximize the benefit of local search?
The best way to talk about optimization is to look at one vertical. For the last 5 years we have seen tremendous growth in searches for "home services near me." In fact, the home services vertical has done extremely well in recovering from the COVID-19 lockdown.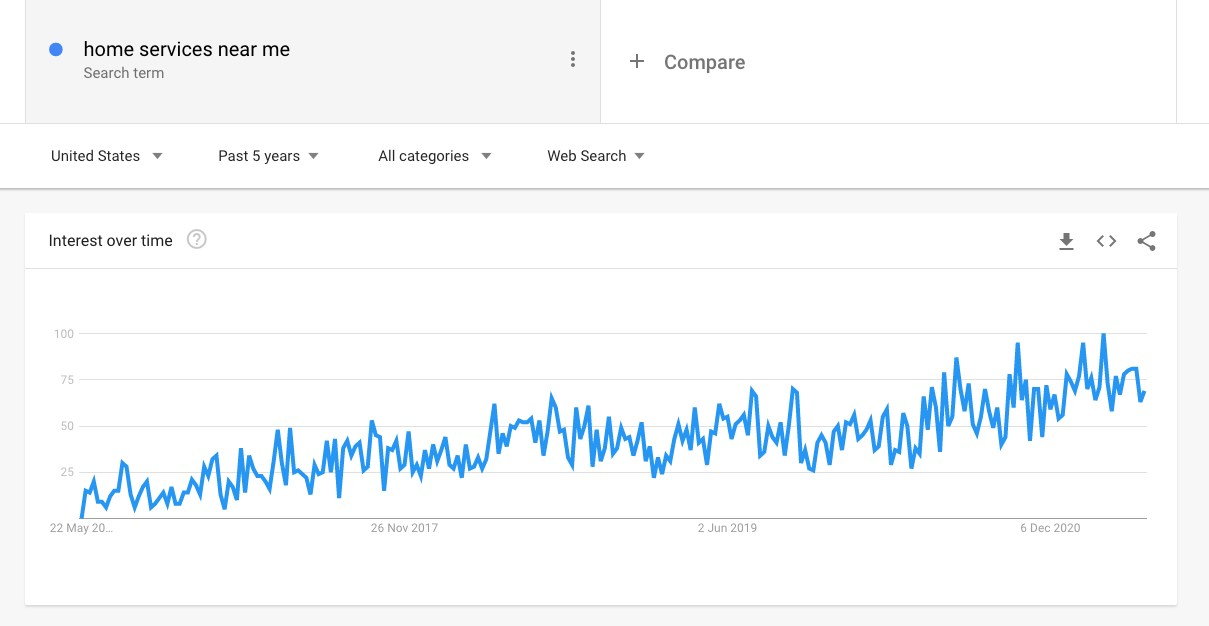 I truly believe this is because most of us were working from home. We were probably staring at the old paint on our walls that needed a refresher, at the damage on the ceiling from the old roof leaks, while others could even hear the toilet water constantly running. Geez… How old is my house?
More than ever, customers were and are continuing to search for electricians, roofers, and plumbers near them. Your local positioning strategy should focus around helping Google understand where your client's local business is physically located, so when potential customers search for these services, Google fully understands who deserves to be in the top 3 based on relevancy.
Google My Business has dozens of fields, but as marketers, it's critical to know which ones will have greater impact on both ranking and the customer journey. You can check out our ranking guide that goes more in depth on this topic.
A Google My Business profile is where you need to go all out with information about a business. You want to think about the holistic local search strategy to help with rankings, but also where this fits within the customer journey.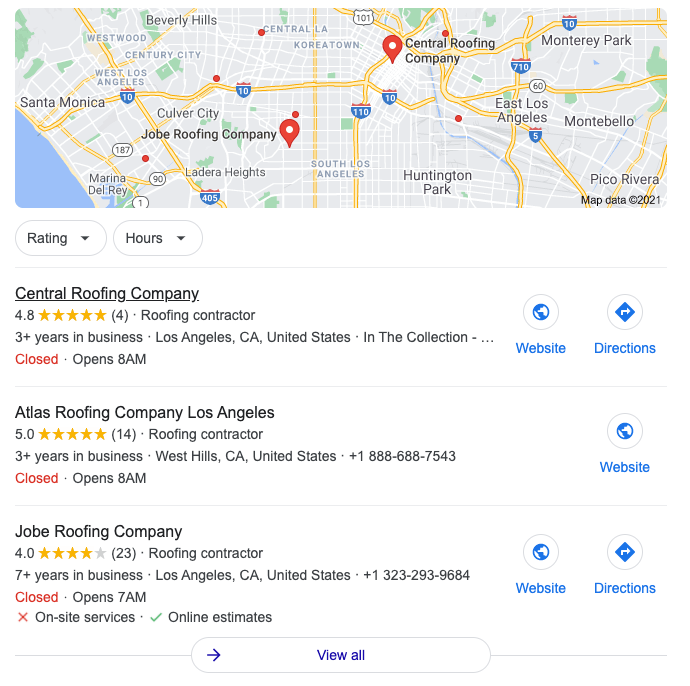 A customer searching for a local roofing company in Los Angeles (screenshot above) will typically look at the rating in the GMB listing. Reviews are more important than ever as part of your clients' online reputation. Even if you manage to rank #1 on searches a low star rating will affect conversions. Through our own review rating analysis we have found that a star rating increase of just 0.1 could increase conversion rates by 25%. We have also found that businesses with 4 stars convert higher than any other star rating. Based on these stats it's safe to assume that prospective customers might be heading straight for option 2 from the screenshot above. This is why your clients' rating is crucial for the success of their campaigns.
If you are one of the best rated profiles in the results and the prospect clicks on the profile you manage, the next thing they may look at is to validate if it is a "legitimate-looking" listing. That means a complete, up-to-date, and accurate profile.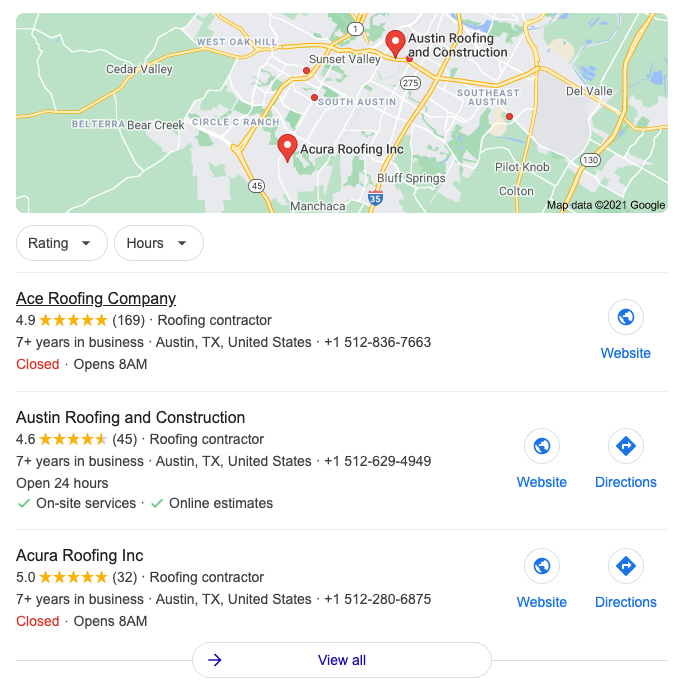 In February 2021, Google decided to display the 'Opening Date' field as 'years in business' in search results. This does not necessarily mean that the oldest business ranks at the top, but it certainly builds credibility to encourage a prospect to click on it.
That makes the 'Opening Date' field a great opportunity to optimize the GMB profile with the holistic customer journey in mind.
More than ever, especially after the pandemic, people are trusting Google's local information to understand a business's COVID protocols and precautions. Using the newest Health & Safety attributes, businesses are able to inform the prospect on how the business can engage with them.
These attributes are extremely useful as they can inform the prospect in aspects like:
Masks required for customers and/or staff
Temperature checks required for customers and/or staff
Appointments or reservations required
These health & safety fields inform the searcher on how they can interact with this local business given the current pandemic needs. This is vital information for potential customers who are ready to buy; it's an undeniable part of the customer journey.
What I really want is to help you combine your tactical SEO-mindset with a holistic understanding of the modern local customer journey and what these consumers are looking for. By adapting SEO for just a part of this customer journey, you are able to boost client visibility and turn online searches into offline conversions.
Avoid Head-to-Head SEO Competition with the Bigger Brands
After doing SEO for quite some time, I've learned that being strategic on every move is crucial to achieve success in search marketing. For that, I want to challenge you to think about the holistic strategy of the business' customer journey (again).
You've probably read before all about local listings and how citations help with local SEO. But this time, I want you to stop and think about the anatomy of a search result page and how you can use it to your advantage.
Let's break down the following results page. My query was "roofers in Austin". The results that are given to me as a prospect are a mix of 70% directories and 30% actual roofers' websites. This may vary per city and vertical. But that means 7 out of 10 results have high domain authority websites, highly trusted by Google, and often trusted by the person searching.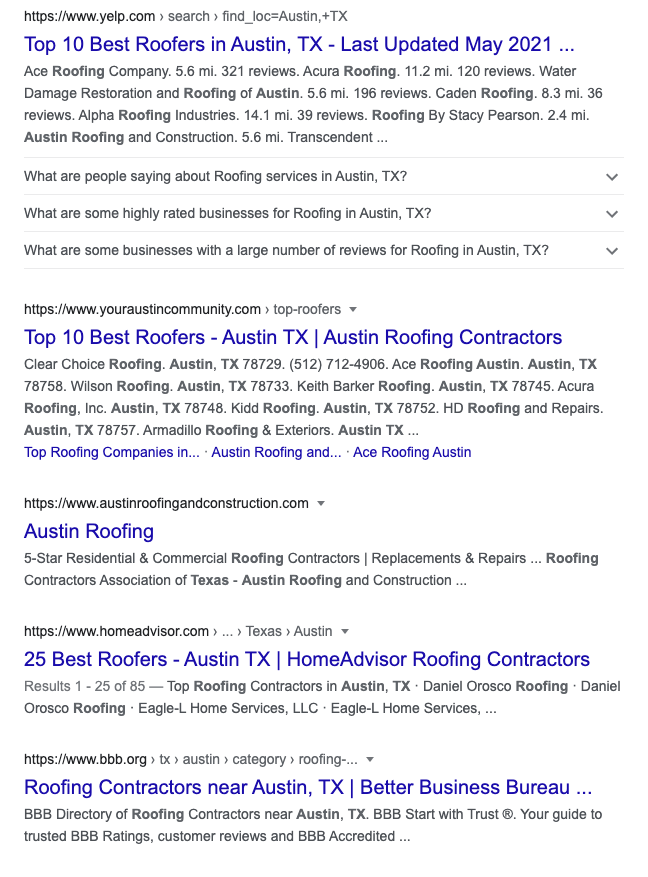 What are the chances of mom-and-pop websites outranking large sites that have entire SEO teams and budgets? These are the same websites that are likely taking 70% of search results in most cities in the US.
What if you didn't have to compete against them in head-to-head rankings but instead, use them as part of your holistic search strategy?
Although 70% of results are directories, you could leverage their positioning and make sure your client's business is listed on those directories and fully optimized.
Yes… I know there are SEO benefits in doing so. But that's not enough to maximize this tactic. What if you use them to your client's advantage?
Don't set and forget business listings; manage that listing for your customers. If you think about their holistic strategy, these 7 larger websites on search results are already ranking and getting traffic, all you have to do is be strategic about it and use them to your advantage.
You can fully optimize those profiles, keep them up to date, maintain them and make sure they provide the information that the customer needs. This might entail maintaining a 100% completeness of the profile, plenty of pictures from services and staff, a good looking logo, and a list of services offered by this business.
Think about this for a second as best case scenario: you rank your client's website to be #1 of the 3 local businesses who show on the first page of my result. Which is great! Your client has a slight chance of being chosen from the list… But what if your client was also published on all 7 directories showing on my list? That means that whether I click on your client's website or I click on any of the other 7 directories, I will still find your client! That's 7x more chances of visibility when being strategic.
Now, if I were to find them in one of these 7 directories, wouldn't it be wise to control what I find about the business? That's exactly my point! That's where the holistic strategy and understanding customers' journeys combined with your tactical SEO skills come to play.
Add Vertical Niche Citations to your Holistic Search Strategy
Local citations are not dead; they're more alive than ever before. Google still trusts them, so they still play an important role in your local positioning strategies for your clients. However, not all local citations are created equally and most have different impacts on your clients' visibility.
>>Read our latest report where we analyzed 115,000 business listings (both SMB and Enterprise) across more than 60 directory sites to find out whether listings management and citation building is still valuable for business today.
Some directories have higher authority than others, plus the amount of traffic they get varies greatly from one another. It's important to focus on the relevancy of those directories with the vertical of your client. Even if a niche citation such as a legal directory has a Domain Authority of DA80 with thousands of real visitors per month, it wouldn't be beneficial to a restaurant to be listed on it. Google won't find the category of the directory and your client's site to be relevant whatsoever, so Googlebot might ignore it.
Handpicking the correct mix of citations for your clients is just as important as citation building. There's an extensive list of directories that might fall under a "general" that play nice with most verticals, but adding a mix of verticalized niche citations can help you gain trust points with search engines.
Here's an example:
A local dentist office can benefit from listing on Google My Business, Facebook and Yelp, but probably won't benefit from listing on TripAdvisor. Google My Business, Facebook and Yelp work for general categories, with very high domain authority, and they have thousands of users every day. TripAdvisor also has a very high domain authority, thousands of users every day, but their website is categorized as travel, which is not relevant to a dental office.
It's safe to assume that we don't need TripAdvisor in the mix, but what about niche citations such as doctor.com, WedMD, HealthGrades, DentalPlans and RateMDs? These might not have the same amount of traffic or domain authority as Google or Yelp, but the relevancy with a dentist office is astronomical. Google loves this and at the same time, you're publishing your client on directories that people are already using to find health professionals. It's a WIN WIN!
I have tried this time and time again; most of the time with the same outcome where quality over quantity wins. Google trusts quality and relevancy more than quantity. The quantity days are long gone; we are in the era of AI intelligence and finding relevance in your SEO tactics is crucial.
I hope this blog sparks some ideas and allows you to combine today's consumer search behavior along with your SEO skills to create a holistic local strategy. Remember that to leverage shared media to your clients' advantage you should:
Understand your clients' customer journey.
Optimize Google My Business around the customer journey.
Avoid head-to-head SEO competition with the bigger brands.
Add verticalized local citations to your holistic search strategy.
This article is the first of a four part series to help agencies boost their client's local search performance. Stay tuned for the second post where I'll break down the optimization and maximize the value of your owned media channels. Subscribe to our blog to make sure you don't miss it!