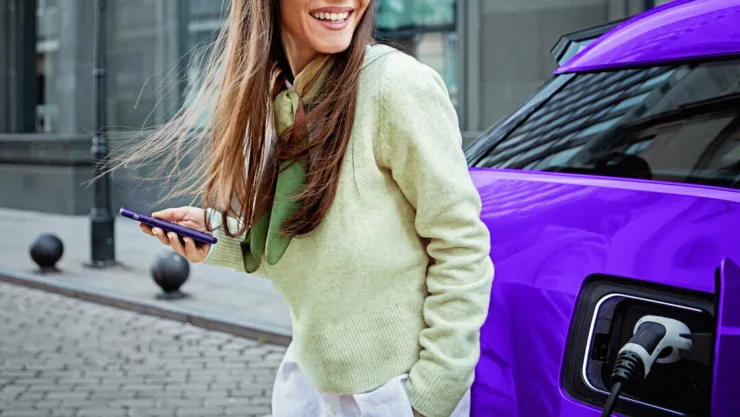 Blogs
EV Charging and Infrastructure: Tips to Drive More Foot Traffic to Your Location
Humans are responsible for adding 11 billion metric tons of carbon into the environment each year, and only half of this is absorbed by forests and oceans. To address this imbalance, and several other growing environmental concerns, global powers such as the US, EU countries, and China are taking steps to reduce their carbon footprint.
One of the key ways to achieve this is by increasing electric vehicle (EVs) adoption and investing in EV charging and infrastructure development.
Leaders in Global EV Adoption:
🥇China: EVs to account for 40% of all passenger vehicles sold in 2030
🥇Germany: To put more than 10 million registered EVs on the road by 2030
🥇US: 100% Zero-Emission Vehicle Acquisitions by 2035
Governmental regulations, combined with positive consumer sentiment towards EVs, are expected to shoot up their sale manifold in the coming years. This makes investments in EV charging and infrastructure a lucrative business opportunity for multi-location businesses in the energy space. Moreover, businesses that set up EV charging stations are also expected to receive tax benefits and favorable policies.
Such changes mean reimagining the 'petrol bunks' of the future and aligning with the requirements of EV users.
This blog outlines some of the ways multi-location businesses can adapt their EV charging and infrastructure to the needs of EV drivers and make the most of these opportunities in terms of revenue generation.
EV Adoption Roadblock
One of the primary roadblocks to EV adoption is EV range anxiety— a driver's fear of running out of charge and becoming stranded.
By the looks of it, a reasonable solution to EV range anxiety seems to be the availability of more charging stations. However, more charging stations does not necessarily mean less range anxiety.
What addresses EV range anxiety is the availability of the right information at the right. Moreover, adding more Ev charging stations and infrastructure to support adoption can lead to the problem of excess and huge costs for the upkeep of stations that are not adequately used.
Information Reduces EV Range Anxiety
Information is power when it comes to addressing range anxiety. Real-time information on charging stations increases drivers' confidence and helps more people invest in electric vehicles. As a rule, businesses should enable information flow on their EV charging and infrastructure locations and take advantage of this rapidly expanding space.
Of course, you need a little help to present this data on your location listings in a way that is helpful to drivers. Uberall CoreX has a first-of-its-kind solution that can truly facilitate EV adoption and improve the profitability of businesses with clean, real-time data that benefit drivers and bring them to your locations.
Know how you can accelerate the growth at your stations with Uberall Corex
EV Charging and Infrastructure: 4 Tips to Enable Information Flow
With the demand for electric cars on the rise, businesses can grow revenue by preparing their EV charging and infrastructure location for this major change in transportation.
Transforming your business to accommodate EV charging and infrastructure can help you attract a more extensive customer base and increase profits. Follow these tips for generating more profits with public charging stations.
Optimize Searchability
If you're not optimizing your stations' online presence, they're invisible to most drivers. Drivers rely on in-dash systems and EV charging apps like PlugShare and Chargepoint to find EV charging stations on the way. In fact, 99% of gas and convenience searches on mobile result in a purchase and 55% are looking for location info, and 34% for directions.
Populate your updated business info on search engines, navigation apps, and other EV-specific apps so that EV drivers can find your charging location easily. A large part of searchability also depends on you maintaining your listing and online profile. Ensure, you add the right category for your business listing to improve searchability. Make sure data like your exact pin location, business address, and name are spread out across online directories to help drivers find your EV charging station.
When setting up your EV charging and infrastructure, choose a charging partner that most EV drivers rely on and which can easily integrate with other services drivers use, like Apple CarPlay and Android Auto.
Offer an Elevated Driver Experience
Ensure you are using the right technology to mine, process, and parse info that offers the best driver experiences to those within your range.
Real-time updates on the information on your listings about the availability of charging docks, numbers of chargers at your location, time left to availability, power of charger, estimated time to charge, and operating hours can vastly improve the driver experience and bring more people to your charging station.
Information on the type of charger available determines how much time it'll take for a vehicle to charge, something most drivers are interested in. There are three types of EV chargers —Level 1, Level 2, and Level 3 or Fast Chargers. Make sure your listing data mentions the types of EV charging and infrastructure at your location. You could share images of your location to win the confidence of drivers and set the right expectations with them.
Establish Retail Associations at Your Locations
The days of stopping for a quick snack break at a fuel station are slowly fading away with EV charging. Charging an EV requires substantially more amount of time than refueling—sometimes over an hour even for fast charges—which leaves drivers with a lot of time on their hands.
Team up with restaurants and/or set up shopping outlets at your locations for people to spend time as they wait. Amenities such as coffee shops, Wi-Fi, and seating or even options for overnight stays are expected to be part of the fuel stations of the future. You can even drive loyalty amongst customers by offering membership programs and discounts and advertising about them using Google posts.
Adding shopping and retail options to your EV charging and infrastructure setup is a great way to increase foot traffic and attract a unique customer base that recognizes and values your commitment to a more sustainable future.
Enhance Your Reputation
When responding to online reviews, offer solutions if someone reports an issue. Professionally responding to negative reviews will make it more likely for people to continue visiting your location. Positive and neutral reviews also warrant a response, and you should take time to show people you value their feedback and reinforce what they enjoy about visiting your business.
If possible, you should always address the reviewer and plug keywords into your review to improve searchability. Do your best to avoid generic greetings like "Dear guest." Remember to say thank you in your response to reviews, even if they're negative. Apologize or sympathize with reviewers when you see negative reviews to show that you're not too proud to own up to your mistakes. This kind of integrity will strengthen trust between your company and customers.
Final Tips for Your EV Charging and Infrastructure Setup
The safety of EV charging and infrastructure networks should always come first. Even under challenging conditions, all charging units with electrical infrastructure and a grounding installation must remain reliable.
Remember power is in the quality of information and not numbers. Offering the best possible information about your location to EV drivers will lessen range anxiety and instill their confidence in your business.
When responding to reviews, incorporate keywords that will increase your business's searchability by describing the safe charging environment.
Put your business on the map, boost your visibility, and attract new customers by adding EV charging stations and infrastructure to your locations. While fueling, drivers will look for their preferred charging brand, shopping options, or appealing on-site amenities they can enjoy while visiting your business. Do everything you can to make sure charging time is an enjoyable and hassle-free experience.
Want to make sure your charging locations always show up for drivers in range? Reach out to us