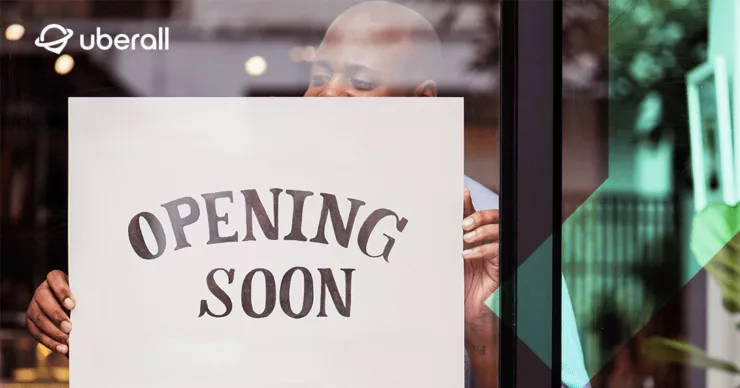 Blog
Consumers Will Ask Reviews Whether It's Safe to Go Back into Stores
In March Google announced delays for Google My Business (GMB) edits and new listings; it also suspended publication of new consumer reviews, though sites such as Yelp and TripAdvisor did not. The move was partly to protect businesses from unfair criticism for not being open, given the widespread inaccuracy of online information at the time.
Review counts dropped off a cliff
The cessation of GMB reviews caused review count velocity to look like this (below) during late March and early April, according to our data.
Average review counts across categories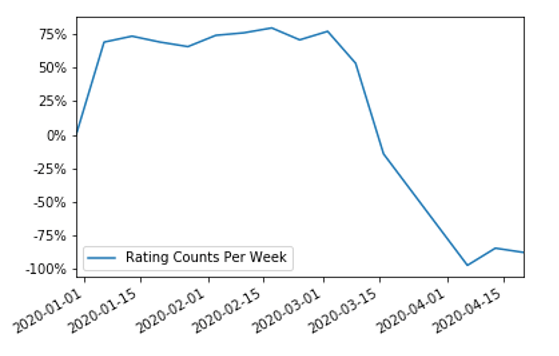 Source: Uberall aggregated data (January through April)
Google's publication pause caused some agencies and local marketers to recommend suspending review solicitation. Then, in the second week of April, companies started noticing the slow emergence of reviews that were backlogged. The pace of that publication has apparently picked up but there are still volumes of reviews that haven't yet appeared.
Gradually coming back now
Google simultaneously changed its GMB support site messaging to read, "Review replies are now available. New user reviews, new user photos, new short names, and Q&A will gradually return by country and business category. We're also gradually publishing delayed user reviews and photos submitted to Google Maps. "
Now that reviews on Google are being published again it's worth considering how the role reviews play might change as states and local businesses open back up.
Reviews have historically provided visibility into the quality of products, services or experiences. Consumers rely on reviews to save time and gain insight before making purchase decisions. But in this environment reviews could serve another function: alerting would-be visitors about whether it's safe to come back into the business.
Multiple surveys have indicated a majority of consumers in the US remain fearful of going back into restaurants, gyms, retail stores and other places. According to survey data from the Washington Post and University of Maryland, two-thirds or more of Americans oppose the reopening of most businesses and don't feel comfortable visiting their physical locations. Grocery stores, which have remained open the entire time, appear to be the lone exception.
Americans aren't comfortable going into stores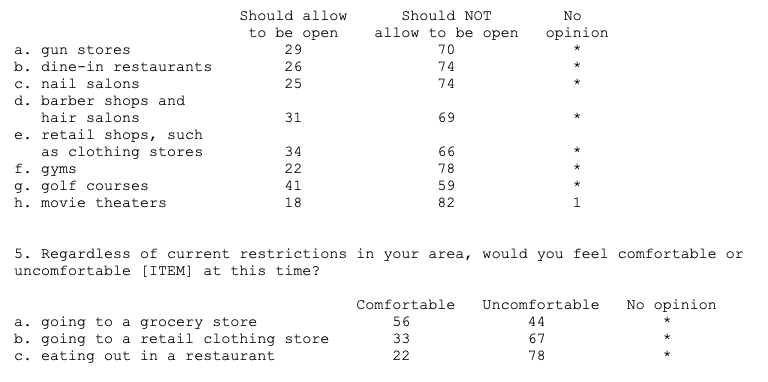 Source: Washington Post-University of Maryland, n = 1.005 (May 3, 2020)
While the pandemic and health safeguards (eg, mask wearing) have become highly politicized, many early visitors to restaurants and stores over the coming weeks will be observing whether safety precautions are being taken and what the general environment is like. Are conditions clean, how are other people behaving, is it safe to be there? These are the kinds of questions many people will be answering in Google reviews (and possibly Google Q&A).
During the first weekend in May celebrity investor and Dallas Mavericks owner Mark Cuban engaged a firm that does "secret shopping" to assess whether Dallas-area businesses were following the state's reopening rules. He found that only 4% of local retailers and restaurants evaluated (of 1,000 called and 300 "physically audited") were fully compliant with reopening rules and safety procedures.
Cuban says on his blog, "On average, ~ 60% of mandatory protocols were followed and ~ 54% of all suggested protocols were followed. In aggregate locations followed ~ 58% of all mandatory and suggested protocols. "
The question of whether this is "good enough" can be debated. But despite pent up consumer demand to return to a "normal lifestyle," partial compliance is arguably not going to be enough for most people, who have become increasingly comfortable buying online and don't want to get sick.
Right now, many large retailers, restaurant chains, hotels and airlines are starting to lure people back with health and safety assurances. If they fail to deliver on those promises it will show up in reviews. The potential damage to revenue and reputations could be significant - there may be greater forgiveness with SMBs - as consumers pay close attention to the difference between corporate statements and actual experiences on the ground.
For more information on how even small review and ratings fluctuations affect consumer decision-making and brand reputation, download The Reputation Management Revolution: A Global Benchmark Report (registration required).