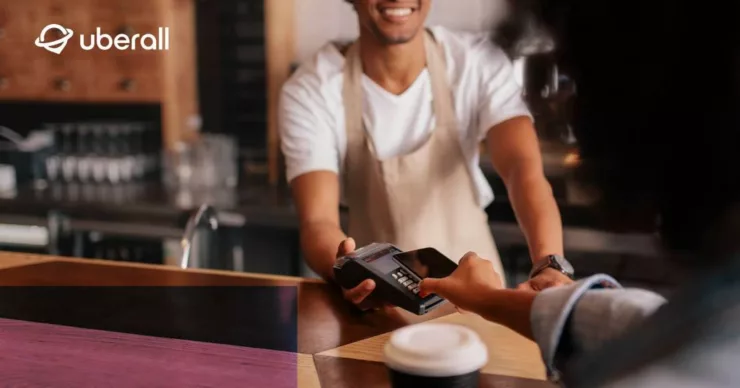 Blog
Cash Is No Longer King: How Adding Payment Info to Your Listings Wins More Walk-Ins
As things begin to return to normal after the disruptions of the pandemic, there are a few changes that are here to stay. One of these is how people pay. Are your business locations ready to connect with consumers searching for local businesses that accept digital payments?
COVID Changed Cash Transactions
The declining use of cash is not new. For various reasons, using cash has been growing less popular for some time:
However, health and safety concerns during the pandemic accelerated this trend exponentially. Even the most traditional uses of cash — for tips and small transactions, for example — dropped precipitously. Applications like Tippy, Venmo, Paypal, and the Cash App all saw major surges in use in 2020, rising by 11% and incorporating more point-of-sale applications.
In Europe, and particularly Germany, where cash has stayed more popular, businesses are also seeing a shift. DW reports that 56% of in-store sales in 2020 were made with contactless payments, and the momentum for digital payment is growing; in Sweden, for example, 82% of people now make their purchases without cash. According to another July 2020 survey, 40% of respondents in Europe say they used cash less often during the pandemic, and in the UK, where 50% of people were already cashless by 2020, 75% of people say they now use less cash due to COVID.
Digital Wallets on the Rise
This trend is not just about credit and debit cards. Digital and mobile wallets such as Apple Pay or Google Pay are also on the rise — made popular because they are entirely touchless. According to a 2021 report by FIS, cash made up only 20.5% of global point of sale (POS) volume in 2020 — a 32.1% reduction from 2019. In fact, digital wallets accounted for 25.7% of POS transactions globally — up 19.5% from 2019. The same report predicts digital wallets will make up 33.4% of global POS transactions by 2024.
Our own research shows the growing importance of these payment options to consumers — with 71% of those surveyed saying contact-free digital wallet options are "important" or "very important" in determining their likelihood to return to a store or restaurant.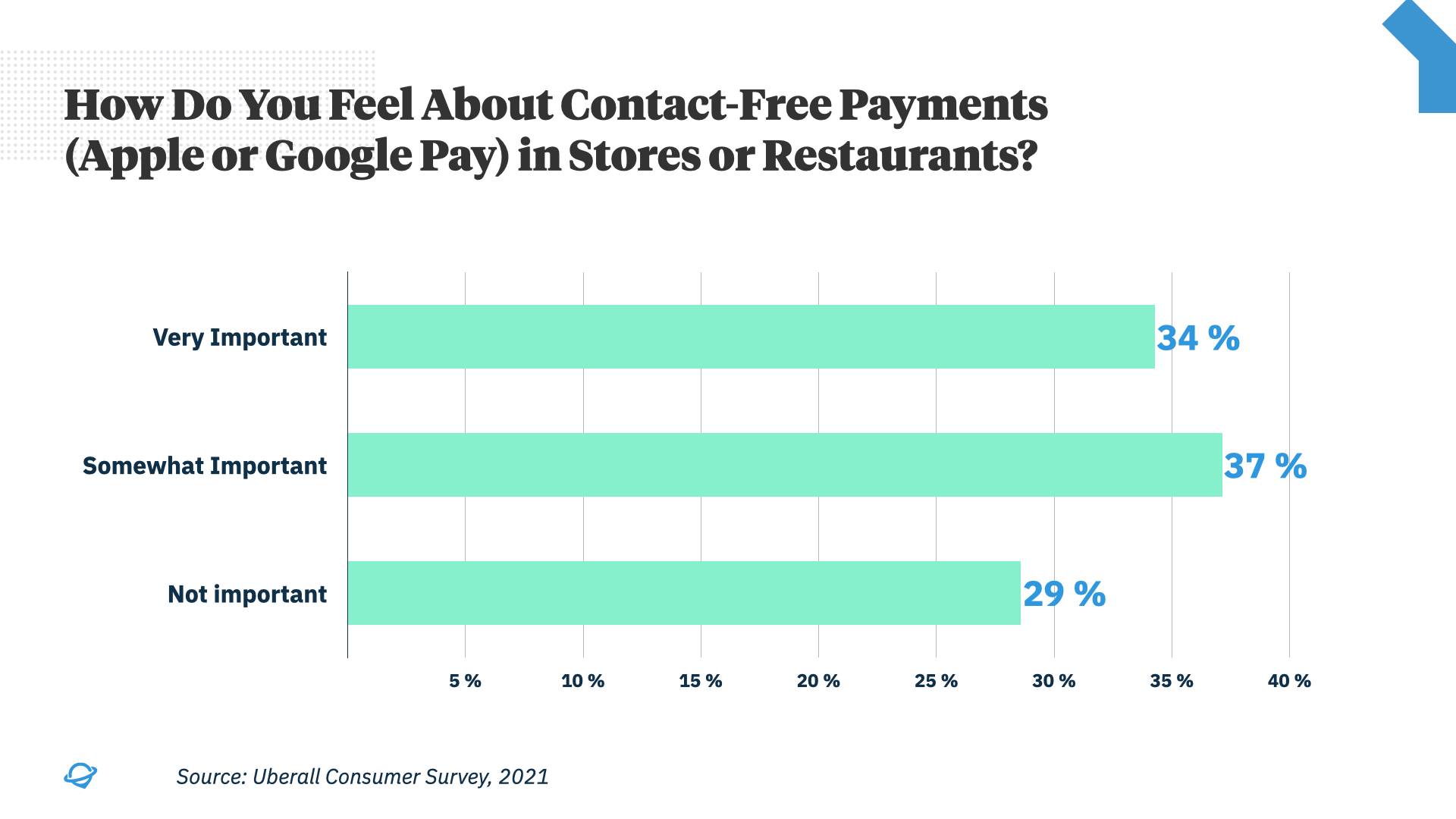 Digital Payments, Retail and the 'New Normal'
Don't expect things to go back to the way they were. Many pandemic-era behaviors that rely on contactless payment are popular and expected to continue even as things return to "normal."
For example, a recent COVID-19 Retail Impact survey found that 85% of businesses have said they either plan to implement or have already implemented "buy online, pickup in-store" options since the beginning of 2020. And according to a 2021 McKinsey report, consumers intend to continue with many digital behaviors even after COVID-19 subsides, including 30% of people who will continue to use restaurant curbside pickup.
Time is proving this true. Google searches for "contactless payment" rose sharply during the onset of the pandemic, but Google Trends also shows that interest remains nearly 20 points higher on average in 2021 than it had been in 2019.

Winning the Cashless Consumer
Because consumers are carrying less cash around, they are often looking for local businesses where they can purchase with credit cards, debit cards, or smart devices.
If your business supports payment with cards or digital wallets, are you letting customers know this when they are searching for you online?
Customers often make the decision about where to buy while looking at online listings and websites. According to Hubspot, 80% of consumers search online before going to a location, and 50% of them purchase locally within 24 hours. When they look at your listings, are they able to see their payment options?
A customer searching for a business "near me" without cash in their pocket may be expressly looking for a place they can go without needing to visit an ATM. If you are only putting a "Payments Accepted:" sticker on your door or at your cash register it may be too late.
Add Payment Options to your Online Listings
It's important for businesses to make that "Payments Accepted" sticker prominent and virtual. Take the time to populate your GMB and other online listings with your full array of payment options. It could win you that important new "Near me" walk-in business.
Not sure how? Google offers a step-by-step guide to adding payment options to your Google My Business pages. Or you can use the Uberall Listings platform to quickly and easily add options across multiple locations and all applicable directories.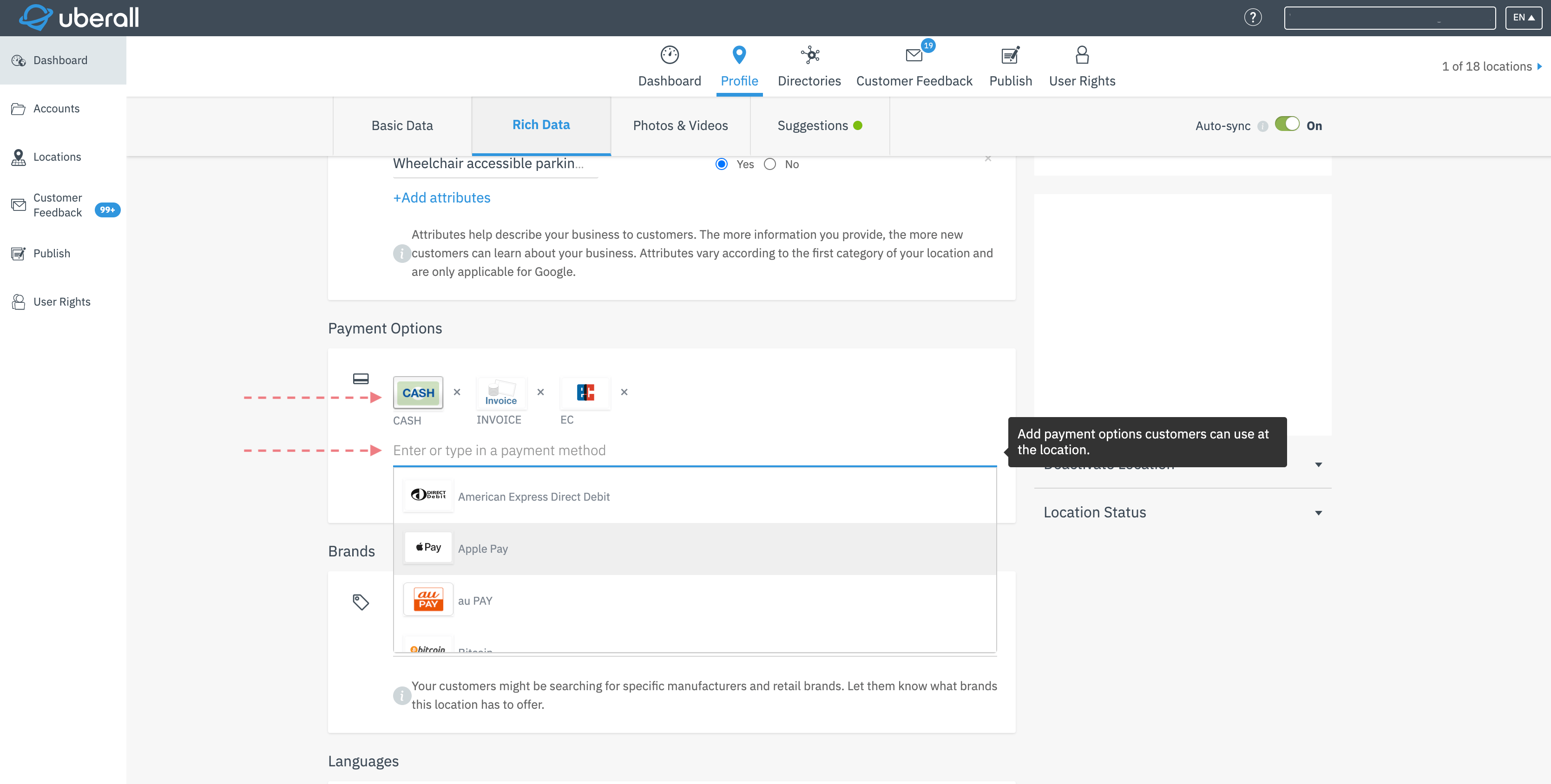 Looking for more information on how to use Uberall to optimize your online listings and engage with customers? Ask for a tour of the platform today.