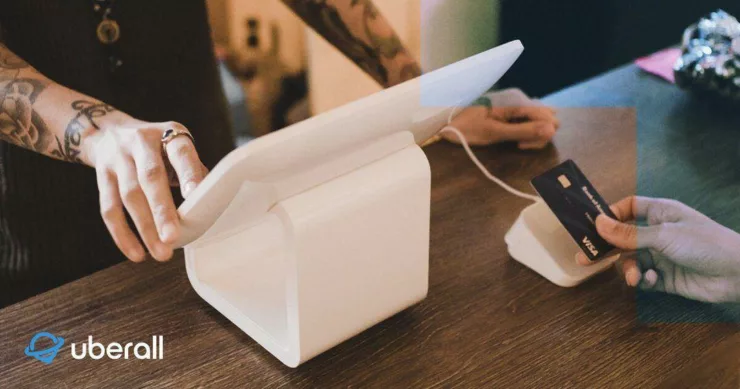 Blog
BOPIS and the Blurring of Digital and Physical Retail
In early June, when the US was "reopening," surveys and mobile-location data exposed pent-up demand to return to "normal life" —to go back into restaurants, retail stores, gyms, movie theaters and salons. However, a resurgent coronavirus has caused many states to pause reopening or reinstitute business closures. There's even debate over the possibility of a second round of lockdowns.
The hoped-for "V-shaped recovery" now appears unlikely or impossible. And we can expect the public health and economic crises to persist for quite a bit longer than originally expected, even as Europe and other parts of the world have gained control over the virus. Among other things, this means that lockdown-related consumer behaviors will be further cemented and established.
An interesting example is online grocery shopping. In the third quarter of 2019 there were 16 million US online grocery shoppers and roughly $ 1 billion in monthly revenue, according to the Brick Meets Click / Mercatus Grocery Survey. These numbers had been growing incrementally year over year but exploded during the state lockdowns. In June, monthly online grocery revenues had grown to more than $ 7 billion, generated by roughly 46 million consumers.
Craving Normalcy but Cautious
This explosive growth is happening despite the fact that a majority of Americans feel comfortable shopping in grocery stores. According to a very recent poll by Survey Monkey and NBC News, 55% of consumers reported having gone to a grocery store in the past 24 hours. That compares with only 16% who had gone to a restaurant (dine-in) or bar. These numbers vary by region and political-party affiliation, but that's a different discussion.
Across business categories and activities (eg, travel) people are likely to remain cautious, even as they crave normalcy. The data in the chart below is from Engine Insights. Other surveys may show different numbers. But the basic idea is: there's still substantial resistance to resuming normal activity while COVID remains a major public health concern.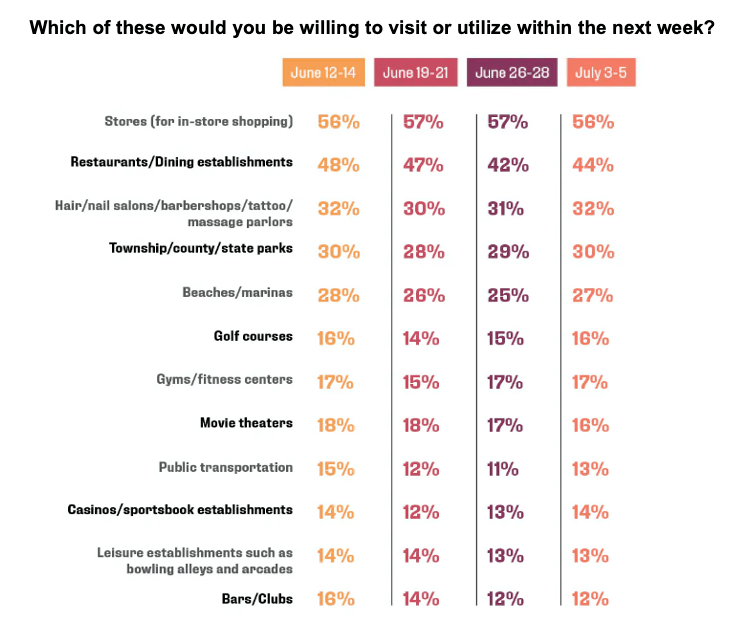 Historically, e-commerce and traditional retail have been discussed in mutually exclusive terms. That's largely because the dominant narrative is Amazon vs. traditional retail. But there's a more interesting and complex story about the relationship between online and offline commerce and how the physical and digital worlds are becoming more integrated.
Stores Remain Critical to Shopping
Seventeen major US retailers have filed for bankruptcy in 2020, with undoubtedly more to come as COVID-19 rages on. This plays into the "retail apocalypse" narrative, which promotes the idea that most physical retailers are doomed, and e-commerce will take over the earth. Yes, weaker and debt-ridden retailers will fail but stores will remain relevant and critical to the retail experience. Amazon itself acquired Whole Foods and has opened lots of physical stores (ie, Go, 4-Star, Books).
What we're seeing in fact is a kind of hybridization of digital and offline retail; I won't use the term "omni-channel." It's about bringing more of the "physical" experience into the digital realm, using images, video and augmented reality. It's also about bringing more of the digital experience to traditional retail. Amazon Go, with its cashier-less payments, is one example. Cooler Screens, which replaces refrigerated cooler doors (eg, at Walgreens) with dynamic digital displays is another. There are plenty of others.
Is 'BOPIS' E-commerce?
BOPIS, or "buy online pick up in store" and curbside pickup are perhaps even better examples of this new hybrid model. BOPIS has been around for years but was only in isolated use until comparatively recently. Now BOPIS and curbside pickup have been widely deployed by major retailers in response to customer health concerns about in-store shopping.
Should BOPIS be considered "e-commerce" or a physical retail sale? The purchase happens online but fulfillment is offline. It's not exactly e-commerce because the immediacy of picking up the product at the store is a critical feature of the transaction. Clearly, it's not a traditional retail sale either.
Local Shopping Ads with Curbside Badge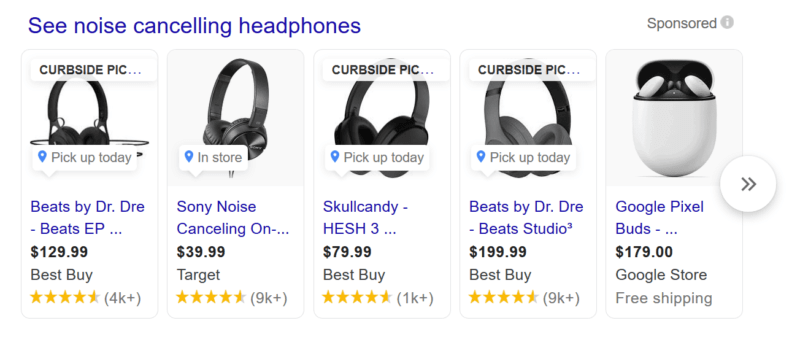 Real-time store inventory is also slowly making its way online. This has been well over 10 years in the making. In early May, Google rolled out a curbside pickup badge for Local Shopping Ads. In doing so, the company said, "searches for 'in-stock' grew more than 70% globally from the week of March 28 to April 4, as consumers sought to avoid e-commerce shipping delays."
E-commerce Searches Trigger Local Packs
In addition, product searches that might once have been seen as pure e-commerce queries because there's no local modifier - "Dutch oven," "hiking boots," "dishwasher" - are now showing local packs for nearby retailers carrying those products. (As an aside, a 2018 Moz analysis of 1.2 million SERPs found that more than 70% had some local feature [eg, a local pack] on the page.) And Google Maps retailer listings now often lead to hosted pages that feature a mix of online and in-store inventory, allowing customers to BOPIS or buy and ship.
Yet same-day product pickup, following the ease of an online purchase, combined with the ability to return it locally makes the BOPIS or curbside model more attractive than buying from a less familiar or totally unknown online merchant. Indeed, fully half of all Q1 Best Buy "e-commerce" transactions were picked up at the store. After Amazon and eBay, the vast majority of the top e-retailers are traditional stores such as Walmart, Target and Kohls.
All of the Above Strategy
Shopping habits are being forever reshaped by COVID and smart retailers are quickly responding to these new preferences and behaviors. Grocery shopping offers an instructive example for the future. Post-coronavirus I'm likely to shop in-store sometimes; at other times I'll choose curbside pickup or delivery - depending on what's convenient at any given moment. I'm not going to return to shopping only in store, nor am I going to shop exclusively online.
Given this new reality, retailers should pursue an "all of the above" strategy. They must use content and digital tools to bring more store-like context to online shoppers and, similarly, bring the convenience and engagement of digital to the offline experience. The bright line between online and in-store sales is blurring.
Consumers want what they want when they want it. Retailers that can accommodate customer concerns, preferences and needs - though the operational challenges aren't to be minimized - will survive and thrive. Others, not so much.