How Anchor Hanover Wins on Social With Uberall CoreX
Conveying the human touch of your business at the local level is one of the pillars to creating a customer experience that keeps your customers coming back to you again and again. So in today's world, where social distancing and pandemic-related regulations abound, how do you continue to engage, inform and stand out to your customers when offline interactions are temporarily on hold?The simplified answer: Staying connected with your customers online by creating authentic, personalised local experiences that resonate with them. Let's take a deeper dive, using a common challenge faced by our multi-location client. The Anchor Hanover Group. Below, we'll show you how the team wins at local engagement by ensuring a consistent brand image on 114 local social pages.
How can my small team manage dozens of local social pages better — when we don't have the time or enough people to do this?
Anchor Hanover uses a range of social media sites to foster engagement, share operating information, news and events from all over the organisation. During the Covid-19 crisis, visiting and operating hours weren't static, and contact restrictions and social distancing measures were in place. This posed a challenge to keep their residents and their loved ones connected and informed. At the same time, conveying the brand's authenticity and the human element the digital sphere was (and is) a means of ensuring brand trust didn't waiver — while connecting with the residents and their loved ones to the people, the soul behind the brand. Neil Taylor, Head Of Digital at Anchor Hanover Group explains, "We are responsible for making sure the online experience is smooth and easy for our residents and their loved ones."

Ensure you stay connected with your customers online
More than data management and digital knowledge, the digital team needed a solution to work with individual properties in a way that people would engage with them.

"Our resident homes are like local businesses: they have their own personality and character within a range of local communities," says Neil.
This meant that 114 different Facebook accounts as well as the local Google My Business pages and review sites would need to be managed with messaging that is authentic, customised and targeted to local users.

For example, from January 2020 to October 2020, an impressive 10.1m Facebook impressions were reached.
This made streamlining the process and making it efficient to connect Anchor Hanover's residents with their loved ones with their services, locations and regulations, quickly and from one source of truth was the solution of choice.

"Uberall CoreX gives us this opportunity to respond immediately to reviews and fluidly manage multiple local social accounts, which is also really important because our recruitment campaigns are always local — our care workers don't generally travel more than five miles to a residence."
Create local experiences that resonate
The moral of the story is that keeping customer satisfaction front and center through local social pages, is not just about posting content — it's about creating content that is authentic and relatable.

One winning example of creating online connections, took place during the first lockdown wave in March 2020. The views on an organic post, containing one image, text and a call to action: to send letters, poems or drawings to residents at Anchor Hanover's care homes garnered around 100k views, 91 comments and 903 shares.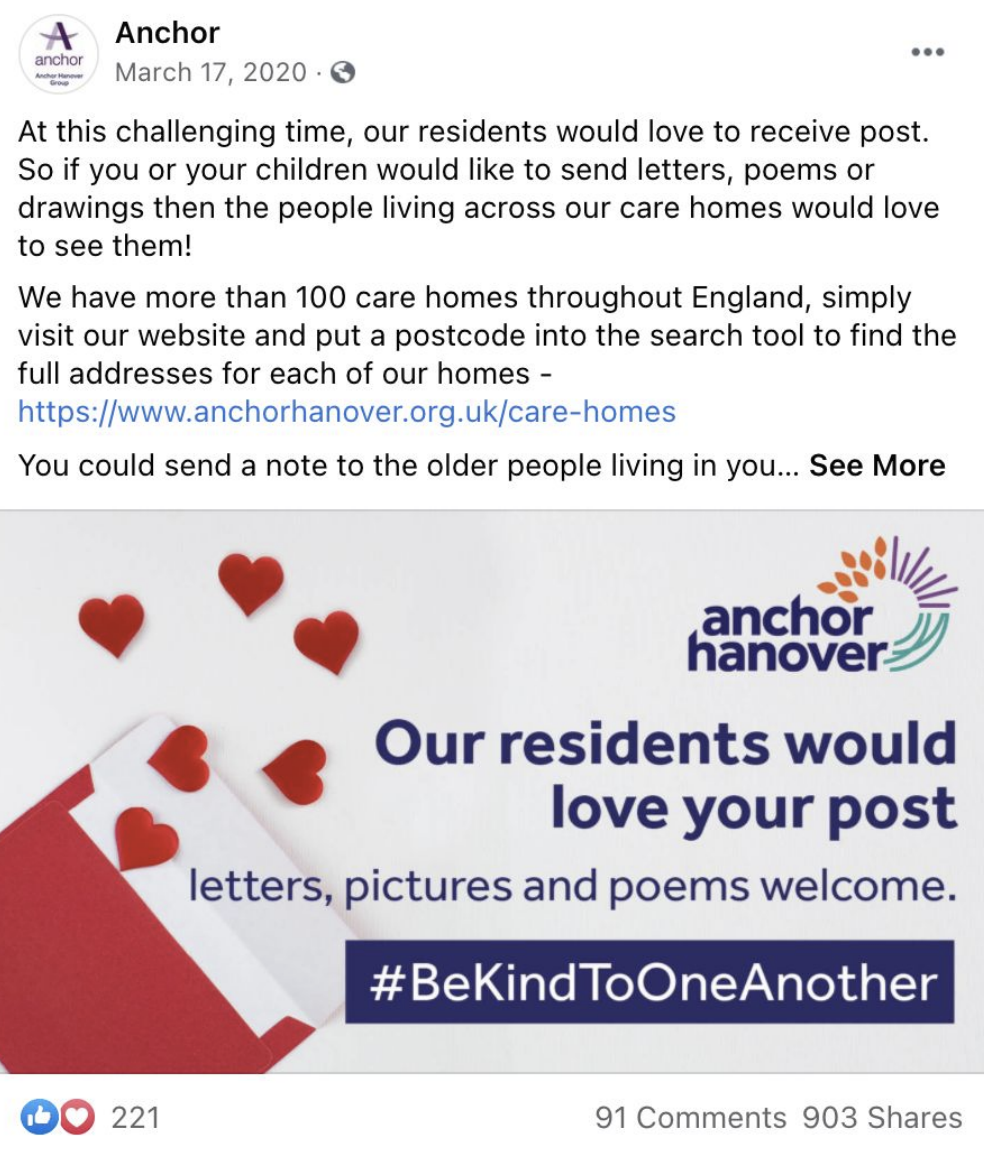 However, to keep engagement going on social platforms requires time and headcount.
If you're looking to boost your engagement to build and connect with your online community across multiple locations, simply scheduling posts with broad message will not be enough.

Look for a platform that allows you and other team members to post local content that is human-centric and engaging — as well as includes templates — so that brand consistency remains intact even when messaging is tailored to a local audience.