The Challenge:
With hundreds of POS, LAKRIDS BY BÜLOW needed an efficient way to control its digital footprint and reach more customers.
The Solution:
LAKRIDS BY BÜLOW achieved a consistent online presence for its stores and resellers, while enhancing review management and ensuring all customers can easily access their delicacies.
LAKRIDS BY BÜLOW Makes The World Love Licorice With Optimal Customer Experience
Licorice: The Scandinavian favorite that the world has been neglecting for too long. For Johan Bülow, it was about time to change the reputation of this overlooked candy and turn it into a respected delicacy. Around 2007, the founder of LAKRIDS BY BÜLOW learned the craft, coated the licorice in chocolate, and opened the first LAKRIDS BY BÜLOW shop in Svaneke, Denmark.
He sold out in two hours.
Today, LAKRIDS BY BÜLOW is on a mission to make the world fall in love with licorice. And the team makes this happen through personalized customer experiences, both online and off: the team nurtures its loyal customers, listens to their feedback, and rushes to the rescue when cravings for the luxurious Danish licorice hit. The LAKRIDS BY BÜLOW marketing team ensures that customers enjoy this unique experience in-store and online, and that licorice lovers can easily find a point of sale when in search of a tasty treat.
"With a strong network of stores and resellers, a substantial share of LAKRIDS BY BÜLOW's revenue is generated offline. However, our channels support each other and we see great synergies between our e-commerce sales in areas where we are also physically present. So we look at these channels holistically and build our online strategy around that. We look forward to seeing how our results will further evolve in the next few years."
Lorenz Fuchs, E-Commerce Business Development Manager
But before LAKRIDS BY BÜLOW delivered satisfaction with a seamless digital-to-physical customer experience , it had to tackle some complex challenges.
How to Get a Grip on Inconsistent Online Information for So Many Locations?
At the beginning of 2020, the business was aware that each of its brand stores needed to be visible on Google, Apple Maps, Bing, and other important online directories. However, in addition to its own brand stores, LAKRIDS BY BÜLOW also offers its treats through exclusive resellers. And since LAKRIDS BY BÜLOW can't manage its partners' online profiles, how can the team make sure customers are kept in the know?
LAKRIDS BY BÜLOW wanted to make sure that its beloved products got the reach they deserved, but also that customers could easily find them anywhere online. This required solid data management to provide rich and accurate store and product information across search platforms, directories, and even LAKRIDS BY BÜLOW's very own website.
Then came the pandemic, which turned the world upside-down and required businesses to become more hybrid, change information like opening hours more frequently, and get closer to their customers digitally. In response to these shifts, Lakrids partnered with Uberall and implemented CoreX, the hybrid customer experience platform.
"With the sudden changes imposed by the lockdowns across Europe, updating the information across all locations would have been an endless task. We are just a small team, but with Uberall CoreX we could update our business information across all channels easily and quickly. It only took us a couple of minutes, while we'd have spent days doing this manually."
Lakrids by Bülow Ensures 400+ Resellers & Store Locations Are Found, Chosen, and Recommended
Lakrids built a strong, result-driven hybrid customer experience with the help of the following CoreX modules :
Listings presents stores on 125+ online publishers like Google, Apple, and Bing, and allows the LAKRIDS BY BÜLOW team to optimize online profiles for accuracy and reach.
Locator helps customers easily find the nearest location from the company website, while Local Pages provide location-specific information and a clear path to purchase.
Reviews provide access to customer feedback across all major review networks in a single platform and make it easy to respond to each of them quickly.
LAKRIDS BY BÜLOW Listings for one of their Berlin stores (right). Their store locator on the company website (below).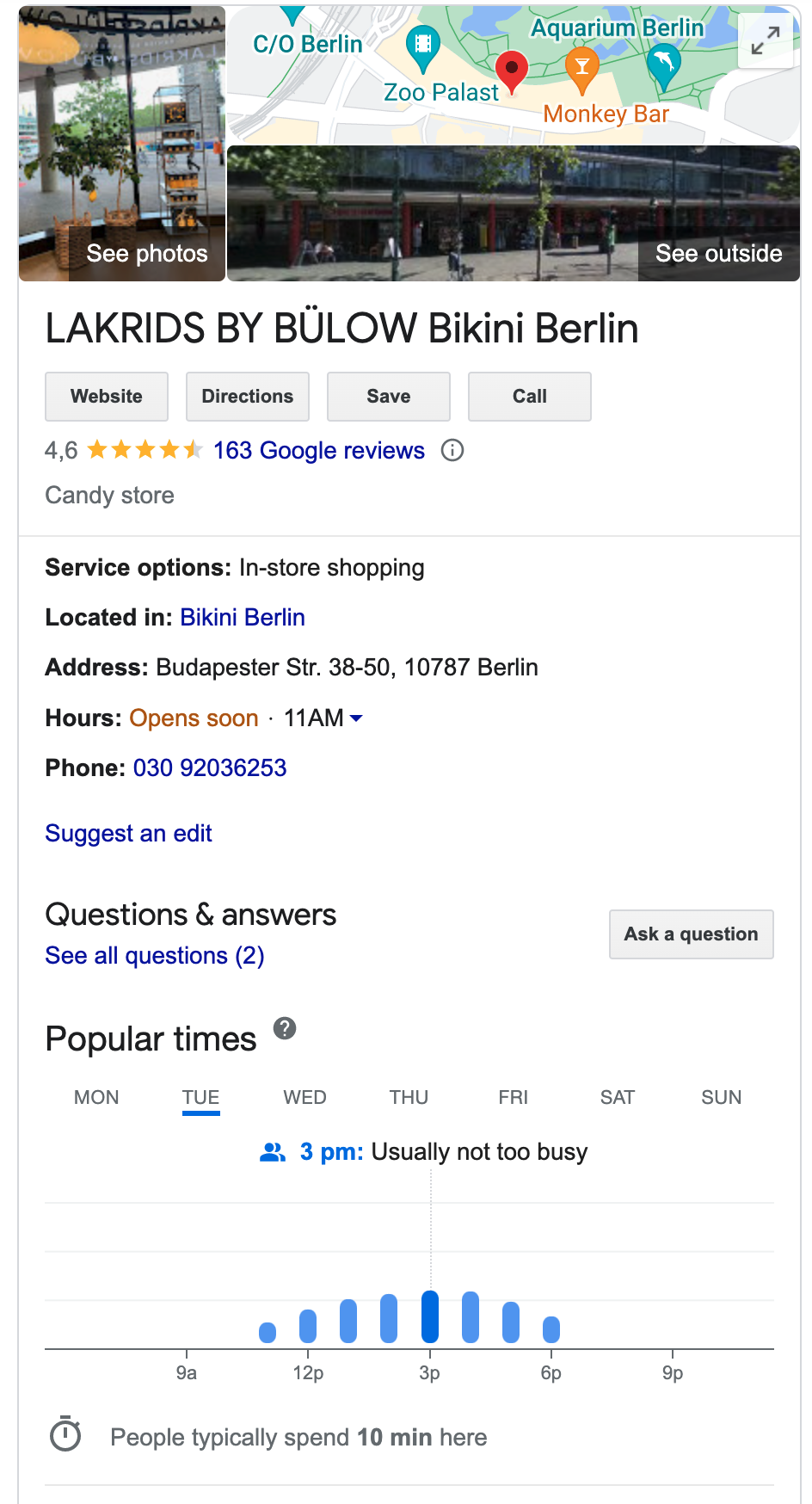 LAKRIDS BY BÜLOW sees growth in indirect queries, local page impressions, and clicks to visit within just a few months
Thanks to CoreX, many new licorice lovers have been able to discover LAKRIDS BY BÜLOW and satisfy their sweet tooth. In fact, the company saw indirect queries such as "candy store near me" grow +160% in just a few months. This growth was especially prominent from August to December 2020, likely because consumers gearing up for the holiday season increasingly searched for sweets stores.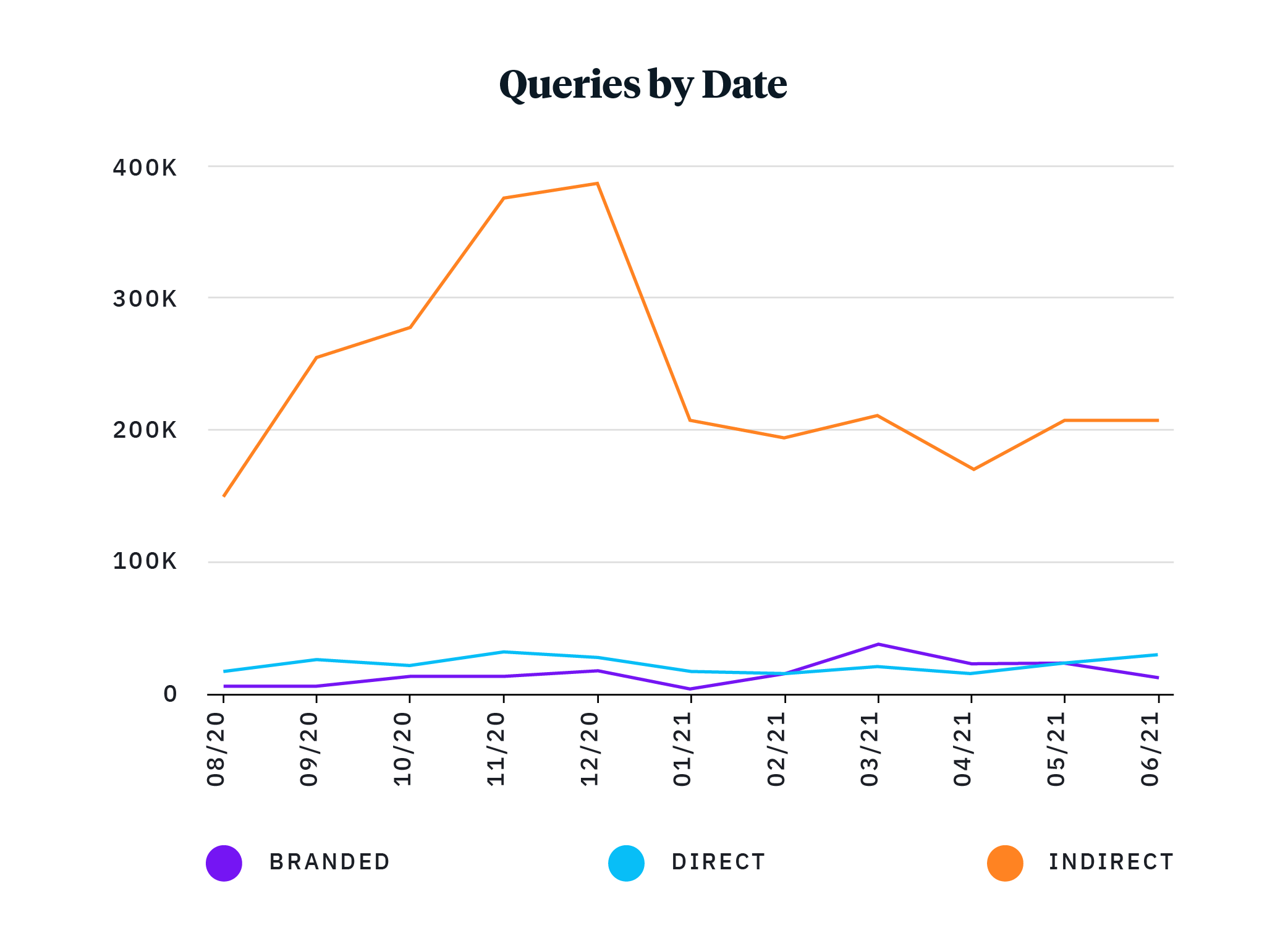 A spike in local page impressions can also be observed over the same period of time. The LAKRIDS BY BÜLOW stores were consequently displayed 235% more than average between October and December 2020.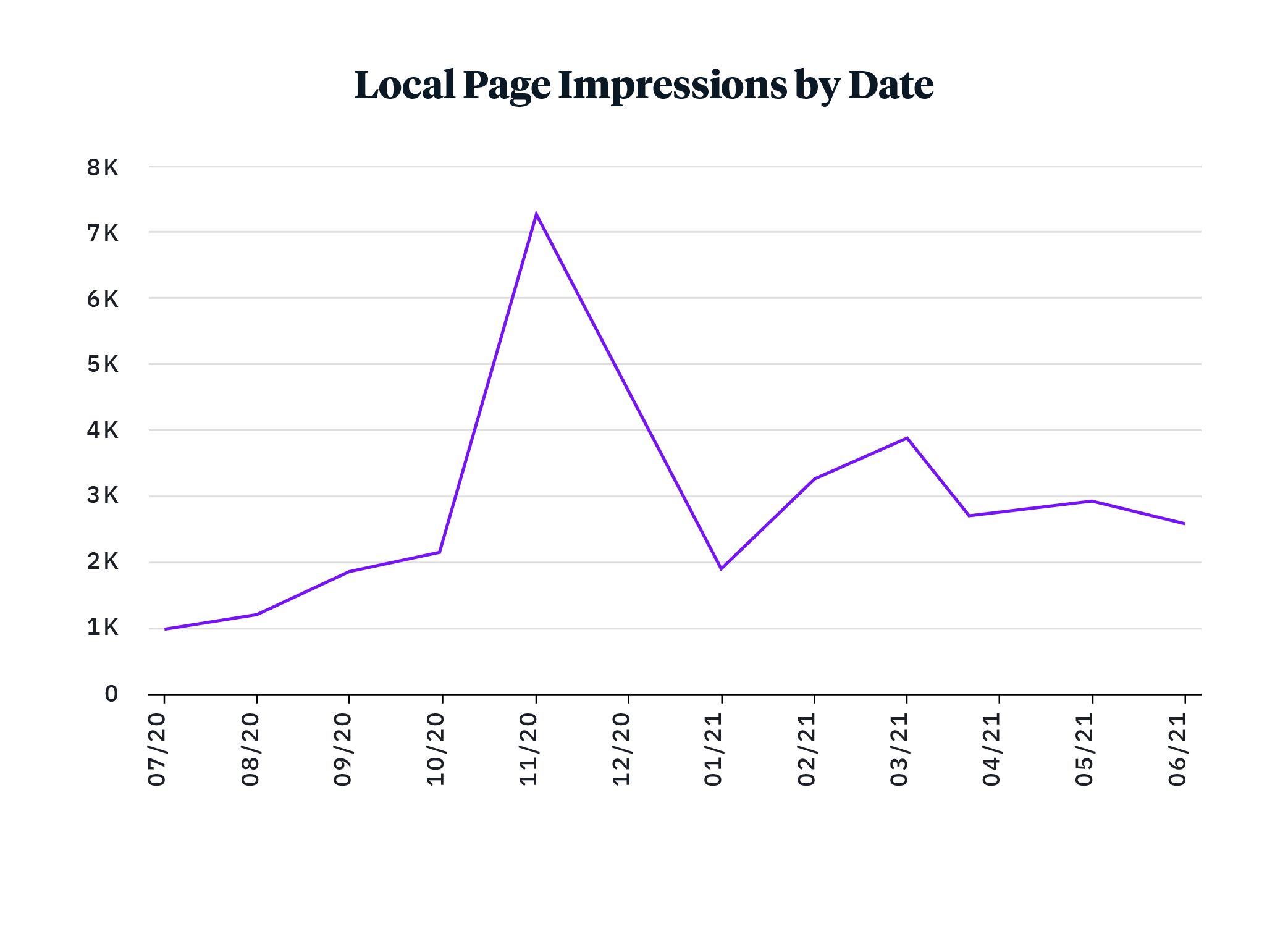 "Uberall CoreX helps us track how many people want to visit our stores. It is impressive to see, despite the lockdowns, how we could increase most of our KPIs since partnering with Uberall," affirms Fuchs.
Finally, clicks to visit the LAKRIDS BY BÜLOW website from the company's Google Business Profiles also increased +76% over the 2020 holiday period.
The LAKRIDS BY BÜLOW marketing team has recently started using Uberall CoreX to manage their online reputation as well. With the help of store sign-ups and increased traffic thanks to better findability enabled by Uberall CoreX, the team has seen a sharp increase in positive reviews in the past two years. The number of 5-star reviews even skyrocketed from five in July 2020 to 128 in November 2021, representing a 25x increase.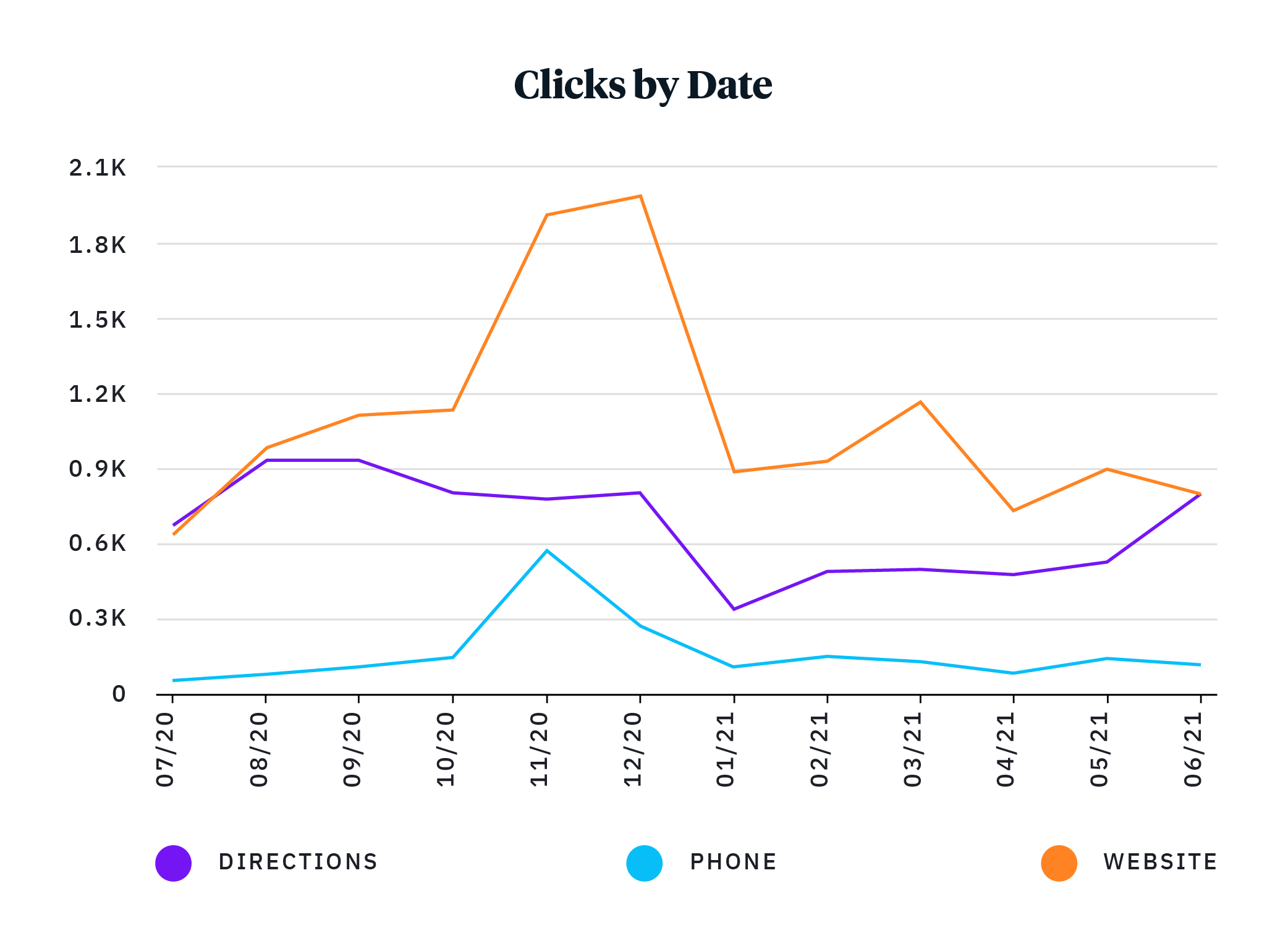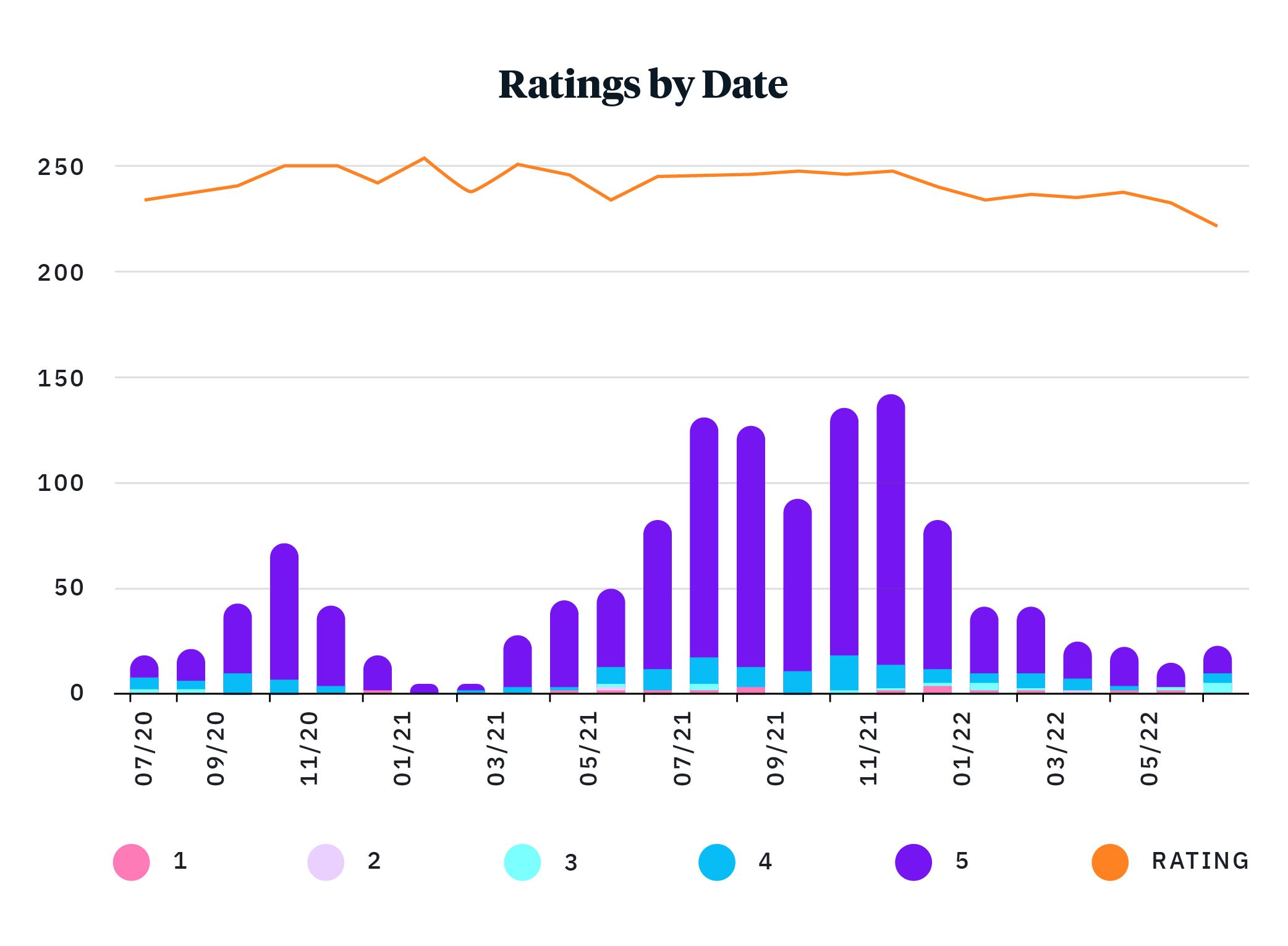 Local insights to offer a personalized purchase journey in each store
In the near future, in-store teams will be empowered to directly measure customer satisfaction at each location, receive immediate feedback, and build stronger relationships within their local communities. This approach will make shopping at LAKRIDS BY BÜLOW an even more unique and personalized experience.
"Using Uberall CoreX as a single source of truth is incredibly valuable for us. When we align internally, CoreX is the platform we look at to find the relevant data. This helps us break down departmental silos and have a unified approach as a team. But more importantly, to get a complete overview of where we stand against our KPIs. CoreX made our life easier, as we don't need to use many different documents anymore—our CX metrics are all easily accessible in one place"