Blog
Shorten The Path to Purchase with Business Messaging
The way we communicate with each other and businesses has changed in the last decade. Instead of emailing our friends, we now text them in the hope of immediate responses. And, instead of landing up at stores directly, we first call or message them to find out if they have what we need.
Communication, especially that which involves getting things done, has increasingly become about convenience and timing. This is why business messaging has become such a powerful tool to drive conversions and establish a local presence.
In fact, about 75% of people prefer to engage with brands via messaging and automated chats versus traditional channels, and 53% are more likely to shop at places they can message directly. Convenience is key to any business's success today. Yet 72% of businesses report they are not using business messaging on Google Business profiles.
A successfully running business messaging solution means a better chance to stand out from competitors and bring about a more convenient way for customers to interact and shop with them.

What is Business Messaging?
Business messaging refers to real-time, text-based communications between customers and businesses with an aim for brands to address a customer's moment of need. There are various reasons why businesses use messaging, including customer support, marketing initiatives, location-specific queries, or even sales communications.
Business messaging is typically carried out over Facebook, Google, Whatsapp, brand websites, and other messaging apps. It is supported by AI chatbots or live-agents or a combination of both. However, many multi-location businesses don't have a team of live agents ready to support messaging at each of their locations. Chatbots or 'virtual agents' help overcome this, but most are not equipped to design complex AI chat response flows, leading to long launch times and significant maintenance.

Business Messaging to Boost Local Presence
In this blog, we are going to explore how our tool—Uberall Messages—enables local communication at scale and helps you drive conversions at each of your locations.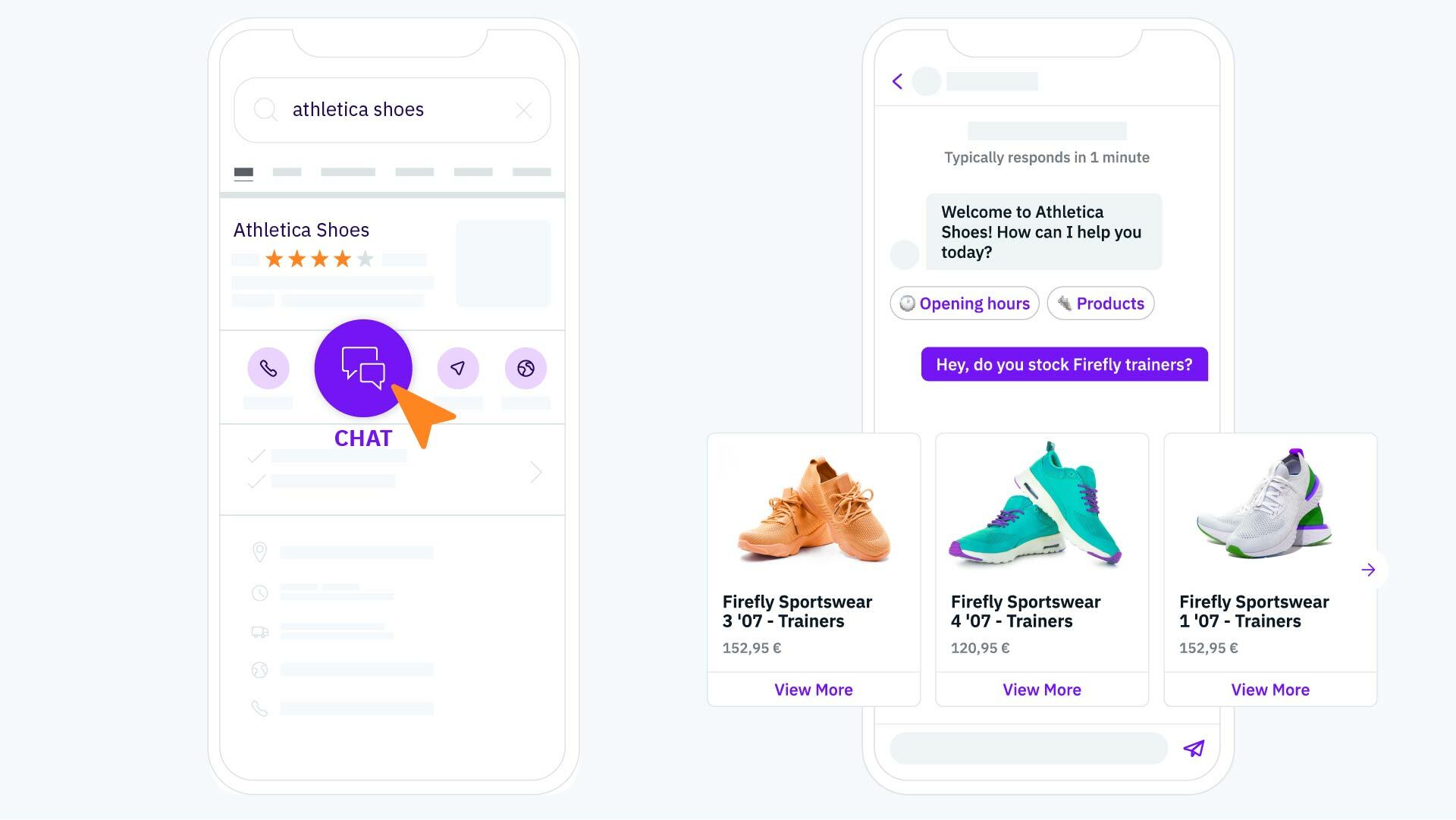 An automated messaging tool integrated into local channels such as Google Business Messages and Facebook pages gives businesses a full view of customers at a local level.
They can pinpoint purchase intent down to specific areas and direct customers to locations nearest to them. Moreover, leveraging messaging and AI chats for driving conversions at specific locations becomes easy with a tool that is designed to address local intent.
This is exactly what Uberall Messages enables for multi-location businesses.

How Uberall Messages Enables Local Conversions
"Thanks to Messages, we have been able to automate a large number of responses, particularly concerning appointment requests, which represent 70% of the messages we receive," says Letizia Julie, Digital Marketing Project Manager at DEKRA. "Beyond improvements in our customer relationship management processes, this tool allowed us to free up time for our field teams that juggle technical controls and phone bookings. Uberall Messages enabled us to implement conversational commerce with ease and confidence."

Multiple Platform Integration:
Responding to messages across multiple platforms can be a time-consuming task, and simply overwhelming when scaled to many locations. A major focus of the UberallCoreX platform is to create a single place where our customers can manage all of their marketing channels—locally and at scale—so it makes sense that we also brought that thinking to Messages. Uberall Messages is fully integrated with Google Listings, Facebook location pages, and Facebook brand pages of multi-location businesses. This enables businesses to be available on the same platforms their potential customers are, and capable of supporting any local query 24/7.

Fast & Easy AI Chat Setup:
Uberall Messages offers an AI chatbot that takes very little time and effort to set up. It can in fact be done by flipping a toggle.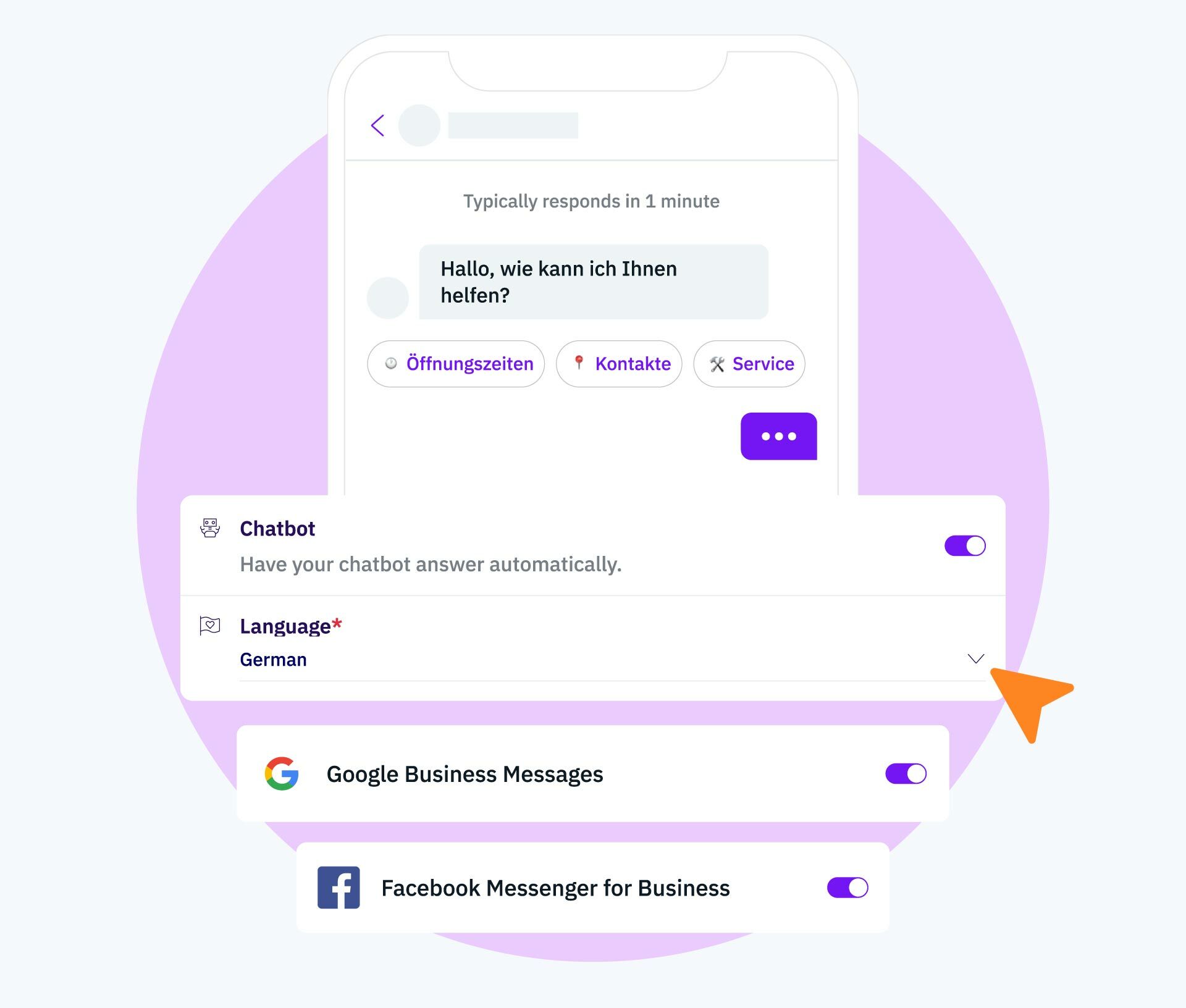 All you need to do to set up the AI chatbot is fill in the details of your brand and location, connect your Google and Facebook pages, flip the toggle on and select your language of preference (English, German, French or Spanish). It doesn't need time in setting up complex response flows for AI chats or any kind of coding or technical efforts to get it rolling.

Ability to Process Unstructured Natural Language:
There are many different ways of asking the same question; a human may easily be able to decipher the intent and match a relevant answer, but for machines, it's not so simple. That's why we built the Messages chatbot on the industry's leading natural language processing technology that uses machine learning to give you the most reliable chatbot.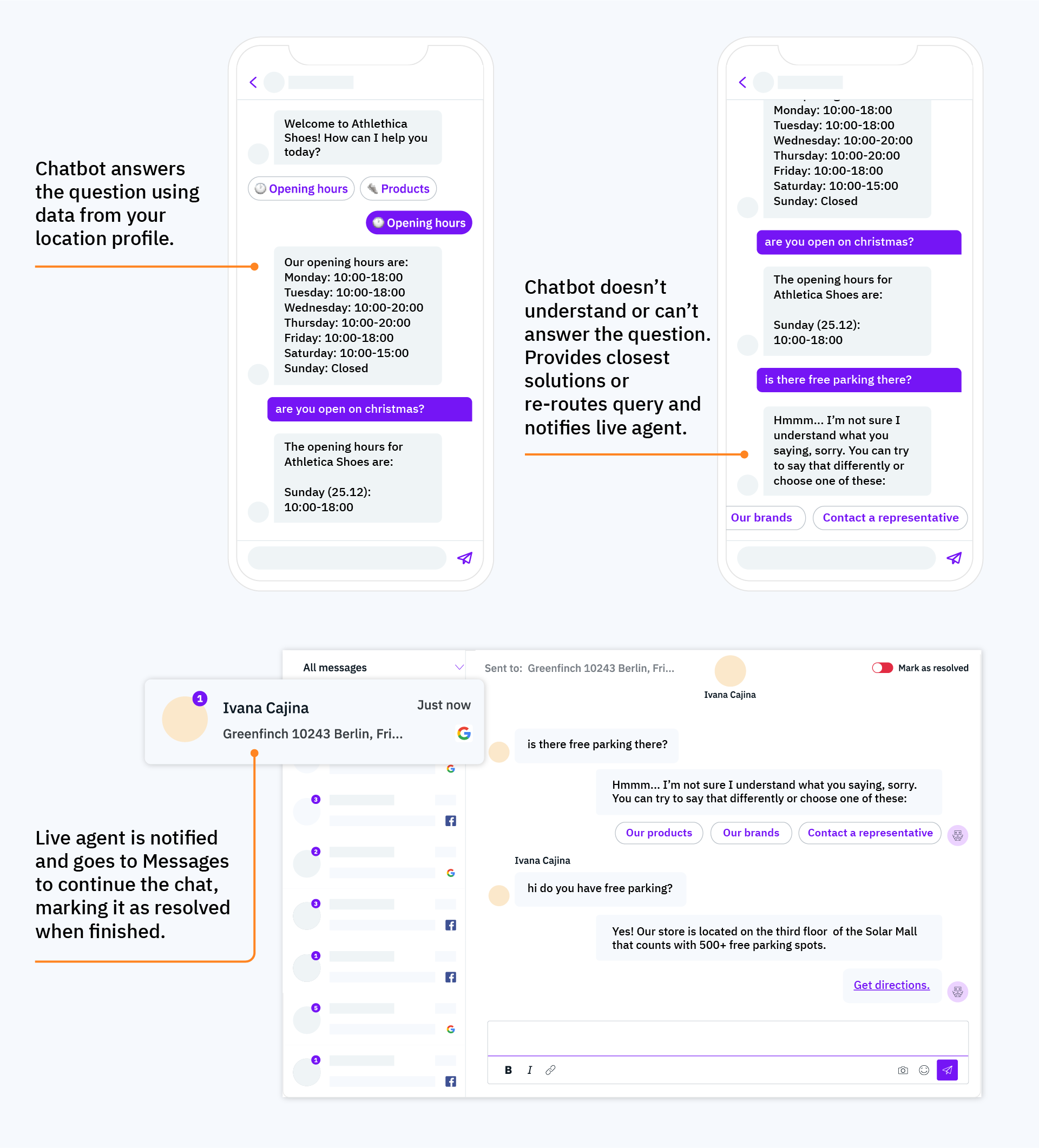 Of course, there may be more complex cases where the customer would rather talk to a human, or a chatbot may not have the right data to answer a query. In these cases, our chatbot alerts an agent to take over the conversation.

Capturing Local Intent:
'Are you open on Christmas Day?'
'Do you have gingerbread cookies in stock?'
'Do you take a Visa?'
When customers want immediate access to products and/or services, they typically rely on physical locations near them. That means they might want to confirm specific things about specific locations, like product stock or opening hours, etc.
Uberall Messages chatbot is integrated with each location's data profile and can respond accurately to these highly localized requests drawing answers from location listing info. Indeed, in our beta testing, our test customers' chatbots answered 93.1% of requests, on average.

Conversions:
Business messaging is not just for communications, but also for driving conversions. It is a key platform to shorten the path to purchase for businesses. More than 70% of people who message businesses do so to make a purchase or reservation.
In fact, most are trying to find if there's a slot available at a local salon or a table at their favorite restaurant. With Uberall Messages, you can confirm opening hours and availability, make it quicker for customers to book, and resolve uncertainties that might prevent customers from visiting.

Leveraging Messaging for Local Marketing
Business messaging is not only a great tool for conversions and local presence but also your way into the hearts and minds of your consumers. It can be leveraged to understand your customers' points of view, get an insight into their struggles, and address what's missing in your brand comms and locations. The questions that come up most often can inform your improvement and growth strategies. This information can also be used to build out communications with customers.
In all, business messaging could be your untapped opportunity to establish a stronger local presence and drive more conversions. It not only helps you in your local efforts but also makes your marketing more targeted, personalized, and immediate.

Want to explore Uberall Messages?