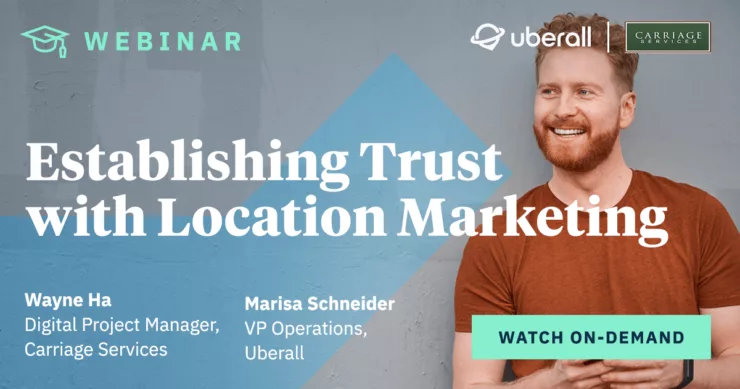 Webinar
Establishing Trust Through Location Marketing
There a lot of service industries that have the word "care" in their name: healthcare, childcare, hair care… even pet care and yard care. We use the word "care" because these services rely on trust and an emotional connection. We need to feel secure and safe when we entrust our well-being, or the well-being of people and things we love, into someone else's hands.
This is especially true for the "deathcare" industry. Customers are at their most vulnerable when they purchase funerary services or merchandise—whether for loved ones or planning for their own mortality.
All brands rely on building trust and reputation, but these care-oriented brands raise it to the next level: they must be there exactly when they are needed and present a frictionless experience for users. They often have only one chance to make a strong, trustworthy impression, and they need to make it count. raditionally, the funeral services industry was passive, relying on print advertising, family brand loyalty and word of mouth, but as the industry has changed, smart brands like industry-leading Carriage Services, have been taking active measures to establish a strong digital presence and to curate a reliable, caring and trusted online brand. They have created a model for all kinds of services in the care industry, showing how location marketing can drive awareness, engagement, and loyalty that transforms into business.
Watch our webinar below!