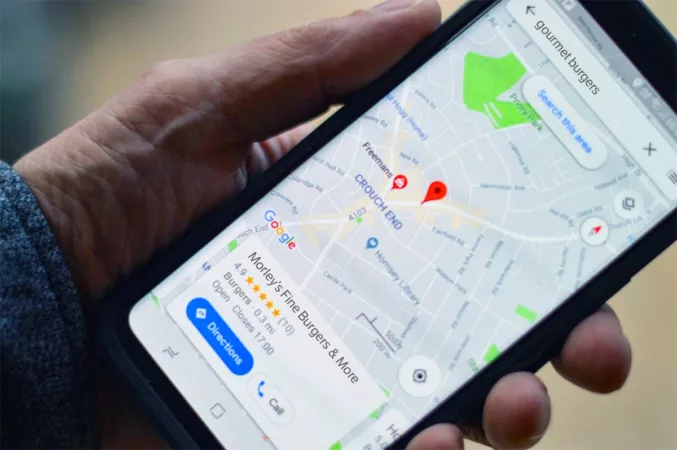 Infographics
Local Listing Management: What Bad Listing Data Could be Costing You
At Uberall, we frequently field questions from multi-location businesses looking to improve their local listing management efforts. Brands ask why their listings data changes without their knowledge or consent, and what –⁠ if anything –⁠ they can do about it.
The answer is simple: Changes to important business details like a location's name, phone number, email, address, and hours often come from people who aren't you. That includes other users, "authoritative" third-party sites, and even competitors. Warding off these unauthorized changes can be a tall order for businesses managing multiple locations across a range of online networks.
The good news is there's help. Local listing management solutions can help you actively manage your listings, automatically tracking, flagging and even correcting your listings so you can keep your data accurate. We recommend all businesses do this, as the cost of bad data is steep.
What is the Cost of Bad Data?
To quantify the cost, Uberall analyzed fast-casual brands ranging from 50 to 150 locations in size. These types of businesses are particularly susceptible to unauthorized edits due to the frequency with which consumers visit their online listings and the ease with which they can suggest edits to the data.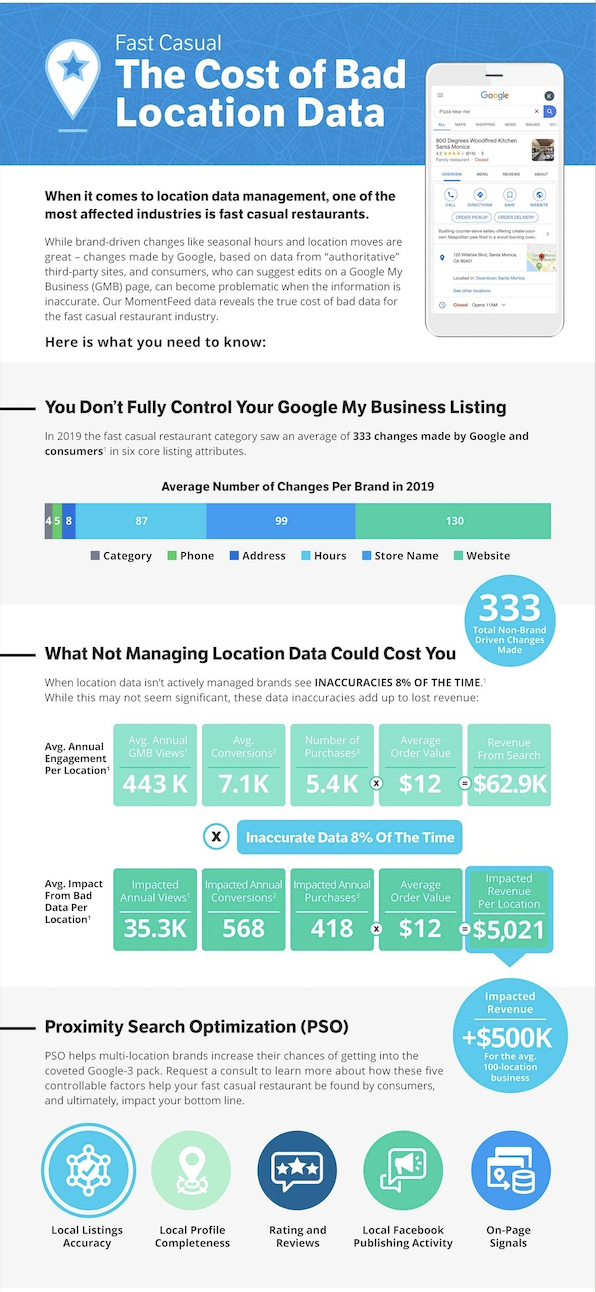 The results showed that in 2019 alone, fast-casual brands averaged 333 unauthorized changes across their listings. Some of the most striking findings include:
Most of the non-branded suggestions were related to the brand's website address, store name, and hours

When listings are not actively managed, location data was inaccurate 8% of the time

Inaccurate data had the potential to impact 62,000 conversions and 47,000 store visits across the typical 109 location brand analyzed

This can impact revenues of ~$546,000 per 109 location brand and over $5,000 per location when listings are not actively managed
What Is Local Listing Management?
Local listing management is the practice of monitoring your listings for inaccuracies and fixing those mistakes as soon as you find them. It's the best way to keep your listings accurate across all platforms, including:
Search engine results pages (e.g., Google and Bing)

Social media sites

Business review sites

Local listings and directories

GPS navigation platforms and maps apps
That's a lot of data to track for multi-location businesses. The more locations you have, the easier it is to miss an unauthorized change which leads to inaccuracies. Not only does an inaccurate listing with outdated hours or a wrong number lead to a poor customer experience, it can also impact if your brand shows up in local search results.
Google crawls listings directories and your local web pages and penalizes listings with inaccurate or inconsistent data by pushing the listing down in organic and local search rankings. If you aren't showing up in the Google 3-Pack, the first three local search results, you won't be seen or chosen by customers. In fact, listings that appear in the Google 3-Pack see 2X as many clicks (i.e., clicks to directions, calls and local pages) as those that don't appear in the 3-Pack.

A local listing management solution is critical for brands with multiple locations, bringing all your data under one virtual "roof."
A One-Stop Shop for Local Listing Management
If local listing management sounds overwhelming, you're not alone. That's why Uberall created a local discovery platform that pulls it all together, so your customers get the right information no matter where they are.
Uberall powers business listing management with an intuitive tool called the Visibility Manager, which centralizes all of your location data and makes it easy to edit. Working through the intuitive Uberall platform, Visibility Manager can:
Compare data across all business locations

Flag potential listing inaccuracies

Bulk update listings, including changes to hours

Show you Google suggested updates and compare them against live listings, then publish any accepted changes directly in-platform
The Takeaway
The research is clear — bad data is expensive. Fortunately, Uberall can help you stay on top. By bringing all of your listing information into one place, Uberall takes a daunting task and makes it approachable.

Ace your local listing management with Uberall CoreX