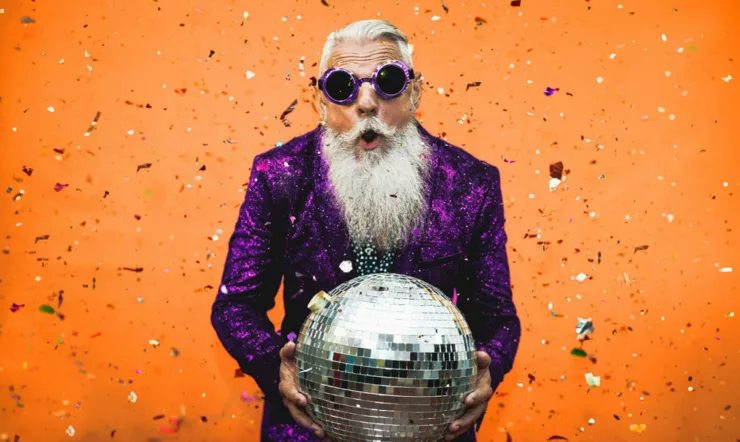 Blog
Uberall Has a New Look: Say Hello to a Bright New Future
You may have noticed things look a little different around here—a little brighter, bolder, and dare we say more fun.
After nearly 10 years and a significant amount of change in our industry, it was time to rethink our brand—how we look, feel and act in this new hybrid world.
One of our rebrand's top considerations was that we operate in a digital-first world. Sure in-person interactions continue to hold value, but for the most part, business at Uberall is done online.
This is reflected in every choice that was made for our rebrand—from the digital-first color palette to pictures that draw you into our digital ways. We want to capture your imagination, entertain, and educate—maximizing every square pixel and micro-moment.
The reality is, that the marketing challenges and opportunities at Uberall are not all that different from those our customers face. For Uberall clients, it all comes down to a micro-moment, when a customer has a need. At that moment, our clients must show up online, stand out from the crowd, and create experiences that keep customers coming back. So this bright and bold new brand also represents our mission and passion, to empower businesses to thrive in a hybrid world.

What's In, What's Out
Like any rebrand, we are not starting from scratch but building on what we have created.
We have retained some of the key elements of our identity such as our brand name, logo, and fonts, and upgraded what needed improvement. But underneath it all, we're still the same Uberall—committed to fostering genuine connections between people and businesses.
Read on for a deep dive into the new Uberall brand.
Purple's In, Blue's Out
Blue has served us well over the years but it needed a fresh breath of life. So, we threw in a dash of red and painted ourselves purple.
We've fondly named our new brand color Uberall Ultraviolet. We believe it truly captures our spirit, not to mention, looks great on screens too.
We will not bore you with Color Theory but just so that you know, purple stands for boldness, creativity, and wisdom— a compelling overlap with the nature of Uberall and all Uberallers.
We have also added a little Tangerine, a dash of Aqua, some Rosa, and a sprinkle of Soft Green to brighten things up.
Here's what our color palette looks like before and after the rebrand.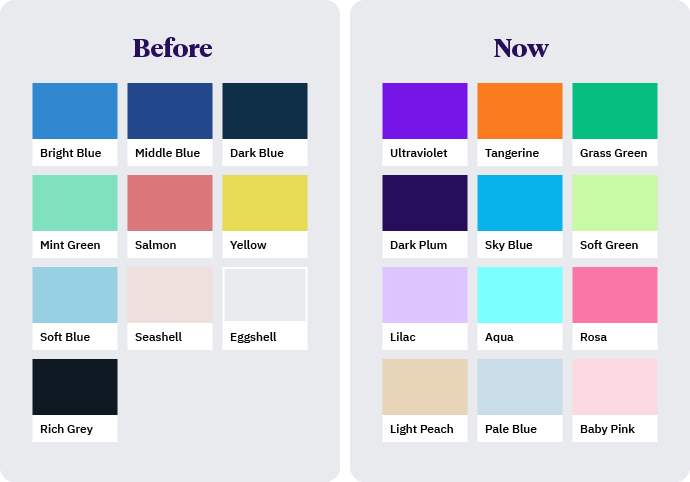 Want to see all these elements coming together? Check out our new website
Lucidity's In, Jargon's Out
Not that we ever sided with jargon, but the foundation of our refreshed tone of voice stems from a stronger alignment with lucidity—clarity of thought and expression.
Going forward, you can expect:
Communication at eye-level, no inflated promises

Zero buzzwords—Industry convergence... what? Synergistic paradigm… no thank you!

Inclusive language

And, Emojis—we are big on feelings 😁🙌🥳
It's also worth noting that our new brand voice has 'You' as its primary consideration, an intentional decision to ensure a more conversational and human connection with our audience.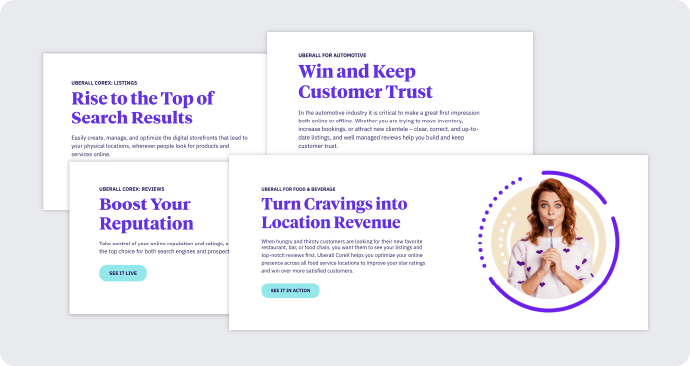 Pulse In, Pictos Out
Symbolism was and still is a key element of our brand.
Until now, the pictos in our photography symbolized directions to guide consumers to their destinations. But, it was time to capture more than linear journeys in our visuals.
The cross-over between the real and digital world today is more complex and multi-directional and better represented as concentric circles—with the customer always at its core.
In addition, the way data is disseminated through Uberall across listings and locations is more of a ripple effect. Just like a single droplet falling into still water, our solution helps our client's information spread—rippling in concentric circles.
The ripple is an intentional visual element of the Uberall Pulse— now one of the most defining elements in our refreshed brand.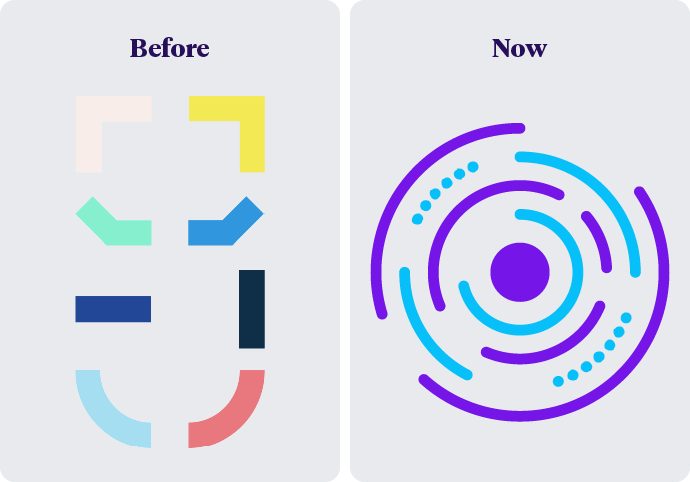 Stunning Photos In, Boring Visuals Out
We will no longer reach into a mixed bag of generic stock images to find what fits. Our images are now bolder, thought-provoking, and directed to appeal to positive emotions.
You can expect:
Unadulterated fun vibes in our photography (People dancing, biking, surfing, or walking dogs, we are all in!)

An occasional dash of purple or tangerine (Purple hair and orange nail art, you have our nod!)

Close-ups that nudge your amygdala 🧠 (Strawberry cream-laced donut, a three-tier chocolate cake, or a steaming cup of coffee..oohh slurp!)
Our new photography style seeks to add more meaning to our content, grab attention, pique curiosity, and add some zest.
It's a fun recipe. We tasted it!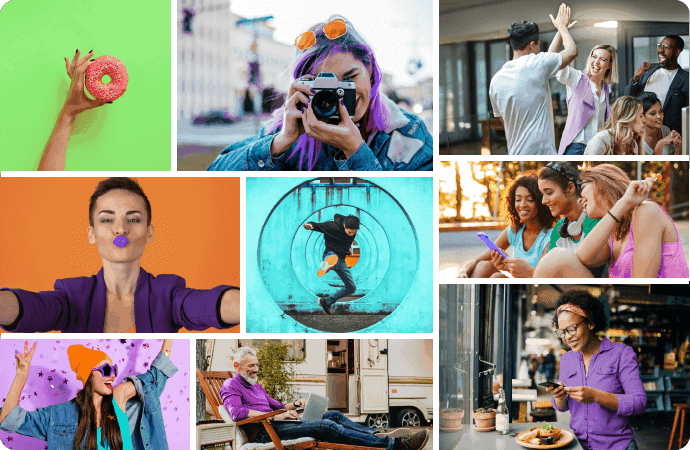 Modern illustration style—IN:
Our illustrations got special attention in this rebrand.

Check out our new geometric-style vector illustrations and you'll know why our colleagues are requesting their avatars in this modern new illustration style! Let us know if you want yours 😁
While our traditional line drawings continue to be a part of the design legacy, these new flat vector-style illustrations take inspiration from the Pulse and give us a design maturity worthy of envy.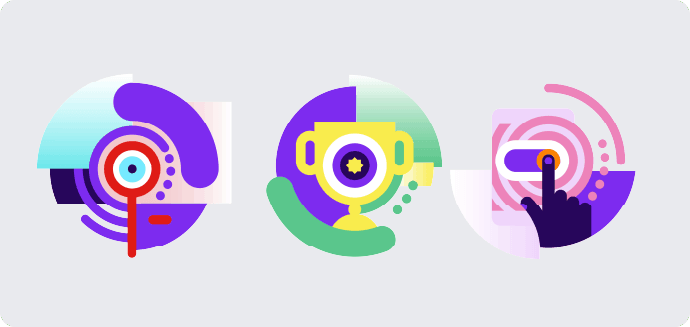 What Stays:
We Are Still 'Pinned' On Our Logo

Our colors may have changed but our core remains the same. The Uberall symbol that combines a location pin and the globe, will continue to be the flagbearer of our identity. The second element in our logo—the Uberall wordmark— also stays on as one of the most recognizable aspects of our identity.
Our logo—although largely the same—is still looking more dashing in the new purple color.
It's more of a slight evolution rather than a forceful makeover.

We Like Our Type!
We love the clarity and ease of perception in our current typefaces—Tiempos Headline Bold and IBM Plex Sans.
Both look excellent in print, web, and mobile and we decided not to poke around with what works well for us, our customers, and partners.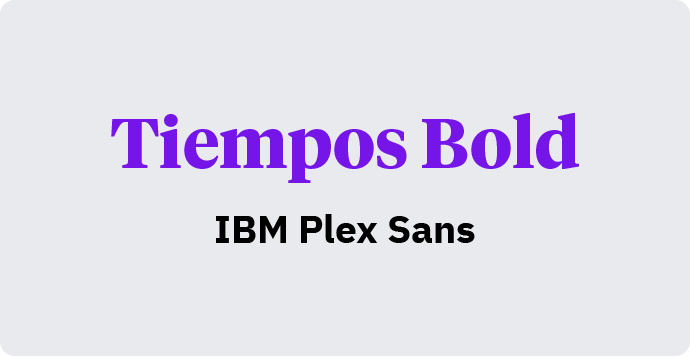 The New Uberall Website
Here are a few things to note about our new website in particular.
Light modern palette with bold pops of color and engaging imagery - First we kept the base of the website light, clean and simple, allowing us to layer on the bright bold colors, the Uberall Pulse, and dynamic photography—all core to our new brand.
Better storytelling - We worked to simplify the messages, while still keeping our content light and fun. We also worked on our "show" vs "tell" balance, bringing in more "show" through videos, product screenshots, customer stories, stats, and more.
Focus on conversions - We kept the CTAs simple and clear throughout the site and made the main CTA a more dominant presence for users.
Ease of use and function - For visitors to our site the goal was to make sure the site was not only beautiful but functional. To achieve this, we simplified the navigation, added search to our blog, and filtering capability on a few content-rich pages. The site was also built to work well on mobile or desktop, load faster and be accessible with a thoughtful digital color pallet.
If you haven't already, take a look around the new website. We recommend starting on the homepage www.Uberall.com.

Do You Like Our New Look?
Blood, sweat, and tears—it took it all to bring this new look to life. However, it has been a fun ride too! From one marketer to another, let us know what you think about our new look via our social channels.
Color too bright, or just right?
Pulse too cheesy or fits in easy?
Images too bold or better than old?
Any more thoughts?Let's connect the dots!
Let us know your thoughts via comments on our LinkedIn post