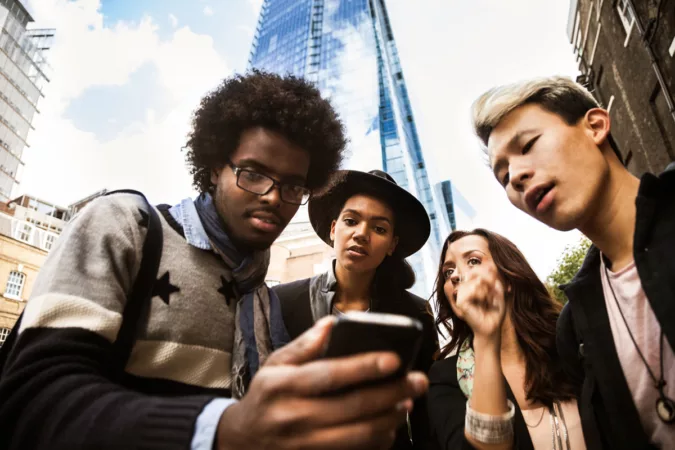 Blog
Make the Most of Mobile: The Power of Accuracy
Multi-location brands face a significant challenge with mobile devices. Because every search on mobile defaults to a "near me" search, multi-location brands need to emphasize location visibility over website optimization.
When people search on mobile, their phones look for recommendations that are physically close to them. With these "near me" searches, consumers are asking questions about the real world, not just looking for websites. If someone is looking for "breakfast" or "Nike shoes," is your closest restaurant or retail store the first recommendation? The second?
Ensuring that you're in those results and that you stand out from the competition starts with accuracy. If your location information isn't accurate in the most authoritative places – like Google Maps, Apple Maps, Yelp, Facebook and Bing – you can say sayonara to potential sales. However, despite this critical need for accuracy, MomentFeed has found that 94% of store locations have inaccurate information posted online. Inaccuracies in store locations, hours, phone numbers and more are easy to overlook and plague the internet as well as your bottom line.
The power of accuracy on mobile was one of the key findings in our recent research study. We compiled six months of data from 50 clients* and tapped partnerships with Google, Facebook, Yelp, Apple Maps and Bing for insights that enabled us to analyze the state of the mobile customer experience, gathering insight into what works – and what doesn't – for brands trying to influence customers on mobile. What did we find?
Brands that want to be mobile-first in a mobile-obsessed world must have accurate information pertinent to the local community on all networks.
After all our analysis, we found three strategies to be critical:
Be Local: Local has 5x the impact of brand.
Be Everywhere: Each network has something important to offer.
Be Accurate: It means much more than location coordinates.
This is our third post in a series that takes an in-depth dive into each strategy. Missed last week's blog on the importance of being on all mobile networks? Be everywhere and don't leave money on the table: 1 in every 5 mobile minutes online are spent on Facebook, and 88% of consumers trust online reviews as much as the recommendations of family members!
In this third and last post on these critical mobile strategies, we'll investigate what it means to be accurate online and why it is crucial to your overall marketing strategy.

Be Accurate: Much More than Location Coordinates
Our research revealed that Google Map views have more impressions than brands' websites, and even 20% of brand website impressions focus on store location information. This got us curious: how much does location data accuracy matter to mobile consumers?
The short answer? A lot.
Map and navigation services – whether on mobile devices or in navigation systems – don't use location addresses; they use latitude and longitude. Ensuring that these coordinates are accurate is the difference between your customers driving into your parking lot or ending up at a competitor's business on the next block.
MomentFeed has access to the data for this analysis thanks to our proprietary geo-coding location data cleanup technology called PinSync. The PinSync process includes a double-blind data entry looking at where map data should be placed and comparing that against client-provided data and living data from map services like Google Maps.
From there, latitude and longitude coordinates are updated to provide location placement accuracy, with the goal of directing customers to the front door of a location.
We considered latitude and longitude data for 20,000 business locations. The data showed that of these locations, a staggering 94% initially had location inaccuracies. As you can see above, about half of the inaccuracies were within 5 to 30 feet. This may seem good enough to get a consumer through your doors, but this seemingly small inaccuracy still impacts consumer behavior – especially in malls. In fact, 67% of consumers say they lose trust in a brand if inaccurate location information is provided online. So while under 30 feet may be close, it may be the difference between a consumer successfully routing to your business location or looking around with impatience, giving up, and moving on to a competitor's location that they can actually find.
More frightening, 46% of locations had geocode inaccuracies greater than 30 feet. This is where the customer experience truly takes a negative turn: they become frustrated, lost and often patrons of a different store.
Unfortunately, the damage may not even end there – negative ratings, reviews and comments on social media from frustrated consumers may scare other potential customers away as well.
In a world of fleeting mobile moments, take advantage of every precious opportunity to impress the customer and meet their expectations.

Strategies – Be Found On and Offline
Don't forget: more customers are looking at Google search results for store directions than are looking at any brand website. Make sure your corporate marketing time and resources are being directed toward what matters most to consumers.
1. Make location data accuracy a priority.
Ensuring location information accuracy aligns your marketing resources with consumer behavior, leading to more customers viewing store page details and ultimately walking in the front door.
2. Clean up location data.
In our research, accurate location data brings business directly to and through your doors:
MomentFeed clients experienced a 115% increase in Google My Business page views in the first year after cleanup.
Google My Business page views convert to leads 6% of the time while Yelp page views convert to leads 19% of the time – which means location accuracy leads to sales.
3. Go beyond coordinates.
Accuracy of location data goes far beyond coordinates – it's all the relevant information that makes each business unique and appealing to local consumers. Accurate information about the physical location, phone numbers and store hours are essential, but customers want more.
Customers want relevance, such as accurate info about what you offer – like Wi-Fi, a drive-through, patio seating, pet-friendly, kid play area, searchable menus and store inventory.

Putting it All Together: The Mobile Customer Journey
Having only accurate information for your mobile customers plays an essential part in every step of the mobile customer journey, the journey each customer takes from hearing about your product to making a purchase. Build a "local, everywhere, and accurate" strategy for every stage of the mobile customer experience and never leave money on the table.
Awareness. Customers must know who you are and why you are relevant to them. Be local!
Consideration. Customers must be able to find you, online and offline. Information must be accurate, thorough, relevant, and easy. Be accurate!
Preference. Customers want to hear what others have to say and will trust online reviews and ratings more than any corporate statement or slogan. Be local and everywhere!
Transaction. Customers need clear, compelling calls to action to purchase. They must trust the store and the product and find the process simple and easy. Be everywhere and accurate!
Advocacy. Loyal customers buy again and help attract new customers. Be everywhere and local!
No matter your industry, your mobile strategy is critical: be local, be everywhere, be accurate. With 85% of your consumer interactions happening on local pages, your bottom line depends on it.
Ready for more ideas from real companies of how to make the most of mobile? Speak with a MomentFeed expert to see how your multi-location brand can make the most of mobile marketing.
*Based on the analysis of anonymized and aggregated engagement data from more than 50 clients from October 2016 through April 2017.