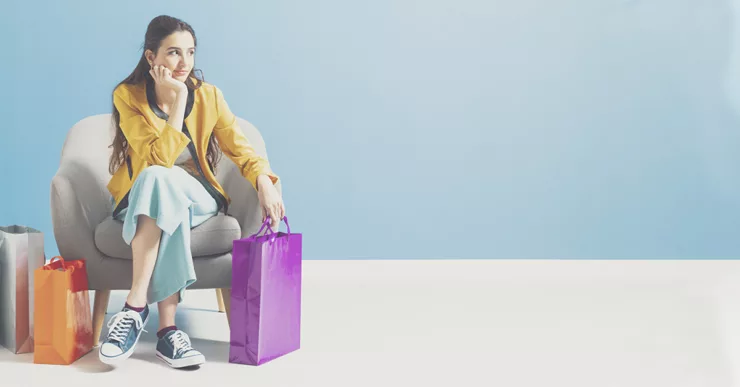 Blog
The Eat, Shop, Stay, Play Trend: How to Reach Consumers Hooked on Convenience
The retail, restaurant, lodging convergence is changing mobile-local search for multi-location brands. Consumers are hooked on convenience, eating where they shop and shopping where they eat. And sometimes they are even staying where they shop and eat. Las Vegas hotels are a great example of this.
We are living in a world where consumer convenience reins supreme. People want to go to ONE location — near them — to get what they need or want... right away.

The All-In-One Destination
The concept of an "all-in-one retail destination" is nothing new. Woolworth had a lunch counter, Tommy Bahama restaurants have successful clothing stores attached, and shoppers can grab a Starbucks cold brew and snacks in Target these days. Entertainment, crafts, gamification, and esports engagement abound in venues that previously just served meals.
Retailers and restaurants alike are diversifying the customer experiences and turning locations into full-service and engaging destinations, where time-pressed consumers can fill their grocery carts, their car tanks, and their bellies all with one visit. Convenience stores have "convenience" in the name for a reason. The "all-in-one" experience is trending. Even art, books, and fine glassware are on the "grab and go" list.
Crate and Barrel and Lululemon recently opened full-service restaurants in their locations. MasterCard is investing in "Priceless" pop-up restaurant concepts.

Crate and Barrel's In-Store Restaurant Experience
Crate and Barrel opened its first restaurant in its Chicago, Oak Brook, Illinois store earlier this year. The full-service restaurant called "The Table at Crate" allows customers to see their products in action.
Lululemon's Retail, Café, Studio Experience
Lululemon's flagship store opened in July 2019, spanning two levels and more than 20,000 square feet in Chicago's Lincoln Park neighborhood. But the expansive space doesn't house just merchandise — it also boasts a restaurant, meditation rooms and workout studios for yoga and HIIT classes.

The Capital One Café
Even banks are getting in on the game. Capitol One has opened the Capital One Café concept all around the country to appeal to a new generation of bankers.
Blurring of Product and Service Lines
Retailers and even financial services companies have become restauranteurs and retailers are becoming event promoters. But here's where digital and search marketing get tricky — When consumers look to their devices to find a nearby specific product or service, are they seeing exactly what they need at the location near them?
The blurring of the product lines creates a unique new challenge for multi-location businesses who are expanding beyond their original offerings.

Proximity search optimization — will be the go-forward necessity for multi-location brands. Beyond traditional SEO, retailers, restaurants, service businesses, and hospitality alike will have to do a deep dive into what consumers are looking for — and make sure that those items can be found at their locations, even when it may have previously seemed counter-intuitive.

How to Gain Visibility in a New Search Category
In short, many stores are becoming "variety stores" and restaurants are becoming destinations for dining, shopping, and a wide range of other experiences. If you have a multi-location "hybrid" business — which seems to be the new normal for future retailers and restaurants — you must evolve your search strategy accordingly.
Have well-populated and super-current local landing pages. It's becoming a necessity — not an option
Manage reviews for EVERY location and respond to customer feedback on a regular basis. If you're entering a new arena (e.g., selling food at what has traditionally been a product-centric business) make sure you're delivering an amazing and memorable experience across-the-board. A whopping 88% of consumers trust online reviews — even when written by strangers.
Utilize your local social media sites to showcase your range of products and services. Word-of-mouth and viral Instagram moments can be powerful in launching new product lines and services expansions.
Be patient in expanding into a new category. Building credibility and trust with customers takes an investment in high-quality marketing and a fair amount of re-education. You want to move quickly from "I didn't know they sold or offered THAT!" to "I love going there because I could get EVERYTHING I needed today."
We've gotten used to getting massages and manicures in airports, and gourmet lattes while fueling our tanks. What will the combos of the future be? Whatever those couplings are, we can help you ensure ALL your products and services are found — when people are ready to buy.
Let MomentFeed help your brand gain visibility in a new category.