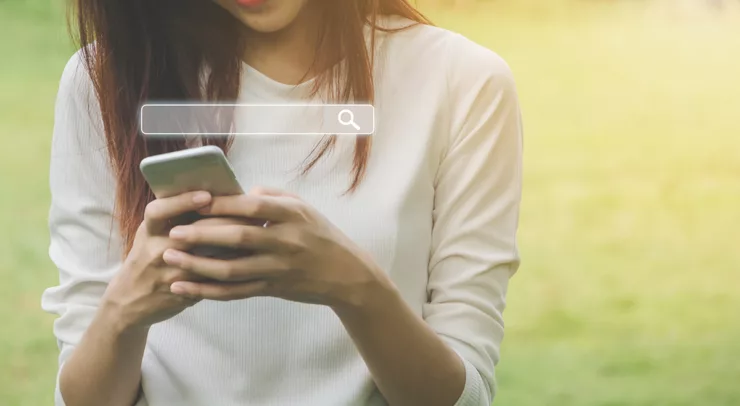 Blog
Should Brick-and-Mortar Businesses Optimize for COVID-19 Keywords as We Enter Recovery?
The answer to the COVID-19 keyword dilemma is - "it depends." Our general recommendation is never overemphasize on trending keywords, unless you're building your brand around those keywords. For example, a vegetarian restaurant may want to rank for lower volume keywords like 'meatless burger' if that is its niche, and a category it can clearly dominate. However, in general, we advise clients to put most of their focus on higher volume keywords that drive consumer discovery in their category.

But What About COVID-19 Keywords Specifically?
In the month of March, keywords like "contactless payment," "senior hours," and "curbside pick-up" became new search categories seemingly overnight. As we come out of the crisis, many of these keywords are leveling off - some near their normal volumes, but others seem to be leveling off at a higher volume than pre-COVID-19. It's important to consider these search trends as we reorient our efforts toward the 'next normal.' Consumer behaviors and preferences that may have seemed like passing trends may be more lasting than we thought.

To get a better understanding of the situation, we took a look at how some trending COVID-19 keywords are leveling off as our economy reopens.

Most COVID-19 Keywords Likely to be Short-Lived
When evaluating COVID-19-specific keywords that are more likely to be short-lived like "senior hours," "contactless delivery" and "curbside pickup," we notice two things: (1) a keyword category that barely existed before COVID-19 and (2) almost as quickly as the keyword trend spiked, it came back down again. It is likely that these keywords will die down to volumes that are non consequential. Also, many of these keywords can be designated as attributes on Google My Business pages, Yelp business pages, and local web pages but we don't advise an extensive strategy around these keywords.

COVID-19 Keywords that May Have Some Longevity
In contrast, keywords that may have some longevity had some momentum coming into COVID-19. When the crisis hit, keywords like "mobile order," and "online ordering," gained momentum. These terms seem to be leveling off but at higher volumes than pre-COVID-19, indicating some acceleration in these trends and a lasting consumer preference. These keywords are ones to keep an eye on, especially if they are important in your category, but again, many should be incorporated through the business attribute designations in Google My Business pages, Yelp and other discovery networks and don't require a full keyword strategy.

Critical Proximity Discovery Keywords are Rebounding Nicely
The good news for all brick-and-mortar categories is that proximity discovery keywords seem to be rebounding quite well. These keywords are likely the primary drivers of foot traffic to your business as they have higher search volumes.
Gyms
In the gym category, it's not too surprising that 'gym near me' took a plunge in mid-March as many gyms and fitness studios across the country were forced to temporarily close. This category is now seeing a nice increase in search volume. Note the contrast between 'home gym' during COVID-19, indicating that many consumers were looking for home-gym alternatives to stay in shape. The keyword 'home gym' seems to be coming down to pre-COVID-19 volumes, although a bit more slowly than contrasting terms in other categories.
Restaurants (QSR and Dine-In)
Restaurants are also seeing a nice rebound, with search volume climbing steadily for the keyword 'restaurant near me.' We saw similar rebounds for categories like 'steakhouse,' 'Mexican restaurant,' 'Italian restaurant,' etc. It is also interesting to note that the term 'dine-in' is well above normal volumes, indicating that consumers are searching for restaurants that are offering dine-in options in this uncertain climate.
Retail
Malls and non-essential retail stores, being temporarily closed during COVID-19, drove many consumers to shop online as can be seen by the spike in the keyword 'online shopping.' In contrast, the keyword 'mall near me' is rebounding nicely to volumes similar to pre-COVID-19.

Grocery

Grocery stores weren't impacted as significantly during COVID-19 but faced some interesting challenges. Panic shopping drove heavy traffic to grocery stores in mid-March and many consumers did try online grocery apps, with Instacart leading the pack in terms of search volume. As interest in Instacart spiked, the 'grocery store near me' discovery search term dipped a little, but seems to be coming back up to pre-COVID-19 volumes as things slowly return to a 'new normal.'
Bars
Bars that rely heavily on proximity discovery search to drive foot traffic plunged quickly in Mid-March as many were deemed non-essential and forced to shut their doors. While not back to normal search levels just yet, the discovery keyword 'bar near me,' seems to also be climbing back steadily.
Coffee
Coffee shops and cafes were also impacted by COVID-19 closures. While most quick-serve restaurants managed to remain open with takeout and drive-thru available, coffee shops were more likely to close their stores or see a decrease in traffic with more people working and making coffee from home. In fact, during the peak of the COVID-19 quarantine, the search term 'coffee maker' saw a spike with various brands of machines like Keurig and Ninja trending. However, based on the search data below, it would appear consumers are getting back to going out for coffee as the proximity discovery search term 'coffee near me' seems to be rebounding. As you welcome customers back to your stores, salons, gyms, or restaurants, be sure you have a proximity discovery strategy that will help consumers find you post-COVID-19 and beyond.

Consumer expectations shifted amid COVID, are you keeping up?
Integrating Keywords into Your Local Search Strategy
While we don't advise keyword stuffing, here are a few things you can do:
Make sure customers know you are open, share special hours, and any other attributes related to your operations (i.e. mobile order, curbside pick-up, takeout, etc.). Most of these attributes can be designated on your Google My Business page, Yelp page, and other discovery networks. For multi-location businesses with hundreds or even thousands of locations, leveraging a platform like MomentFeed with an API to these discovery networks will help you manage location attributes across all locations at scale.
Share new safety protocols on local business pages, local listings, and local social - or wherever it makes sense. You might also encourage recent visitors to your business to write a review about the cleanliness of your location. This eases concerns for potential visitors and can help you rank for relevant keywords that your customers might be searching for. Also consider posting photos via Google Posts and COVID-19 alerts through Google that include updates on safety protocols.
For critical proximity discovery keywords in your category - keywords that drive regular foot traffic to your business like "steakhouse near me" or "hair salon near me" - we advise a focus on bringing keywords in where it makes sense across local reviews, local business pages, local listings, and local social. You'll also want to track your performance in the Google 3-Pack for these keywords on an ongoing basis. Work with your search partner or leverage Google's keyword planner to figure out what keywords are most important in your category.
For more local marketing strategies to help accelerate your recovery and return to growth mode, download our newest "Local Marketing Checklist to Drive a Quick Recovery." Even better, speak to one of our marketing experts today to see how your business might benefit from MomentFeed.
Local marketing tactics to accelerate recovery & return to growth.