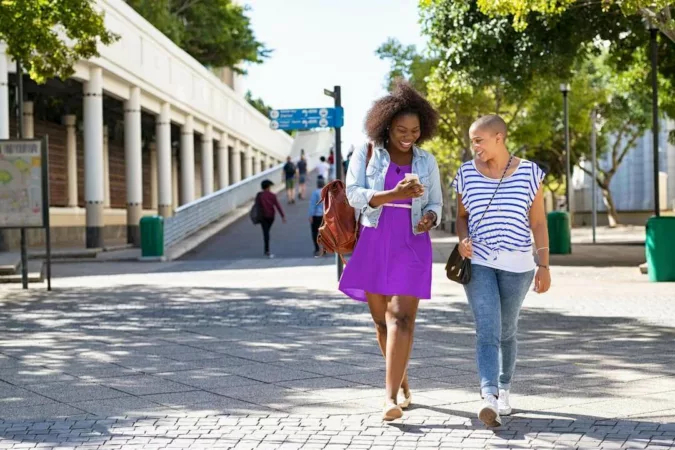 Blog
Second Is Best: Why Google 3-Pack Exposure Is Critical, but Ranking #1 Is Not
The top spot in search engine results is a coveted position. However, as marketing teams agonize over organic Google rankings, they may be overlooking a powerful key to better exposure: today's consumer behavior.
Today, nearly half of all searches are after local solutions. Search engines like Google have had to adapt to meet these needs. This is why Google prioritizes its 3-Pack — the three local businesses that best match a consumer's search intent — on its SERPs (search engine results pages.)
According to our latest research, brands ranking in the Google 3-Pack receive five times as many views and twice as many actions. We discovered that this increased traction also comes with an interesting caveat:

Instead of the top search result reaping the lion's share of attention — as we see with traditional, organic SERPs — all three Google 3-Pack positions experience similar engagement gains. However, our statistical analysis of more than 25,000 business locations showed that the second position often fields the most engagement.



Users See Local Search Results Differently Than Traditional Organic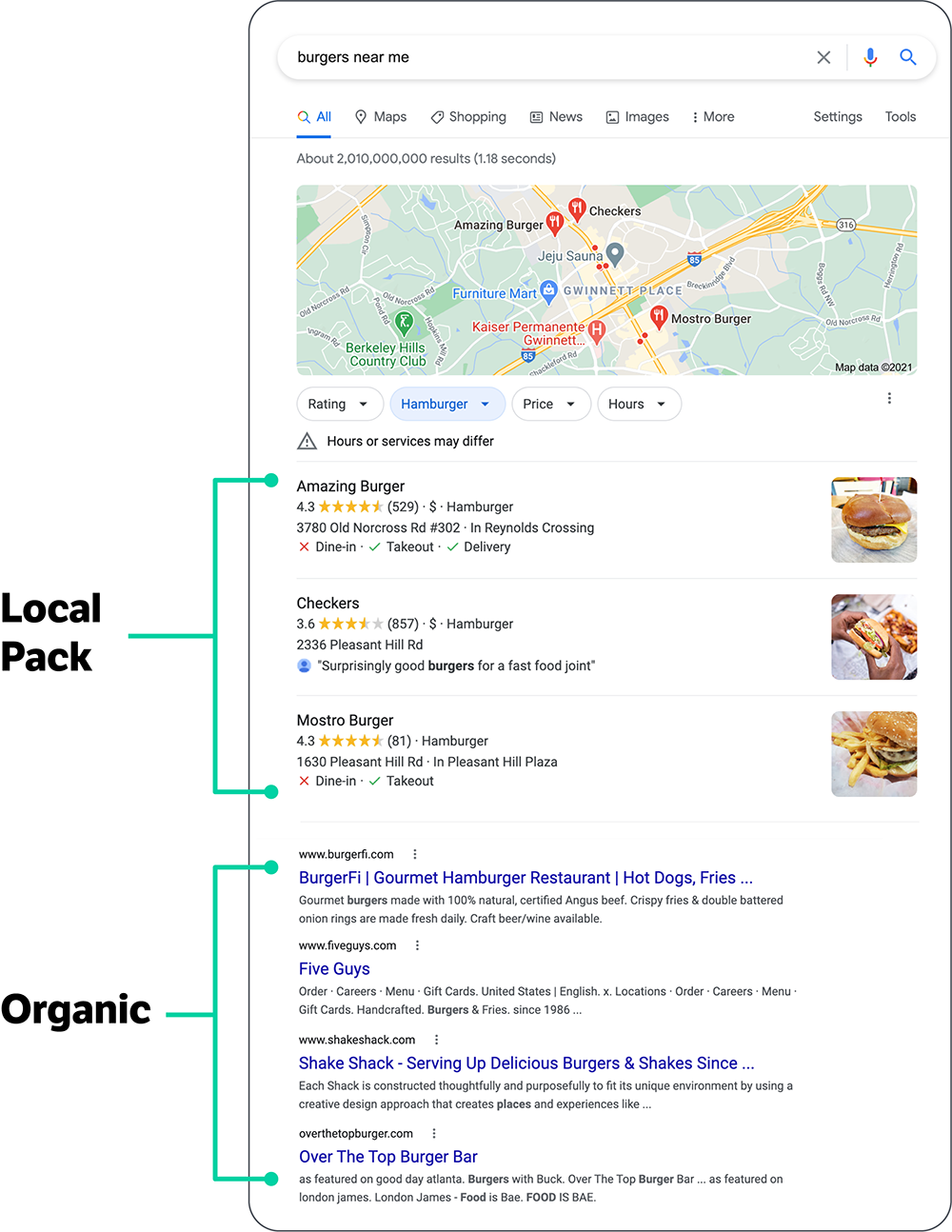 Google's 3-Pack doesn't just get priority, above-the-fold placement on SERPs. Compared to organic listings, which only have short meta descriptions, a 3-Pack listing provides the critical details that users look for when making a purchasing decision – like a business's star ratings, proximity, and clear calls-to-action.
This SERP design benefits local businesses and delivers the engagement gains we've seen in our research because:
You're not competing for SEO authority with businesses irrelevant to your target market.

Local pack listings are the first thing users see on a SERP 93% of the time.

Users trust Google 3-Pack listings more than organic and paid search results combined.

People conducting local searches are high-intent customers.
Interestingly, we found that local results don't follow the same patterns as traditional organic search results, where about a third of users click on the top listing and click-through rates fall off dramatically after that.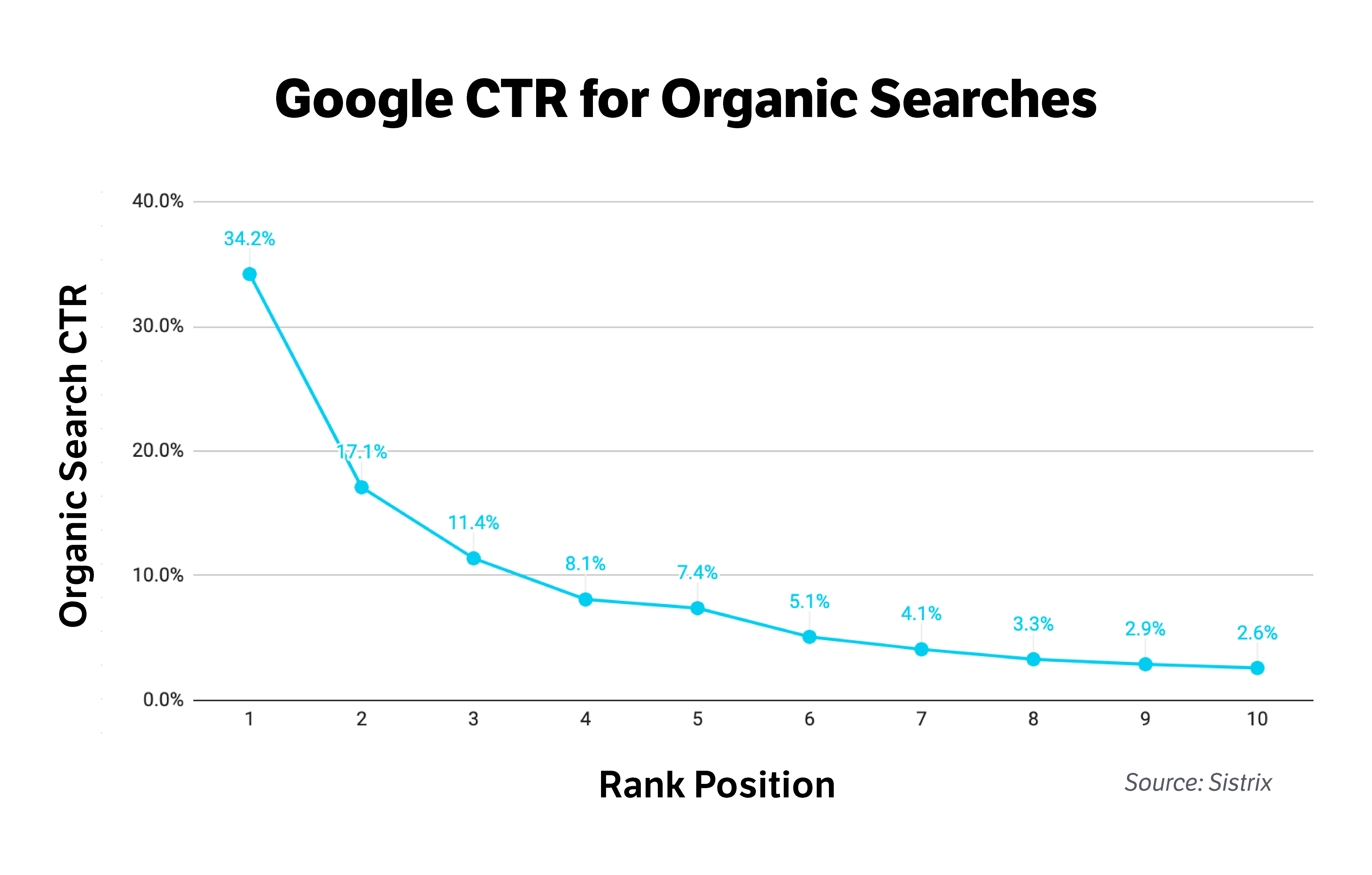 Learn more about the Google 3 Pack and its impact on your GMB ranking.
The #2 Spot Comes Out Ahead in The 3-Pack
Across almost every industry analyzed, businesses gained more than a 100% increase in clicks when ranking in the Google 3-Pack, regardless of position. However, unlike traditional organic results, the second listing almost always saw the biggest lift.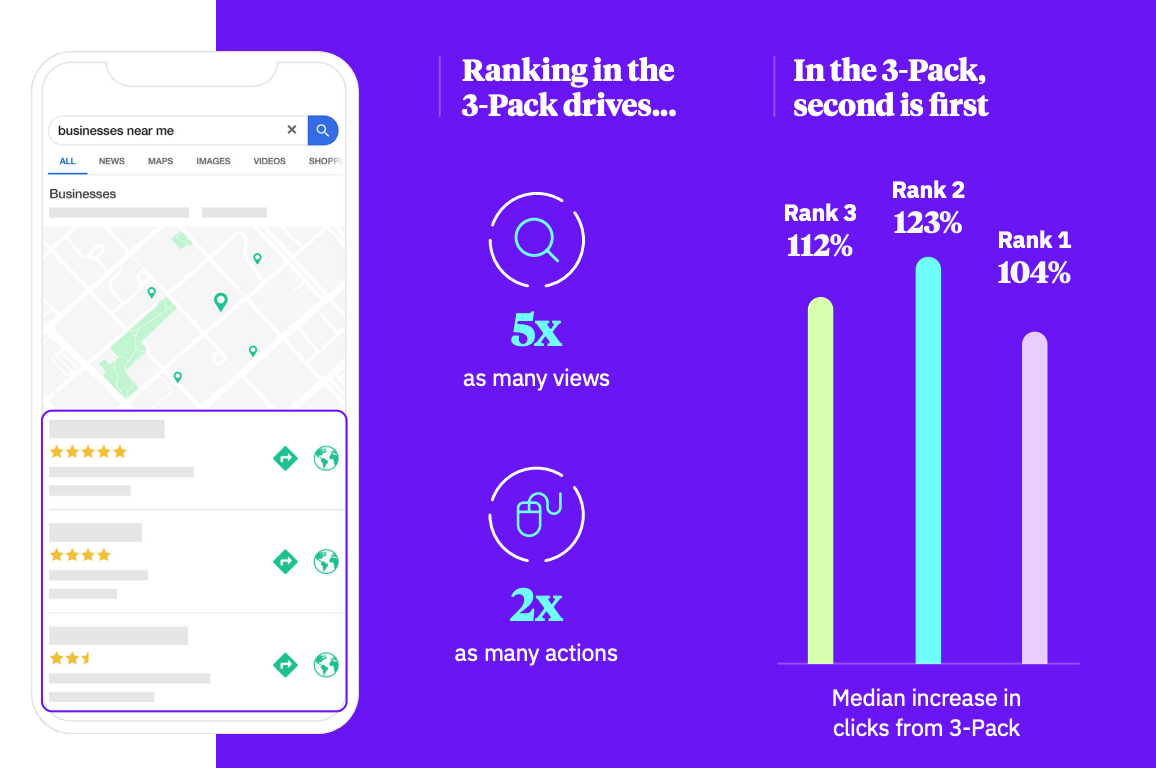 Factors Other Than Rank Impact Consumer Choice
This data points to other factors that influence local users' decision-making once shown a Google 3-Pack. As ready-to-buy consumers, they show more discernment than simply basing a choice on search ranking alone.
Instead, when browsing for local businesses, 64% of consumers favor businesses closest in proximity to their location; 57% rely on familiarity with a brand; 57% consider a business's star rating; and 49% look for customer reviews. Being the first result in the 3-Pack was cited least frequently, at 36%.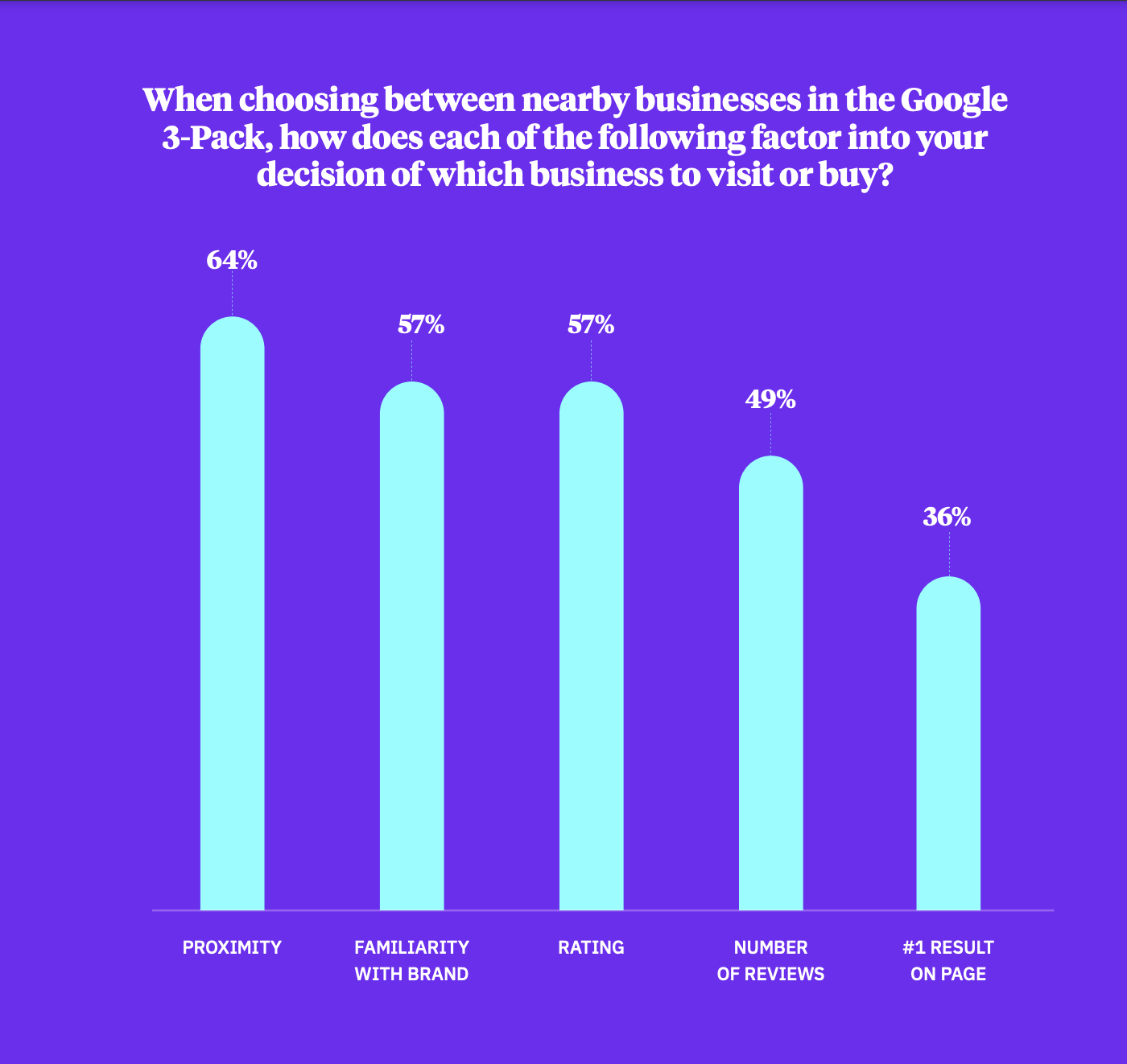 Identifying these behaviors demystifies how multi-location brands can succeed in today's digital landscape. Harnessing the controllable factors that attract users' attention, will make you stand out from the local pack.
Don't Just Be Discovered – Get Chosen With Proximity Search Optimization
The brands that earn a spot in the Google 3-Pack and capitalize on its impact optimize for local search. This strategy ensures that their digital storefront aligns with a local consumer's search intent, clearly delivering information they need to make a decision, such as:
Comprehensive information, from store hours and phone numbers to the brand's story

Accurate location data that's visible on Google Maps

Compelling photos and videos – 60% of consumers say that these impact purchasing decisions

The volume and quality of reviews – and their attention-grabbing star ratings – that work to build social proof in a business's ability to meet consumer needs
Dominate Local Search Results
Consumer behavior continually adapts to the digital landscape. Don't risk becoming invisible to your most valuable market.
SEO is critical for local businesses, but it's no longer a race to the top for all of the CTR glory. Instead, securing one of the three spots in the Google 3-Pack is paramount.

For multi-location businesses, partnering with a proximity search optimization team takes the guesswork out of earning a larger share from each of your local markets.
Get in touch with one of our experts at Uberall to start bringing all of these pieces together so that you don't just show up in local pack results — you shine.

Get more helpful tips on ways to improve your chances of landing in the Google 3-Pack