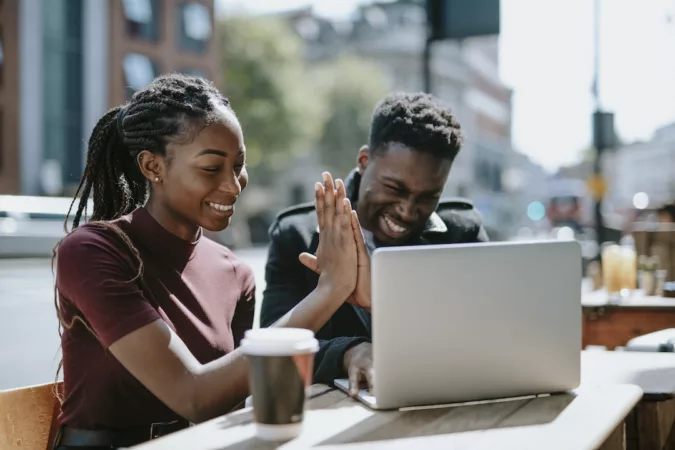 Blog
Review Management Software: A Buyer's Guide for Marketers
Nearly 90% of consumers read online reviews before visiting a business. That's why, a solid online reputation management strategy, supported by the best review management software for your business type is both a critical part of providing a better customer experience and improving the visibility of your stores, showrooms, or restaurants.
Businesses that actively monitor reviews and use that knowledge to make operational changes are perceived as responsive and forward-thinking. Can your brand leverage the reviews and social signals that your customers are providing to grow your business? Yes, you can!

Reviews Matter
Consumer reviews have become a critical part of consumers' purchase decisions online for e-commerce, but most importantly for offline purchase decisions.
Reviews happen at the store level. While your brand might be the best in the industry, it's the store ratings that Google, Bing, and Siri use as strong signals for the places they recommend, and the store is the entity that consumers consider when making a decision to drive.
Ratings and reviews are there, even if you're not actively monitoring them or trying to learn from them. Consumers have a voice that you just can't ignore. Whether you have 5-star reviews at every location, or a mix of ratings, your overall brand perception and brand loyalty are directly associated with your stars in each community.
That's where a review strategy comes in-it a program, along with software, that your brand needs to actively put in place to discover, learn from, and respond to reviews, feedback, and issues - and simply acknowledge people's feelings. When you respond quickly and sincerely, consumers feel heard-they feel like you're paying attention to them.
Two HUGE Benefits of Responding To Reviews
Reviews are today's way of listening to customers – it's like running a continuous customer survey – happening across the internet. You'll get praise, you're getting complaints, but when you pay attention and make operational changes, those actions can be differentiators for your business and can make your brand really stand out in two main ways:

Identify operational issues and improve: If you're not paying attention to this customer feedback, you can't improve operational issues and address the root causes that are driving lower ratings. A program that involves marketing, guest services, and operations teams, in addition to review management software, is critical to turning suggestions and requests into better business practices.
Engage customers and show you care: Monitoring reviews and responding sincerely – whether a 5-star or 1-star – will make other consumers understand that you really care. Replying to reviews is like having a face-to-face conversation with the store manager. The difference is it's in a very public forum which can really enhance or detract from the consumer perception of your brand. Prospective customers don't take everything at face value-they'll ignore negative reviews that you've earnestly tried to address, even if the customer doesn't agree with your response. And, sometimes, by acknowledging and immediately resolving a customer's specific issue, the customer will actually update their review and star rating. Read our recent blog for more on how to respond to negative reviews.
Improve your response rates with at the ready review response templates.
That's why it's imperative for multi-location brands to reply to reviews for every one of their locations, across the most used consumer resources on mobile: Google [G+, and Google My Business (Maps)], Yelp [visible in Apple Maps and Bing], and Facebook [including Instagram and Messenger].

Good reviews create a virtuous cycle – your store gets more visibility, more consumers choose to visit, and when they have a good experience, they leave more good reviews. The same is true for negative reviews-some marketers have found that if their team doesn't respond to reviews in a timely manner, they have seen a decrease in online actions like 'click to call' and 'click for directions' on Google My Business. Consumers make quick decisions on mobile – when comparing two similar businesses, sometimes the deciding factor can be minuscule.
Ensuring that customers have a great in-store experience is truly the biggest factor in your review mix. Consistent and reliable service, product quality, value, and honesty haven't lost their importance. Beyond the basics, businesses that take the rich information found in comments and reviews and feed that into operations optimization processes are creating a competitive advantage. Operationalizing customer feedback is the most valuable thing any business can do.

Respond to reviews faster and improve your visibility in local search with Uberall CoreX.
Essential Review Management Software Capabilities
If you don't have review management software that enables you to monitor or reply to reviews, or access to your reviews on certain websites was recently cut off, there are a few capabilities that are essential for you to consider. Your software should be easy to set up and deploy, simple to access through a web browser or mobile phone, create less work for your team - not more, and empower your team to be responsive to your customers.
Here are seven things to look for when you are evaluating review management software solutions:
The Most Used and Trusted Review Sites
The first thing to look for is compatibility with the directories, services, and website sites mobile consumers use the most. Look for software products that capture reviews from:
Yelp
Google My Business (Google Maps)
Facebook Brand pages and Facebook Local pages
Facebook Messenger
With Facebook, moving the conversation to Messenger enables you to respond appropriately to a negative review and take any follow-up discussion quickly out of the public eye. TripAdvisor is also a must-have for multi-location hotels and restaurant brands.
Official Partnerships
Review management software vendors don't always play by the rules. Recently, some brands were let down by their software provider when their access to Yelp reviews was terminated because of their review management software vendors' refusal to adhere to Yelp's Terms of Service.
This bad behavior included scraping reviews without having permission, not using the official API, and helping brands solicit reviews from their customers.
Don't let this happen to you (again). Select software from companies that have secured official partnerships with the most important networks:
Facebook Marketing Partners
Yelp Knowledge & Advertising Partners
Google My Business Early Testers
TripAdvisor TripConnect partners
In-App Response
To save time and ensure you log response history, your review management software should enable you to respond to reviews directly inside the application, rather than linking out to each source. Your review monitoring solution should surface reviews in an interface that you can filter based on time, rating, franchise, location, store group, region, responder, or by review category or specific keywords.
In-App response enables meaningful collaboration when reviews are managed by different teams, and the best software will enable you to create and store templated answers and responses to both save time and keep the team on brand and on message. While templates are a good starting point to maintaining brand voice and official talking points, most experts discourage copy and pasting - every response should be personal and empathetic.
Many field staff is not in front of a computer all day so if you've empowered your front-line managers to respond directly, having a mobile app to immediately notify them of new reviews-and enabling them to respond directly via their phone or tablet-can provide a positive experience for customers, ensuring no customer falls through the cracks.
Multi-Location Monitoring and Reporting
Your review management software should provide insights across store locations as well as responding staff and teams regardless of their location.
Reports actually help you monitor each business and measure operational health, informing you of top-10 and bottom-10 locations and letting field managers and operations team know where issues lay.
Advanced review monitoring and response tools also enable you to understand how reviews are affecting the online activity and in-store foot traffic for any location or region and will notify managers about their scores via email on a regular basis.
Your centralized marketing and guest relations teams should be able to track response times by location and person responding, as well as sort incoming reviews and notify team members by star-rating. This will help you ensure that specific complaints are addressed immediately.
And you should be able to look at this information network by network, or in aggregate for a complete picture of ratings and store operations.
Central Review Management
Multi-location businesses are different than single-location businesses. Your review management software should enable you to centrally see reviews (and responses) from every location as well as respond to all reviews centrally, and/or from each location, and/or by regional or field marketing teams.
Distributed controls
Distributed controls empower On-Site Managers to be the first line of response (or the last, depending on your approval process for reviews). What's more, review monitoring across all levels of the organization ensures a unified, on-brand voice. Customized workflows and approvals provide checks and balances, while still enabling your entire team to view, read and respond to multiple reviews and ratings across Google My Business, Facebook and Yelp - ideally all from the same dashboard.
Enterprise Integration
In many enterprises, the marketing team doesn't monitor online reviews or handle customer complaints or questions. If you have a guest services or customer care team, you'll need to seamlessly move or escalate reviews from their source to that team for a response, then post back to the review site.
You need review software that enables bi-directional integration to move reviews into other systems, as well as a configurable, role-based workflow. Solutions like Uberall enable these automated workflows so some reviews (based on the source network and/or location and star rating) go into a customer service system like ZenDesk or Salesforce for individual remediation by an agent.

Monitor Reviews and Increase In-Store Sales
Every one of your stores, shops, showrooms, branches, or restaurants is getting online reviews. Leverage them to improve operations, attract new customers, make your loyal customers feel loved, and keep all of them coming back.
With Uberall CoreX Reviews, our reputation management software, you can take control of how your business is perceived online. You'll get complete visibility into consumer reviews and inquiries and be able to respond to them directly – on the most trusted consumer networks – whether you have 30 locations or 3,000.
Want to be on top of your review management? Speak to our experts and find out how