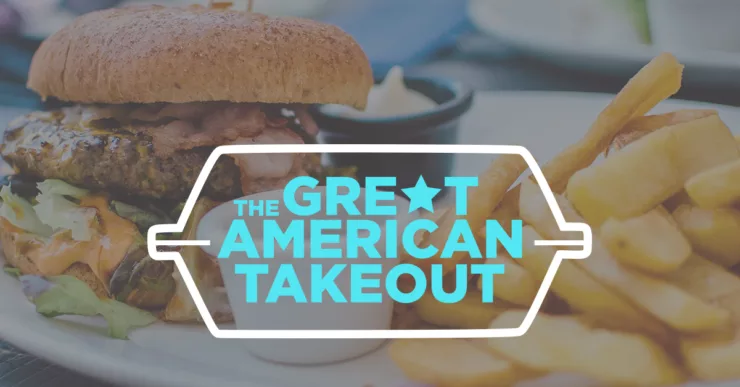 Blog
Restaurants Get Creative to Survive COVID-19 Crisis
Reinvented menus, BOGO sales, curbside pick-up, and toilet paper with purchase are just some of the ways restaurants - from quick serve to fine dining - are surviving the Coronavirus (COVID-19) crisis.
The restaurant industry, which employs an estimated 15 million workers nationwide, has been particularly hard hit by COVID-19. To help drive awareness and give businesses in the industry a boost, a coalition of national and regional eateries is backing a new campaign called The Great American Takeout - set for Tuesday March 24.
In celebration of this new "day" and the creativity of an industry rising up to protect jobs and local economies, we wanted to share some restaurant marketing innovations that are helping business connect with customers on a local level to survive COVID-19:

Flash Sales and BOGO Deals
California Pizza Kitchen (CPK) and Olive Garden, among many other eateries, are promoting regular deals that save on the wallet and free customers up from cooking dinner.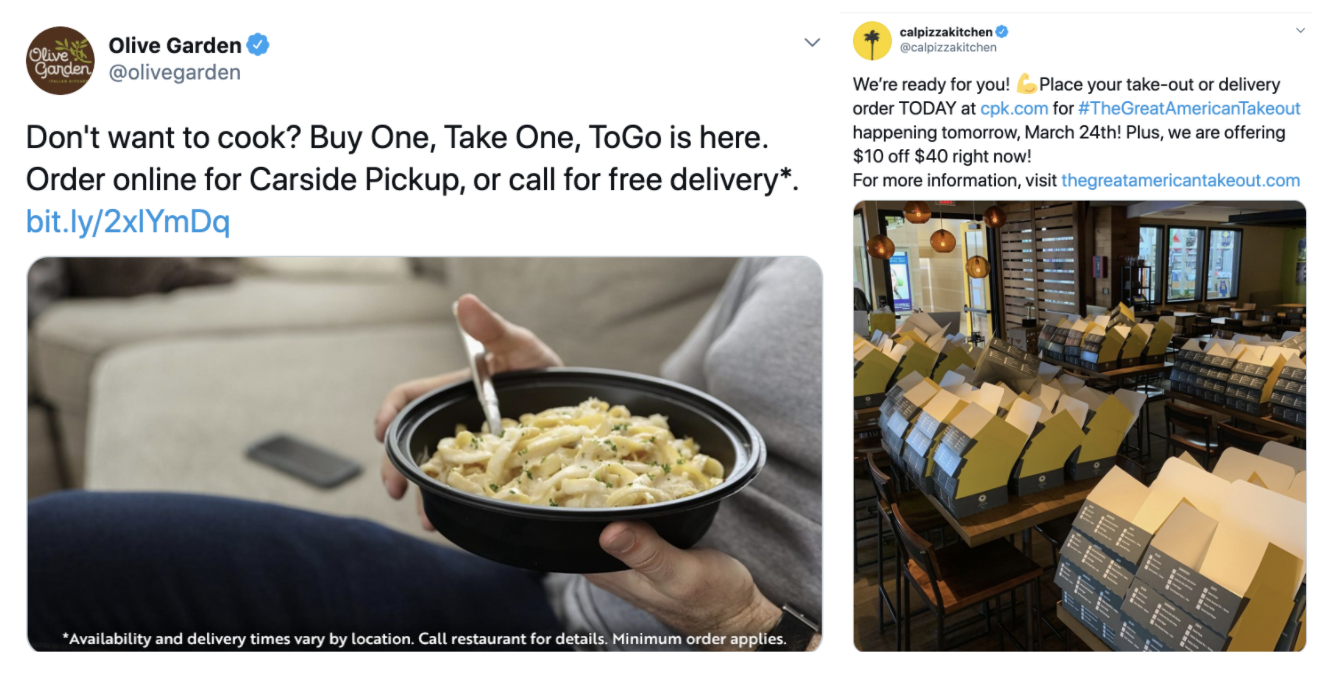 Cocktail Kits and Wine Pairings
With mandatory restaurant closures imposed in at least 25 states to date, many restaurants are pivoting to delivery only. But with alcohol representing 20% to 30% off all sales, it may be difficult for these establishments to make ends meet. To combat this challenge, many states are making temporary changes to allow alcohol delivery and reduce economic harm to thousands of businesses and millions of employees. Restaurants are getting creative with everything from cocktail kits to wine pairings.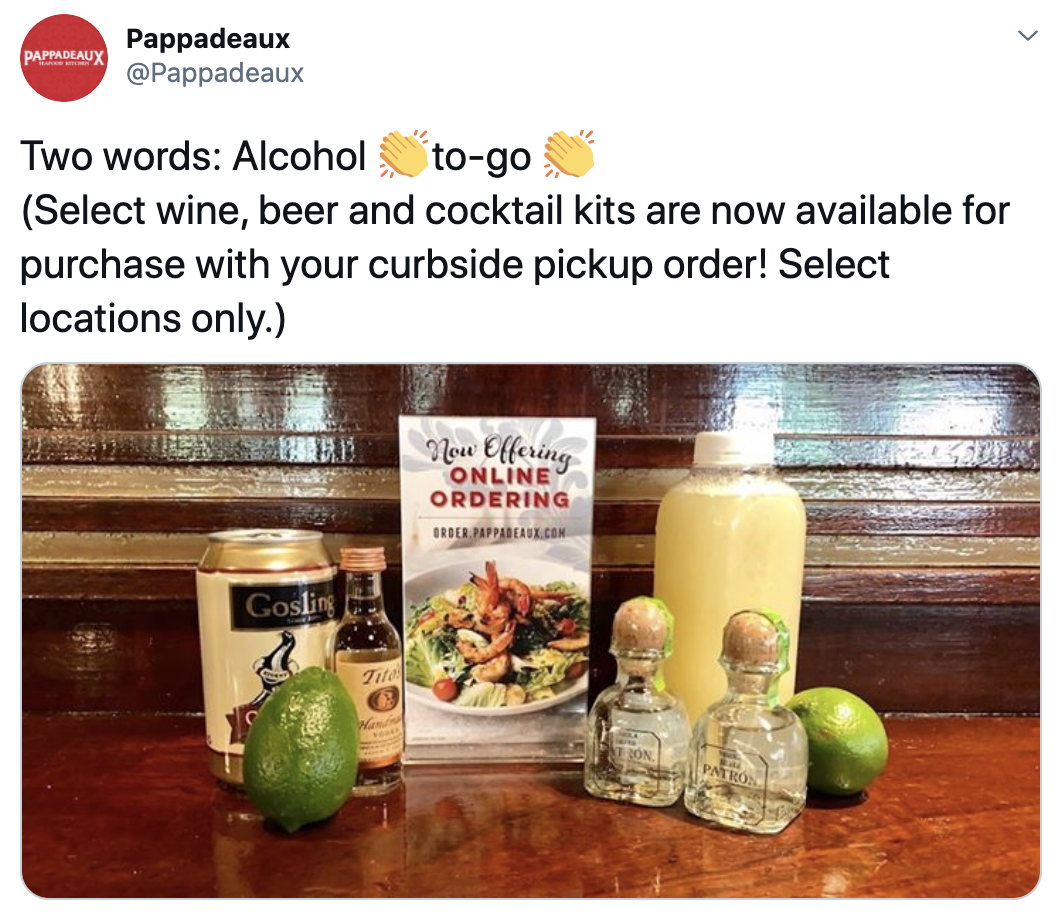 Fueling the Frontlines
It's nice to see that some establishments are helping feed and fuel the frontlines and even staying open late to make sure this country's unsung heroes are taken care of.

Special Menu Items
Some establishments are offering unique menu items each day, rotating in some of their customers' favorites to keep their delivery menus fresh and fun.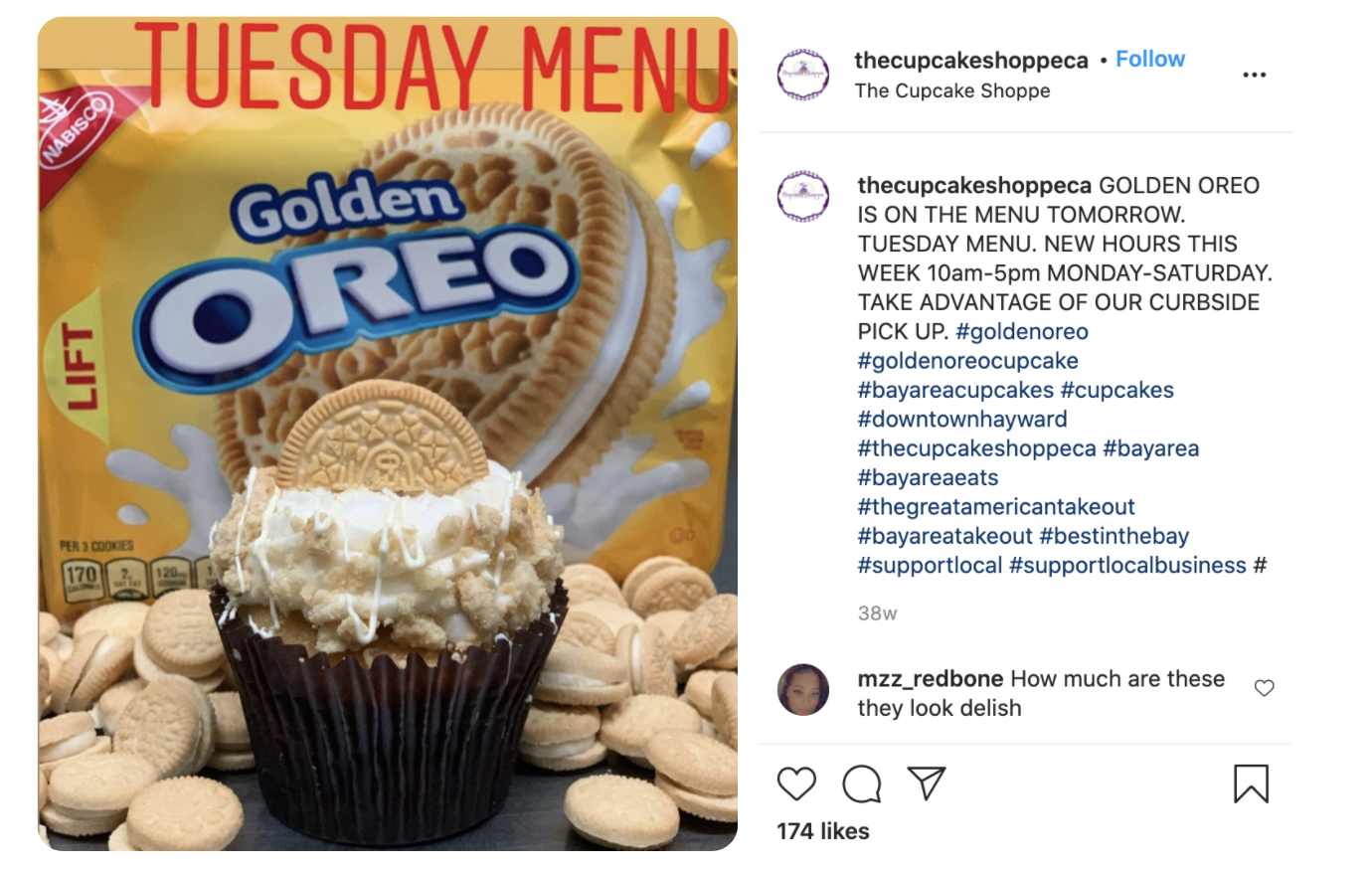 Curbside Pickup and Contactless Delivery
These options are popular among consumers looking to reduce their risk of contracting the virus by limiting contact with other individuals. Contactless delivery and it's cousin, curbside delivery, involve the customer placing an order online, paying by credit card, and getting food delivered without ever coming in contact with a delivery person.

Toilet Paper with Purchase
At any other time this would be a very odd pairing, but given the current crisis, this creative tactic might get a chuckle and hopefully a few extra orders. Besides, without having patrons dining in, most restaurants probably have more than a few extra rolls on hand.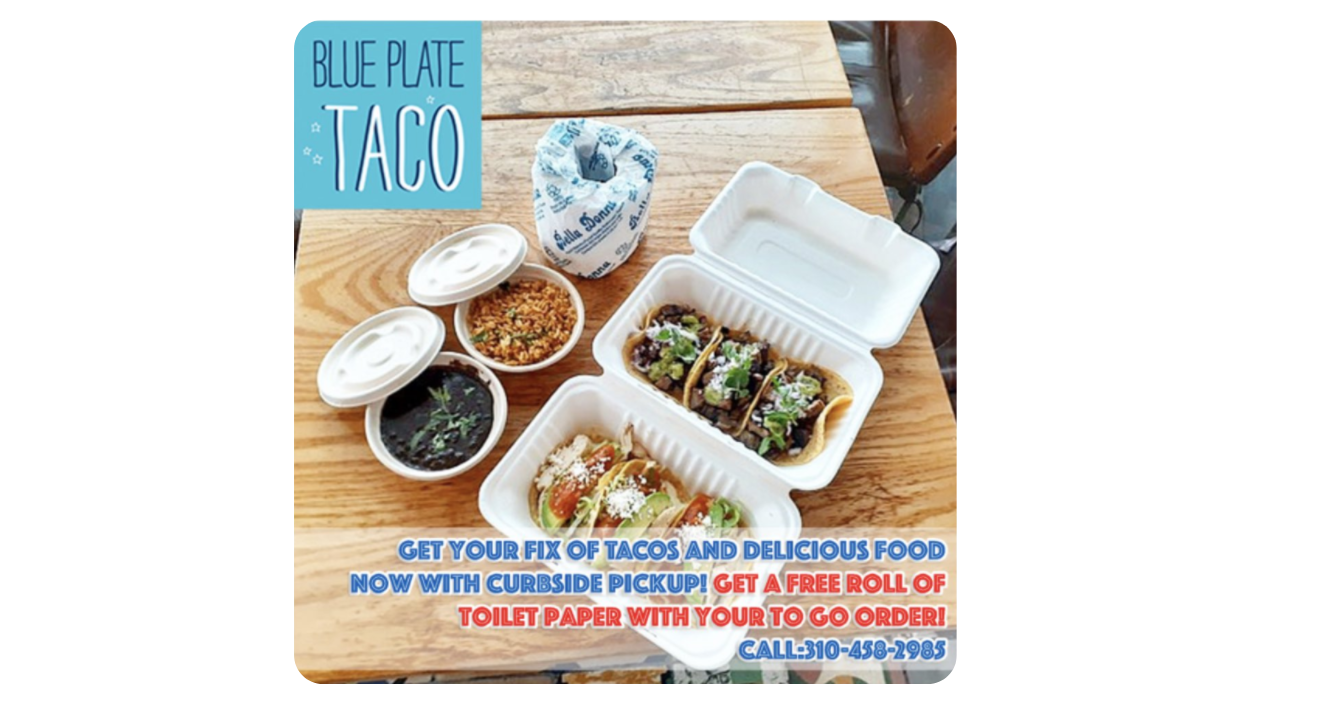 Gift Card with Purchase
While not quite as unique as a roll of toilet paper, this go-to tactic has the potential to work well. Thank your customers for braving their isolation and ordering takeout by giving them a gift card with purchase. Not only will customers appreciate the gesture, they might come back for a second helping in the weeks to come.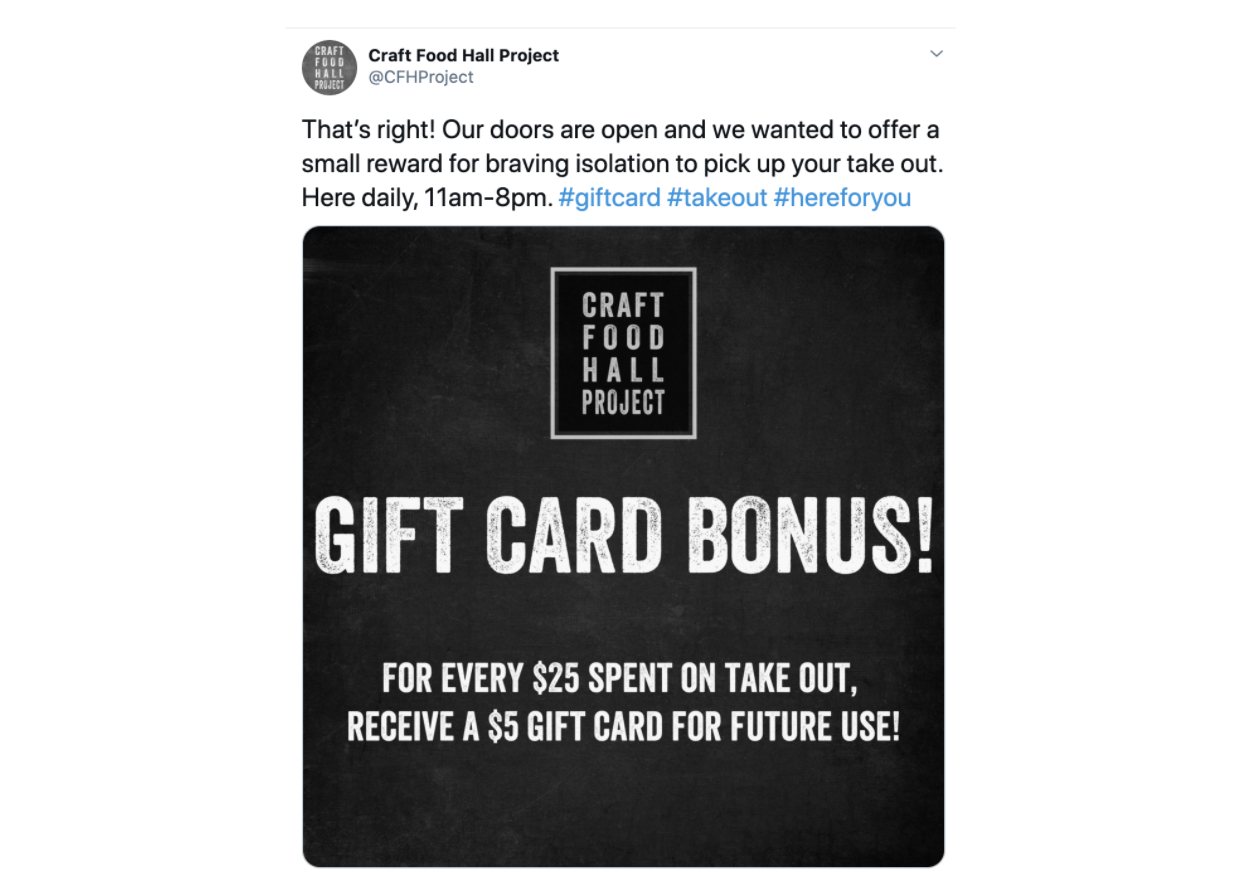 Pre-Fixed Family Meals
Nick Kokonas (co-founder of Alinea Group, Chicago-based restaurant company) is helping fine-dining restaurants across the country transform into takeout restaurants overnight. He and his team added onto their restaurant reservation app "Tock" creating "Tock To Go" to make it possible for restaurants on the app to manage takeout and delivery orders. He recommends restaurants create pre-fixed menus with some of their greatest hits. Pricing should be simple, and per person, so the restaurant can keep it delicious and streamlined.
We're in uncharted territory, and the "new normal" is evolving every day. We know restaurants are scrambling to figure out how they're going to make money in the current climate. If the team at MomentFeed can be of assistance in helping you update your listings with new operational details, create new posts, or optimize for new keywords, please don't hesitate to reach out to our team. We also put together a check-list to help you manage your online presence during this time.
#WeAreAllInThisTogether!
Looking for more ideas to realize a rapid recovery + return to growth?