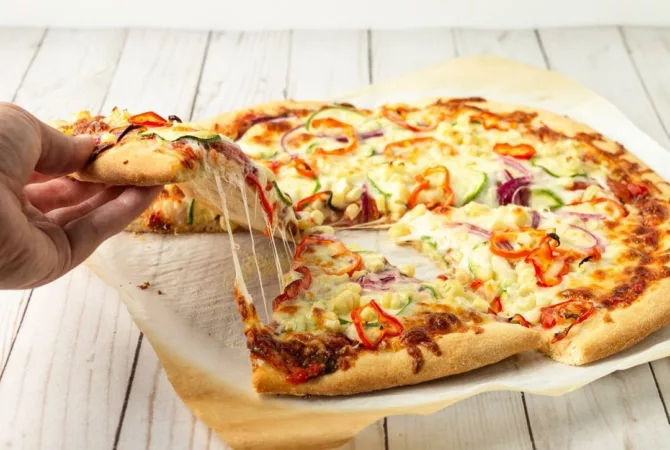 Blog
Overcoming Pizza Delivery Fatigue - Local Marketing Strategies for Pizza Restaurants
The pizza industry has been extra-hot over the past year. The main cause of this is, of course, the COVID-19 pandemic, which has been keeping Americans at home and out of restaurants since March of 2020.
Deprived of the chance to eat out, and at times compelled to avoid grocery stores, consumers turned to delivery and in particular, their go-to comfort food, pizza. In fact, delivery spending increased by 173% between July 2019 and July 2020, and pizza seems to be leading the pack. A data set from May 2020 showed an 11% per-dollar increase for pizza orders. Meanwhile, online ordering marketplace "Slice" shares that its independent operators have nearly doubled their revenue during the pandemic.
The question is, how long will the delivery surge last? COVID-19 fatigue is real, and restaurants are starting to think that delivery fatigue may not be far behind. Marketing strategies for pizza restaurants need to be agile enough to respond to this shift.
One company that's doing remarkably well at meeting this challenge is Toppers Pizza, a Midwest-based franchise with 65+ locations in 12 states. Toppers pivoted effectively in response to the changes in dining behaviors brought about by COVID-19, and it has stepped up to fight pizza delivery fatigue with its innovative, mouth-watering menu options.
Navigating Extreme Uncertainty
Marketing strategies for pizza restaurants shifted rapidly and dramatically in the early days and weeks of 2020's COVID-19 pandemic, and Toppers Pizza was no exception. Uberall played a big part in helping the pizza chain manage shifting hours and operational details across all locations at scale.

Because the company markets itself as a late-night pizza business, as bars and nightlife shut down, Toppers Pizza immediately cut back on late hours. Uberall made it possible to change those hours across all networks so that customers had accurate information.
Soon after cutting back late night hours, Toppers Pizza realized that many essential workers still needed food delivery late at night, Uberall helped re-add those late-night hours so that the listings stayed consistent. Toppers also saw an opportunity to meet the needs of stay-at-home consumers, and used Uberall to spread the word across local discovery networks that its locations were still open and delivering pizza.
Because the Toppers Pizza business model is set up for delivery, as demand increased and stayed high, so did the company's revenue. Toppers Pizza used this opportunity to invest in more advertising, leveraging the Uberall platform, to effectively target new customers and entice former customers to return.
This commitment to growth left Toppers Pizza in a strong position to guard against delivery fatigue, but the company didn't stop there.

Learn how Toppers maximizes visibility with local SEO & paid search.
4 Marketing Strategies for Pizza Restaurants
1 - Double Down on Menu Innovation

Toppers Pizza is known for its diverse selection, unique combinations of pizza toppings, and mouth-watering side orders — its decadent and ultra-cheesy Toppers Sticks are a notable example. Toppers Pizza is now doubling down on these unique menu items to attract people who might be experiencing a bit of delivery fatigue.

Meanwhile, Toppers Pizza continues to bring more innovation to its local markets. The chain recently began offering vegan items as a way of standing out and attracting people who have specific dining needs. Toppers Pizza is also working on adding innovative new items like cheese curds and mac and cheese in addition to its Topper Sticks, keeping the menu as fresh as its ingredients.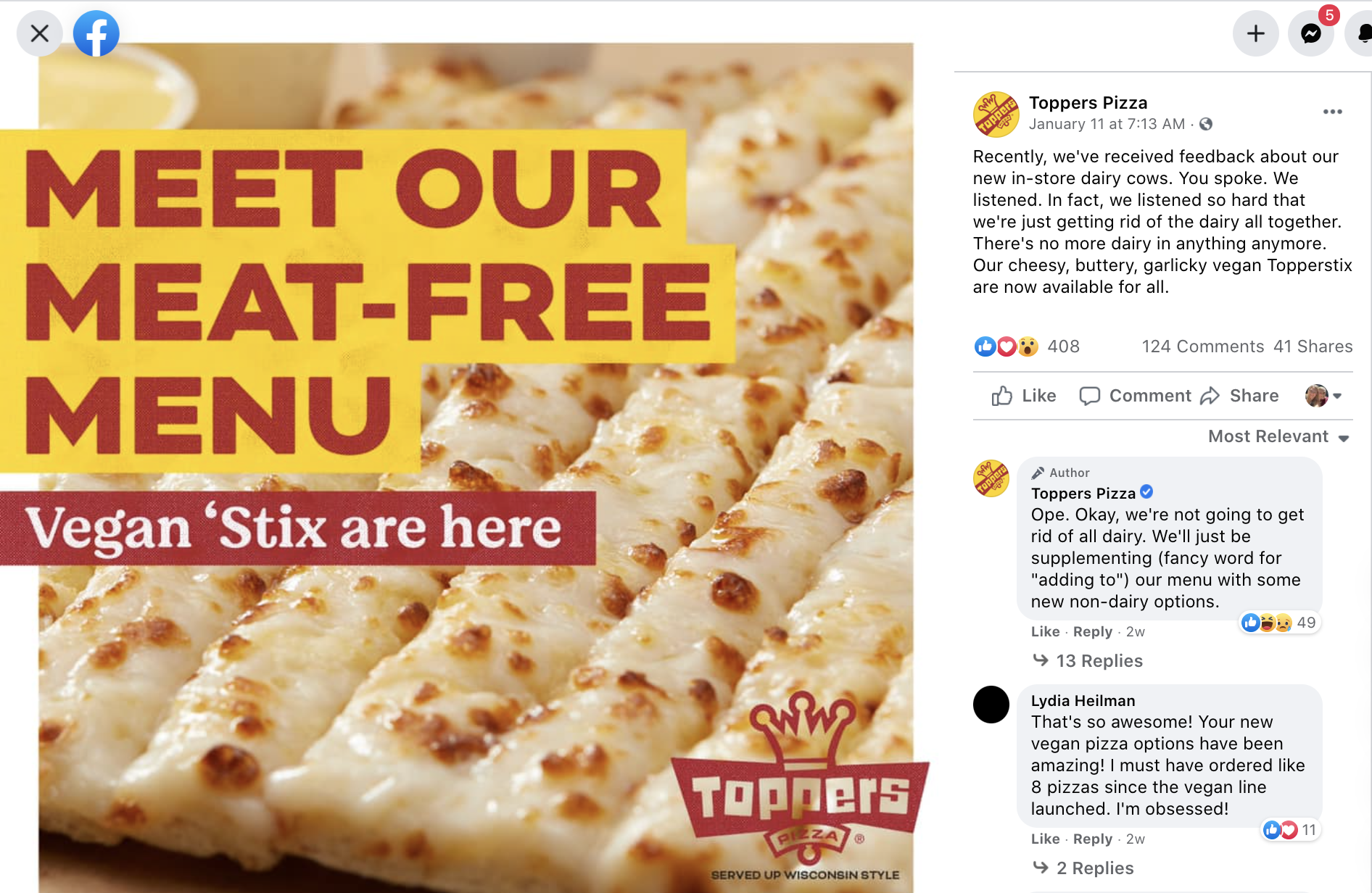 2 - Maximize ROI on Ad Spend with Geo-Targeting
Toppers Pizza relies heavily on geographic targeting in its paid social campaigns to promote its specialized menu offerings as soon as they are available. Using the Uberall platform, Toppers Pizza and its franchisees can show these mouth-watering new menu items to customers within each location's delivery radius, whatever that might be.
This is where geo-targeted paid social campaigns come in. We can serve up assets and images to people throughout the day that combine a delivery message with a new menu offering to try to encourage someone to say "OK, forget cooking, I might be tired of delivery but that looks great.
With geo-targeting, Toppers Pizza can maximize return on ad spend. Instead of marketing to people who might not be in a Toppers Pizza delivery area, the chain can narrow its focus and prevent a waste of valuable ad dollars. As a result of running highly targeted ad campaigns, Toppers Pizza saw 132% year-over-year increase in impressions from paid posts.
In addition with its new vegan menu offering, Toppers can target both geographically and by interest. In the example below, several interests are added to make sure this ad gets in front of the most ideal nearby audience – #Veganism #GoVegan #VeganNutrition #Plant-BasedDiet.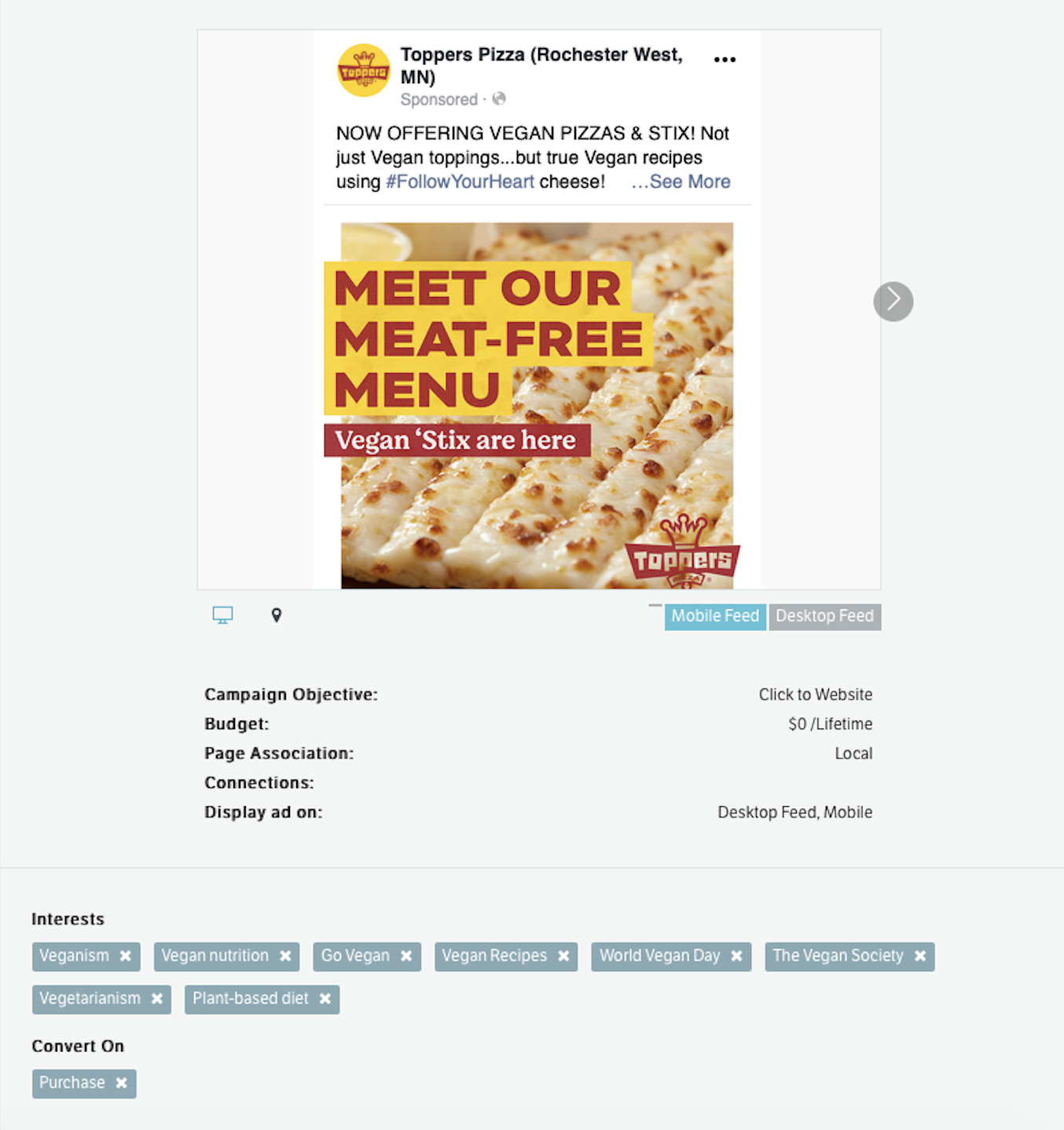 Learn how to put paid social to work for your brand on a local level.
3 - Start with Social Channels that Are Proven
Toppers Pizza knows that you have to incorporate paid social to receive a high return on marketing strategies for pizza restaurants. But putting your dollars to work on proven social channels, including Facebook and Instagram is critical. The algorithms and targeting on Facebook and Instagram are incredibly accurate when it comes to getting ads in front of the people that you want to reach.

Facebook and Instagram make targeting so easy. If you're working within a tight budget, paid social on Facebook and Instagram should be a cornerstone of your advertising strategy. You will get the return on whatever the objective is that you're setting.
4 - Leverage a Platform that Simplifies Paid Ad Campaigns for Corporate and Local Operators
Toppers Pizza formerly had many franchisees that weren't sure about paid social — they had already been investing in traditional media with what seemed like satisfying results. Toppers Pizza reduced the intimidation factor by introducing its franchise owners to the simple Uberall platform.

Owners began investing in paid social, seeing a return of 25 times on their ad spend investment. These early successes gave them the confidence they needed to run campaigns that successfully appealed to local audiences, such as football-themed promotions during football season.

Because of Uberall, our corporate marketing team is able to provide our franchise community with many different assets with different messaging points. We can tailor what we want for our stores and provide them with strong branded content.
The Takeaway
As pizza delivery fatigue sets in for consumers nationwide, marketing strategies for pizza restaurants will need to shift. Brands must innovate and bring new offerings and services to market in order to combat this fatigue. Paid social is one of the most effective restaurant marketing tools available in 2021, and Uberall can help.

We've helped many large brands to reach relevant local audiences, and we'd be happy to do the same for you. Send us a message today and let's start a conversation.

Learn how to do smart & targeted marketing for less with Uberall