Local search and local-digital marketing have traditionally been seen as the arena of small businesses, not brands and large enterprises. Brands have historically played on the field of national or global awareness and pursued local as an afterthought — if at all.
Yet it's almost exactly the opposite for consumers. Their primary experience of brands (online and off) is local and that's not just because roughly half of mobile queries carry local intent. Even with the recent, dramatic growth of e-commerce, the customer experience remains predominantly local, which includes "buy online pick up in store."
Multiple customer interviews identify issues and solutions
Uberall just released a new report called "Creating a Successful Global-Local Brand." It's the result of interviews with numerous customers, partners and other experts. Many are global brands, such as BP and McDonald's. And rather than focus on digital marketing tactics, the report seeks to unpack the underlying, operational issues that can mean the difference between local success and failure.
At the highest level, the report focuses on the challenges of managing location data and brand reputation in complex organizations, while maintaining brand guidelines and consistency. It's not easy.
Tools and software can help, but that's just part of the story. There's no one-size-fits-all operational answer to the question of how to do this. Process is a key part of the equation and different organizations have different approaches, depending on their structures, internal stakeholders and customer needs.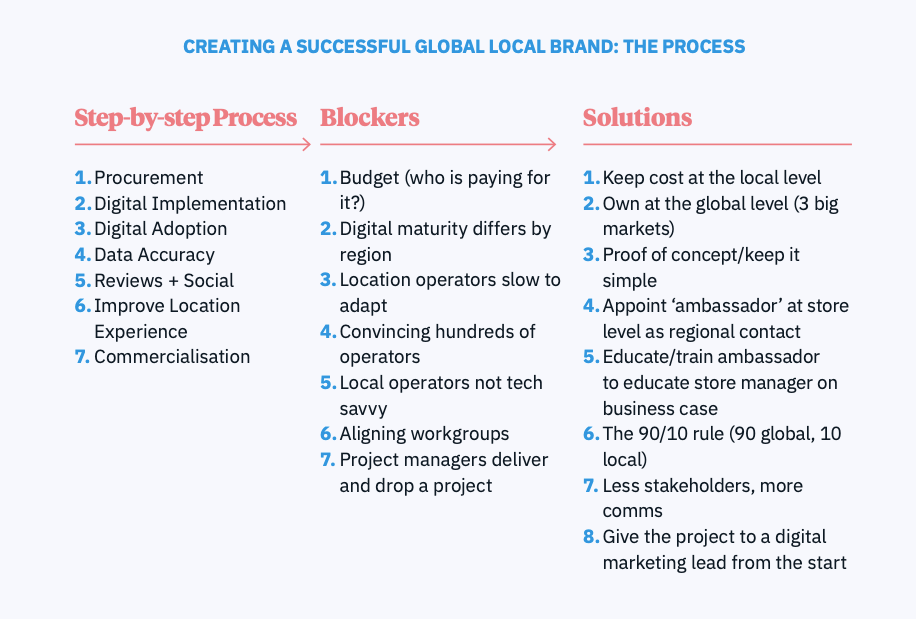 Improving local data accuracy and visibility in search results is a relatively easy win. Uberall has found that business-location data completeness and better accuracy can have a dramatic impact on visibility in search results. In addition, simply responding to customer reviews at the local level can improve conversions and, over time, increase search visibility.
Those insights are fairly straightforward and supported by considerable data. Yet many brands have not internalized them.
The devil is in the operational details
Where the discussion gets really interesting, however, is in the operational details, processes and organizational structures that enable successful execution of local-digital strategies and campaigns. Creating alignment between corporate, regional and local employees and operators is a major challenge, which involves negotiation, cooperation and transparent communication.
Indeed, the report points out, "Getting buy-in from location owners and operators, in terms of answering reviews, was identified as the number one pain point for project leads when implementing a successful global-local brand."
It goes on to provide concrete insights and the hard-won lessons of Uberall customers and outside experts as they discuss:
Building the local customer experience
How to develop local ambassadors to manage reviews and local social pages
Managing your local-social media presence
Avoiding over-complicating the process
How to approach the global vs. regional control issue
To access the full report, click here and complete the registration.