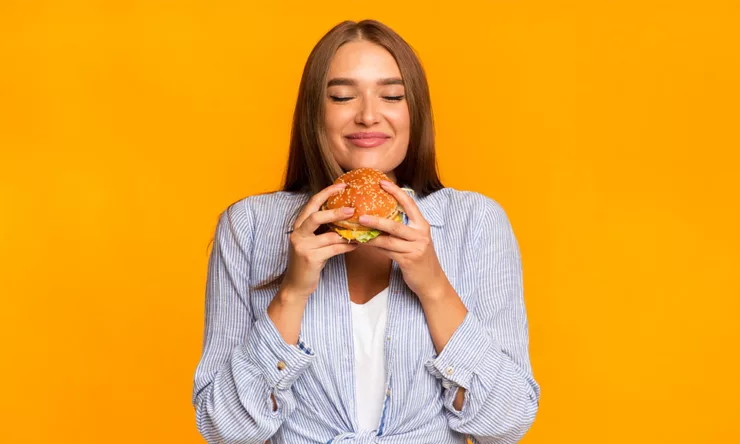 Blog
Multi-Location Restaurant Marketing Strategies to Attract New Customers
Restaurant marketing is a hectic proposition. Whether you are a restaurant manager or a corporate marketer, you are likely juggling a mix of activities. Attracting new business to your restaurant locations is one of your most important tasks, but it is also one of the most overwhelming.
First, you have the traditional techniques — flyer distribution, local radio ads, and coupons in the local paper. These restaurant marketing strategies might bring a few people in the door, but they just don't have the reliable return on investment (ROI) they once did.

That's because today's diners go online to find restaurants. They see localized ads on social media and conduct "near me" searches when they're craving a certain kind of food. Multi-location restaurant brands need to meet these high-intent local buyers where they are.
‌This article will get you started by highlighting some of the hottest restaurant marketing trends, and how your multi-location brand can respond for optimal success.

The State of Restaurant Marketing
Did you know that 35% of diners find restaurants through online reviews and websites? Social media is a big player too — the top Instagram hashtag is #food, which also garnered 1.13 million mentions on Twitter in 2020.
‌And don't forget about Facebook. Toast reports that 92% of restaurants use the site for branding and restaurant marketing. It's a good thing, too, since diners are more likely to leave restaurant ratings on Facebook than on other sites.

Keeping it local is key. According to a recent study, local Facebook pages got 72% of all customer engagement. And when you look at multi-location brands specifically, the difference is even more dramatic. More than 84% of all customer impressions happen on location pages, rather than the brand's corporate site.

Restaurant Marketing at a Local Level
Digital and local restaurant marketing doesn't have to be mutually exclusive. Here's how restaurants are making local work while embracing the drive toward digital.

Mobile Local Search Trends in Restaurant Marketing
‌Today's diners make more informed restaurant choices than ever before. Gone are the days of ordering from a pile of menus on the kitchen counter. Today, when hunger or thirst sets in, consumers reach for their smart devices and search for what they're craving.

Non-branded "near me" searches, like "pizza near me," increased by 113% from 2019 to 2020, and they're still on the rise.

The question is, when people run these searches for the kind of food you sell, will your closest location show up prominently?‌
Many multi-location restaurants are competing for the same high-volume search terms like "best vegetarian restaurant near me" or "restaurant open now." To rank for these terms, you need to do everything you can to make sure your locations stand out. That means touching on the five most important factors for proximity search:
Complete and accurate listings for every location. Google prioritizes listings with no errors or inconsistencies. Completeness can also help with rankings as elements like your menu can help a restaurant rank for more specific searches like "chicken sandwich" or "breakfast burrito."

Strong reviews and social signals. This is especially important in ranking for searches like "best pizza near me" as Google will only show restaurants with four plus stars when the qualifier "best" is used in a search.

Citation volume. This is the number of online mentions of your location. Multi-location restaurants with more citations show up higher in local search.

Local social. Localized social media posts demonstrate your relevance, engage customers, and serve as relevant mentions of your business for SEO purposes. Google Posts are especially important, as keywords from a Google Post often serve as a "justification" for specific search terms like "Sunday Brunch."

Local webpage signals. Google's algorithm wants to see relevant local content for each of your location's webpages. This includes consistent location data including hours of operation, address, business name. As well as photos of the actual location and additional content on local offers and specials.‌
Google Post "Justification"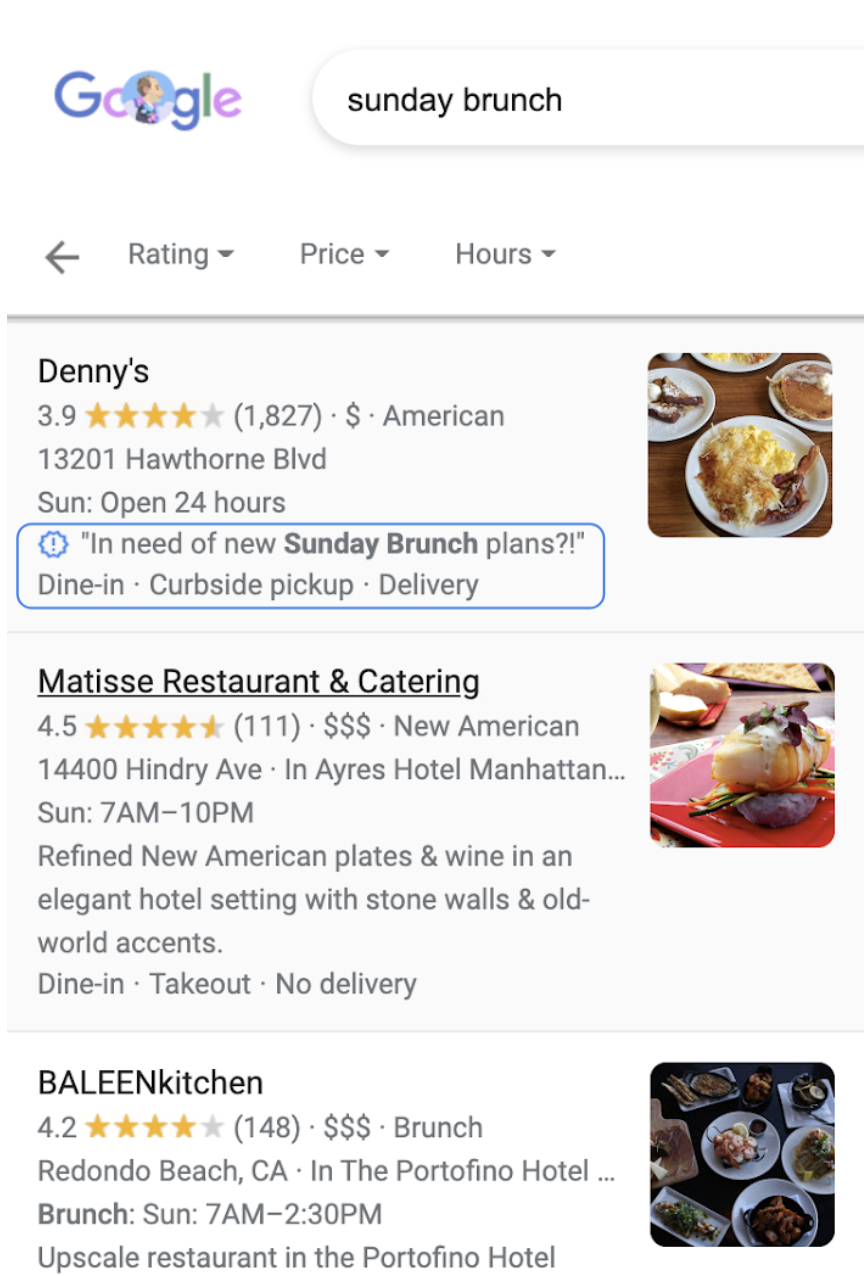 Digital Ordering and Reservations
The COVID-19 pandemic introduced diners to the ease and convenience of online ordering. It's a grassroots process that starts with local searches. Multi-location chain restaurants can easily get in on the act with a targeted restaurant marketing strategy.

Consider the customer who's looking for a hot local breakfast spot. They'll start out on Google, Yelp, or maybe even Apple Maps or Waze. Or they might activate voice search and ask, "What's the best breakfast restaurant near me?"

Three trends are taking over the results for this kind of search:
Mouth-watering photos, almost Instagram-like

A more immersive experience

Easy and visual menu access
Here's just one example featuring Google 3-Pack (top three) results:
Search query: "Mexican food near me" serves up a Google 3-Pack Carousel.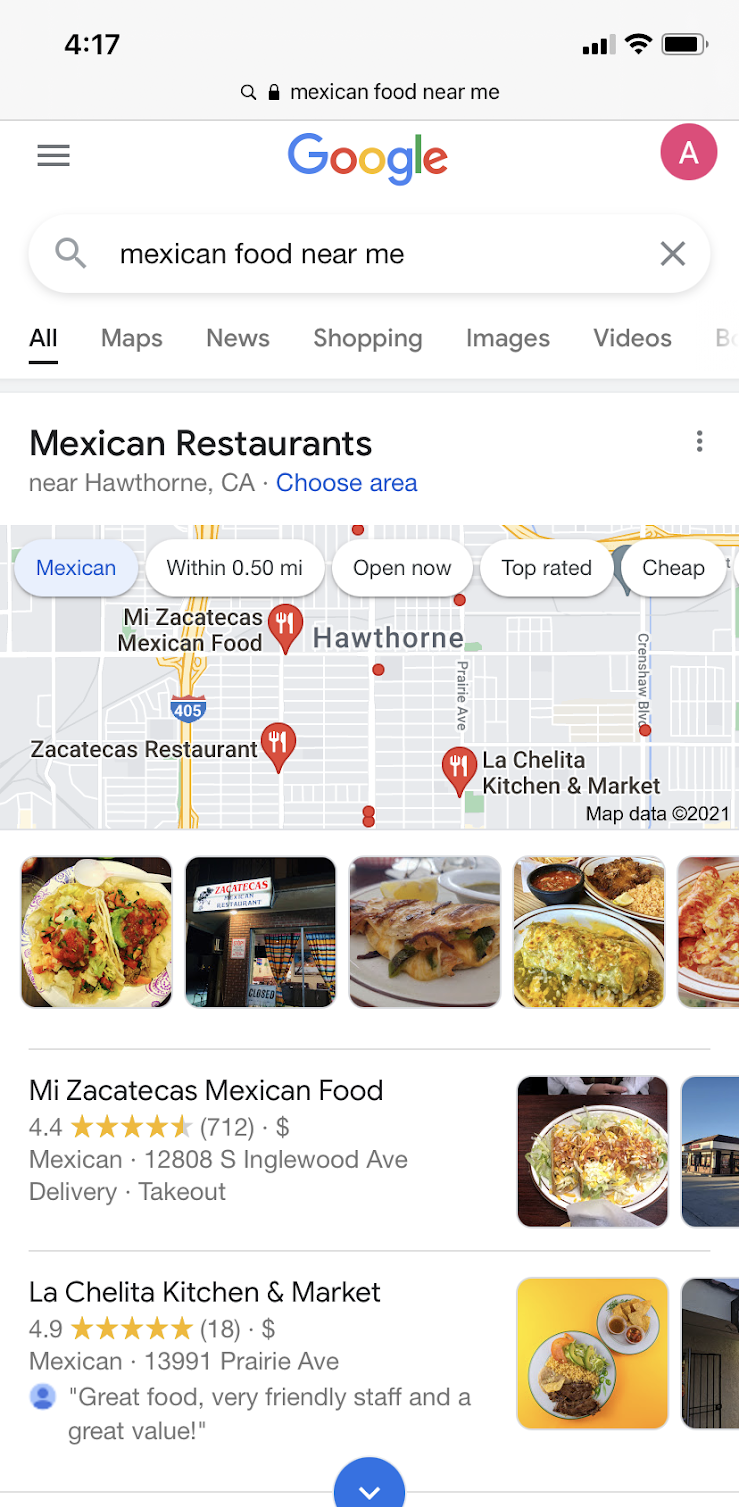 Notice the appealing visuals combined with star reviews for each location. Now, look at these results from Google Maps:
Menu on Google Maps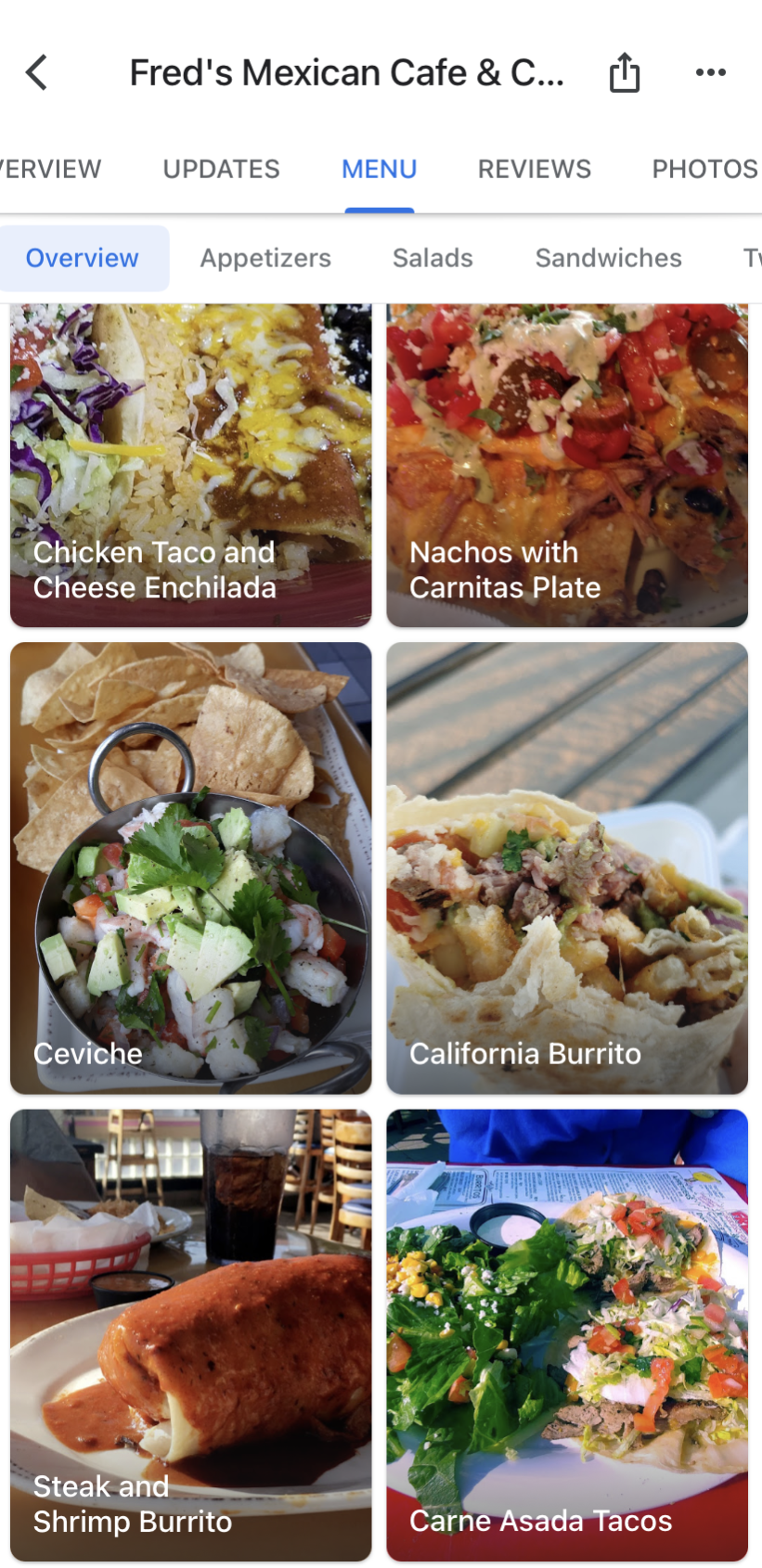 For each of these results, diners can order online conveniently or view the menu — again, with pictures!

Remember, searchers want to see the menu for a specific location, not for your entire brand. It's extremely important to have your site-specific menu on each local Google My Business listing and local page, with an easy way to order online.‌
Diners love to support restaurants by ordering directly vs. through third party app, so it's good to have a convenient online ordering system on your local webpage. You can also partner with services like GrubHub and DoorDash, so people can order directly from your GMB listing.
Reviews: The New World-Of-Mouth Marketing for Restaurants
World-Of-Mouth has always been one of the most effective restaurant marketing tactics, thus the BOGO campaign was born. Today's word-of-mouth marketing has gone digital in the form of reviews. When customers review the restaurants they visit, everyone wins. Your existing customers get to help others. Potential customers get to see what it's like to visit one of your locations, and you get the visibility that comes from great reviews.

An amazing 97% of customers read reviews for local businesses, and they'll spend 31% more at locations with positive reviews. Just one extra star on Yelp can get you 5% to 9% more business.

Take Uberall client Luna Grill, for example. When Luna opened its new location in Culver City, California, the location handed out cards with team members' names on them. Management incentivized team members to solicit reviews by offering a prize for the most mentions. Thanks to this effort and similar strategies, Luna Grill enjoyed a 262% year-over-year increase in reviews.
Luna Grill Culver City Reviews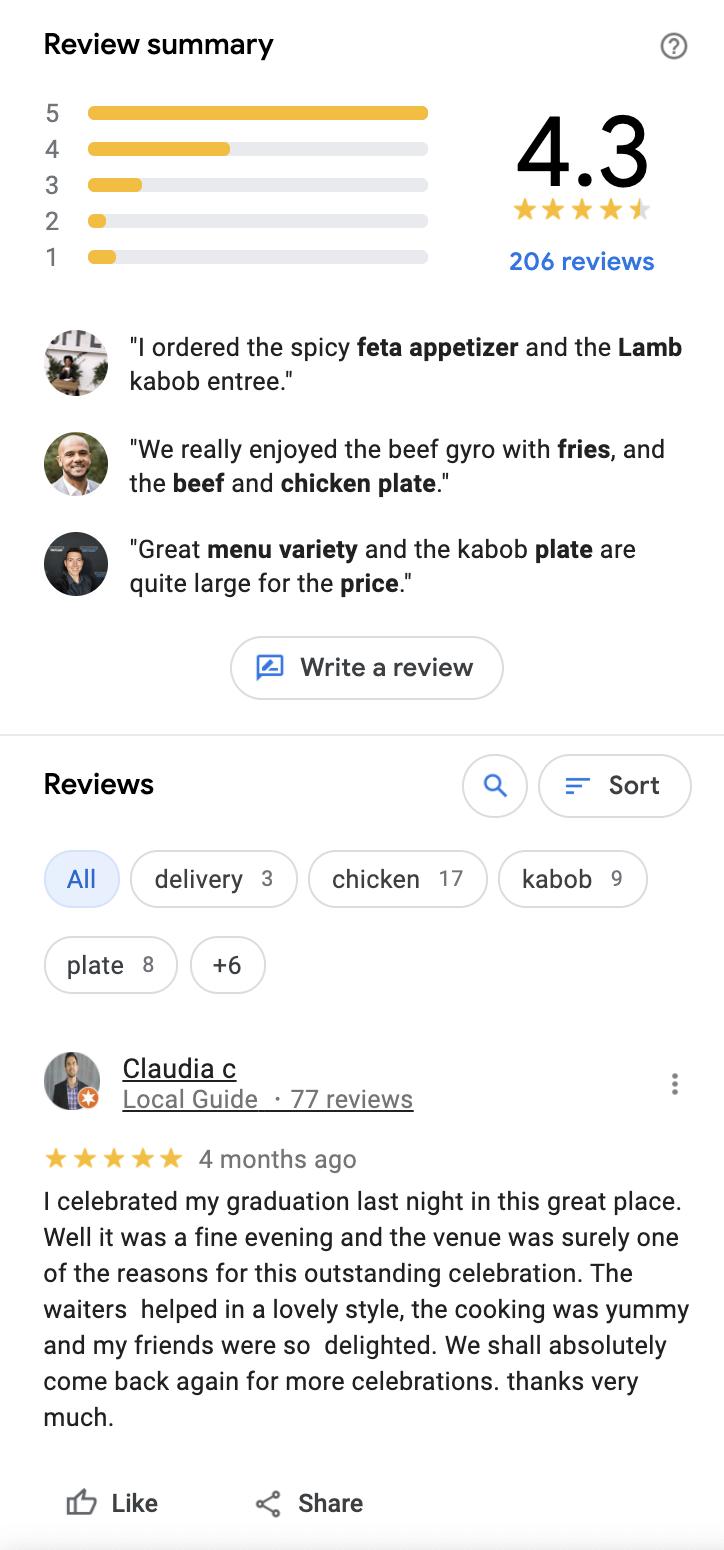 Social Media Trends in Restaurant Marketing
In recent years, restaurants have experimented with all sorts of ways to promote themselves on social media. These are some of the most successful.

Localized Social Media Posts With Centralized Control
Restaurant marketing is all about local relevance. Make sure each of your locations has its own social media presence where it can engage with local audiences and speak to their interests.

Today's marketing tools make it easy for national brands to maintain consistency while handing off some of the content for these local pages. For example, Uberall has found success in having some creative content in a centralized library. Locations can then choose the campaigns they want to localize and run in their individual markets based on what will work best for their unique audiences.

Uberall also allows national brands to post on local restaurants' behalf, using dynamic fields to customize the details. This localizes national restaurant marketing campaigns and helps them to feel more relevant to nearby customers. This video gives an example of two coffee shop locations in the U.S., one in a hot climate and the other in a cold climate. One is running a social campaign promoting Iced Lattes and the cold climate campaign is promoting a hot coffee drink.


Paid Social Media

When all restaurant locations have their own social media pages, they can easily step into paid social advertising at a low cost and get a great ROI. Uberall has helped several clients run local campaigns for as little as a few hundred dollars, generating a nice lift in sales very quickly.

The midwest-based chain Toppers Pizza is the perfect example. Working with Uberall, Toppers created paid campaigns that locations could choose, customize, and schedule in an easy-to-use interface. The effort resulted in a 25X increase in ad spend ROI.

User-Generated Content
User-generated restaurant marketing content is one of the biggest social media trends in 2021, and that's great news for restaurants. After all, your guests already take pictures of their delicious meals and creative cocktails for their Instagram stories. Why not use those photos to drive business?

Create a branded hashtag and encourage customers to use it when they share their photos. Repost some of the best ones on your page and tag the customer. Their pride could encourage them to tag friends and family, too!
‌Or, for some extra fun, place a brand-related knickknack somewhere on your premises. If someone takes a photo with it and posts the photo using your hashtag, they get a small prize or contest entry.
Keeping It Local: How Multi-Location Brands Crush Restaurant Marketing
Restaurant marketing never stands still. Today, it's all about communicating with local audiences. Multi-location brands are creating customized social campaigns for each audience. They're upping their focus on reviews and creating localized digital ordering campaigns, complete with high-quality images to entice viewers.

These techniques help multi-location brands stay relevant in the age of the "near me" search. Hop on these trends to gain a competitive edge, and keep an eye out for the next big thing. If you need any help, feel free to reach out — Uberall is here to lend a hand.

Ensure your restaurant locations are showing up during high-intent searches with Uberall CoreX.