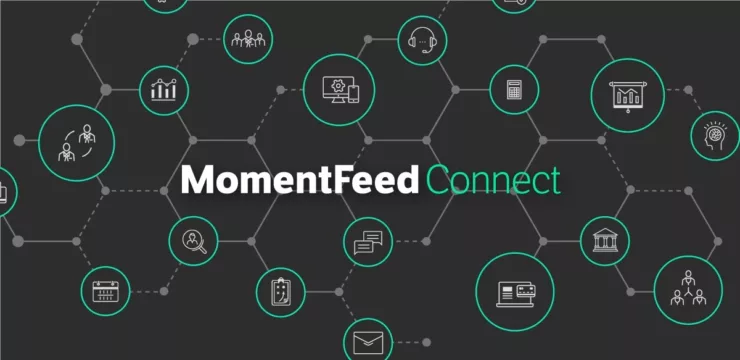 Blog
MomentFeed Connect Delivers The Complete Picture
Creating an awesome mobile customer experience means delivering information from across the enterprise to the touch-points that consumers use the most. Pulling that information together is no easy task - personalization data from a CRM system, order information from an invoicing system, product availability from an inventory system, the list is endless.
That's the reason MomentFeed created Connect - a completely customizable, two-way, API and workflow framework - to empower multi-location brands to create world class customer experiences.
Building deeper connections with customers means generating more data about them and gathering intelligence that can help marketers tailor their spend to maximize impact.
This two-way flow of data can reveal unprecedented insights when combined with other enterprise systems and help marketers with better attribution. Additionally it offers a view into omni-channel behaviors and cross-device usage.
As MomentFeed's platform is the system of record for facts, attributes, and media that uniquely defines each of your business location, that data is now available for use everywhere in the business - your mobile app, your real estate planning systems, franchise management systems and more.
With MomentFeed Connect, retailers, restaurant chains, banks and other multi-location businesses can become more responsive to their customers, build brand loyalty and inspire repeat purchases.
MomentFeed clients can use Connect to:


Create a Differentiated Customer Experience:
Connect provides the ability for brands to leverage data from other systems in real-time. You'll be able to pull product availability from inventory systems, access photos from media libraries, and even enable customers to place direct orders.
For instance, through our Connect partnership with Olo you can enable customers to place direct orders or make reservations from every digital storefront. Ensuring every individual restaurant is capturing the most orders. You'll also be able to attribute the source of those orders, improving marketing intelligence and spend decisions.
Assign In-Store Sales Attribution:
MomentFeed Connect enables clients to see the performance of specific ad campaigns as well as correlate organic search visibility with sales and transactions. Yodlee data can give clients competitive insights on sales, transactions and "share of wallet"; benchmarking sales against competitors.
This combination of marketing success and sales data delivers a complete picture of how mobile programs directly drive sales and how that compares to the industry as a whole.
Boost Online Reputation:
Connect enables MomentFeed clients to aggregate reviews and direct customer inquiries from Facebook, Google, Yelp, TripAdvisor and more. Your customer care groups will gain access to those customer communications in their preferred systems, so any inquiry that needs escalation can be delivered to the right person.
You'll enable cross-departmental collaboration by engaging social media teams with teams responsible for Salesforce's Service Cloud for customer care and Zendesk's Customer Service applications. They'll be able to turn online reviews into authentic conversations about specific customer issues.
Immediate and sensitive responses go a long way toward improving online ratings and building more loyal customers.
Gain More Customer Insight:
Examine metrics from different systems rolled together in a comprehensive dashboard. You'll be able to link online and offline channels to in-store sales on a location-by-location basis, see ratings during peak hours, revenue changes as marketing campaigns run and much more.
By combining mobile marketing and operational insights you'll have everything necessary to make recommendations on a per-location level, franchisee level or regional level.
"The Connect two-way API integration enables distributed organizations with dozens or hundreds of consumer-facing locations to quickly respond to customers as well as gain critical insights into their shopping patterns and behaviors". Robert Blatt, CEO of MomentFeed.
How Does It Work?
Information is managed through a robust, easy to configure workflow process and can be exchanged with transactional and reporting systems. This is a organization-wide integration with enterprise-classreliability, security and scalability.
Multiple classes of applications can work with each part of MomentFeed's platform. The information from these sources adds operational efficiencies, behavioral and attribution insights, and most of all enhance every step of the mobile customer journey.
For additional information on MomentFeed Connect, please don't hesitate to contact us!