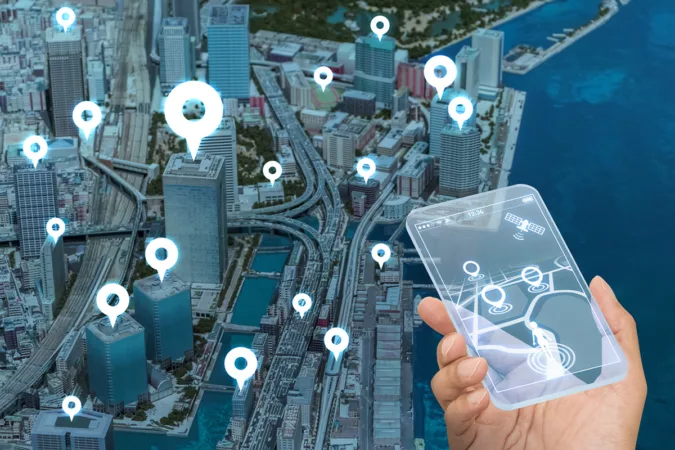 Blog
Location-Based Marketing: Part III
In the final chapter of our whitepaper, we explore the nature of "location-based engagement" as a new marketing and CRM channel.
---
Location-Based Engagements - The New Channel
---
To this point, we've referred to location-based services as its own industry, marketplace, and channel. It truly is a large space with a variety of B2B and B2C companies. For the purposes of this paper, we're focused on consumer-driven services that are powered by a combination of mobile and web-based applications, particularly via smartphones. Pursuant to leveraging LBS for the purposes of marketing, we'd like to further narrow the opportunities.
Location-based services provide a number of ways to reach consumers, but none is more compelling than the Location-Based Engagement (LBE). Amidst the broader LBS space, this represents an entirely new channel on par with that of billboards, digital out-of-home, and point-of-purchase…with the notable addition of making a two-way connection. It is a new way for consumers to engage with brands and products and for brands to connect with consumers—in the moment.
---
What's Location-Based Engagement?
---
Broadly defined, a location-based engagement is any action a consumer takes to connect or interact with a specific geographic place via their mobile device. These can take many forms, but each shares three qualities: time, place, and action. The latter differentiates the LBE from simply being present, whereby one might receive unsolicited, irrelevant, and disruptive ads based on their location. With an LBE, one must voluntarily engage with the place e.g. a place of business, building, venue, etc. This action grants a measure of permission on the part of the consumer, not unlike making a search query or clicking on an ad but more specific and timely, which opens the door to a branded response.
Regardless of the form it takes, each LBE happens in the context of a unique moment i.e. a personal experience attached to a specific place and time. These moments are where marketers can find opportunities to connect and participate in that moment — to become a meaningful part of it.
The most basic type of LBE, of course, is the checkin, where a person simply states their presence or associates him or herself with a place. They are saying, "I'm here" in this moment, which soon becomes, "I was here" in a past moment. For a relevant marketer, this amounts to an open door as well as some incredibly valuable data (consistent with privacy settings, of course). Segmenting and ultimately serving customers based on their LBE history will be quite valuable for all parties.
Below, we explore how the LBE channel is evolving by categorizing the various types of engagements with examples of the services that offer them and how they might be valued. By no means is this list comprehensive.
---
Types of Location-Based Engagements
---
The Social Checkin: At the moment, this is the most popular type of LBE and serves as the central feature of Facebook Places, Foursquare, and Gowalla, whereby a person's checkin can be broadcast to their social graph or, depending on privacy settings, anyone who happens to be listening. Twitter Places also offers a de facto checkin by enabling users to associate a tweet with a specific place in real time. These are simple statements of presence, the primary purpose for which is to alert others. In this sense, the actual location is more of a means to an end. It is coincidental, which makes this a shallow engagement in terms of the location itself yet still valuable due to the exposure it generates with a person's social graph. As commoditized as checkins will become, each and every one can be valuable to a marketer.
The Deep Checkin: The simple act of checking in represents a shallow engagement. While it is magnitudes greater than a non-checkin, there are many ways to go deeper. With Foursquare, one can leave a tip about the food, service, or local knowledge. Most recently, it added a photo feature. With Gowalla, one can include photos or design "Trips" that string multiple locations together with a common theme. Users can also "Highlight" locations as a way to classify them as a favorite. And with Facebook Places, users can express positive sentiment by clicking the "Like" button, leave comments, and add photos. These additional steps signal a deeper connection with the location and offer corresponding opportunities to respond and reciprocate. These types of engagements are more valuable and ought to be measured and qualified accordingly.
The Game Checkin: Location-based gaming is quickly becoming its own category of LBS. Given the introduction of Facebook Places, this space is certain to grow as companies seek to differentiate themselves and go beyond the checkin. Non-LBS companies may also export virtual games to the real world using Facebook Places as a gateway and platform. In addition to the geo-social apps that provide simple game mechanics, today's leaders in LBS gaming include MyTown, Whrrl, and SCVNGR. Each offers a different type of game that necessarily involves specific locations, many of which are places of business. By integrating real-world places into mobile games, these services facilitate not only deeper but extended periods of engagement.
The Solo Checkin: It is possible to check-in to a location without sharing that information with anyone but the app maker and possibly the location itself. The CauseWorld app from ShopKick does exactly this. The incentive is driven by points (Karmas) that can be redeemed for tangible rewards such as planting a tree or donating a book. This is a deeper engagement than a social checkin because the location itself is the primary objective (notwithstanding the rewards). The absence of social sharing may reduce the net value of this type of engagement, but in the case of CauseWorld, users can volunteer to make it social by pushing to Facebook. Overall, the solo checkin (with the social option) has more mainstream potential and more readily lends itself to loyalty-rewards programs.
Last year, Shopkick launched its eponymous application, which automates solo checkins through a proprietary hardware solution. Select partners such as Best Buy integrate these application-sensing devices to their stores, which provide both accuracy and accountability. When a user has the Shopkick app open, it automatically checks them into the location when they enter the store. Users can then earn rewards points (kickbucks) and gain access to promotions.
The Product Checkin: Smartphones are changing how consumers can interact with physical goods. For example, Stickybits enables one to scan a barcode using a phone's camera, which prompts access to additional information, and MyTown has made product scanning part of its mobile game. In the case of Stickybits, this unlocks content that might be supplied by fellow consumers in the form of critical reviews, or the company itself can attach coupon offers and other promotions. More often than not, these product engagements occur at locations where the products are sold, hence the location-based engagement.
The Commerce Checkin: Services like Blippy enable one to share their purchases with friends. When this occurs at a physical place (as opposed to ecommerce), it's a clear form of location-based engagement. For this type of LBE, the purchase itself is not the engagement, per se. Rather, it's the action, automated or not, of sharing that information with friends and associating it with a particular place and time. Ultimately, mobile commerce applications will enable direct purchases from a given place of business, such as a Starbucks, where the user can choose to share it with their social graph, people in a close proximity, or the broader public.
The Moment Capture: This type of LBE is driven by content creation and information sharing. It consists of any combination of text, photo, audio, or video that is expressly associated with a specific place in real time. This content ostensibly refers to the location or what's happening there in some meaningful way, such that it is geographically relevant. Through the Twitter Places feature, users can capture moments and engage locations with rich-media content that can be discovered accordingly. The problem with Twitter is the level of noise and geographically irrelevant tweets, which just happen to be geotagged. Filtering for relevance is a major challenge. While Facebook has clearly moved in this direction with photos, the vast majority of that content will have limited access due to Facebook's closed-network structure. Pegshot is a startup that enables users to "peg" moments to a specific place with photo and video content. These methods of location-based publishing will experience tremendous growth and provide ample opportunity for advertising and branded content.
---
Conclusion
---
Will location-based services go from hype to the Holy Grail? Despite the implied irony of such a statement, we're confident it will come closer than anything we've seen thus far. How long will it take? That depends on a number of factors. Chief among them is how quickly brands move to pioneer and develop this new channel. Indeed, the success of LBS will rely to some degree on large brands and local businesses taking the initiative to activate the channel by encouraging their customers to participate and engage.
One of the more compelling qualities of location-based technologies is that brands can leverage the existing LBS providers, particularly Facebook Places, while developing and promoting their own applications that offer one-of-a-kind experiences and value propositions. We're seeing the first examples of this with companies like Pepsi, Condé Nast, ESPN, and Major League Baseball. In many ways, these standalone applications complement or integrate with other services, so there is truly a rising-tide effect for the entire industry.
Unlike social networking or microblogging, however, it's doubtful that dominant players will emerge as they have with Facebook and Twitter respectively. This is partly due to the fact that location is now offered as a feature in these platforms, which may satisfy LBS needs for many. It also has to do with the variety of location-based services available and the potential for viable niche players, especially if location becomes the Holy Grail of marketing and can be monetized accordingly. In this regard, LBS is less like social networking and more like the publishing industry: a handful of big players, hundreds of mid-sized players, and thousands of small ones. Why? Because among the things that location is changing are the competitive dynamics of web-based businesses.
What are the key takeaways for agencies, marketers, and large brands?
1. Understand the LBS space as a whole, as opposed to focusing on one or two services
2. Monitor and measure the entire LBS space
3. Develop holistic, cross-platform location-based strategies
4. Create new ways to engage consumers in the moment
You can also download the full Hype to Holy Grail whitepaperas a PDF