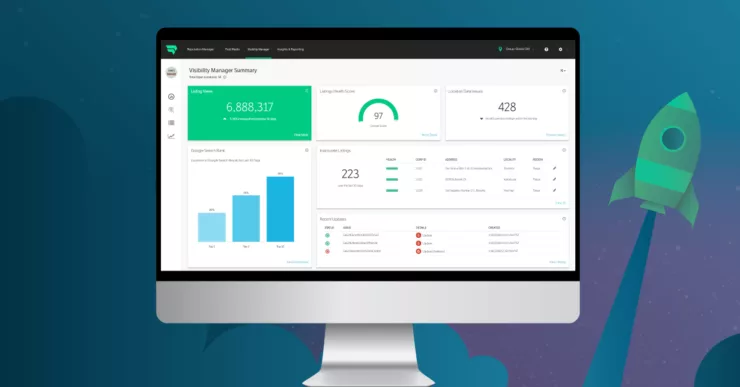 Blog
Introducing Visibility Manager
Make Your Brand Every Consumer's First Choice On Mobile
Our world is changing, right between our palms. Consumer reliance on mobile has grown so much that mobile now influences over 56% of all in-store sales. When deciding where to shop, dine, bank, or play, consumers rely on their mobile devices to provide recommendations of places nearby - these recommendations are made by Siri, Google, Facebook, Yelp and others based on the information available for your brand's nearest location. It's never been more important to be found when and where consumers are looking, and brands with a local presence have an advantage over ecommerce stores - their nearest location can be recommended first.
Today's successful businesses know that they must appeal to and influence consumers on mobile. By leveraging the digital presence of their many locations, multi-location brands have a huge advantage (over both sole-proprietors and ecommerce giants like Amazon).

Mobile Visibility is Key to Driving – and Increasing – In-store and Ecommerce Sales.
Improving mobile visibility will significantly drive more online-to-offline activities and sales, as well as improve the overall brand experience for consumers. Until today, increasing visibility has been a combination of technical "Local SEO" techniques and enterprise Location Data Management software and services.
MomentFeed's newest innovation, Visibility Manager, simplifies mobile visibility. It helps brands achieve maximum visibility leveraging all their digital storefronts. It features improved location data publishing, reporting and centralized management capabilities, allowing brands to keep all their social and directory pages updated across more than 310 mobile and social networks, maps and internet directories.
Consumers expect consistent and accurate business information when they look for the products or services your brand offers. By significantly improving the precision, consistency and the quality of each store's location data across the most-used web and mobile services, Visibility Manager ensures consumers are provided with a great mobile consumer experience, making your brand's nearest location every consumer's first and most obvious choice on any mobile device.

Location Data Changes All the Time
Consumers are ten times more likely to interact with a page that represents a location than they are with your brand's website, so ensuring this information is up to date and accurate is critical for mobile consumer engagement.
Visibility Manager provides brand managers and digital marketers alike with unique insights into the health of each store's digital presence and its search engine ranking across multiple keywords that you care about.
It also identifies location information inconsistencies such as data changes, errors, conflicts, and duplicates that can hinder or restrict search rankings as well as confuse potential customers. Visibility Manager will update all of this data as quickly as each network supports, including real-time updates and corrections.
Visibility Manager empowers multi-location brands to ensure their nearest business location becomes the first choice for a nearby consumer, and also helps brands understand what locations are being recommended by search engines, mobile apps and voice assistants. This helps brands decide what locations require paid ad spend to create more visibility and which don't - potentially saving tens or hundreds of thousands of dollars a year.
The new product also features the ability to run Visibility Assessments, which compare location data in the MomentFeed "system of record" to the same information 'in the wild' and highlight inconsistencies that haven't been resolved in 30 days. Assessments show trends, improvements and highlights potential issues with mobile visibility so they can be addressed. Assessments also measure discrepancy resolution time, giving marketers insight on how long inconsistencies were visible to consumers. Visibility Manager is part of MomentFeed's Proximity Search Optimization (PSO) platform, which also includes Paid Media Manager, Social Media Manager, Location Finder, and Reputation Manager products. When used together, these products manage the entire mobile customer experience, from awareness to transaction, to loyalty.
The PSO platform empowers centralized marketing teams to visualize their top and bottom performing locations, and helps distributed field managers and franchisees take more control over their mobile presence - with central oversight. The PSO platform manages every location's mobile presence - on the most popular consumer networks including Facebook, Instagram, Snapchat, Google, Bing, Yelp, Waze, and hundreds more.

Learn more about how MomentFeed can help your business boost its mobile visibility