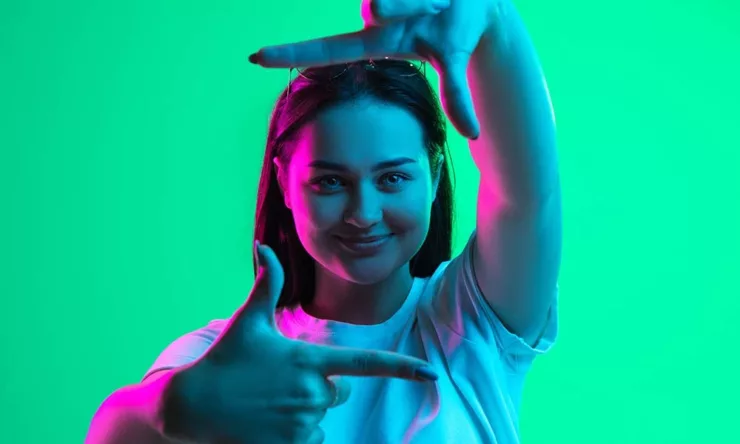 Blog
How Multi-Location Businesses Can Level Up Digital Customer Experience
It's easier for people to interact with your brand today than ever before. They might find a product on their mobile device, research it on their desktop, schedule contactless pickups through an app, then follow up through a chatbot if they have questions after their purchase.
According to a report by Acquia, 84% of people reported using digital channels more frequently in 2020—a trend that isn't likely to slow down any time soon. But this doesn't negate the importance of a good customer experience. Consumers want a better experience and 54% are willing to pay more to get it, according to an Uberall consumer survey, The Hybrid CX Advantage.
Today's businesses need to deliver seamless online and offline experiences that delight customers. In this blog, we'll look at what exactly digital customer experience is and what you can do to improve yours.


What Is Digital Customer Experience?
Digital customer experience is exactly what it sounds like: the experience people have when they interact with your brand online. This experience can happen across multiple channels — email, chatbots, websites, search engines, mobile apps, digital ads, social media, and countless others. These channels are all touchpoints where customer interaction is possible.
Some examples of digital customer experience include:
Interacting with a tweet from the official corporate account
Conducting a mobile search that drives visitors to an online store
Or opening an email with a promotional offer
Even though an interaction might start with a digital touchpoint, it is not where all customer journeys are completed. Many customer journeys jump between multiple channels, both online and offline. For example, if someone finds a local business through a mobile app like Nextdoor, they might click driving directions and then visit the business in person to complete their purchase. They might also make a purchase online for in-store pickup. If the experience with the business goes well, the customer might go back online to rate their interaction and review the business. online.
Creating a seamless experience across all your digital and physical channels is key to providing a stellar customer experience. This fluid hybrid journey, where customers jump from online to offline may be challenging to perfect, but for businesses that can reduce friction and get it right, there are big rewards.

Know the 14 controllable factors that help you get found, be chosen and drive loyalty
Mapping Your Customer Experience Journey
To understand the journey your customers take with your brand, you have to map it out. There are, broadly speaking, three phases to a hybrid customer journey that span digital and physical touchpoints: getting found, being chosen, and driving loyalty.
Each of these steps needs to be mapped and managed differently, starting with the "find" phase, and all three affect one another in a cyclical pattern.
In the real world, if people can't find your business, they can't buy from you. If they find you and there are barriers to buying your products, they will go elsewhere. And if they buy from you but have a bad experience or encounter trouble with customer support, later on, they'll be much less likely to return.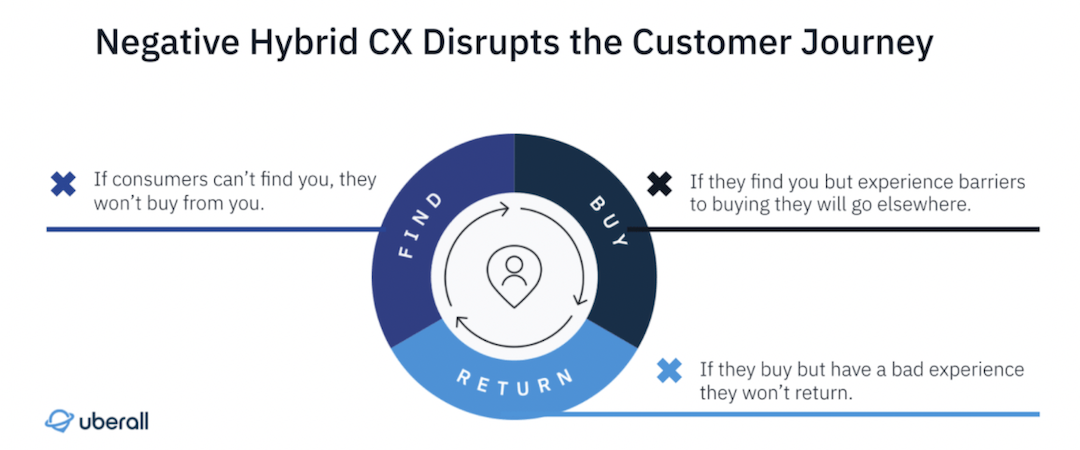 Your physical and digital customer experience includes every interaction people have with your brand, as well as how they feel during and after their transaction. You want the entire experience, from the time they find you to after they buy, to be as seamless and stress-free as possible.
With this in mind, you can start to build your physical and digital customer experience strategy by mapping out the touchpoints that customers will use to find you, buy from you, and hopefully become repeat customers that spread the word about your business. Each phase will have different areas to map and monitor.
Getting Found
More available avenues for people to find your business will lead to a higher likelihood of discovery. That said, no company has the time and resources to be everywhere at once. It makes more sense to figure out where your target customers live online so you can get to the forefront of that space. Here are where the majority of people go online when they are looking to purchase a product or service:
Google searches
Mobile apps like Waze Maps, Yelp, and Nextdoor
Social media platforms
Review sites
Standing out on these digital channels should be an integral part of your digital customer experience strategy.
Ranking high in Google searches, especially for local businesses, is a good example of this. This way, you can position yourself perfectly to fill a specific need at the moment someone has that need. For instance, if a person needs a mechanic and searches for "mechanics near me," good Google reviews, a high overall rating, and a complete business profile can put any local mechanic on page one of their search results, making them more likely to visit the site. Investing in paid ads can help too, especially for a new location that is building a local reputation in a new market.
People may also check review sites like Yelp, or Google reviews for your business page, to see what others think. This is when the "return" phase feeds back into the "find" phase — the more favorable and honest reviews you have, the more likely people will choose you over the competition. And the way to get those reviews is by providing exceptional customer service during a person's time with your company.
Being Chosen
When people were asked about what makes a great experience with a company, customer service was the number one factor aside from price. Someone's experience with your brand during the buying process, even if they don't speak to a representative, is part of that.
Once people have decided to buy, you want to make the process simple. One-click purchasing, easy shipping options, and intuitive website design all support that goal.
Even if someone visits your site but doesn't immediately buy, follow-up emails or chat messages that make purchasing easy can convince them to follow through on that product they were considering.
Minimizing steps by adding elements like "click for directions" or "click to call" widgets to your Google business listing can also put you ahead of the competition. These make it a snap for people to get more information on your product, place an order, or come visit your store.
Driving Loyalty
Ideally, people will have such a good experience with your brand that they'll not only choose to come back, but they'll tell their friends about you, too. That could mean following your accounts on social media or leaving good reviews for others in their "find" phase to consider. Since people often ask those they know for recommendations, referrals like this are a highly effective way to bring in new loyal customers.
This process could begin right after an online appointment is booked with a simple "Thank you" message and spans the entire range of experiences they have interacting with your brand. Offering value ads to service and offering flexibility like letting customers opt for in-store pickup or delivery, also promotes a good customer experience.

4 Ways To Improve Your Digital Customer Experience
The core of a good digital customer experience is aligning a person's experience with their expectations. Or, even better, exceeding those expectations.
All of your digital touchpoints should function in a way that is consistent with your brand and with one another, providing a positive experience for the person using them. There are several concrete ways businesses can improve digital customer experience, from investing in technology to establishing best practices.
Streamline Your Website - For a location-based business, it is becoming more important to provide contextually relevant information online. Your local web page should provide information about local attributes, inventory, menu, and more. Your webpage should function more like an e-commerce site, providing all the detail necessary to help a potential buyer get the information needed to confidently take the next step.
Stay Up to Date - While the latest tools and tech aren't necessarily everything, they do provide opportunities to improve customer experience. This is particularly true for your customer service team, which will need to interact with customers quickly and efficiently to reduce any friction in the buyer journey. Using live chat to handle complicated requests, chatbots to handle more everyday ones, and help desk software to streamline and organize customer service are all ways that technology can help you deliver a better experience.
Track Customer Sentiment - If you want to improve customer experience, you have to know how your customers are feeling. Monitoring reviews on public sites like Google and Yelp is one way to gather sentiment data. A large number of positive reviews will lend credibility to your business. If there's a trend in negative reviews, it could signal a problem that needs fixing.
Respond to Review - If a customer takes the time to leave a review it's important to engage and respond. Taking the time to respond empathetically and correct someone's negative experience could turn them into an advocate for your brand. Even if it doesn't, you can still learn about your customers' expectations.
Putting It Into Practice
By leveraging technology and researching your customers' expectations, it's possible to deliver an excellent customer experience that will keep them coming back. Mapping your digital CX is the first step in that journey.
Think about where your brand exists—and should exist—in the digital space and position yourself accordingly. Make sure people get the same level of experience wherever they connect with you. Meet and, if possible, exceed their expectations, and you'll build a loyal customer base in no time.
If you want to take a closer look at how to Get Found, Be Chosen, and Drive Loyalty, here's our Hybrid Customer Experience Playbook.
Become a hybrid customer experience champion with Uberall CoreX