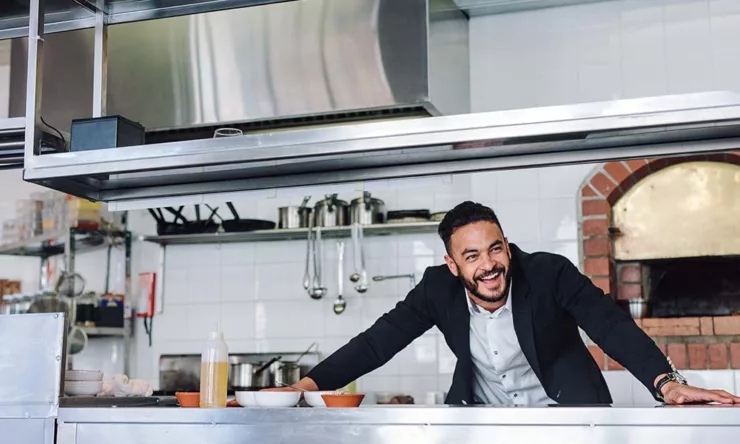 Blog
Franchise Marketing Strategies and Channels that Drive Revenue
Franchise marketing has unique challenges. As a corporate marketer, you need to balance keeping your brand consistent while still appealing to the unique communities around each franchise location. ‌
Uberall has worked with hundreds of franchise businesses over the last 10 years, from restaurants to gyms to car dealerships. We've analyzed these customers' results and developed a set of best practices for successfully marketing any kind of franchise business. Use these tips to put together a marketing strategy that works for your entire business, from corporate levels to individual franchise locations.

Get tips on how to preserve the local flavour in your franchise marketing campaigns
Turning Franchisees Into Local Marketing Rockstars
If you want the benefits of local marketing through your franchisees, you need to lean into the marketing tactics your franchisees are best suited to manage. Consider franchise marketing tactics that will benefit from the knowledge of a local market or a physical presence. Here are a few to consider: ‌

1. Local Social Media
Local social should start with a strong organic strategy so when a franchisee is ready to step into paid, they have an established presence.
Pinch-a-Penny Pool Patio and Spa is a great example of a franchise brand with a strong local social presence. The brand runs seasonal social campaigns that they localize for each store, so each page always has fresh content. These include holiday campaigns like "Happy-pool-ween," or "How to clean your pool after a hurricane", and ongoing "Pool maintenance education" campaigns. In addition, the brand's "Escape to the Backyard'' campaign, launched during COVID, allowed for the promotion of many other offerings, such as grilling and gardening equipment.‌

Need help creating social media posts? Our social post templates can come in handy
Once a strong organic social presence is established, stepping into paid social is easy and allows brands to ensure their content is seen. A hyper-local paid social media campaign has two benefits:
Franchise owners can set their social media ads to reach people who are physically near to the business and who have interests that align with the brand.

Franchisees can set narrow boundaries on their ads, ensuring that none of them accidentally advertise for other franchise owners in the area.‌
2. Review Management
Reviews are a form of social proof that can make or break franchise locations. Responding to reviews quickly can dramatically increase a location's average star rating. Additionally, since positive reviews directly boost your search engine ranking and conversion rates, your franchisees need to stay on top of them. Encourage your franchise owners to solicit reviews from happy customers, as well as read, track, and respond to reviews on sites like Google and Yelp.‌
A great example is the car dealership franchise Byrider. The business implemented Uberall and started responding to reviews in 17 hours or less. That led to a 15% improvement in the average star rating, and today more than 77% of all locations have at least a four-star rating.

Make responding to reviews easy with our review response templates
3. Local Listing Administration
The first impression you make on a new customer is quickly becoming your Google My Business (GMB) profile. Empowering local store owners to ensure that their GMB listing is always up-to-date and looking good is critical. Most customers expect the GMB listing to show things like:
Local photos (corporate stock imagery is nice but not reflective of the local store)

Relevant offers and coupons (leverage Google Posts)

Latest services, product inventory, and/or menu offerings

Community events

Hours and phone numbers
‌Your franchise owners can manage their locations' GMB listings to make sure the information is accurate and demonstrates the business's role in the community.

4. Local Webpages
Even if your franchise has a corporate website, it's a good idea to have websites for local franchise owners too. Often local franchise pages are managed by corporate with plugins for things like the local social media feeds. In some franchise businesses corporate gives more control to the franchisees allowing them to add local offers, update store hours, or add other information specific to the location such as sessional menu items, local photos, inventory, etc.
Franchisee and Corporate - Stronger Together
When franchise owners and corporate marketing work together magic can happen. While corporations have beautifully designed and creative corporate campaigns, franchise owners have a pulse on their local community and they know the messages that will resonate.

Of course, the concern from a corporate perspective is a loss of control over the brand. The good news is you don't need to give up complete control. By providing brand-approved content and creative templates that the franchise owners can localize.

For example, Toppers Pizza, a Midwest pizza franchise, has seen dramatic returns by giving its franchisees tools to localize their local social advertising efforts. Since implementing Uberall for paid social campaigns, Toppers franchise owners have started seeing a return on ad spend (ROAS) of more than 25X.
Still, Toppers Pizza understands that the guardrails offered to franchise owners are as important as the freedom to localize. The company provides ad templates and post content that each franchise can customize as necessary, which keeps the branding consistent across the 65 locations. You can do the same, helping your franchisees do better work with creative, brand-approved messaging. This strategy allows you to support them at scale while still letting the franchisee localize elements as necessary.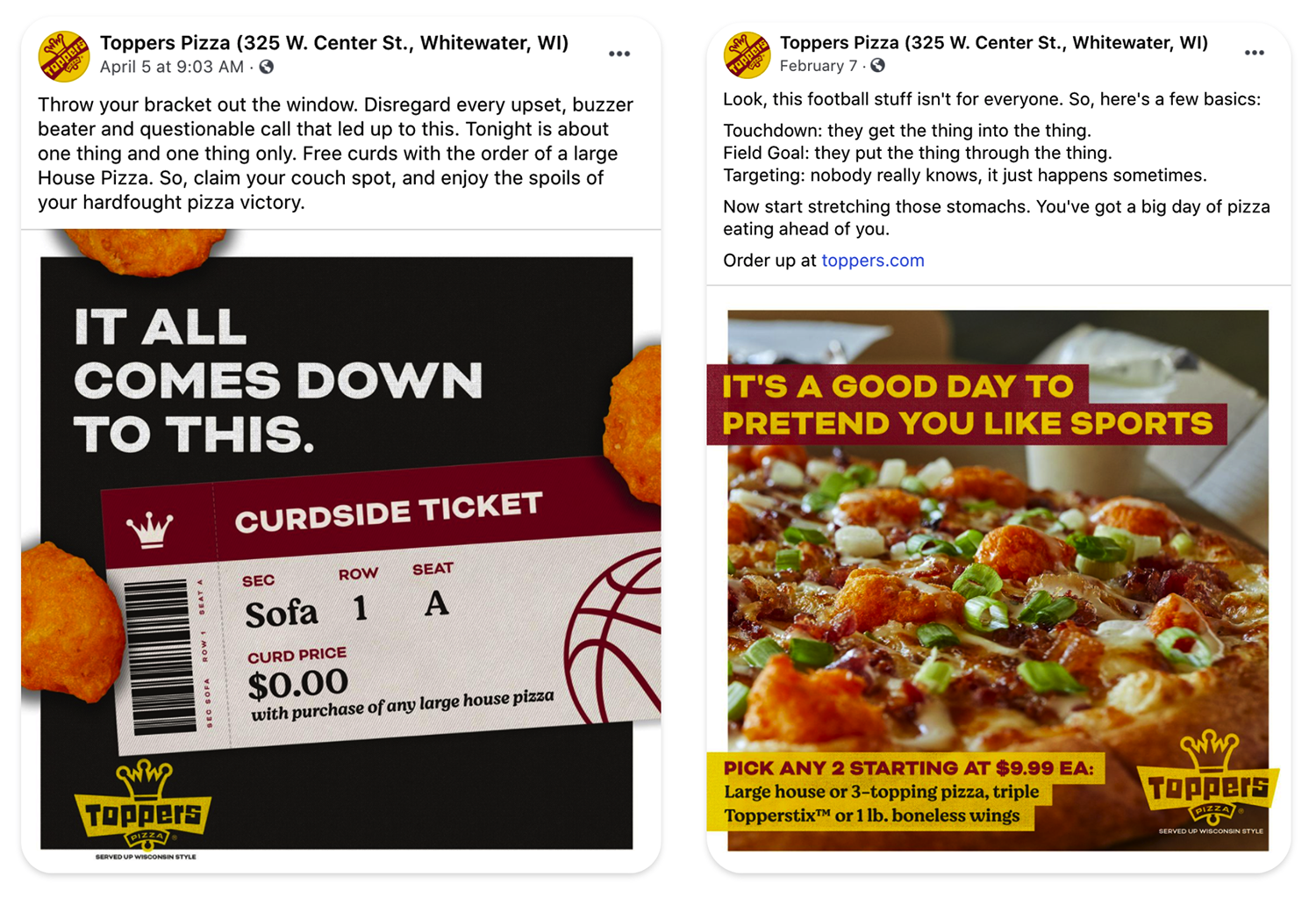 Building a Franchise Community
Your business is stronger when every part of it works together. Don't just focus on coordinating corporate management with franchise owners, though. Your entire franchise community can and should work together and exchange ideas.
As with most kinds of community, it's easier to build connections among members when the process is fun. One way to do this is through gamification. Here are a few ideas to encourage key marketing activities from franchise owners:
Review solicitation and response rate - Compare the review volume and review response rates among your franchisees and reward the top three, five, or ten at an awards banquet. You can build community among the owners and build loyalty towards your brand at the same time.
Generate new ideas for social campaigns - Do you have a big holiday coming up that is important to your brand? Have all your franchise owners solicit ideas to get them more involved in the creative process and reward the winning franchise with an additional marketing budget to promote the campaign in their market.
Reward franchise owners for success with local social - You can do this in a number of ways, maybe it is a local social post with the highest engagement, a local social campaign nomination program where franchise owners can nominate a social campaign that went viral. We hear from many of our franchise clients that the social campaigns that perform the best are often celebrating a truly local effort or initiative. So encourage your local franchisees to find what will resonate with their communities.
Create a digital leaderboard - A leaderboard naturally encourages franchisees to see what others are doing. You can even designate teams, so members on a team are incentivized to help each other learn and improve their marketing game.
Franchise marketing isn't always simple, but it's worth the time. By coordinating your corporate messaging with franchise owners' localizations, you can improve your entire business. It's as easy as giving franchisees the guardrails and materials they need to make the most of their local knowledge.

If you're ready to improve your franchise marketing strategy, Uberall can help your franchisees manage reviews, and local listings and access a vast library of branded advertising templates. Give your business and franchise owners the tools they need to succeed.
Best Practices for Empowering Franchise Owners and Operators
Having a solution like Uberall can help your franchise owners localize digital content while still giving them guardrails. A great solution is to use a franchise marketing platform that offers branded template libraries that every owner can use in different marketing channels when they're relevant. Along with using the right tools, you can follow a few best practices to make franchise marketing that much easier.
‌Provide ongoing content and campaign templates that are on-brand: The content you supply to your franchise owners will provide the foundation for their individual marketing plans. So make sure to communicate what's available now and what's coming so franchise owners can plan ahead. By constantly providing fresh, timely content and templates, you'll help your franchisee remain relevant in the eyes of local customers.

‌Give franchisees the tools to use branded campaign templates: If you want consistent messaging, make it easy for your franchise owners to follow your plan. Give them branded templates and other ad-building tools to track the campaigns you're planning. Location-based marketing platforms like Uberall are an excellent way to scale and empower hundreds or even thousands of franchisees.

‌Provide training: Owning and running a franchise is a skill set that doesn't always overlap with marketing. Make sure that your franchisees are prepared to market their location by providing them with dedicated training. Keeping them up-to-date on all the latest tools, processes, and best practices is an investment in both the site and the franchise owner.

‌Create approval loops: If a franchise owner doesn't see what they are looking for in the provided templates they should still have an easy way to propose an idea, get approval on something they've created or request unique creative. Institute a process for proposing campaigns, and create an approval loop that allows multiple people to view and sign off on content. This will help you check large amounts of content across different locations quickly.

‌Measure success: Every marketing strategy needs to have a plan for tracking success. Track the current advertising spend and ROI for each franchise before and after implementing new techniques. This information will allow you to monitor which franchisees are succeeding, enabling you to refine plans for the business as a whole.

‌Showcase what the best of the best are doing: Once you've identified the standout franchisees you can use them as examples for the rest of your locations. Showcasing and rewarding the best of the best gives your other franchise owners examples to follow and goals to aspire to.
Ready to Improve Your Franchise Marketing? Speak with an Expert Today!