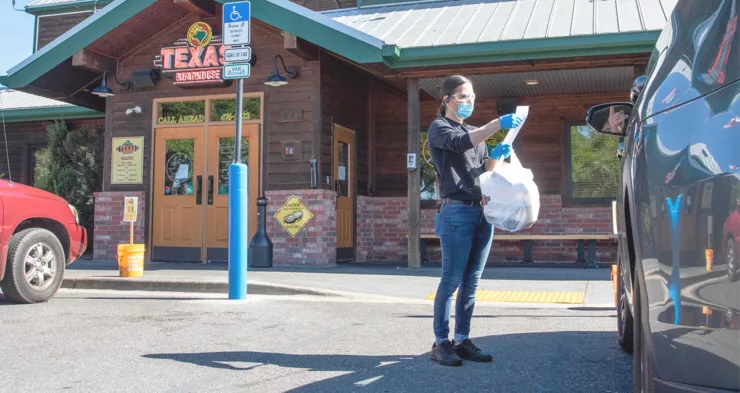 Blog
For Texas Roadhouse, Local-First Marketing Isn't Just About COVID-19 – It's a Long Game
The restaurant industry has been hit hard by COVID-19, with new rules about re-opening, social distancing, and in-person services. With these new rules and a more cautious consumer, many national brands are taking a local-first approach to their marketing, giving back to local communities and simply providing nearby customers a safe way to resume some familiar routines. Just knowing a favorite local restaurant is there for a long leisurely meal to celebrate a special occasion, builds a bond of 'we are all in this together and we are here for you.' For Texas Roadhouse this way of operating wasn't much of a departure from the way it has always done business. The multi-location restaurant chain realized early on that connecting with its community at a local-level and creating memorable experiences, was key to its long-term success.
Texas Roadhouse delivers a unique and memorable in-store experience with all-you-can-eat peanuts, yeast bread with cinnamon butter, and an upbeat staff known for launching into impromptu line dancing performances. With such a unique and hometown feel, Texas Roadhouse has established a loyal customer following in every new market it has entered. Now with more than 500 stores, it continues to operate in a local-first way, taking its successful model to an average of 30 new nationwide locations each year.

A Local-First Strategy
The "local-first" strategy for Texas Roadhouse starts with local ownership. While Texas Roadhouse isn't a franchise, each managing partner, or store manager, is able to invest and be a partial owner in their location, which means they get a share in the profits.

"This model creates an entrepreneurial mindset that establishes a local feel. We don't want to feel like a national chain, we really want to feel like a local restaurant in every community we are in, and our managing partners really embrace that," said Mary Newell, Director of Digital and Brand Marketing, Texas Roadhouse.

Leading with Local Marketing
This local-first mindset bleeds into how Texas Roadhouse markets. Unlike most large restaurant chains, the brand does not invest heavily in national media, broadcast, or digital marketing. This strategy was set in motion with the Founder and CEO, Kent Taylor, and how he marketed the very first location in Clarksville, Indiana, back in 1993.
Kent was known for doing food runs, handing out ribs and rolls, and getting people to sample the product in the shopping center parking lot where the location operated.
Today, each of the restaurant chain's 500+ locations has a local marketer that is responsible for driving awareness and traffic to their stores. Beyond food runs, local store marketers drive community partnerships and fundraisers, get involved in local schools, and work with local businesses — all with the goal of building a stronger relationship within their community.

The Right Tools to Enable a Local-First Strategy
Texas Roadhouse, like many multi-location businesses, has a small but mighty marketing team. As the organization adds more stores, efficiency is the name of the game. To that end, Uberall is a business-critical solution for the Texas Roadhouse marketing team, helping them manage local listings, local reviews, local social, all at scale, while also getting each of the store owners more involved.
"Creating content for every location is not scalable when you get to 500+ restaurants," said Mary. "Uberall gives us the infrastructure to operate more efficiently, and allows us to encourage our store managers to get involved in responding to reviews, and generating local content that is more authentic and effective at connecting with the community."
The platform is also helpful for allowing the team to see at-a-glance how they are performing across all their locations and what they can do to improve how their stores show up locally.

Having a one-stop-shop is key. With Uberall we can log in, gather insights, make adjustments, respond to reviews, all from one platform.
Managing Through COVID-19
Having such a loyal customer following and a foundation of technology to engage with customers locally online served Texas Roadhouse well amid COVID-19.
When the restaurant chain had to shut its doors in March, just like every other business in America, it went from about 10% of its business coming from to-go orders to 100% overnight. The restaurant chain had to educate guests on how to engage with the brand in this new environment — from how to order online, to where to go for curbside pick-up. And on top of that, there were safety concerns; guests wanted to know what Texas Roadhouse was doing to protect them in this national health crisis.
Local store operators also stepped up with some innovative ideas to bring the experience of the brand to life in a safe way, from line dancing in the parking lot, to farmers markets with ready-to-grill meat. With a 575% increase in to-go sales, it is clear that Texas Roadhouse did a great job of satisfying customer cravings for the brand, even when it had to shut its doors.

"Having a strong presence on local social channels lets us communicate with our guests and build on the trust that was already there. Our customers were craving Texas Roadhouse, both the food and the experience, and we were able to fill that void," said Mary.
Delivering on the Unique Texas Roadhouse Brand Experience Online
The biggest differentiator for Texas Roadhouse is its unique in-store experience. When all of its dining rooms closed, the brand had to think about how to deliver on that experience even though it's restaurants couldn't have people come inside.

"It was about being more creative on the social channels we already use like Facebook, Twitter, and Instagram. But it was also about expanding into new channels," said Alec.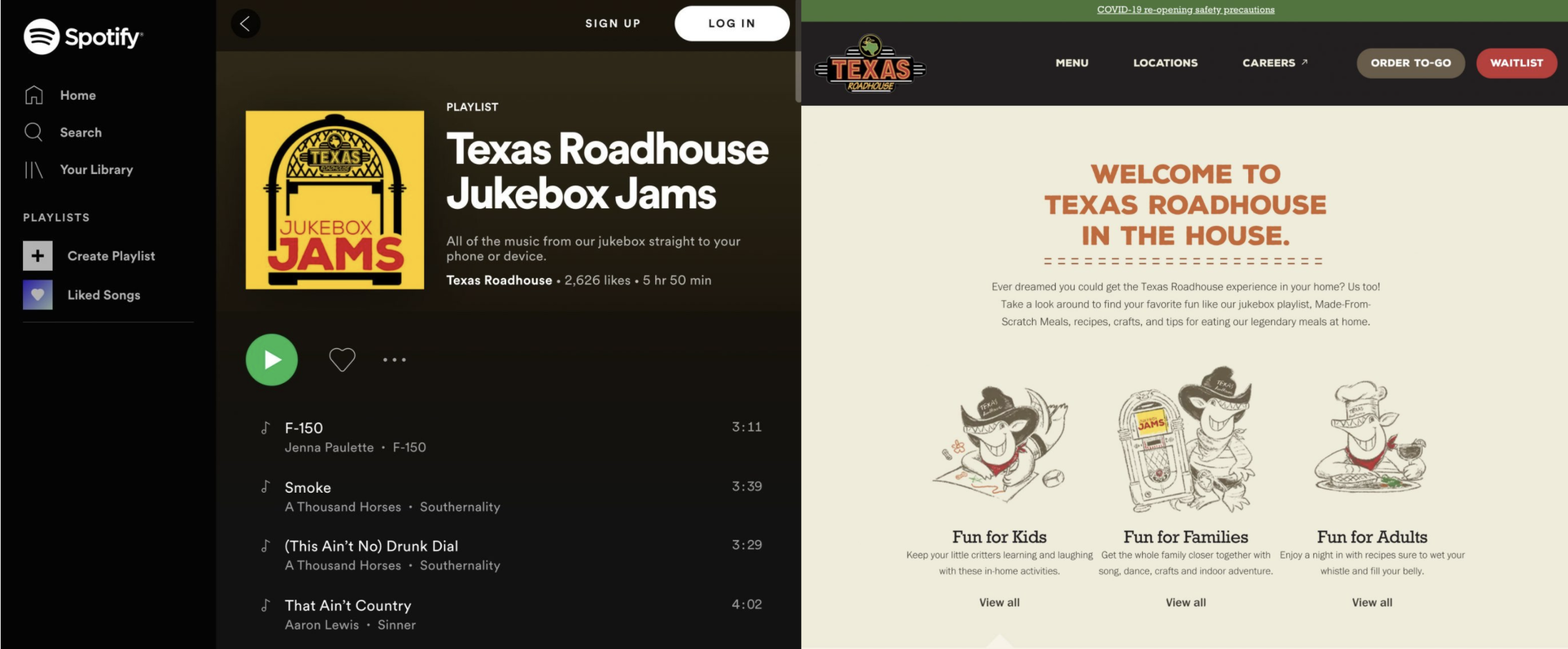 During Covid-19 Texas Roadhouse leveraged Pinterest and a new "Roadhouse in the House" webpage to share fun ways for families to "live the brand" from home with in-store experiences like activity sheets for the kids and cocktail recipes for the adults. They also launched their entire Texas Roadhouse Jukebox playlist on Spotify.
"We are at an all time high across social media engagement metrics like reach, shares, and likes," said Alec. "To have this kind success, even with the social landscape being crowded during COVID-19, is a big win for our team." Texas Roadhouse is certainly one of the more innovative brands when it comes to local digital marketing. And its local-first strategy has been very effective for them. We've watched in awe as this brand has rolled out some truly inspiring campaigns during COVID-19, connecting with its customers in meaningful ways.

The Local-First Long Game
With what looks like a long road to recovery, national restaurant chains would be wise to take a play out of the Texas Roadhouse playbook. A local-first marketing strategy will serve most brands well during the recovery as consumers continue to stay close to home while slowly starting to return to some of their regular routines.
And as Texas Roadhouse has proven, a local-first strategy isn't something you turn on and off, it is a long game, one that you build and cultivate with local leadership and local community relationships.
For more local-first marketing strategies to help accelerate your recovery and return to growth mode, tune into our recent virtual chat with Mary and Alec, or download our newest "Local Marketing Checklist to Drive a Quick Recovery." Even better, speak to one of our marketing experts today to see how your business might benefit from Uberall.
Take your local digital marketing efforts to the next level.