Blog
Google 3 Pack Fast Facts
If you are a multi-location brand or franchise, the Google 3 Pack is more important than ever before. It's what consumers see clearly and concisely as they use their mobile devices as an essential way to search for products, services, and dining options near them.

What is the Google 3 Pack?
When Google introduced the 3 Pack they said, "We are constantly exploring the best way to bring a better search experience to our users. This update provides people with more relevant information, including photos, reviews and prices, for searches that have multiple results for a given location."
The 3 Pack is the first three results that pop up when a consumer does a search that Google idetifies as having local intent. These are the most critical results for businesses, and they appear "above the fold" on mobile devices and are the first thing the customer sees. In other words, people can usually view them without scrolling.

Google 3 Pack 'Breakfast Near Me'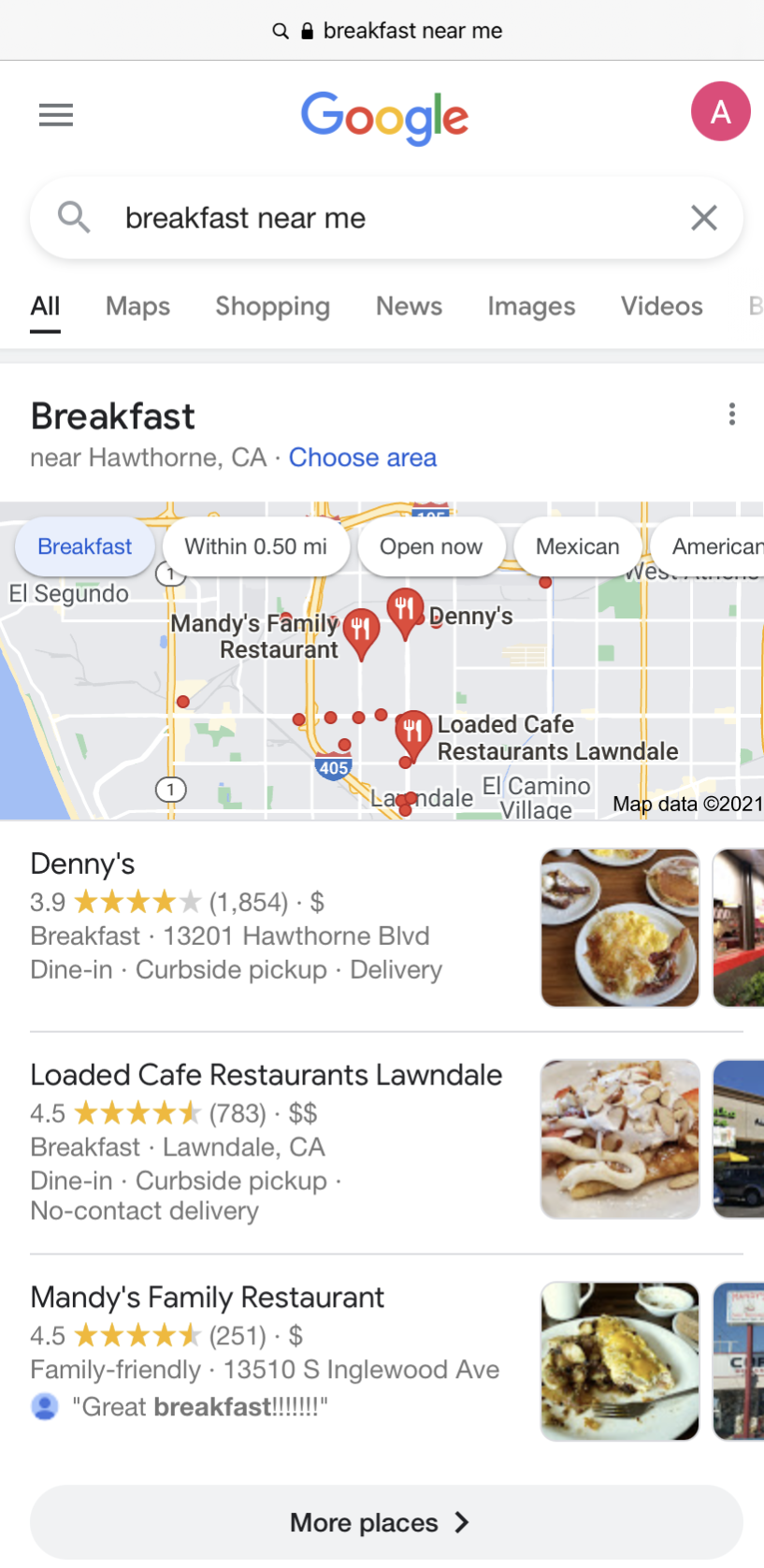 Fast Facts About the Google 3 Pack
Google now accounts for 93% of the mobile search market the U.S. The Google 3 Pack (also known as the Map-Pack) is prized digital commerce real estate that's sometimes undervalued.
If your business locations aren't among those 3 Pack listings, your chances of attracting those customers can be 50% lower. Essentially you're losing sales opportunities.
Because consumers have expressed they are looking for something nearby, the Google 3 Pack is a powerful position for multi-location businesses to leverage: The top three listings draw at least 47% of clicks – 23% for #1 position, 14% for #2 and 10% for #3. If you just consider local intent, that percentage is as high as 51%.
Mobile 'Near Me ' consumer searches are affected by a number of factors, many of which change frequently based on Google's algorithm. In fact, in 2018 Google made more than 3,200 changes to its search algorithm, and these have had an impact on mobile-local searches. One big search change occurred in 2015 when Google converted from the 7-Pack to the 3 Pack.
The Google 3 Pack cannot be bought. Although a paid ad may sometimes appear above the 3-Pack, the coveted Google 3 Pack positions are reserved for relevant organic searches.
The Google 3 Pack is not a static list. It changes based on Google's algorithm, the searcher's location, and how local brands are optimizing their local landing pages. If you are not optimizing and maintaining your local pages and data across the web (on sites like Yelp, Bing, Facebook, TripAdvisor, and others) you run the risk of dropping further down the page.
Advertisement Above the Google 3 Pack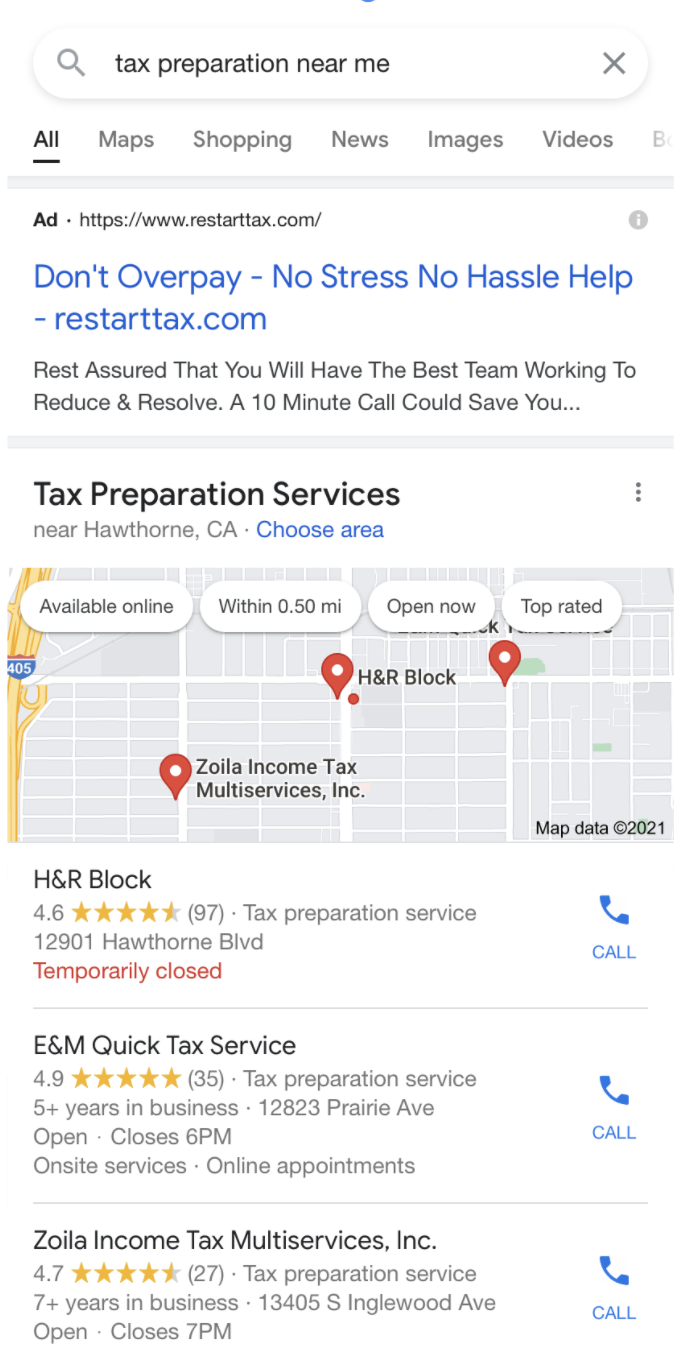 Learn more about the Google 3 Pack and its impact on your GMB ranking.
How to Ensure Your Brand Shows Up in the Google 3 Pack
The Google 3 Pack is a potent tool to drive sales, but it's a mutable asset, ever-evolving and constantly real-time tailored around the trends and behaviors of today's and tomorrow's consumer, and reflecting the information that your business provides and manages. The faster someone can find what they're looking for on the small screen, the more likely that brand is to prosper.
Optimize your Google My Business (GMB) listings by keeping all data accurate, complete and timely. Make sure that your category, location data, hours, NAP (name, address, and phone) are up-to-date and consistent across all sites Google, Facebook, Yelp, Bing, Apple, TripAdvisor, etc. Even a minor inconsistency in how an address appears across the web can hurt your visibility. Photos and videos can be important, as they give the consumer an immediate view of what you do.
Leverage your Google Knowledge Graph. It is Google's way of aggregating information across many different sites. This is critically important to mobile-local search, because if data about a local business is wrong or missing that will ultimately be reflected in what the consumer sees (if they see it at all).
Respond to reviews, both positive and negative. Encourage customer reviews on Google and Facebook. According to a study by Moz, Google My Business and reviews together account for about 40% of local search rankings (25% and 15% respectively).
Publish keyword-rich content to your social media sites. Make sure your Facebook, Yelp, and other third-party pages are consistent and compelling.
Make sure you have local landing pages — web or social pages for each of your locations, with up-to-date and relevant information on each of those pages. Optimized landing pages include detailed information about each location -- hours, menu items, reviews, and photos. According to Google, nearly 67% of smartphone users are more likely to spend with companies whose mobile sites are customized to their location. Local landing pages can result in up to a 24% increase in local search.
You can have an impact on your positioning through hiring a partner who understands both national branding organizations and mobile-local search imperatives. Sometimes a local business will appear ahead of a national brand in the 3 Pack simply because following steps 1-5 is easier for operators of one or two storefronts.

Maintaining detailed data and managing reviews for hundreds or thousands of locations does not have to be daunting. Select a partner who has the expertise and resources to audit, update, clean, and optimize your local-level data — on an ongoing basis and at scale. Digital marketing tasks like ensuring local data accuracy and consistency and managing multiple reviews for multiple locations can be outsourced cost-effectively.
Learn how Uberall can help your brand appear in the Google 3 Pack.