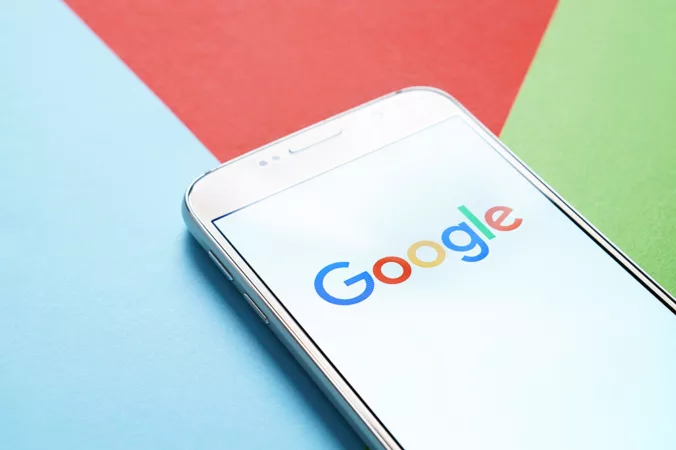 Blog
Does a Spot in the Google 3-Pack Translate into Higher Sales? - New Study
When today's digital-first consumer has a sudden craving for sushi or needs to find a nearby pharmacy, they "Google It!" In fact, 46% of Google searches have local intent, representing billions of daily searches for local businesses and services.
As a result, visibility in the Google 3-Pack – the first three organic search results displayed in response to a local search query – can have a massive impact on revenue for a business with one location or thousands.

Ensure Your Business Secures a Spot in the Coveted Google 3-Pack
But just how valuable is a spot in the Google 3-Pack? In our latest report – "Impact of Google 3-Pack" – Uberall analyzed tens of thousands of business listings to quantify the effect that ranking in the 3-Pack has on a business's views and clicks.
Visibility in the Google 3-Pack Drives 2X as Many Actions
Our statistical analysis of more than 350 brands and 25,000 business locations, found that the average Google My Business listing saw a 404% increase in total views and a 113% increase in clicks or actions when ranking in the Google 3-Pack.*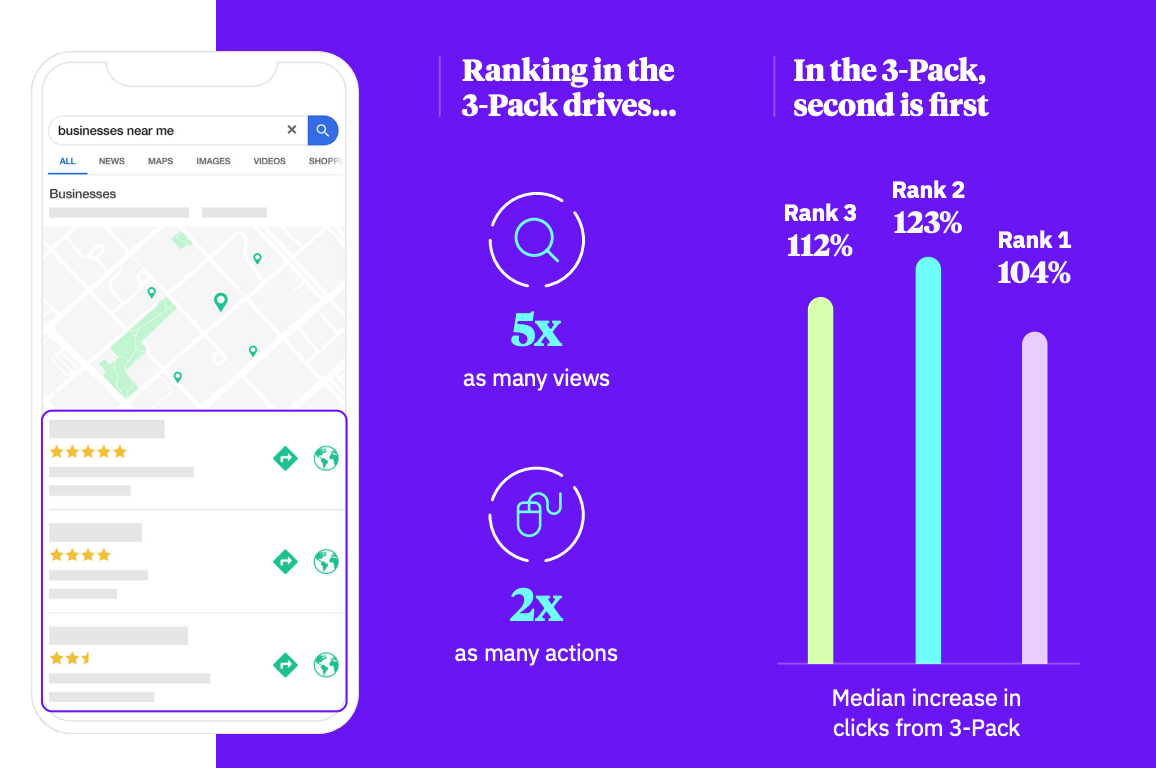 Top Actions Indicate High-Intent
Each type of action saw a significant lift, with clicks-to-directions showing the greatest improvement for brands ranking in the 3-Pack. This suggests that the 3-Pack is particularly valuable for attracting high-intent consumers looking to visit a business and make a purchase. Additionally, the slightly stronger improvement in clicks-to-directions indicates that consumers get enough information from the business listings to make a decision - they don't necessarily have to call the business or visit the business website.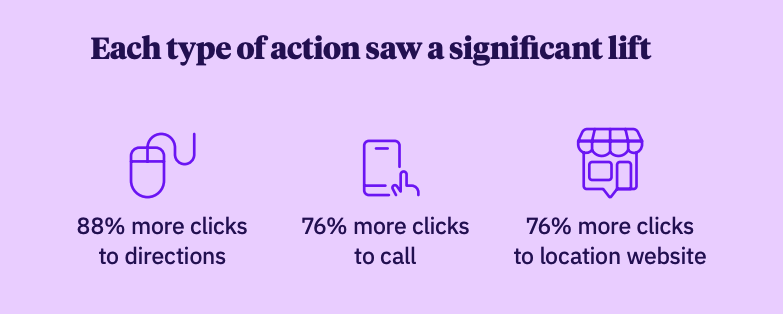 Increased Views and Clicks Drives Sales
According to Google, consumers performing local searches have higher intent, with 28% making a purchase within 24 hours of a search. This makes visibility in local search results crucial, especially for those terms resulting in thousands or even millions of searches every month.
When we move up in the local pack, we see an increase in clicks to our website and an increase in phone calls, and both of those actions ultimately lead to revenue.
What's more, ranking in the Google 3-Pack allows marketers to ease up on paid search spend. Using Uberall, Toppers Pizza was able to rank in the 3-Pack for "pizza delivery" 77% of the time. With such high organic rankings, the pizza delivery chain has been able to cut back on its paid search spend without sacrificing results.
Uberall has been incredibly beneficial for our local SEO and Google ratings. We do paid search for branded and non-brand keywords. But given our strong organic search performance with MomentFeed, we have been able to reallocate some of those paid search dollars.
Securing a spot in the 3-Pack on a consistent basis for hundreds or even thousands of a brand's locations can seem like an elusive goal, but it doesn't have to be. By partnering with Uberall and focusing on local search optimization, the process by which multi-location brands seek to improve their rank on search engines, brands have reported dramatic results.
Learn how Uberall can help your brand appear in the Google 3-Pack
*All data is the product of regression analysis with the results found to be statistically significant at the 99% confidence level.